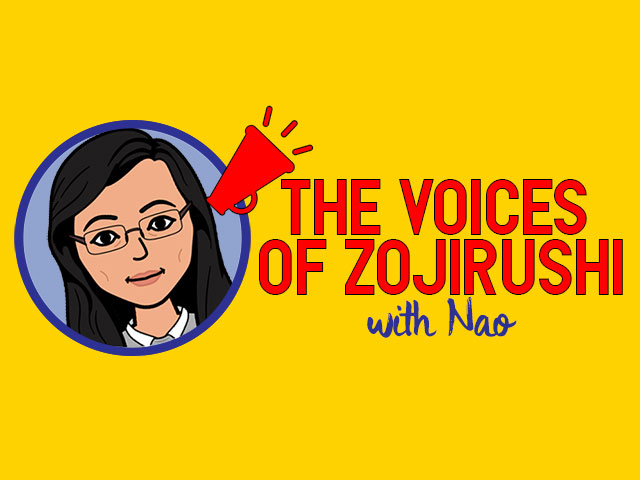 Spring time is full of freshness, and so are the ideas we've recently heard from Nao, our Sales Associate Manager. Nao is based out of Torrance and her history of growing up and living in Japan and the United States offers us a unique perspective about Zojirushi across two countries!
We started with the good stuff when speaking with Nao, and that is…what's your favorite Zojirushi recipe?
Butter mochi! It turned out great and a fellow employee recommended that I finish the butter mochi in the oven so the coconut on the top gets crispier. So good!
Butter mochi is a great recipe to make in our breadmakers. Are there other Zojirushi appliances that you like and would recommend to our customers?
Water boilers – they're a luxury that goes unnoticed. At any time of the day, one press of the button gives you the perfect hot water for your needs.
How do you feel like that quality of the water boiler helps our customers, especially when you think about our company's tagline – Inspirations from Everyday Life?
We continue to make products that makes life a little bit easier in this busy day in age. Plus the fact that we focus on high quality and stylish designs.
So how does that sense of ease, quality and stylishness translate into how you work with your customers and the role you have within the Zojirushi organization?
Sales associates work closely with retailers to determine their needs, answer their questions about our products and recommend the right solutions. We try to promptly resolve complaints and ensure maximum satisfaction. To achieve this, we stay up-to-date with product features and maintain high standards in customer satisfaction. Customer satisfaction is our first priority. It's all about our corporate philosophy of Creating a Quality of Life.
It sounds like you've been inspired by your time at Zojirushi. How did you join the organization?
It just so happened that Zojirushi moved to Torrance when I was looking for a job.  I was familiar with Zojirushi since I was surrounded with Zojirushi products growing up.
So, you grew up in the United States and Japan?
Yes, I have been to Japan many times. In fact, I have lived back and forth between the United States and Japan. I was born in Japan and first came to the United States when I was 4 years old. I lived here for 5 years and went back to Japan when I was 9. I was able to experience Japanese culture by attending local elementary school. At age 12, I came back here and stayed until I graduated college.  Then, I decided to live in Japan by myself. At first, I had a difficult time adjusting living in Japan all alone not knowing what to do next. But in the end, after 6 years, I loved it. The best part about Japan was the delicious food without spending too much money. My favorite food is sushi!
And are there any products that you think Zojirushi should make as part of their next innovations?
It's not a new product but I would like the air purifier to come back. It feels good to have clean air in the room. I'm sure as Zojirushi grows, they'll keep making new things with new idea.
—-
We strive for the same ideas that Nao brings to our organization–product innovation, customer service and a great working environment. We hope you've enjoyed learning a bit about Nao. Stay tuned for more fun anecdotes with the rest of our team!