Fall is the time to welcome transition. Shorter days, crisp evenings and busy back to school schedules all mark the natural changing of the season. Summer slips away as we pack boxed lunches and backpacks, while autumn brings the promise of apple pies and holiday gatherings. These days, the weather stays fairly warm through the beginning of September, and the long shadows of summer remain in the form of bright red tomatoes, sweet corn and juicy strawberries. At the same time we are met by acorn squash, cider apples and textured blackberries in the markets. Needless to say, it is a fantastic time to be in the kitchen!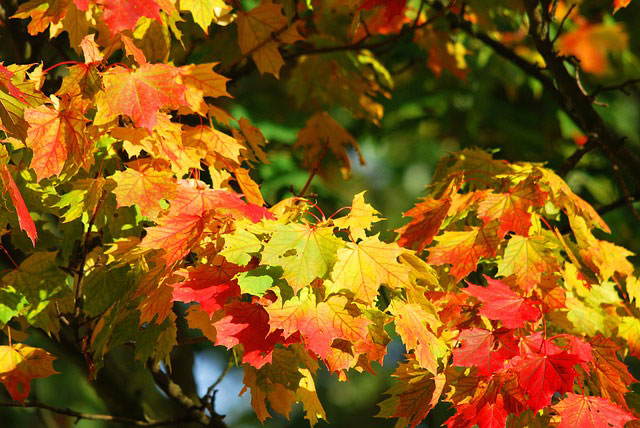 As the glow of summer begins to wane, busy schedules take over, football grabs our attention and another holiday season is hot on our heels. The multitude of fall activities can feel overwhelming as we pack them into shorter and colder days. Don't let it stress you this fall! Welcome the change of pace with open arms, and know that with a little planning and the right equipment, you can shift into the season with ease.
The abundance of fresh market produce available this time of year combined with our Zojirushi products and equipment should provide you with an arsenal of tools to stay organized and happy this fall season. Try making boxed lunches the night before; utilize leftovers to create hearty school time snacks. Embrace the farm to table mindset in the kitchen, utilize our Gourmet and Stainless products and you should have everything you need for an effortless fall season. As usual, we would love to hear how you stay grounded and well fed this autumn. Please keep us updated on Facebook and in the comments section below. You are our biggest inspiration! Happy Cooking!
Hozuki: The Japanese Winter Cherry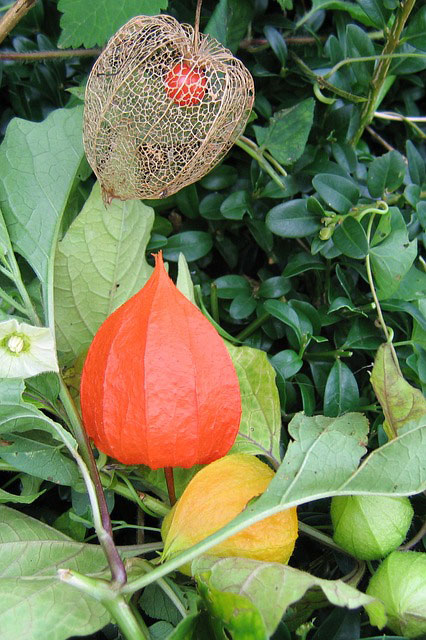 Can you imagine a flower that looks like a paper lantern? The physalis alkekengi is exactly that. Also known as Japanese lantern, winter cherry or hozuki, this plant is as delicate looking as it sounds. Bright red fruit is covered by a Kyoto red papery covering that dries to a translucent white in the spring to reveal the fruit below. Though it's not widely eaten, the winter cherry is known for its medicinal properties. It can be used as a diuretic, antiseptic and sedative in eastern medicine. The winter cherry has small amounts of poison that are not deadly, and can be quite bitter or unpleasant to the taste.
Because this exquisite plant is so beautiful, it is often used for decoration. Though widely unknown in the states, this species grows far and wide from Europe to Asia and its wide-spreading root system makes cultivation easy. Yes, the winter cherry can grow like a weed!
This plant has a lot of cultural significance in Japan. There is a deep symbolic meaning involved with the use of winter cherry seeds as an offering to souls during the Bon festival. There are many community marketplaces designated to this plant in July called hozuki-ichi. In a lot of ways the bright color, delicate nature and impermanence of the winter cherry embody Japanese culture. It's no coincidence that it looks just like a lantern or a perfectly crafted piece of origami!
Bonsai: The Perfect Japanese Tree
If you have never seen a Bonsai, it is a beautiful and often asymmetrical tree grown in a tray and placed on a counter or table. They look like a miniature tree, and some are small enough to fit in the palm of your hand. Yes, it is just as cute as it sounds! Like most things uniquely Japanese, the bonsai traces its roots all the way back to the 6th Century in China. There is evidence of small Bonsais in art, stories and scrolls across the centuries and through the medieval period of Japan.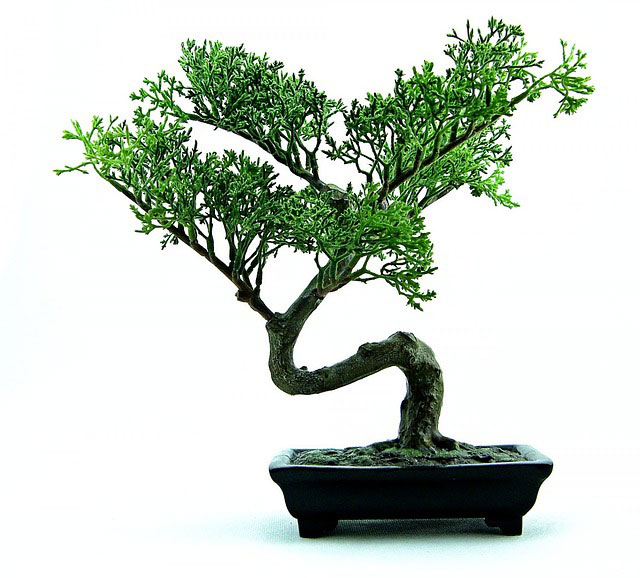 After WWII the Bonsai gained popularity and availability across the US when US soldiers would bring them back as souveniers. A number of books, festivals and exhibitions made the Bonsai easy to access all over the world. It evolved from a novelty or souvenir to a trendy status symbol and suddenly a must have decoration by the 1970s. Highlighted in the 1984 film Karate Kid, the Bonsai has been depicted in a variety of ways in the western world. There has always been a spiritual significance to Bonsai trees that conveys deep symbolism for meditation, harmony and peace. The careful maintenance of a Bonsai tree helps the cultivator create order to their thoughts and creates a balance in life.
These days, you can find Bonsai trees at most nurseries, farmers markets and even grocery stores. Their "Zen" and craftsmanship bring calm thoughts and bring peace to busy work offices and homes across America. With the Internet, you can browse through countless styles and prices to find a Bonsai that is right for you. It also makes a wonderful and unique living gift. Did we mention that bonsais are easy to care for and can be left in or out of doors? Yes, they are the perfect companion! Happy hunting!
Product of The Month: Micom Rice Cooker & Warmer (NS-WAC10/18)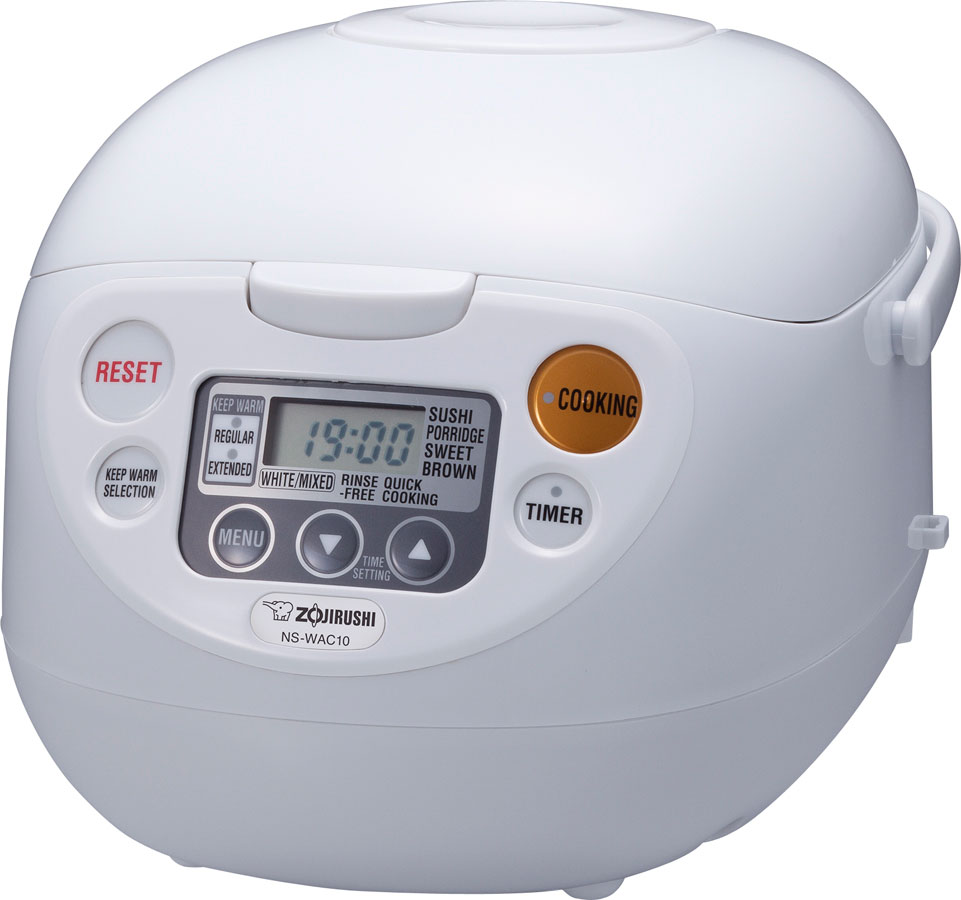 This September we would like to introduce our Micom Rice Cooker & Warmer NS-WAC as the Zojirushi Product of The Month. This is a must have for students going back to college this fall. Its size will perfectly fit in your apartment or dorm room. It is made with a very durable dent resistant plastic body and now comes in a new color, Cool White.
This rice cooker is packed full with technology that allows the machine to "think" for itself making small adjustments in temperature to ensure perfectly cooked rice with every batch! The Micom Rice Cooker & Warmer NS-WAC is also easy to clean…because doing the dishes doesn't always have a high position on a student's social calendar.