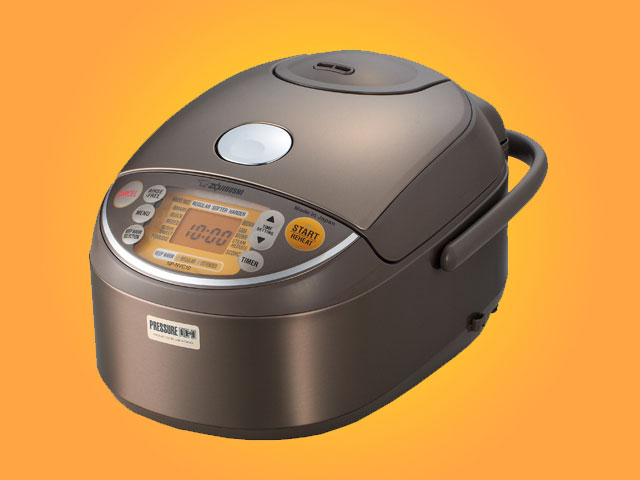 We are inspired every month by innovations that you, our fans, share with us. You inspire us to create small appliances that bring ease, convenience, versatility and style to your kitchen. And that ultimately help you cook delicious foods, simply and easily. It's with these beliefs that we've created the Induction Heating Pressure Rice Cooker & Warmer (NP-NVC10/18)–our flagship rice cooker.
This rice cooker is engineered to cook perfect rice, every time. The advanced fuzzy logic with artificial intelligence technology used in this rice cooker "learns" from prior cooking experiences and makes minute adjustments to each batch of rice, so that it is cooked perfectly, every time. The microcomputer that controls the rice cooker also manages the multiple varied settings, which are accessed from the large, easy-to-read LCD panel. White rice can be cooked regular, harder or softer, and the rice cooker also has menu settings such as umami, mixed rice, sushi or sweet rice, porridge, brown rice, GABA brown rice as well as rinse-free and quick cooking. Exclusive to this model are the steam-reduce and scorch settings. The steam-reduce setting minimizes the amount of steam emitted from the rice cooker, so surrounding cabinets are protected, and the scorch setting scorches the bottom of the rice for a crunchy texture.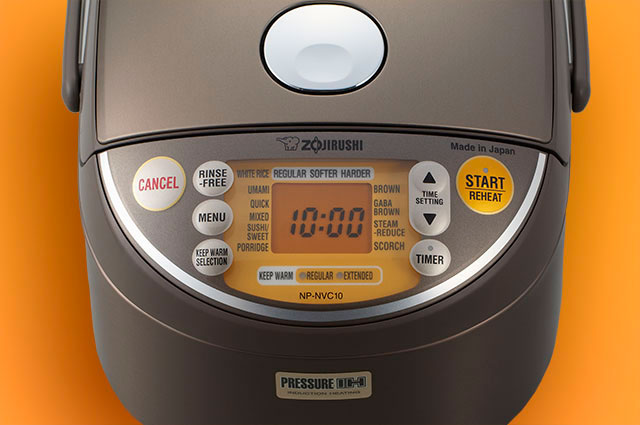 Pressurized cooking is a key feature in this rice cooker, as applying pressure during cooking converts the rigid beta starch in rice into alpha starch, which makes the rice sweeter, softer and easier to digest. Sushi rice, which needs to be harder in texture, is cooked at the same atmospheric pressure as sea level, while white rice and brown rice are cooked at higher pressures, which gives them a soft yet chewy consistency. No matter what type of rice you use, this machine selects from three pressure levels according to the menu selected–automatically!
The induction heating technology used in this pan creates instant and precise heat. The inner pan is heated, not the inside of the machine, so that cooking temperature is concentrated where the rice is. The inner pan is made with a platinum infused nonstick coating, making the water used to cook the rice more alkaline, enhancing the natural sweetness of the rice. Clear, bright markings make it easy to measure in the right amount of rice and water and the entire pan is easy to clean with mild dish detergent and warm water. And the stainless steel inner lid can be detached and easily cleaned in the same manner.

This machine uses the same great convenience features that our other rice cookers do: namely, the ability to select your favorite sound signal–a beep, a melody or silence–as well as Keep Warm, Extended Keep Warm, Reheat and Timer functions.
This rice cooker's exterior is just as beautiful as the interior, featuring a clear coated stainless steel which coordinates any kitchen décor. It is available in 5.5 cup and 10 cup sizes.
Our top-of-the-line rice cooker is the ideal rice cooker for preparing a variety of dishes this season. Green Tea Rice is always a refreshing rice to serve with dishes like ginger pork and teriyaki yellow tail. Brown Rice and Black Bean Crisps are filling, look beautiful and are naturally gluten-free. And our delectable Deconstructed California Roll features sushi rice paired with crab meat, avocados, cucumbers and nori seaweed.
The rice cooker comes with a rice spatula, spatula holder and measuring cup.
No matter what you make, we know you'll love our rice cooker as much as we do. Leave us a comment about your best experience and as always, be sure to share your favorite recipes with us!