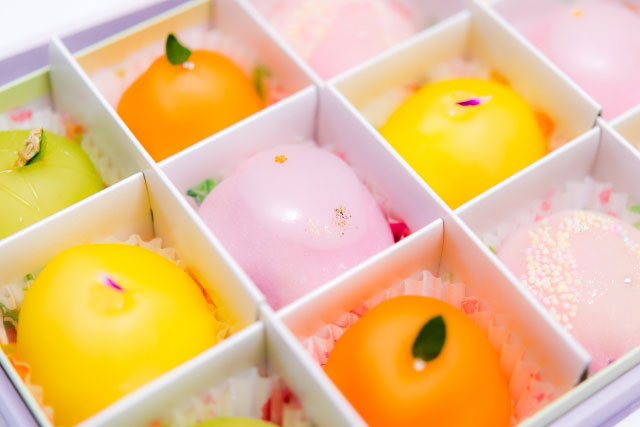 Throughout the year, we've focused on the essentials of Japanese cooking, from basic pantry items to the principles of washoku, Japan's culinary tradition. From the basic ingredients of sa shi su se so (sugar, salt, vinegar, soy sauce and miso) to the more complex creation of dashi and umami tastes, we've explored how to prepare appetizers, soups, pickles and main dishes. This month, our post focuses on wagashi, or traditional Japanese sweets.
Wagashi, which literally means "Japanese sweet snack", are bite-sized confections. They are traditionally made with simple, plant-based ingredients. The simplicity of the ingredients, however, is deceptive, as wagashi are created based on washoku principles of the Five Tastes and the Five Senses and take into account the seasonality of the natural world.
Wagashi is said to have originated in Japan during the time Japanese emissaries returned to the country from visiting China in the 8th century.  The first truly Japanese form of wagashi was a mochi and azuki bean dumpling sweetened with the juice of various vines. As this delicacy became more popular and spread to cities influenced by the aristocracy along the west coast of Japan, such as Matsue and Kanazawa, wagashi creation and design flourished. In the 12th century, wagashi became part of formal tea ceremonies and was paired with bitter matcha tea. When sugar was introduced to Japan in the 16th century, wagashi became easier and less expensive to produce, making it available to the general population.
The variety of wagashi is vast, and it is classified using a few criteria: formal vs. every day, production method, moisture content and shape.
Formal wagashi are served at tea ceremonies or special events and are sculpted to represent a seasonal motif for the particular event, such as cherry blossoms in the spring to celebrate Girl's Day. Every day wagashi are found at street vendors and shops and come in the form of dumplings or cakes or specialized shapes, with various fillings and toppings, usually made in the morning to be eaten that day.
Some of the formal wagashi are crafted based on the seasons. Their base flavors include the five tastes–sweet, salty, sour, bitter and spicy–with a particular taste emphasized according to what is seasonally available. For example, in the spring, when people gravitate towards sour flavors, wagashi are flavored with oranges. Each piece is also crafted to appeal to the five senses, from the seasonal motifs of each shape, to the fragrance of the ingredients, to the taste, to the texture to the sounds of nature that are evoked when eating a piece.
Making wagashi is considered a craft, and wagashi makers can be awarded the title of "Contemporary Master Craftsman". Wagashi craftsmen take pride in creating confections that balance seasonal flavors and motifs, from traditional cherry blossoms to modern Santa Clauses, appealing to the tastes of all generations. Going to a wagashi shop will make you anticipate the season or special event or festival to come!
Modern wagashi are made with eggs, milk and chocolate, and also come in beautiful shapes and colors.
One type of wagashi commonly found in the United States is called daifuku, which can be made at home. Pair it with Matcha Tea and you have your own homemade snack break!
We'd love to hear about your wagashi experiences, so be sure to leave us a photo and a note in the comments below!