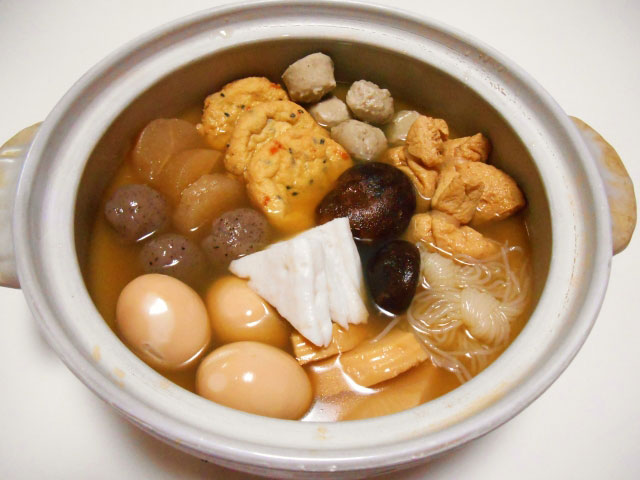 With the cold months of winter beginning, it's time for oden.
Oden is a one-pot dish full of vegetables, fish cakes, tofu, eggs and konnyaku, all simmered in seasoned dashi broth. It's pure comfort food, full of savory ingredients that have soaked up hot seasoned broth, perfect for the cold months of winter.
Oden is enjoyed by everyone in Japan, from children on their way home from school to homeward bound working professionals stopping at street vendors for oden and sake. When made at home, oden includes special ingredients loved by each family member. One of the characteristic ingredient is konnyaku, a jellied yam cake. Those who enjoy oden choose the ingredients to add to their bowl, sometimes adding chikuwa (fish cake), ground fish balls, kinchaku (fried tofu pouches), daikon radish, boiled eggs or vegetables like cabbage and potatoes. Oden is best when garnished with hot Japanese mustard.
Oden is a cross between a nimono, or simmered dish, and nabemono, or hot pot. The name oden is derived from dengaku, which refers to pieces of tofu and konnyaku skewered, basted with miso paste and grilled. Dengaku was typically served during colder months, and around the time of the Muromachi Period (1336 – 1573), the dish was modified to be simmered in seasoned broth.
Oden is prepared with variations depending on the region in Japan. In Tokyo and its environs, the broth is made from dashi and koikuchi shoyu, or dark soy sauce, and is typically salty in flavor. In the Osaka area, broth is made from dashi and usukuchi shoyu, or light soy sauce, with hints of sweetness. Oden from the Kyoto area has a sharp and sweet taste and in Nagoya, the broth is miso-based.
No matter what style of broth oden is made with, the warmth and savoriness of the ingredients characterize comfort during the coming winter. Oden can be found at street vendors, izakaya restaurants, and even at convenience stores where the clerks will either assemble your oden for you or let you make your own creation at the self-service counters.
One of our favorite oden recipes can be found here, and we hope you will try it out during this winter season.
Until next time, stay warm and don't forget to look out for our last post about Japanese street food for 2016!