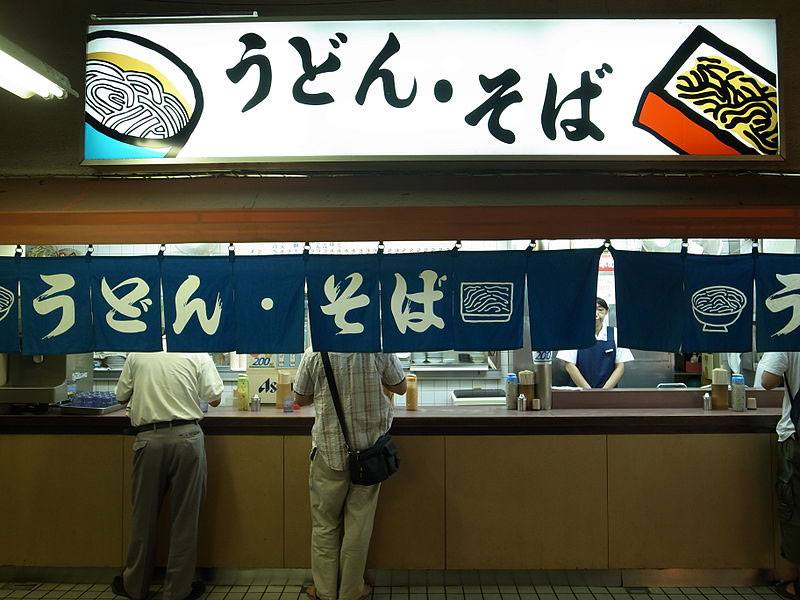 What's better than slurping hot soba noodles when you're out in the cold? Slurping them when they're hot, fresh, cheap and at a tachigui-style restaurant!
Tachigui, which means "eating standing up", is a popular style of eating in Japan, especially for quick meals while traveling, commuting or going out for the evening. Tachigui-style eating was first introduced in what is now Tokyo during the Edo Period (1603-1868). During that time, restaurant owners catered to laborers and working class people who needed inexpensive yet nutritious, fresh and flavorful food… the perfect setting for serving soba noodles in soup broth. To minimize costs for space and service, tachigui shops offered standing areas for people to just eat and go.
This style of eating spread across Japan and in modern day cities, tachigui-style restaurants can be found in close proximity to rail stations and commuter areas. Soba noodles in hot soup broth are still the most popular dishes served at tachigui restaurants, but hungry people can also find sushi, barbeque and takoyaki at tachigui stalls.
Dining at tachigui restaurants is an experience. Since many are located at or near train stations, they offer only counter space for diners. Diners purchase meal tickets called shokken for the type of dish they want from vending machines located at the stall. Meals range from the barebones noodles and soup to various toppings such as tempura, kakiage, eggs, fish cake and more. Once a diner purchases a ticket, they hand that to the server, and wait a few minutes for their bowl to be delivered. Tea and condiments are served freely on the counter.
Meals are inexpensive yet incredibly fresh. Soba noodles are parboiled and freshened before being served to patrons. Basic soba soups start at around 250 yen or $2.50 and soups with many toppings won't cost more than 500-700 yen or $5.00-7.00. Regardless of price, people from all walks of life and economic circumstances eat at tachigui stalls.
Soba noodles are the perfect dish for a cold December going into the New Year and whether you're eating tachigui-style soba noodles or toshikoshi soba, we hope you stay warm and have a great New Year!