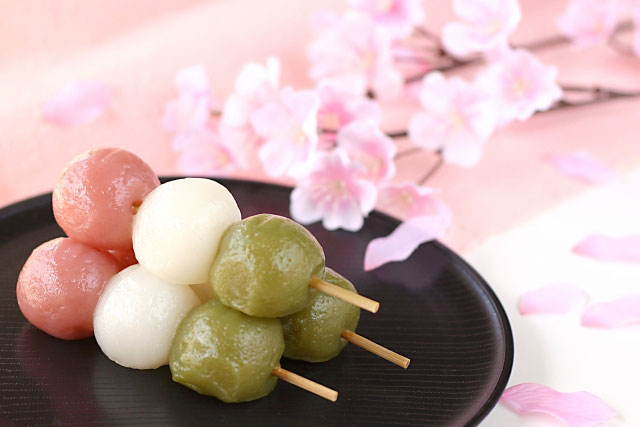 September marks transitions in Japan–from the humid heat of summer to the more temperate months of autumn, from vacations to a return to school and work, from the growing season to harvest.
Dango is a Japanese street food that transcends the change of seasons. It's eaten all year long, with unique sweet or savory variations made for special occasions.
Dango in its most basic form is made from sweet glutinous rice flour and water. The dough is shaped into round balls which are boiled until cooked. The cooked dango are cooled in cold water and then skewered, ready to be grilled or basted and garnished. Different variations of dango are popular during certain events, but Mitarashi Dango is eaten throughout the year. It is said that Mitarashi Dango originated from the Kamo Mitarashi Tea House in Kyoto, and traditionally consists of five white dumplings, skewered on bamboo sticks, and is served with a sticky sweet soy sauce glaze. These dango can easily be found at festivals, food fairs and night markets!
Hanami dango (pictured in main photo) is another popular form of this delicious dish. Made during the cherry blossom viewing season in the spring, hanami dango consist of three colored dumplings–one green, one pink and one white–skewered on bamboo and served as part of hanami bento. The tradition of eating these dango during the bloom of cherry blossoms dates back to the 8th century!
Anko dango are white dumplings topped with sweetened red bean paste and yaki dango are white dumplings grilled over an open flame and served with a savory sauce.
In September, Tsukimi Dango are prepared as part of the Jugoya celebration, during which Japanese people commemorate the harvest, decorate their homes and witness the Harvest Moon. Tsukimi dango, meaning "moon viewing dumplings", are plain white dumplings. Their glossy, white, round surfaces resemble the bright moon. Families celebrate this time by setting up a small table near a window or on a porch. Tsukimi dango, arranged in a pyramid shape on a plate, are placed on the table along with sato-imo, or taro root. Sprays of pampas grass, or susuki, are also displayed on the table, as they resemble the rice plant. Families celebrate the season, eat these wonderful treats and enjoy the full moon, which is considered to be the most beautiful of the year.
With such a lovely image in mind, we hope you try making your own dango this month… and as always, we hope you share your experiences and photos with us!