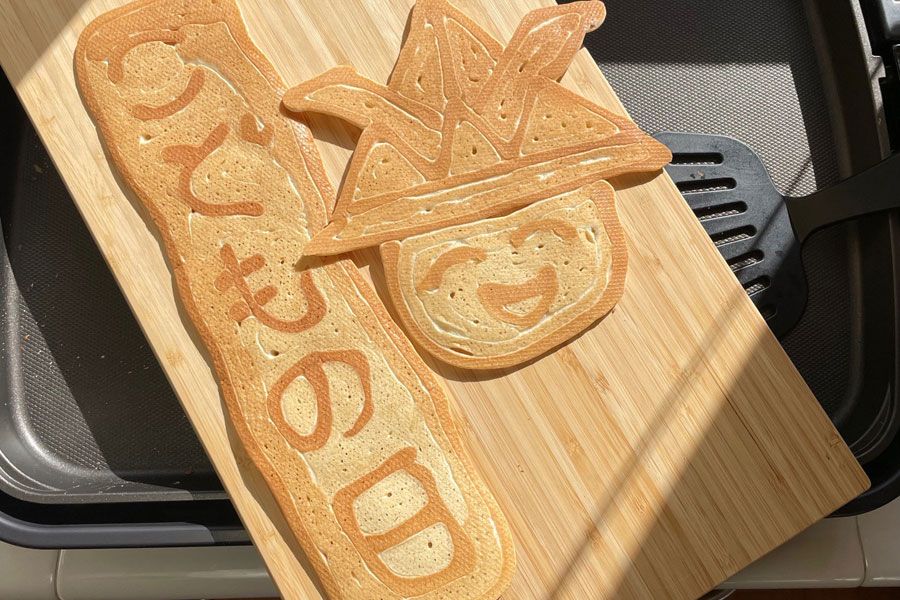 Children's Day
I think May is becoming my favorite month for holidays. I didn't realize there were so many reasons to celebrate all the things I love this month, until I looked them up. A big one when my kids were growing up was May 5th, Children's Day in Japan—a tradition that I tried to instill by flying the koinobori (carp) on a flagpole for them every year. This was the last one I put up in 2015, when my oldest turned 18. I hope they remember these traditions when they have kids of their own.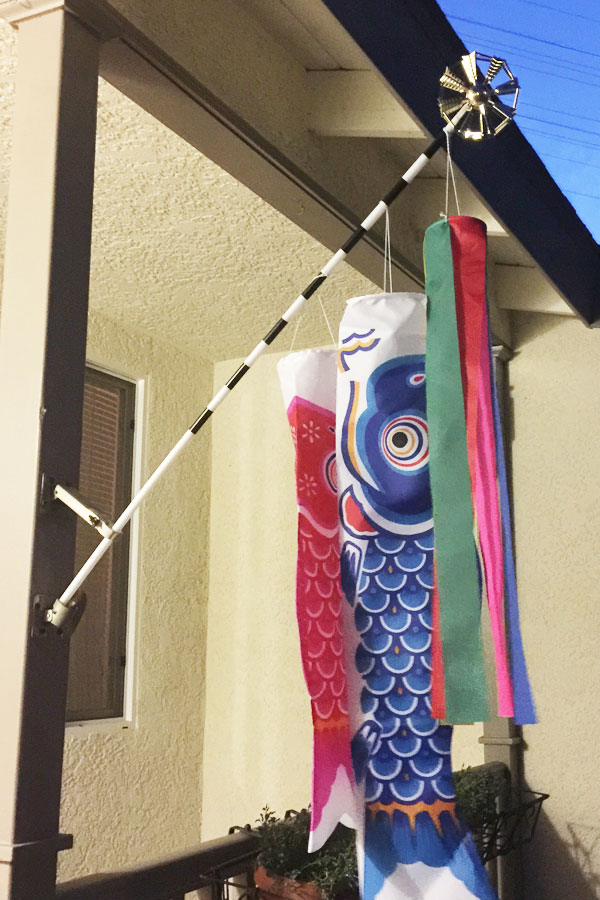 In honor of Children's Day this month, I thought I'd take a shot at some pancake art to celebrate. Remember when this was a minor thing? Mine aren't that great, but they're not bad! Here's how it's done—do your outline first on a hot griddle (set at about 300°F). I used a batter mix right out of the box that only required water. You need a consistency that's not too thick but smooth enough for a squeeze bottle. You could mix your own batter too, as long as you get the right thickness.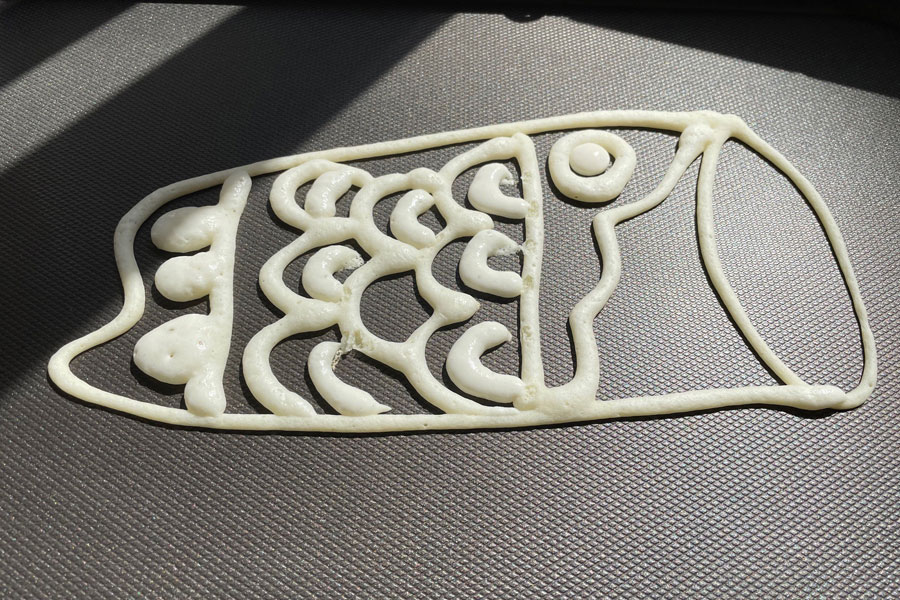 Let it cook for a while like a regular pancake; until the batter bubbles and gets firm. Then fill in all the spaces and cook the rest of it.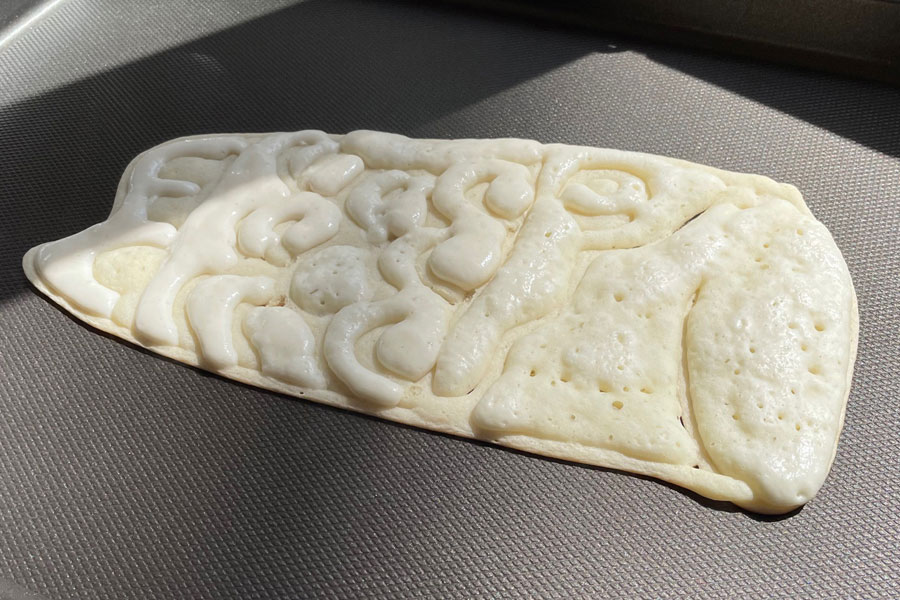 Then you flip it over to finish cooking the other side, and Ta-Dah! Pancake art that you can get carried away with, like I did! Ha!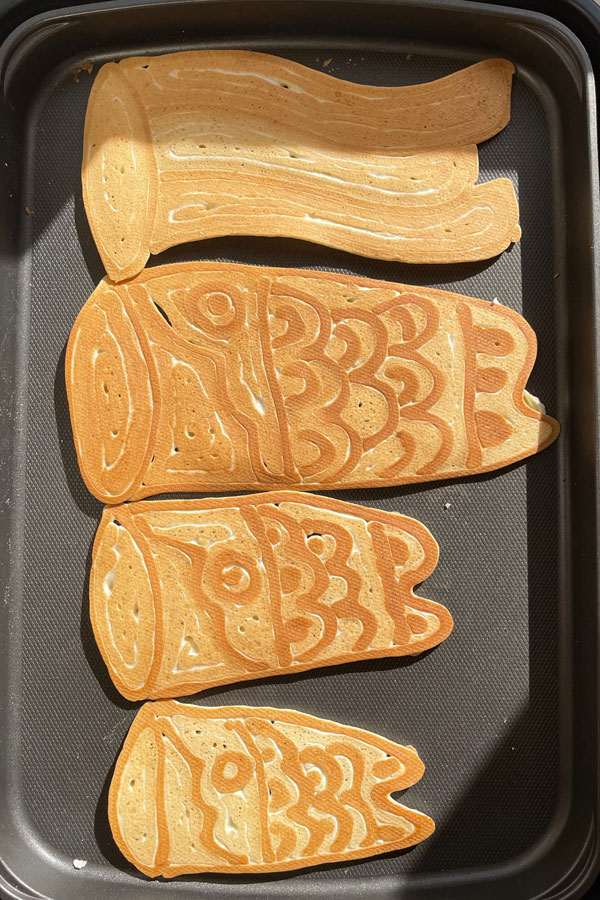 And don't forget, you're flipping these over, so everything you "draw" in pancake batter needs to be a mirror image of what you want your result to be. Which is what I did with the "Ko-do-mo-no-hi" (Children's Day) characters at the top of this post. Sheesh! My Japanese writing skills are pretty limited, much less trying to write backwards!
Watch pancake art in action!
Cinco de Mayo
Living here in California, most people celebrate May 5th for one of the best food holidays of the year…I'm talking about Cinco de Mayo of course, because who doesn't love Mexican food? We did a quesadilla night to celebrate. So colorful and so good!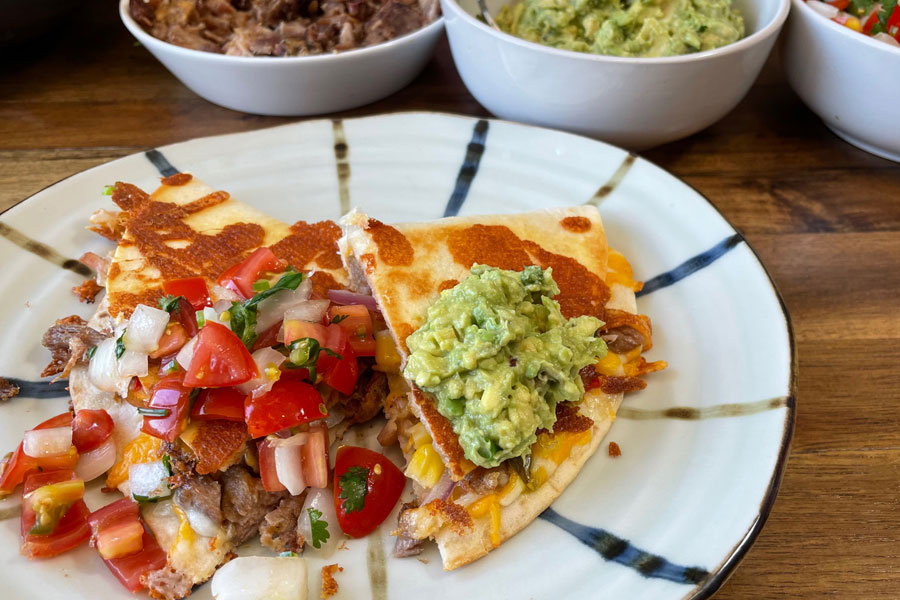 Don't just scarf on Cinco de Mayo without knowing that it actually does commemorate an historic Mexican event—the Mexican Army's victory over the French Empire in the Battle of Puebla in 1862. And don't get it confused with Mexico's Independence Day on September 16, their most important holiday that remembers the country's freedom from Spain. Cinco de Mayo is mainly a celebration of Mexican-American culture here in the U.S. Today, Cinco de Mayo beer sales rival the Super Bowl—wow! All I know is, we love this day in California!
Have a quesadilla party at your house! Store bought corn (or flour) tortillas, cheese and whatever else you want in it. We used cooked pulled pork from the market. You may want to heat and season it before bringing it to the griddle. Set your griddle on the lowest heat possible; it cooks fast. The nice part is the nonstick surface; even melted cheese did not stick.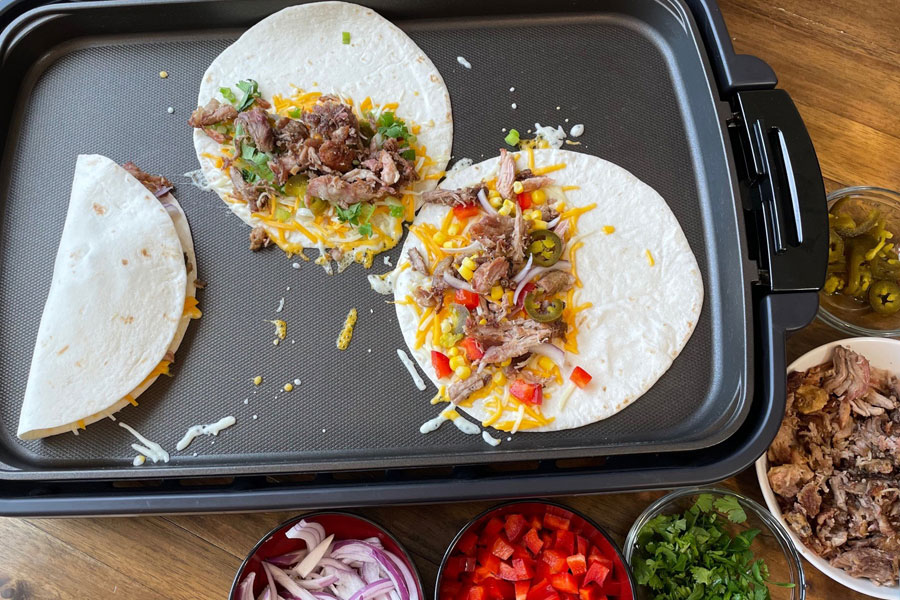 Don't these look great?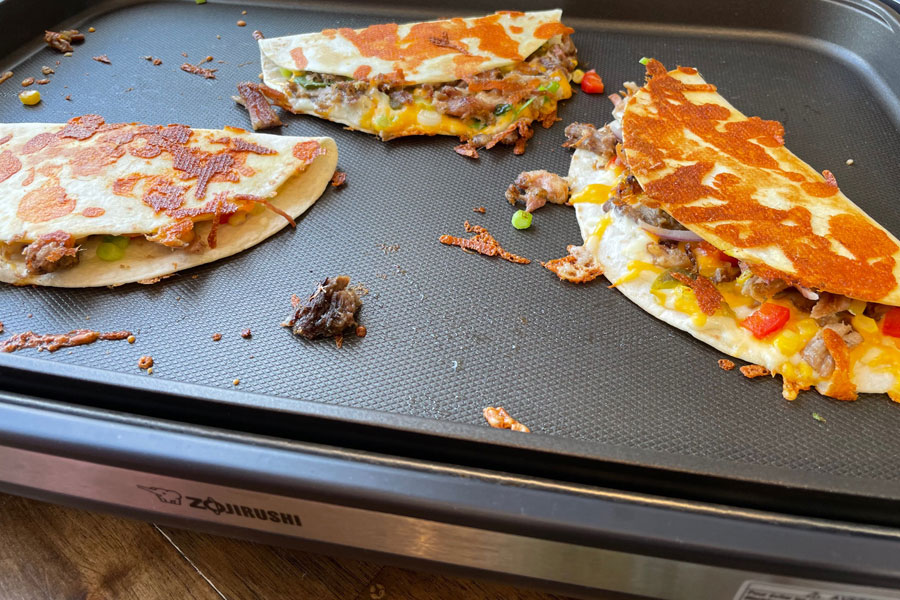 Serve with your favorite toppings. We had pico de gallo, guacamole, red and green salsa.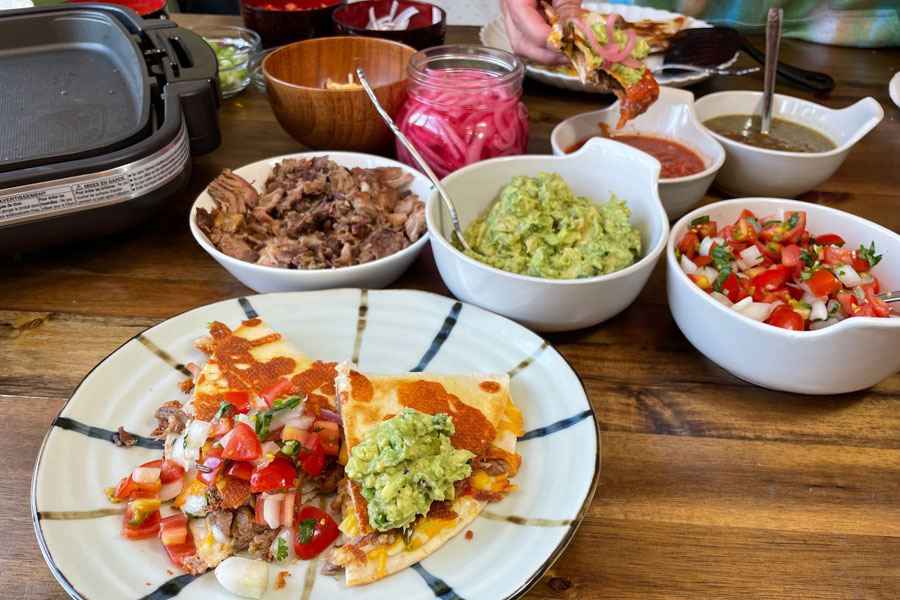 Also in case you were wondering, quesadillas are a uniquely Mexican dish, dating back to the 16th Century. They're easier to eat than a taco…have a bite!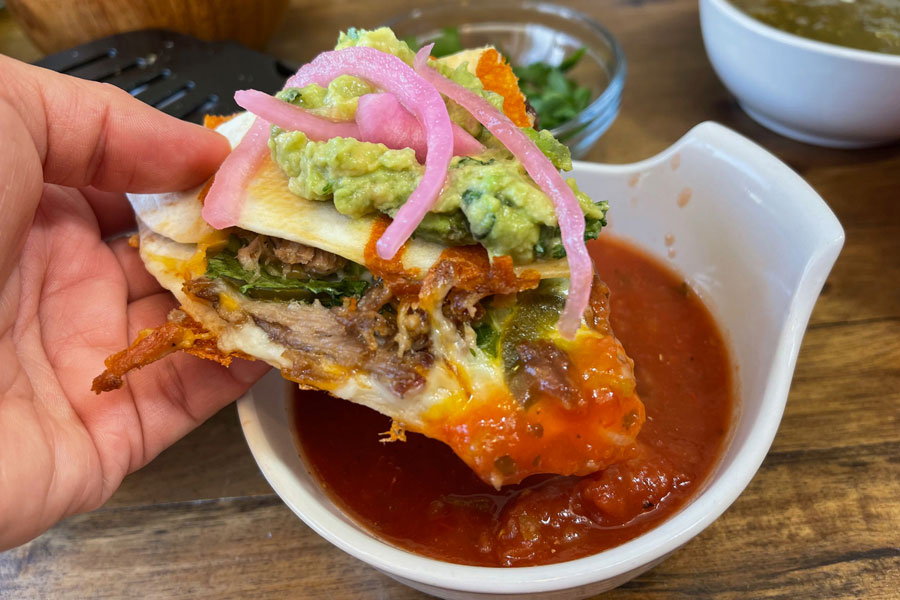 More in May
Remember I said May was full of my favorite holidays? Check these out:
•Mother's Day, May 9th this year. Cook your Mom some breakfast; how about pancakes and quesadillas?
•Can't forget Star Wars Day on May the 4th ("May the fourth be with you")
•National Hamburger Day is on May 28th; here's an excuse to grab a burger!
•Memorial Day is May 31st; remember your history—this was originally started to memorialize our soldiers from the American Civil War.
•May 27th is my son's birthday—he turns 24 this year; wish him luck on his continued journey!
•May is Asian/Pacific American Heritage Month . You can celebrate all month by going out for boba tea and spam musubi, ha!
Have a great month of May!!
Photo credits: all images by Bert Tanimoto
Zojirushi products used in this post: Gourmet Sizzler Electric Griddle EA-DCC10
Please note that these recipes were not tested by Zojirushi America