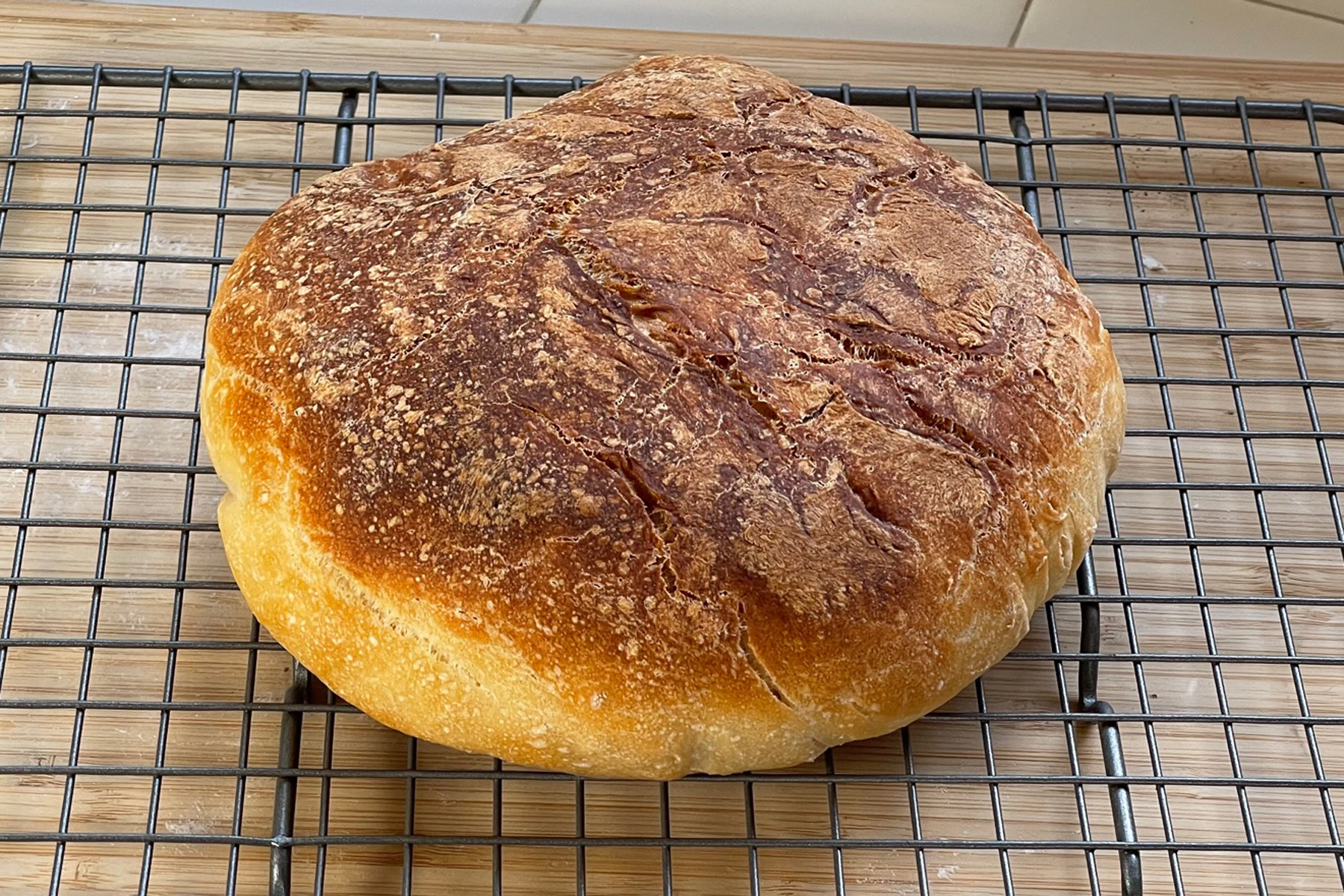 People who love to make their own bread swear by the therapeutic benefits of kneading your own dough—as if it has a calming effect close to meditation. Nahhh; I'd rather have my breadmaker do it for me and just eat the fresh bread after it comes out of the oven. I'm in that "work smarter, not harder" group.
"Bready or not, here I crumb." National Homemade Bread Day is coming up this month. Get your breadmaker out and bake! It's safe to do that now—you can even find yeast in the stores and it won't be sold out, like during the pandemic when everyone stayed home and baking was out of control. Remember that? Why don't you join me for November 17th; take out your breadmaker and quit loafing around. Did you hear how the bakery caught fire? The owner's business is toast now. Seriously though, do you know why bread jokes are the best? It's because they never get stale!
My featured bread (above) that I'm proud to show off is a rustic French loaf baked in a Dutch oven. I mean, it came out amazingly good, with dough that I kneaded in my Zojirushi breadmaker.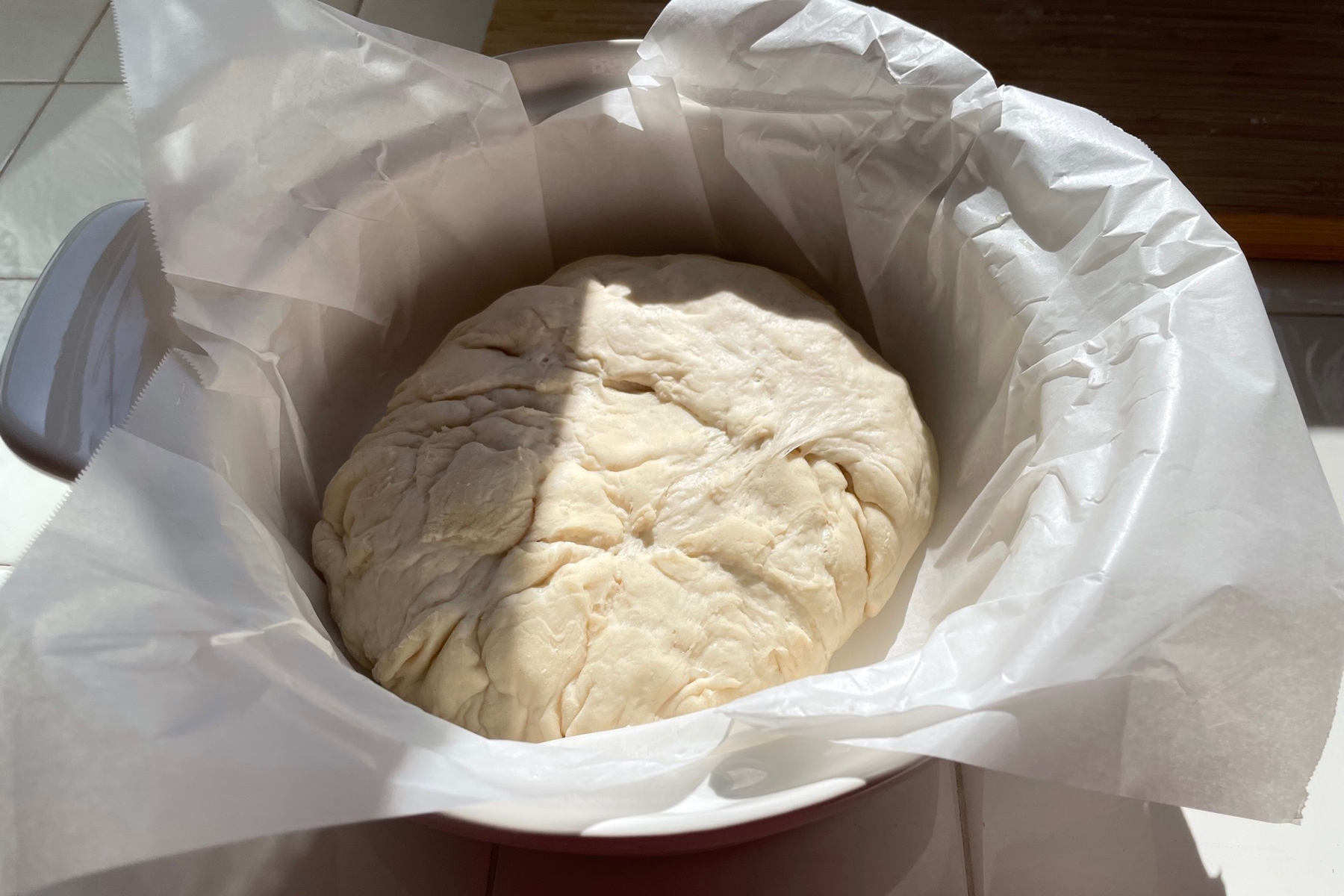 I used this recipe from Heart's Content Farmhouse for this one, but it looks like there are lots of similar ones online. Apparently being able to cover it with the lid of the Dutch oven creates the steam needed to bake this to the right texture. The recipe does call for extending the baking time with the lid off—I'm assuming to brown the top some more.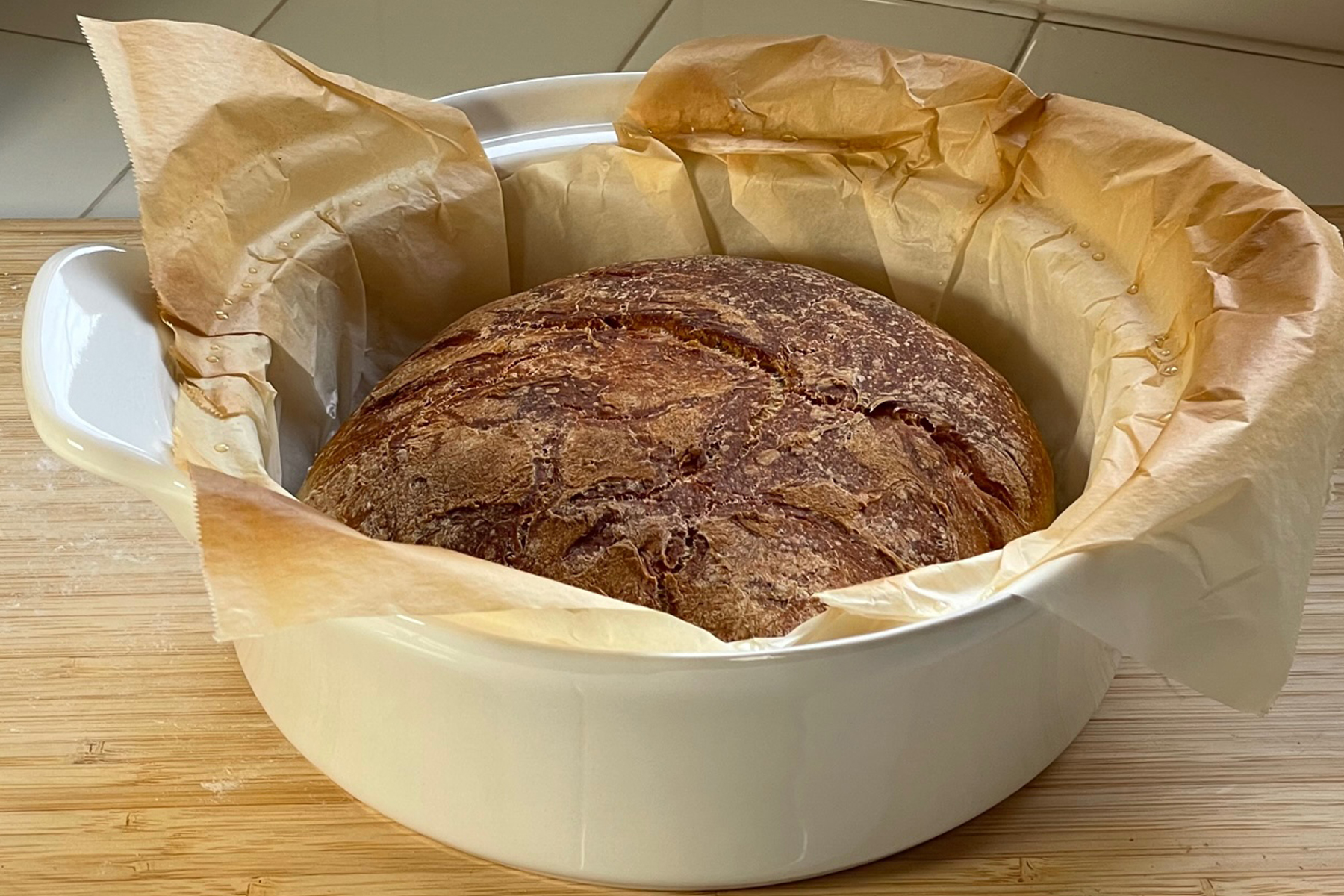 The result was a hard crust like it should be, and a chewy textured bread like it should be. I think the generous amount of salt also helped with the flavor.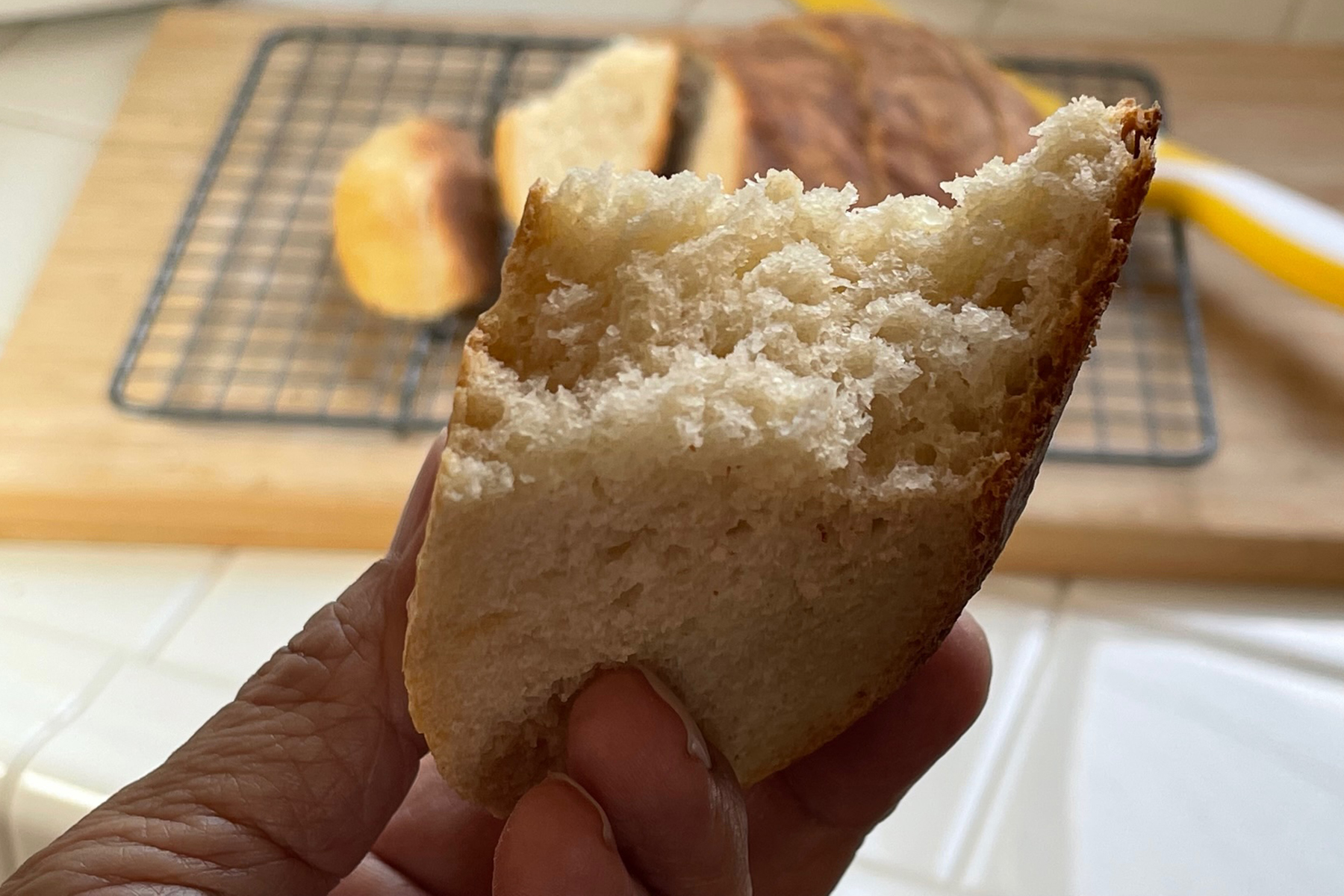 If you know how I like to work in the kitchen, you know how I don't like to work much. Guys, I present to you the easiest savory bread in the world. You know how easy it is to make plain white bread in the breadmaker, right? I give credit for this to my wife, who knows exactly how much I like to work.
Go to TJ's (Trader Joe's®) and get some of their Everything But The Bagel Sesame Seasoning. It's a blend of black and white sesame seeds, dried garlic and onion, sea salt and poppy seeds; just like the topping on a typical Everything Bagel. Use the White Bread cycle and during the 2nd Knead time, add about 2 tablespoons into the dough. I even used the auto dispenser that comes with my breadmaker for this so I didn't even have to open the lid. Check this out.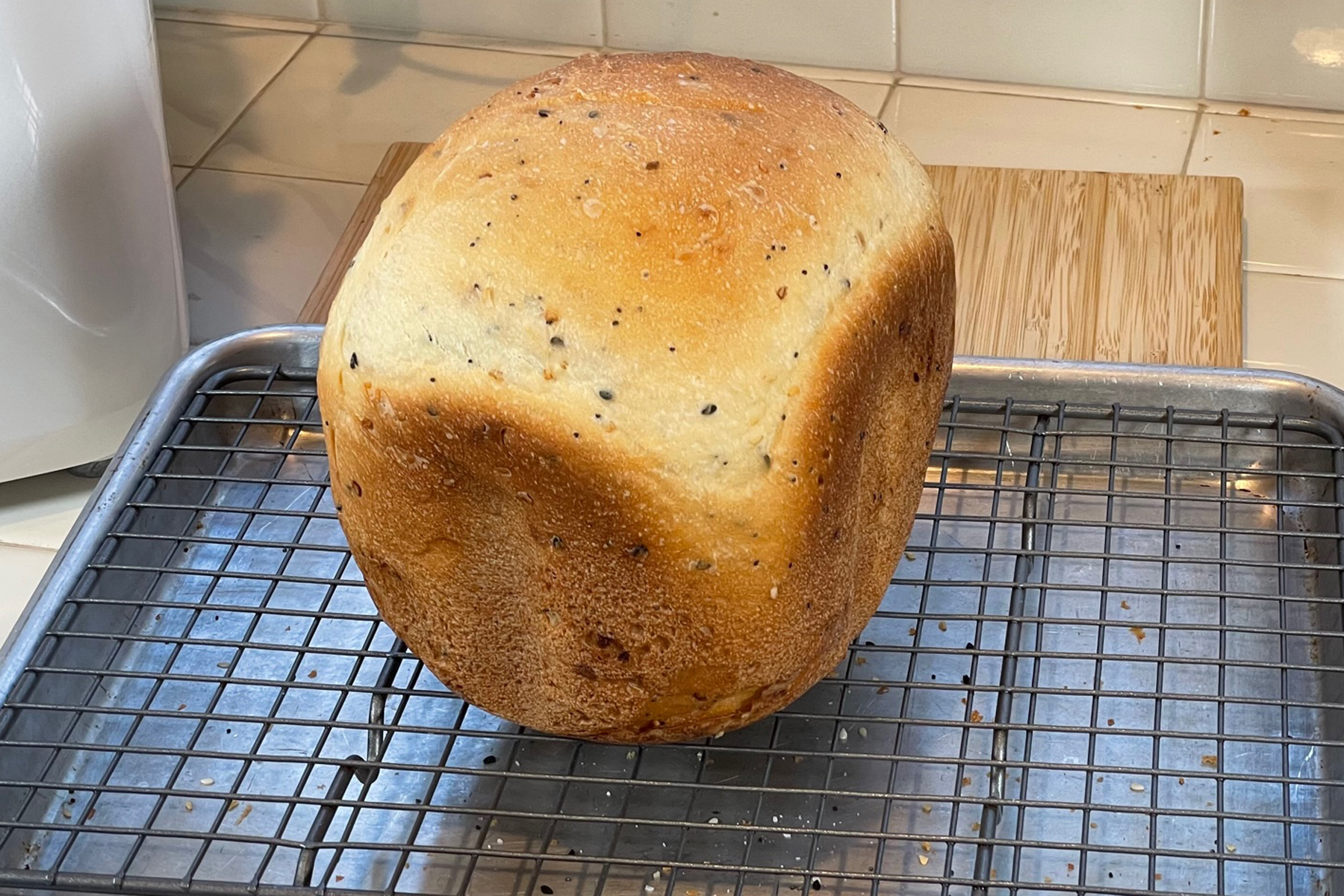 Savory homemade Bagel Bread!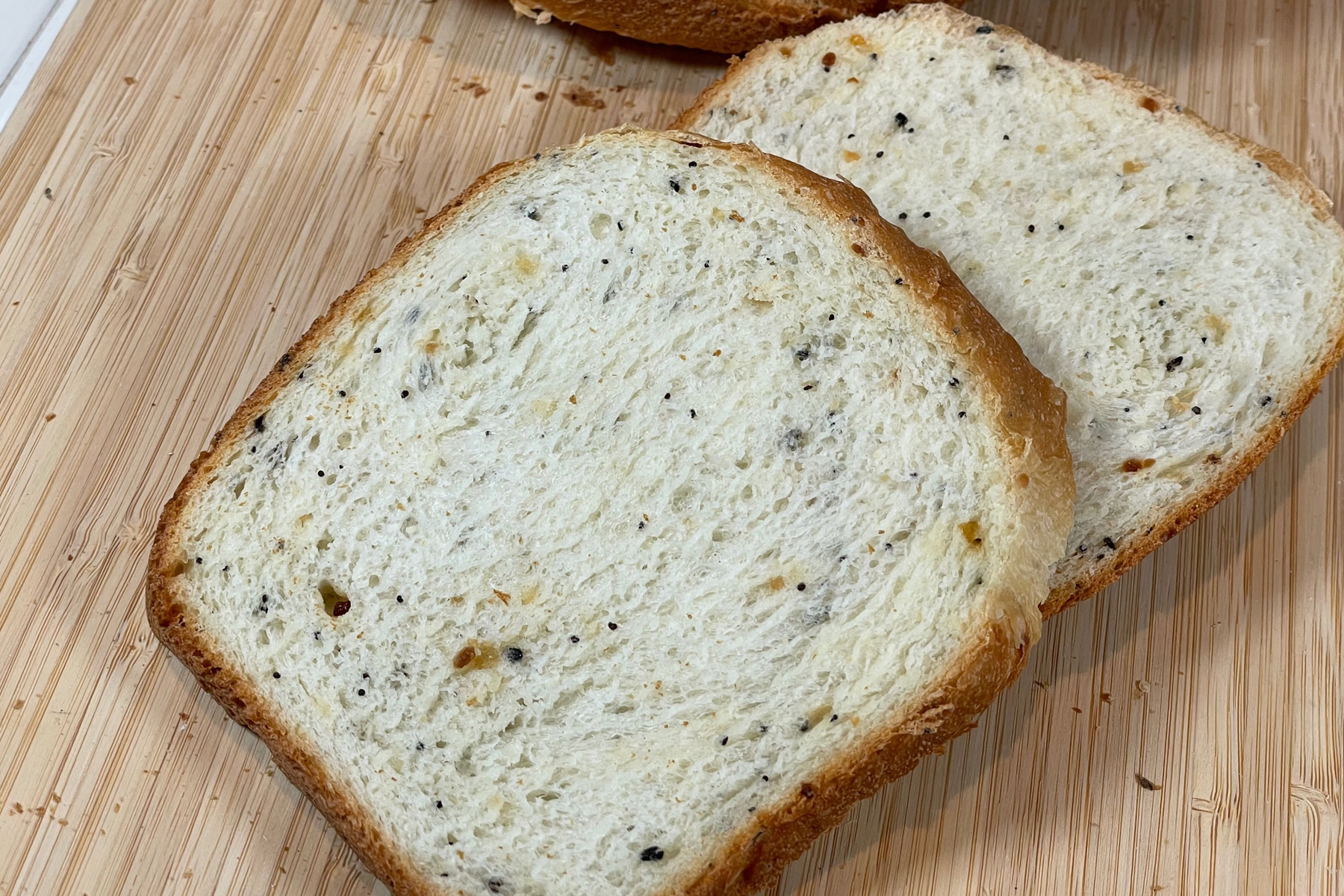 Fragrant, fluffy, and fulfilling.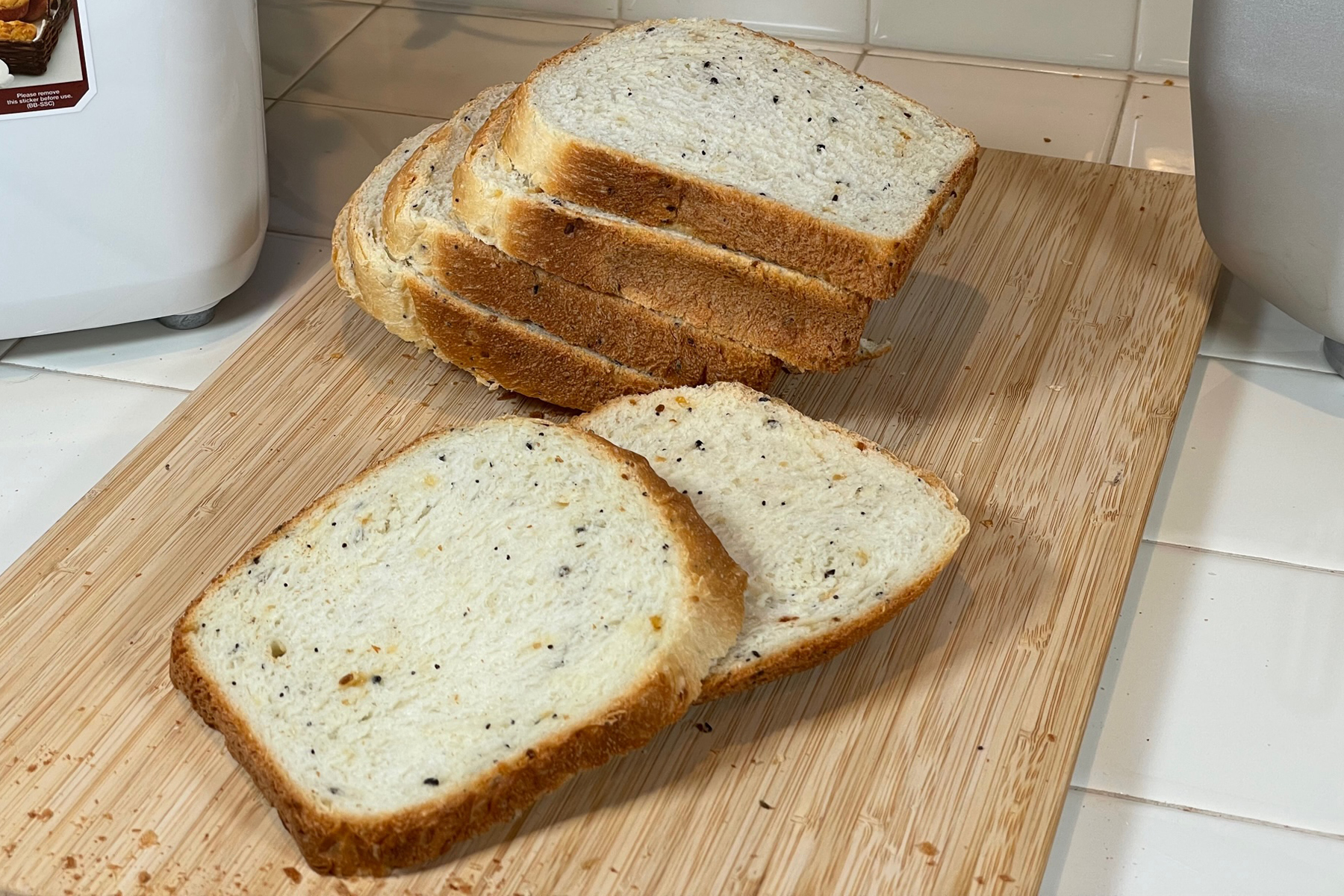 Here is where you insert your own favorite recipe for Banana Bread. I just wanted to show you how a toaster oven is so great when you don't want to mess with your normal one. They're more energy efficient, they do more things, they're portable so I can move it around on my counter, and they can bake just about anything in smaller portions.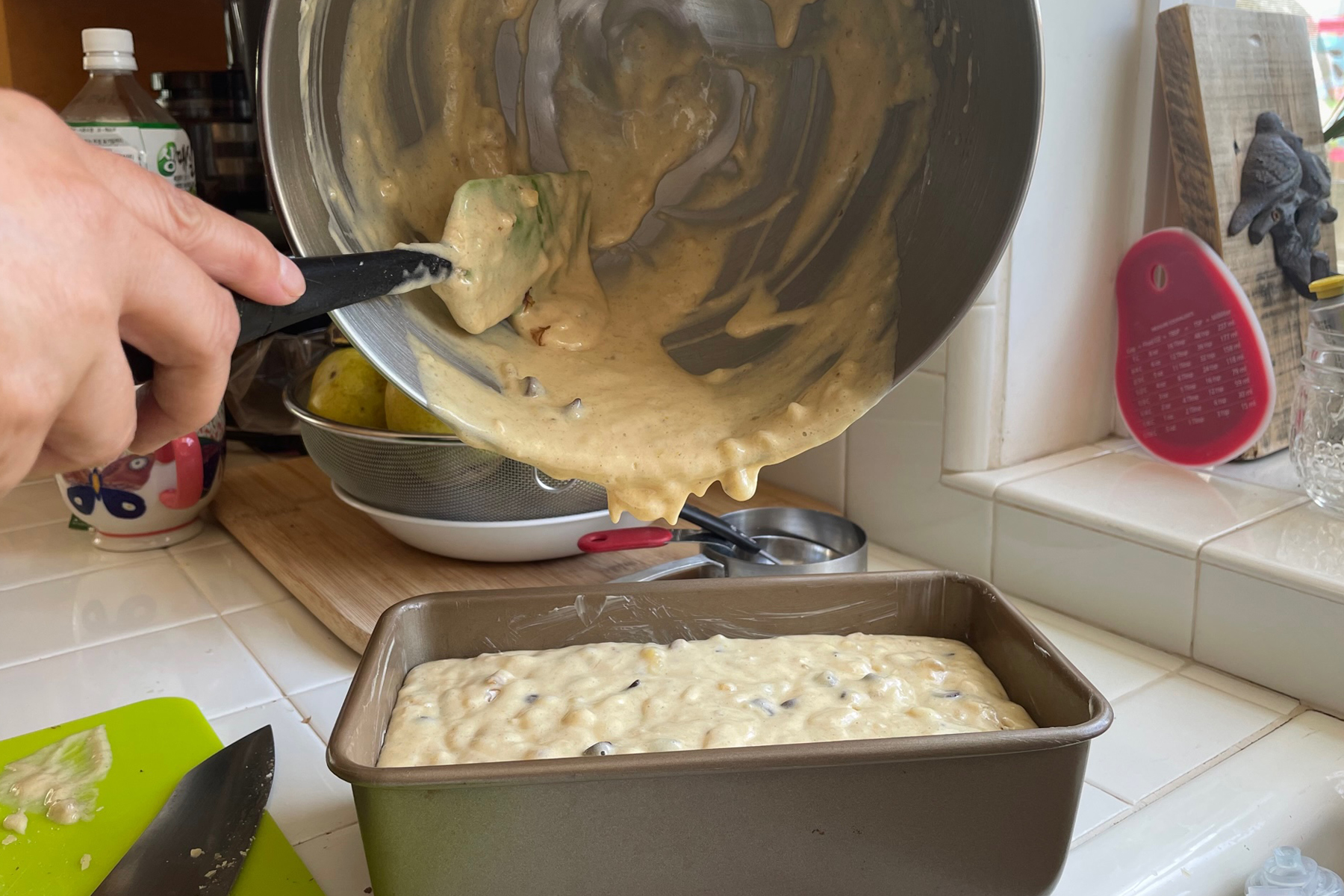 Our banana bread, perfectly done in a 9″ x 5″ loaf pan that fits no problem in the toaster oven.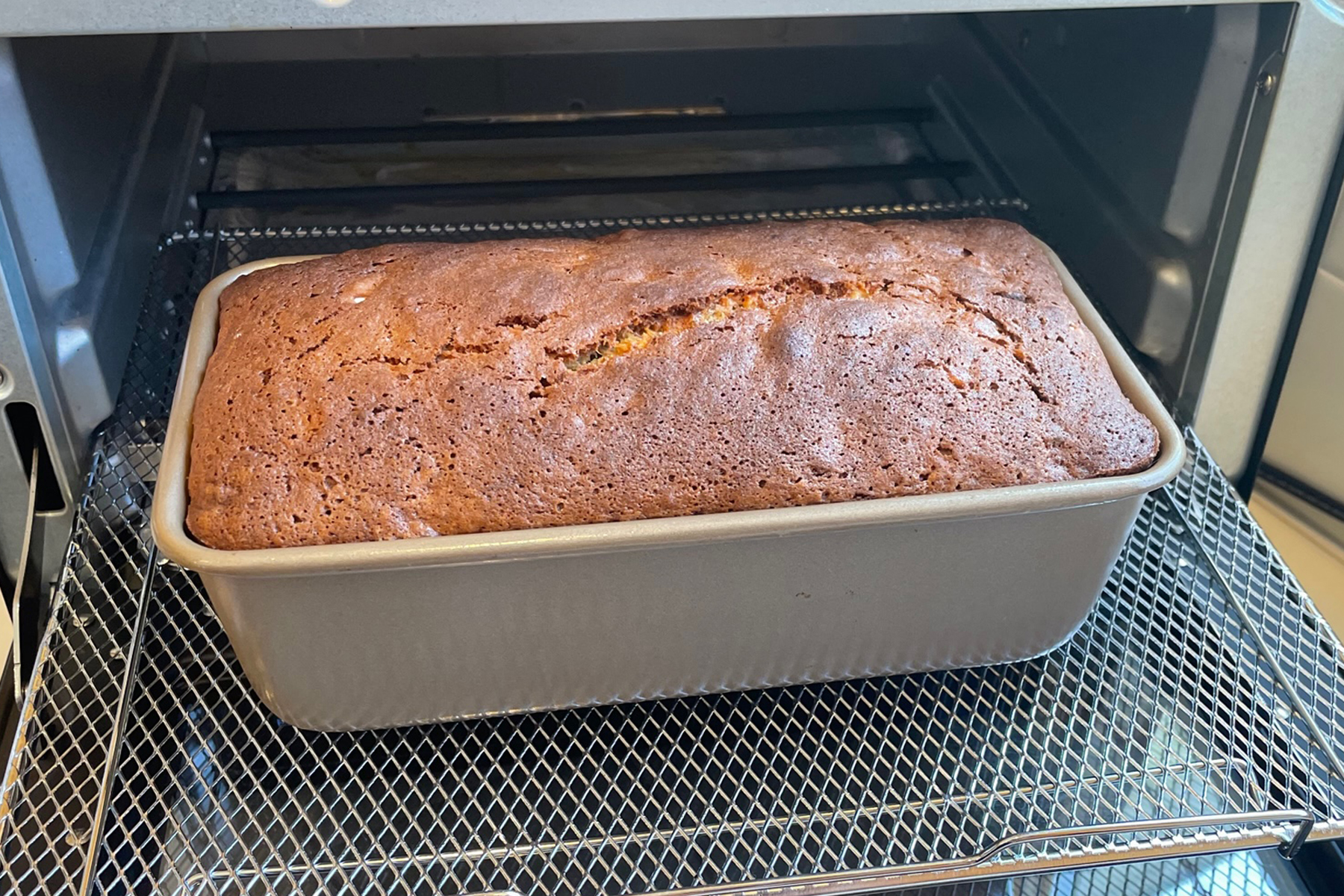 Here's what I think: if you want to do all of your baking in a toaster oven (like we do since our big one doesn't work too well), invest in a good one. The better ones will heat more evenly and will probably be large enough to produce a better bake, with all the roominess inside. Just my opinion…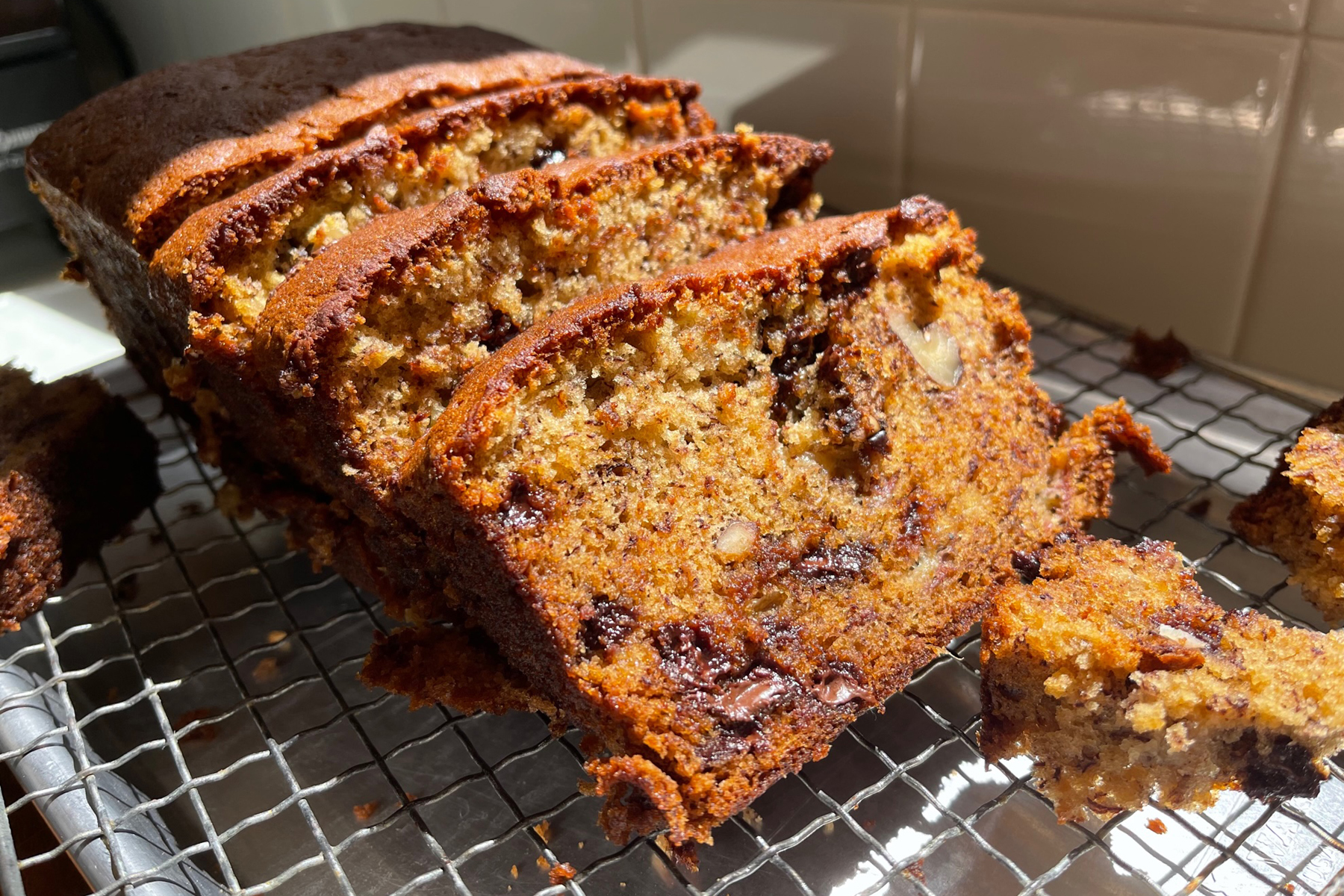 Happy National Homemade Bread Day!



Products used in this post: Micom Toaster Oven ET-ZLC30, Home Bakery Maestro® Breadmaker BB-SSC10
Please note that these recipes were not tested by Zojirushi America.
All images by Bert Tanimoto ©2022