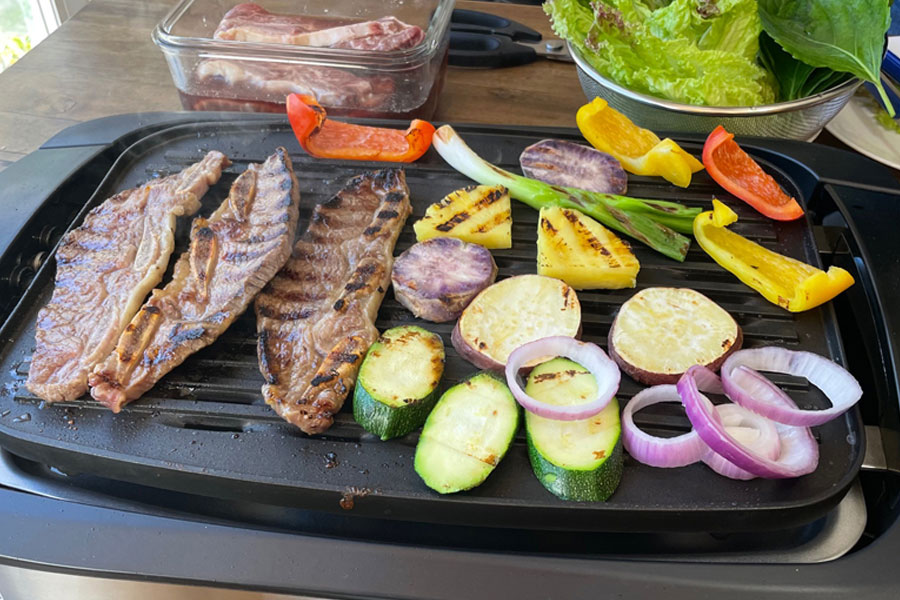 I'm not much of a grill guy. We don't have a big grill outside and I don't do backyard hotdogs while guzzling beer, but I do cook steaks sometimes, squatting near my small Weber® on the patio and trying not to overcook 'em. Can you draw this picture inside your head? If you can, don't do it. What we love to do is go to the AYCE KBBQ (All You Can Eat Korean Barbecue), and we're looking forward to doing that again real soon. In the meantime, I busted out my Zojirushi Grill and we had a mini version inside.
Here's a couple things I noticed about this grill. It gets plenty hot enough fast; and because it's electric you can stay on top of the temperature and make quick adjustments, unlike my charcoal one. The surface area was large enough for our family of 3, and probably good enough for even 4. We haven't tried it with more than this, so I can't say… Bonus Points: it makes really nice char lines!

If you do this at home, make sure you have some essential tools. Tongs of course, and a pair of kitchen shears to cut up the galbi. If you want to impress your friends but drive them crazy, make them eat with a pair of authentic Korean flat metal chopsticks
(jeotgarek). Not as difficult to use as the Chinese ones, but harder than the wooden Japanese ones. Why are they metal anyway? The origins go back to the Baekje Kingdom (18 B.C to 660 A.D.) when silver chopsticks were used by the royalty to detect poison in their food, because the silver chopsticks were thought to change color if there was poison. Metal ones are also more durable and hygienic, and they won't burn when used on a hot grill. That makes a ton of sense, right? If you're interested in chopsticks, here's a past blog you can read!
Check the simplicity of this mouthful that I'm about to scarf. And so healthy looking too! Leafy lettuce, perilla, gochujang, raw garlic and jalapeño. People get the impression that KBBQ is all about meat, which it is, but there's so much more to the ingredients involved. And I haven't even discussed the banchan, all the side dishes that you can serve with it. That's a whole other chapter.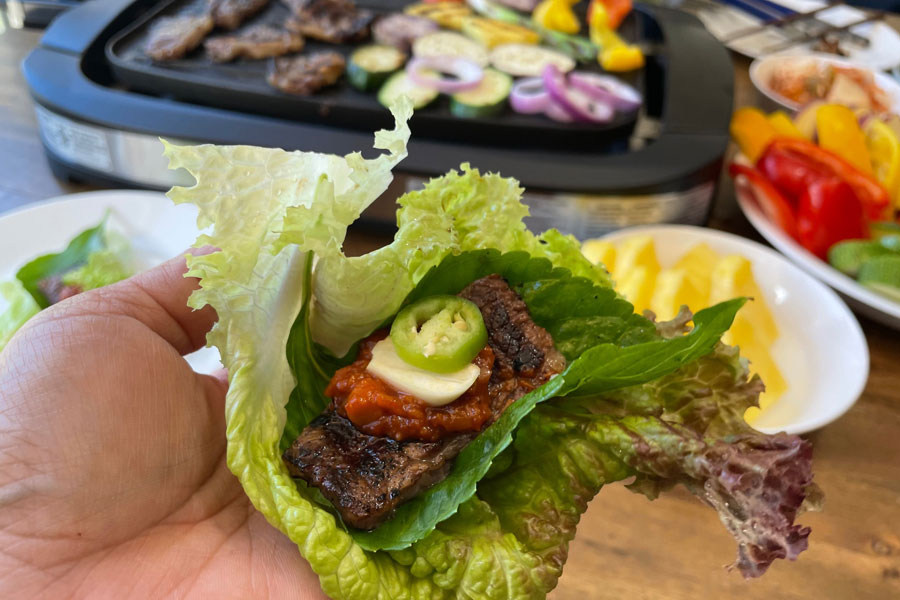 Just in case you're wondering how to clean this grill, it's non-stick so it cleans pretty easily, But to get a head start, I would suggest getting a wet paper towel and going over it while it's still hot. Most of the major gunk came right off. Good luck with your own KBBQ!

Grilled Corn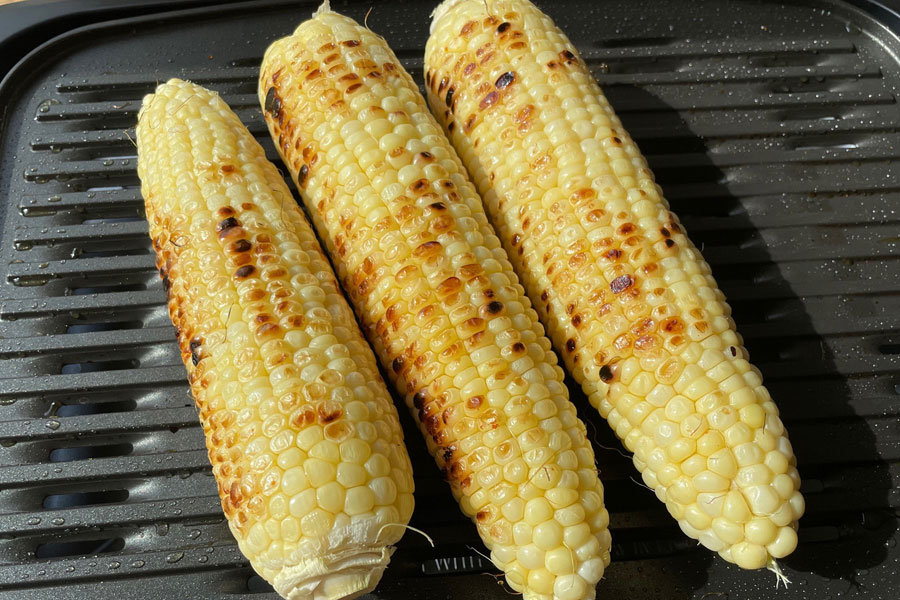 I found another great use for my grill that you really can't do in the oven or in a frying pan. Grilled corn! I tried Mexican Street Corn (elotes) and Japanese Street Corn (yaki tomorokoshi), and both came out spectacularly.
All you do for the Mexican Corn is make a batch of that famous creamy dressing using mayo, cotija cheese and chile powder. You can find recipes for it everywhere; slather it on the grilled corn to get that excellently hard-core street food flavor. How can plain grilled corn look so good?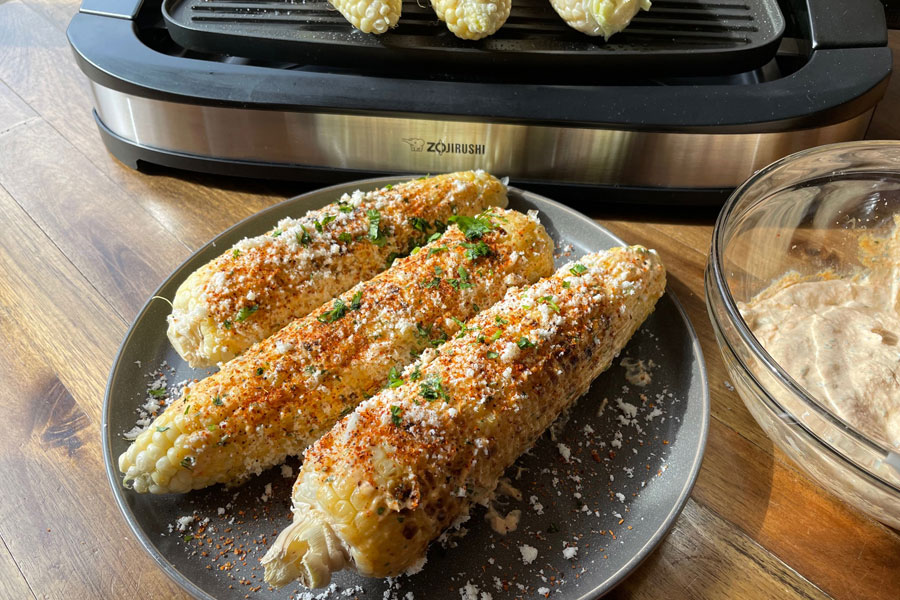 The only way to get more "street" than this is to go to the street to get it. Or in this case go to Silver Lake where these vendors have figured out a way to grill on a shopping cart.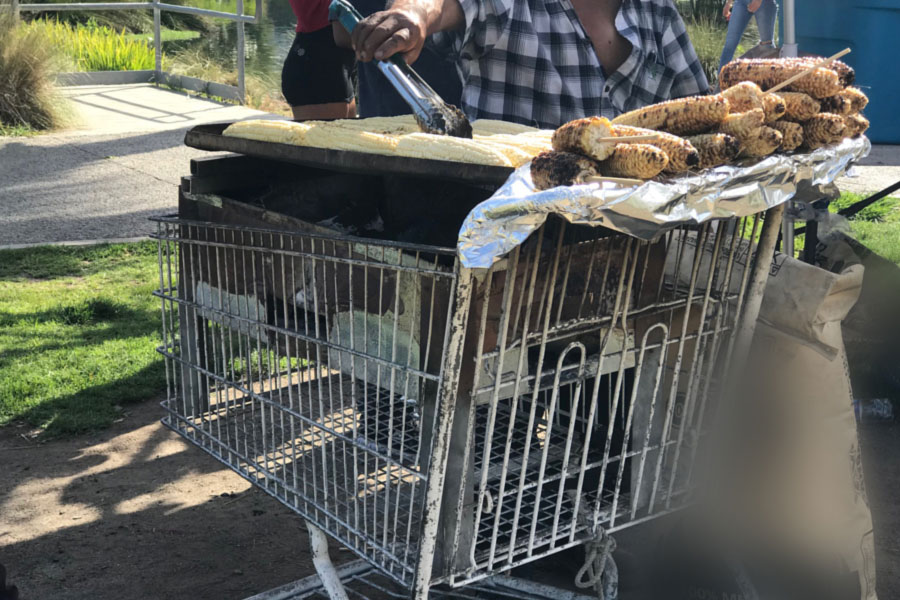 Japanese Corn, which can commonly be found at festivals during summers in Japan, is also easy. Make a mixture of soy sauce and mirin and brush it on while the corn is still grilling. Keep basting until that amazing smell of cooking shoyu fills the room and the corn gets tender.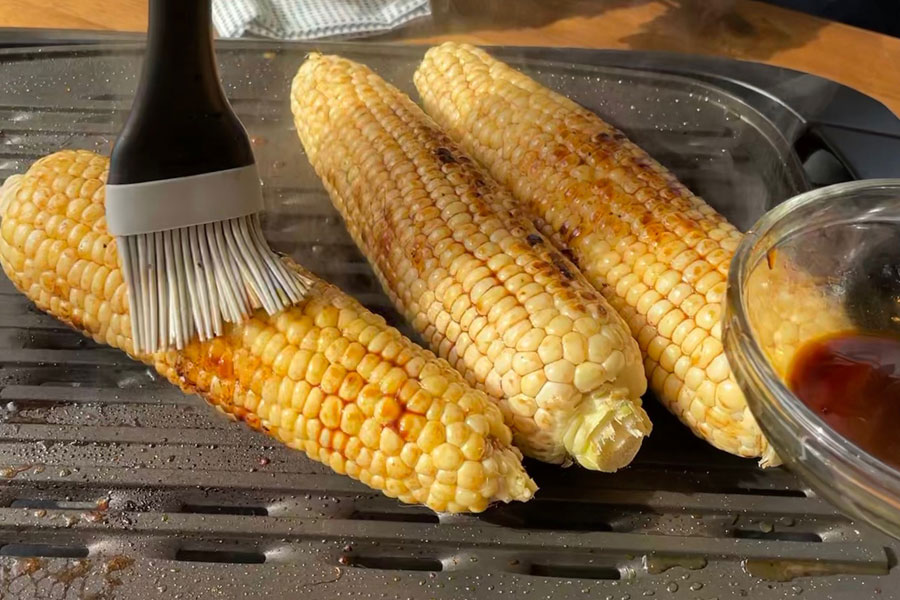 Yaki Tomorokoshi is my favorite way to eat corn. Grilled corn can take a long time to cook, so to speed up the process you might want to parboil them first by boiling them in water for 2 or 3 minutes before grilling. I simply microwaved mine—works just as good. Check it out—maybe a little overcooked cuz you can see some wrinkling, but still delicious.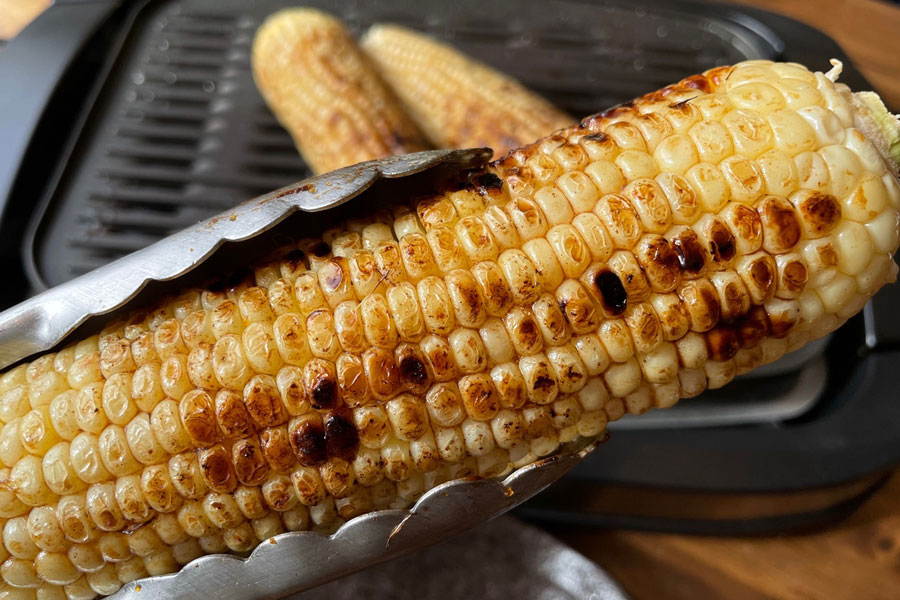 Just For Fun
We got a squirrel problem and he's a messy eater. This guy is bold enough to chew through our screen, grab a peach and have breakfast, but too lazy to take it with him.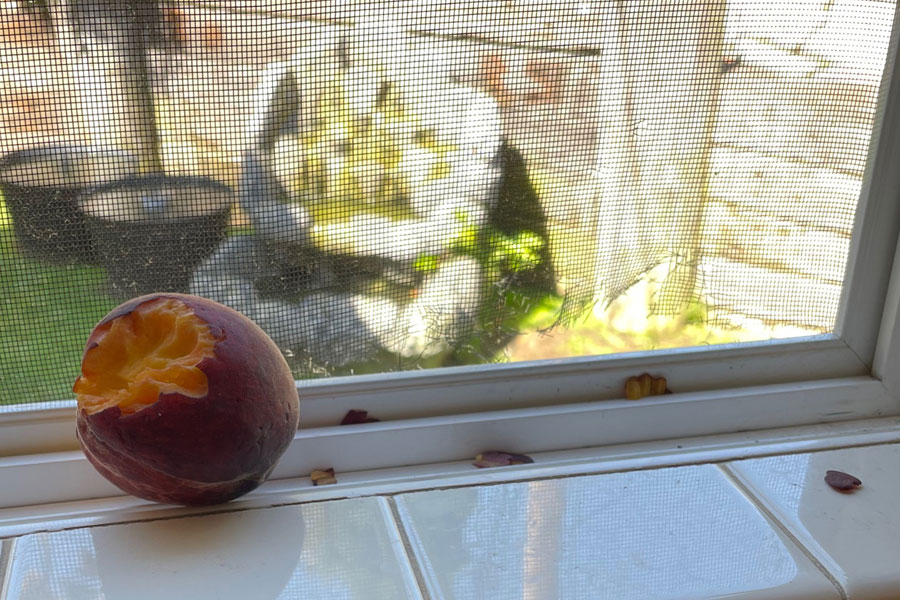 Zojirushi products used in this post: Indoor Electric Grill EB-DLC10
All images by Bert Tanimoto ©2021
Please note that these recipes were not tested by Zojirushi America