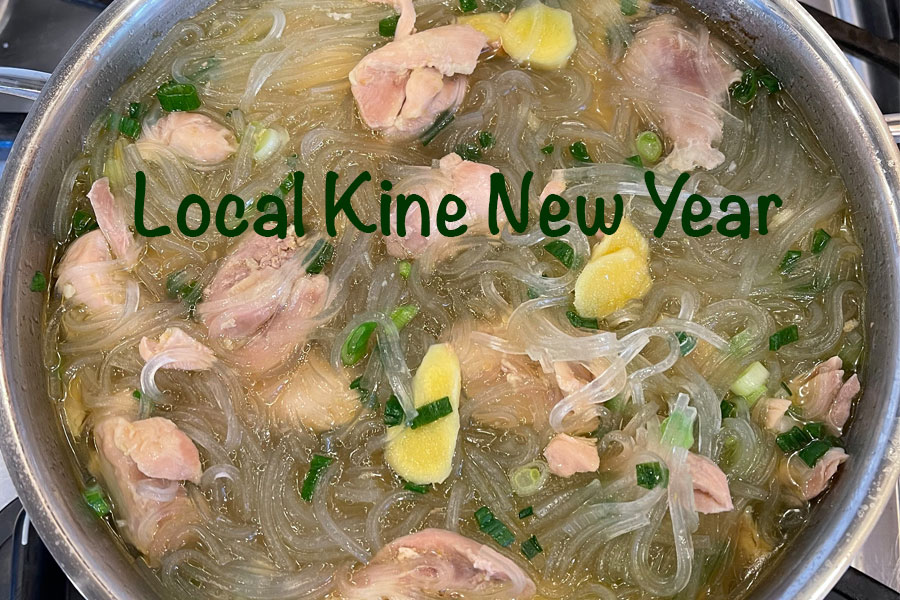 I've lived in California now for over 40 years, which I guess means I'm more from California than I am from Hawaii or Japan. But because those other places represent major milestones in my life, I'll never forget their effect on who I am today. Hawaii is where I grew up as a kid, and went to college later on. And even though I haven't been back in a while, that's one place I know never changes. I mean, it's an island, man.
Every major holiday had a designated family that would host all my relatives for a potluck dinner—and New Year's was at my aunt's in Honolulu. My cousin has taken over that duty since then, and she still makes her specialty, Chicken Hekka. What the heck is Chicken Hekka, you might ask? It's Hawaiian style sukiyaki; slightly sweeter, a little lighter broth, chicken rather than beef, but otherwise similar ingredients.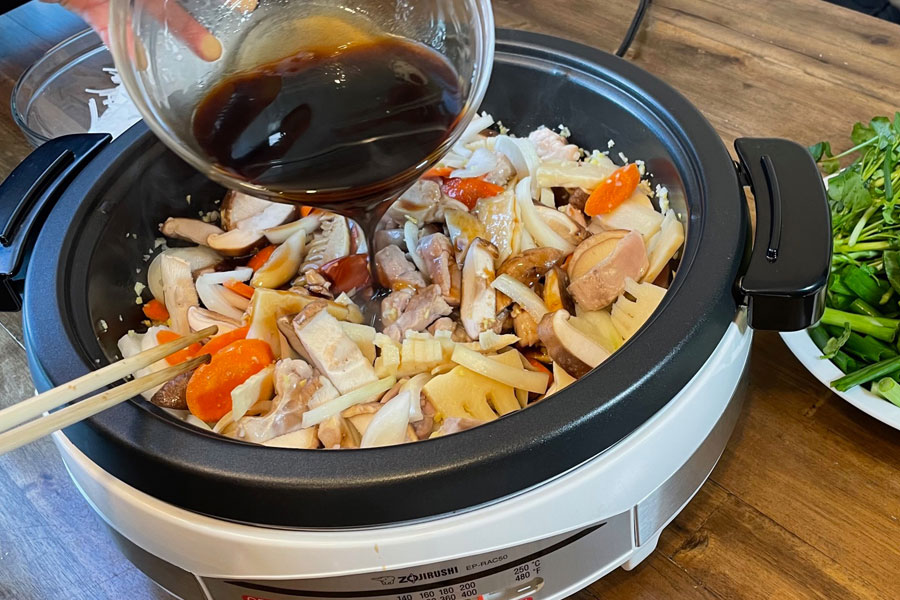 Our version had Japanese aburaage (fried tofu skin) and long rice (bean thread noodles), cut into short strands for easier eating and less splashing when people are fishing them out of the pot.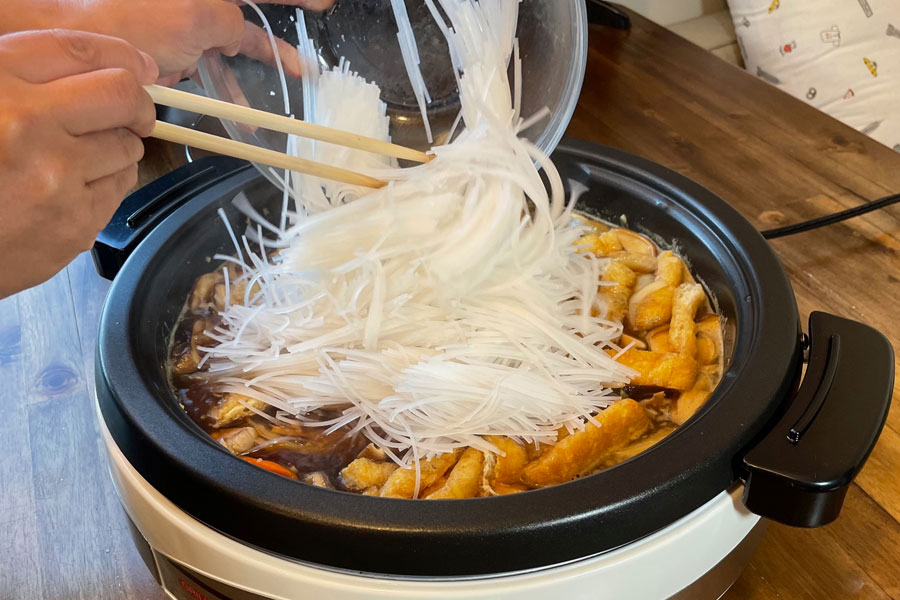 The fast cooking greens go last.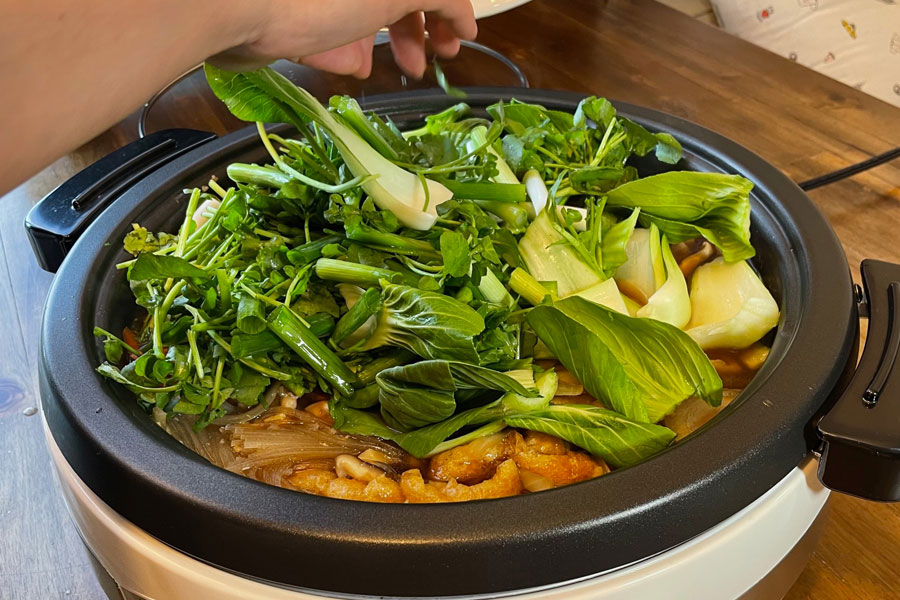 My Chicken Hekka. And before you say, "Why would you want to eat a hot pot in Hawaii?" Don't forget, when you live there and the temperature drops to the 60s at nighttime (gasp!), it feels COLD if you're always being tropical.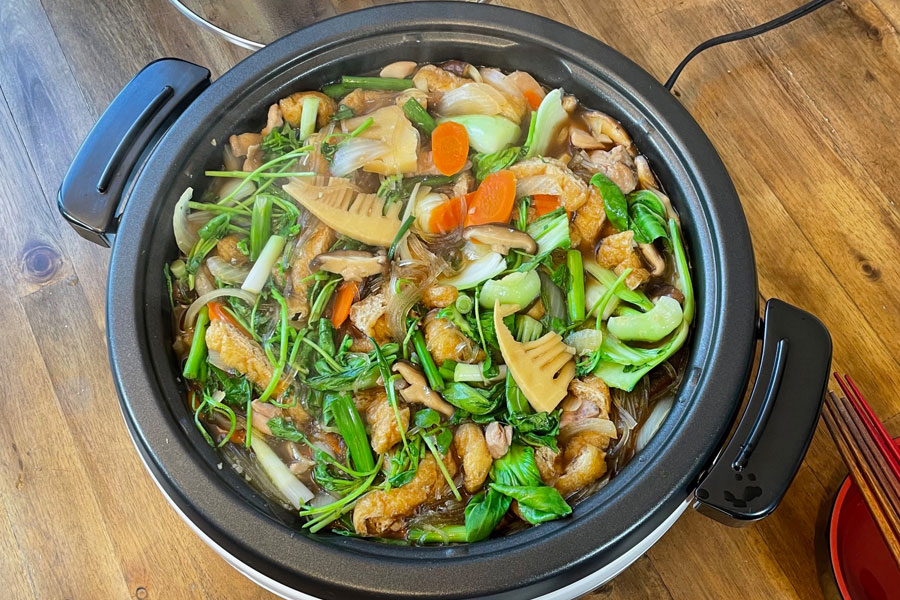 How much do you know about KIng's Hawaiian Bread®, that soft, buttery, sweet and poofy bread in the bright orange packaging you see at the market? When the original bakery and coffee shop was located on King Street in Honolulu, it was known as a place to sit down and enjoy the food and pastries. The founder is originally from the Big Island, where he started the business in the 50's, and today you can get their famous bread almost anywhere.
Hawaiian Bread is basically Portuguese sweet bread, which you can bake in a breadmaker. Look up a recipe for that and it'll come close, even though you may not be able to replicate that signature texture. Mine still came out softer than regular white bread though, and the sweet bread taste was spot on. I was also very happy to say it rose higher than any loaf I've ever baked.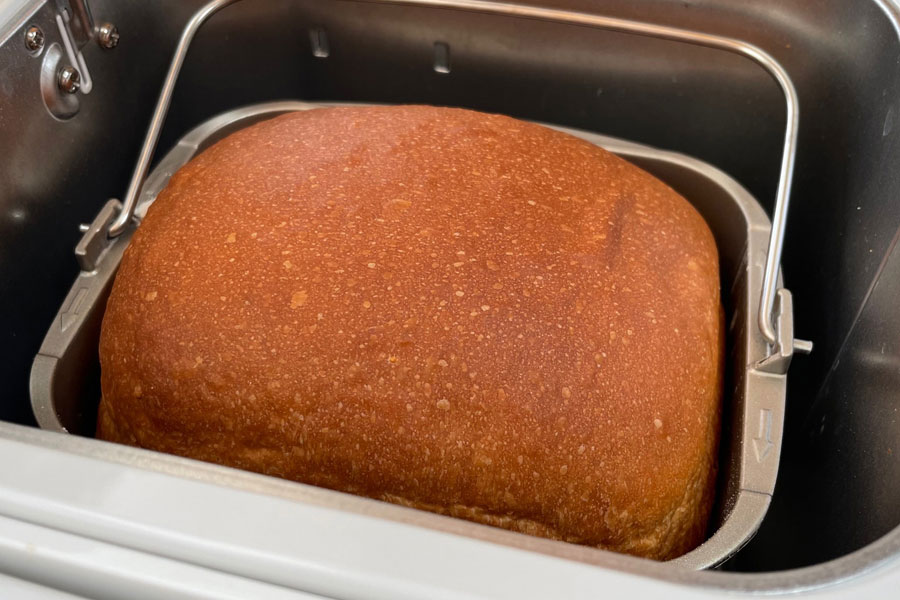 I used a popular Portuguese sweet bread recipe from allrecipes.com for a 1.5 lbs. breadmaker. I reduced everything by a two-thirds for my 1 lb. breadmaker and it turned out fine. Forget other "Hawaiian" bread recipes that call for pineapple juice. This one is the real deal.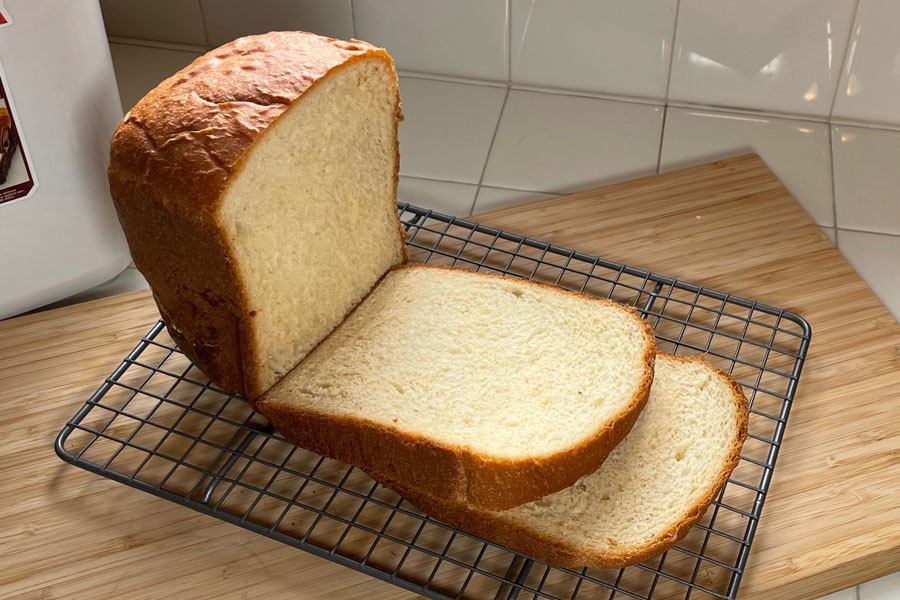 Serve with butter while still warm. We always had one of those big round loaves at my auntie's house on New Year's (so we could eat it with canned Vienna Sausage believe it or not). Mystery meat indeed!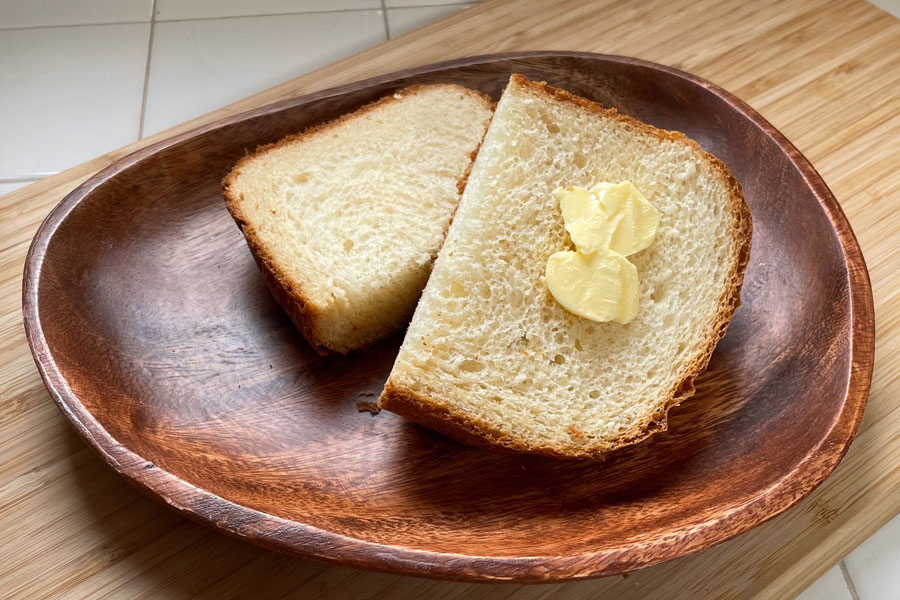 Since the breadmaker was already out when I made my bread, I used it to make Butter Mochi too. All you need is mochiko, the sweet rice flour sold at most Asian markets. I added chocolate to mine and the rest was up to the breadmaker—pretty easy. Zojirushi has a recipe here.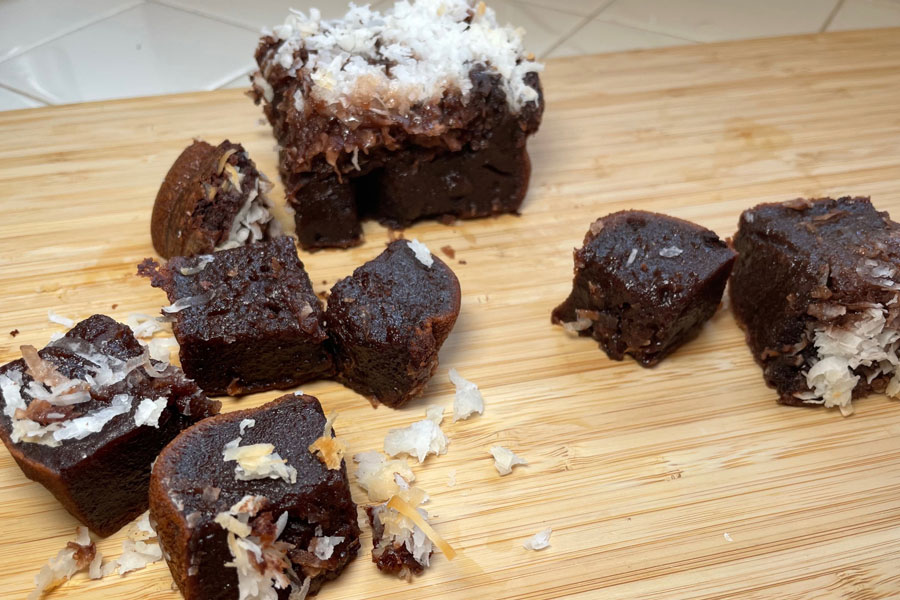 Unlike wheat flour, rice flour is gluten-free—even mochiko, which is processed by milling a glutinous variety of short grain rice into fine powder. The sticky, chewy texture comes from the type of grain used, which replicates that snappy stretch of gluten. I'm not on a gluten-free diet, but for those that are, this is good to know. Here's my Chocolate Butter Mochi.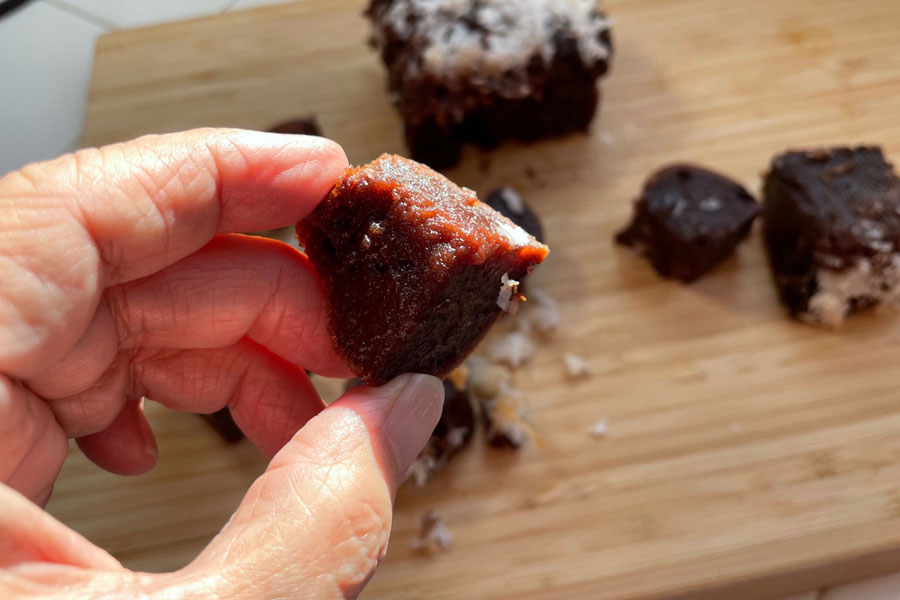 So Hau'oli Makahiki Hou! to you and your family this year. Thanks for reading!
By the way, if you're wondering what that dish is at the top of this post, that's my wife's excellent Chicken Long Rice, another Hawaiian favorite!
Products used in this post: Gourmet d'Expert® Electric Skillet EP-RAC50, Home Bakery Maestro® Breadmaker BB-SSC10
Portuguese Sweet Bread by allrecipes.com
Please note that these recipes were not tested by Zojirushi America.
All images by Bert Tanimoto ©2021