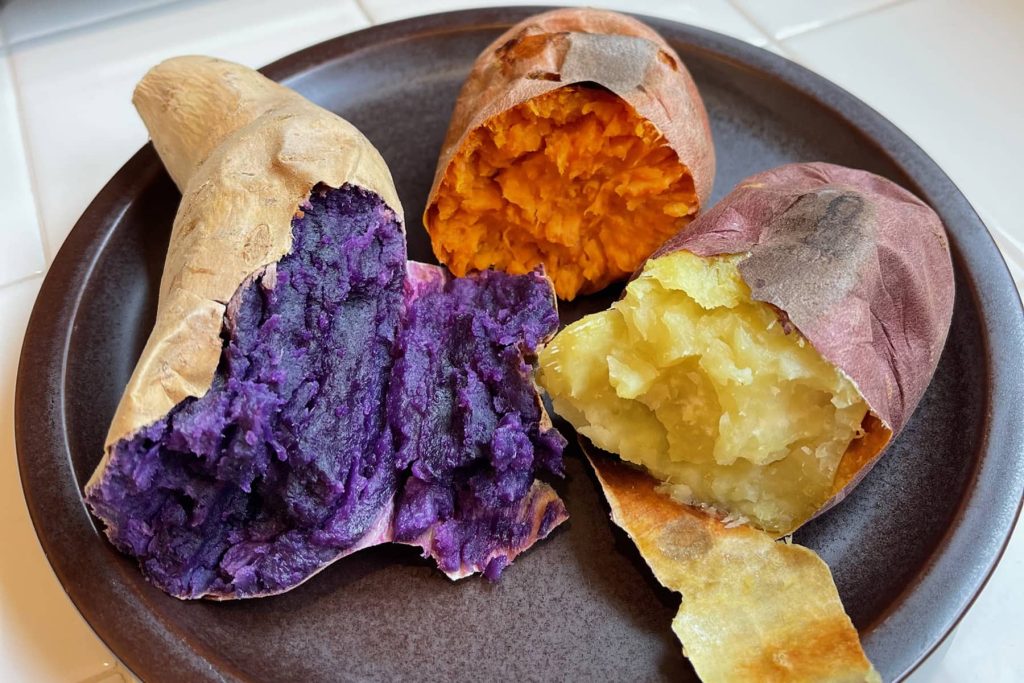 Here's the thing—you wouldn't expect the words "comfort food" and "high tech" to go together, but when I sit here and think, "What can I make with my Zojirushi products today?" the tech makes it easier to cook everything. And that includes the simple stuff that I grew up with, like sweet potatoes.
My wife loves French onion soup. She dug up this recipe from Better Homes & Gardens® that makes a one-pot pasta with canned soup, so we made it with our electric skillet.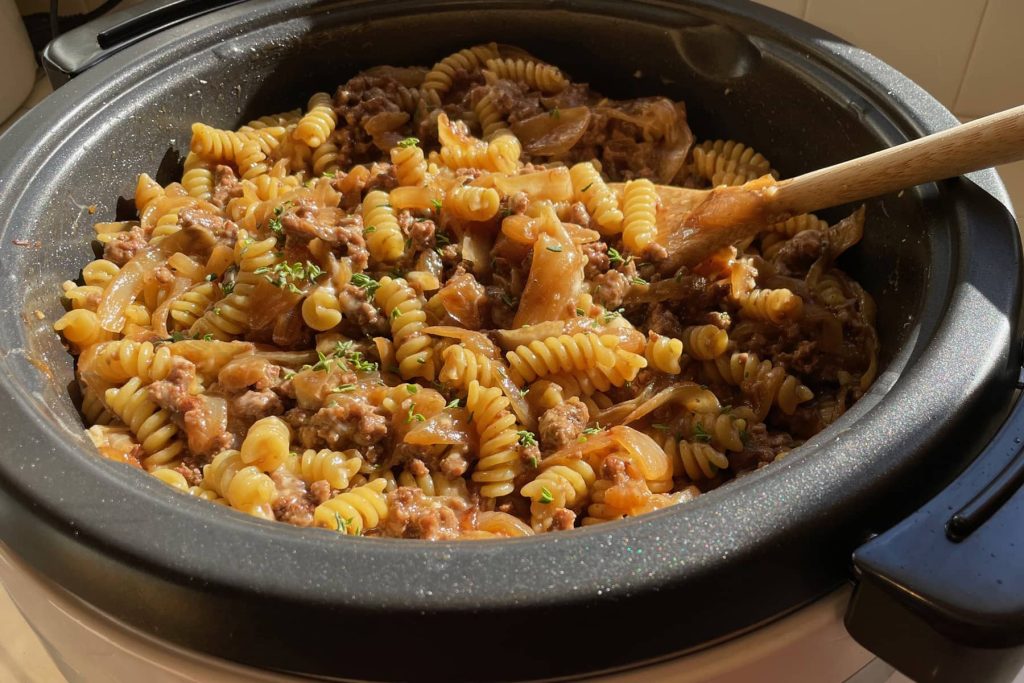 You can tell this is going to taste good just by looking at it—how can you go wrong with canned soup? Of course it isn't going to compare with how the French did it in the 19th Century, when the modern version of onion soup first originated at open air markets, but modern times has its advantages too.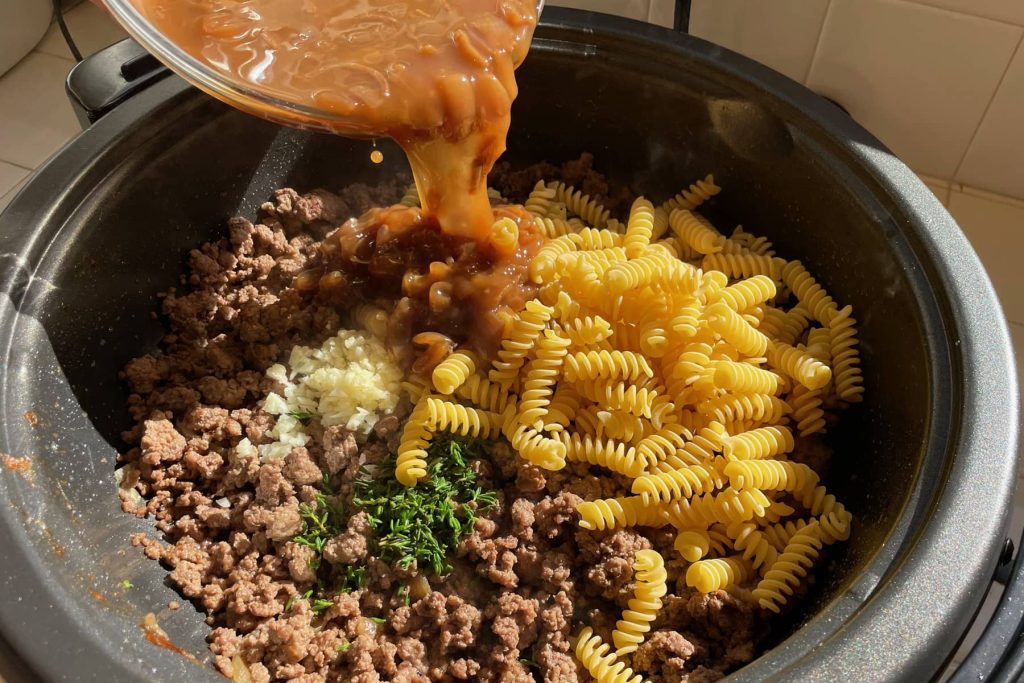 Once the pasta has cooked through, the real flavor goes in; all those browned onions and cheese.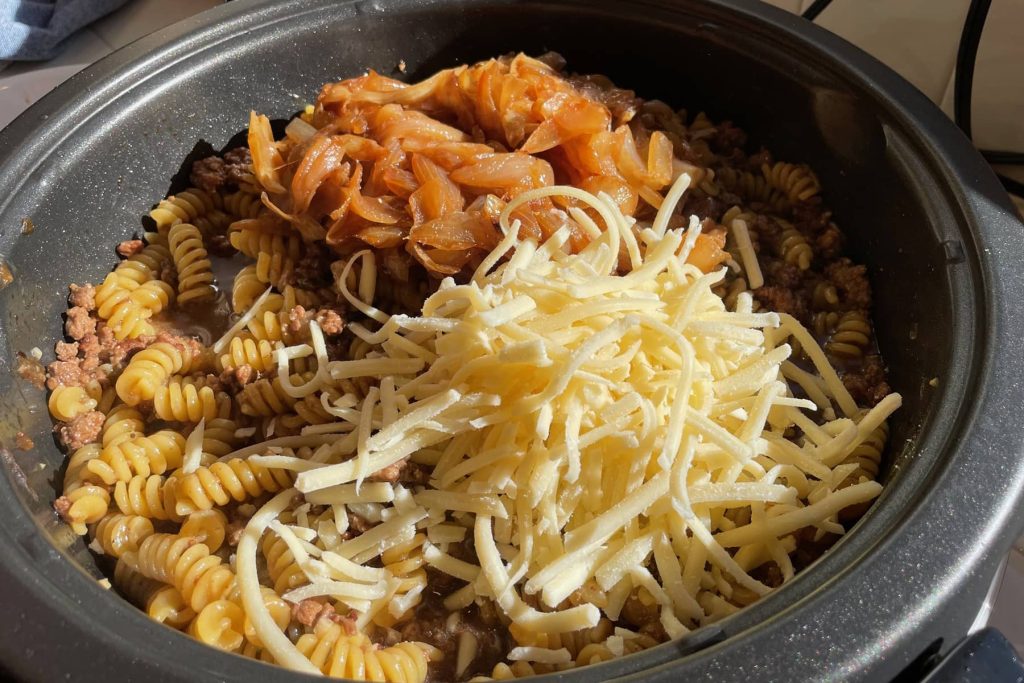 The crusty French bread takes the place of the croutons you would normally find in French Onion Soup. This is the best kind of comfort food—the kind you make with no trouble in one pot.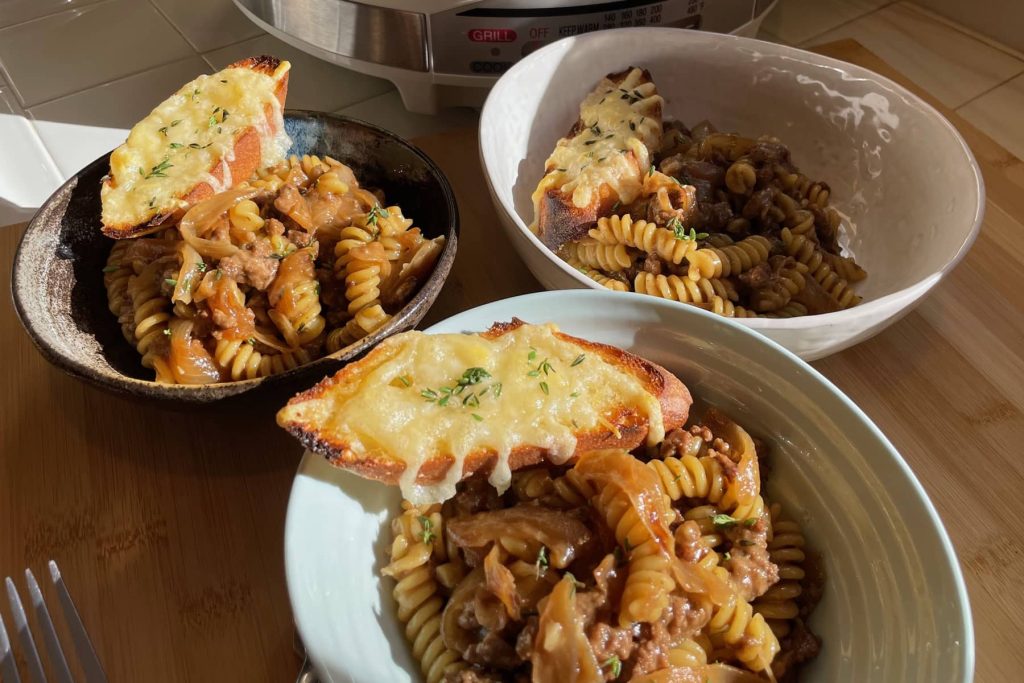 OK, I'm not gonna lie. We don't have a lot of counter space in our kitchen, so when we take out an appliance to use, it's going to get more than one use before it goes back into the closet. The skillet is handy for this kind of homey dish anyway, so we made Paella. Listen, whenever I eat rice it's almost always an Asian dish, but I do like other kinds and Spanish Paella is one of them. The other is Cajun rice. I'll eat anything that tastes good, you know what I mean?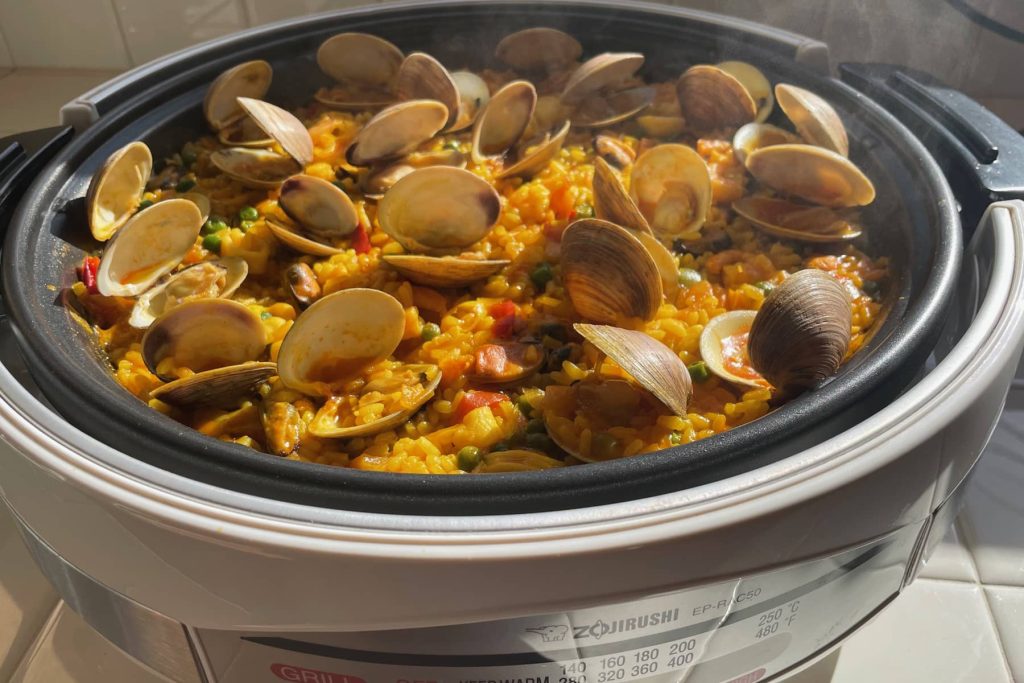 Notice how the skillet seared the bottom of the rice so nicely, a trademark of good Paella.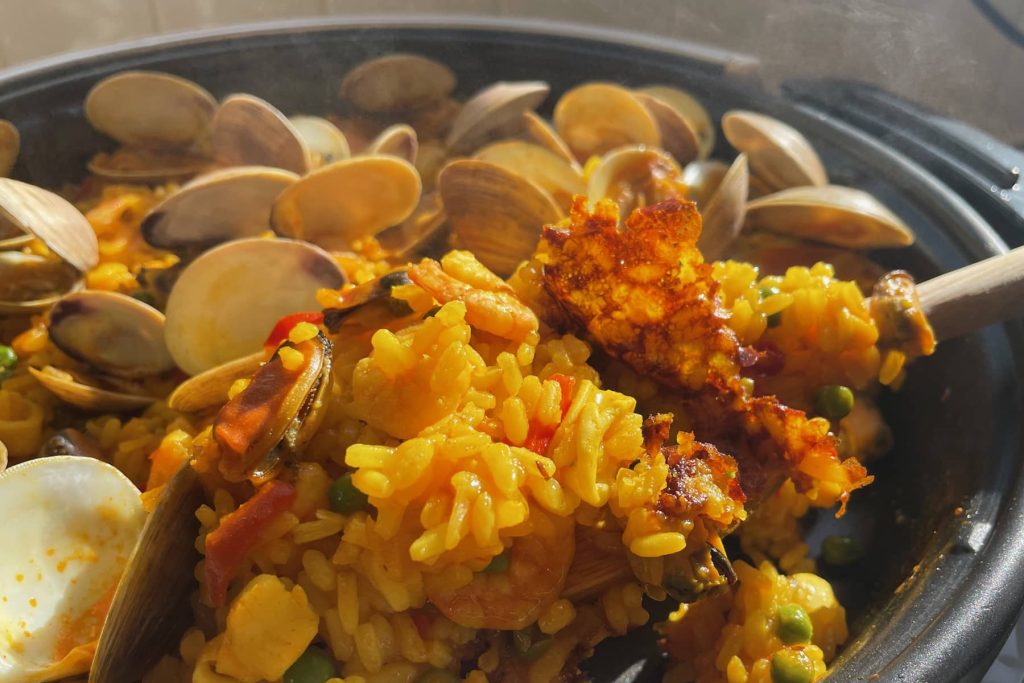 More comfort food—a simple steak with grilled vegetables.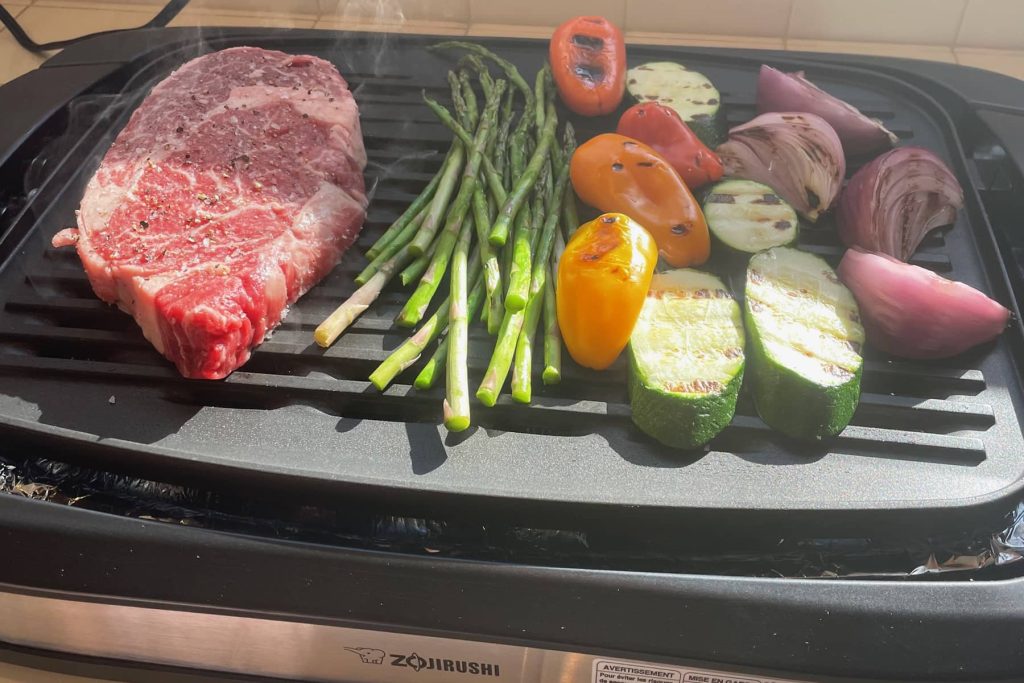 Maybe steak isn't that simple. There are a gazillion ways to eat it, after all. Some people like a good steak sauce, some prefer a chimichurri, or maybe just butter and some salt and pepper for others. My favorite way to eat a steak is wasabi shoyu, a dipping sauce made of soy sauce and wasabi. But hey, it could be because I always eat my steak with white rice (which means I cut my meat up before I eat it and use chopsticks). How do you eat your steak?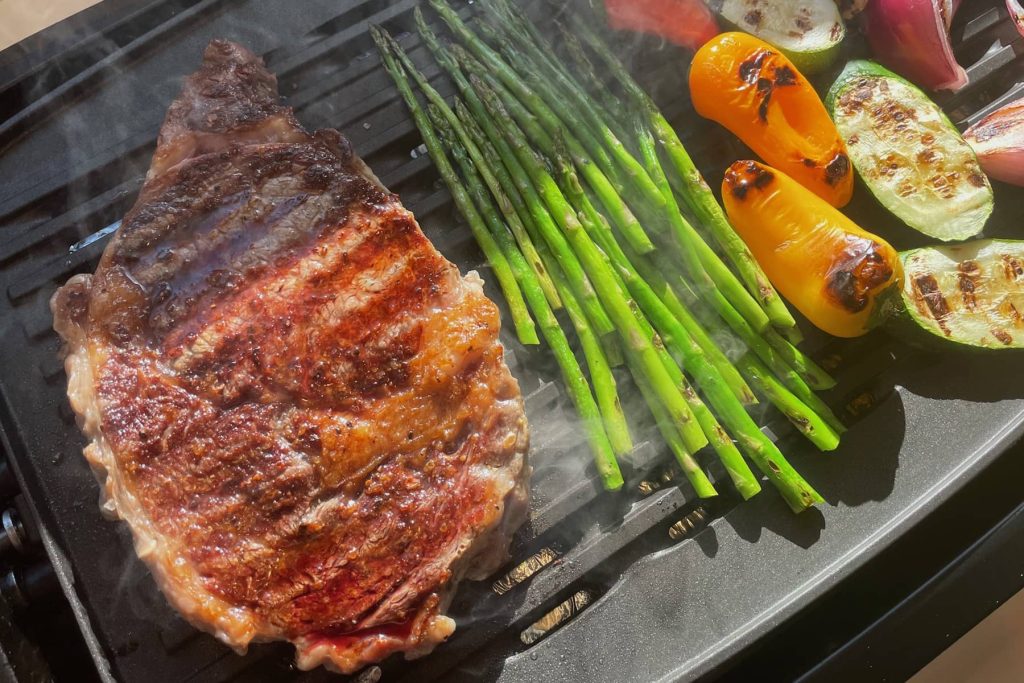 Let's talk about those lusciously colorful sweet potatoes. The purple one is the Okinawan potato, known for its sweet and creamy texture. It's been called a superfood, and who am I to argue; we all know that Okinawans are some of the oldest living humans on earth. The orange one is the traditional yam, the kind we love on Thanksgiving. And the pale yellow one is the Japanese sweet potato, that I've heard can still be bought from food carts in Tokyo on a cold night. You'd have to be on a quieter suburban street probably, but it sure would bring back childhood memories for me. You can buy these at the market in season and bake them in your toaster oven.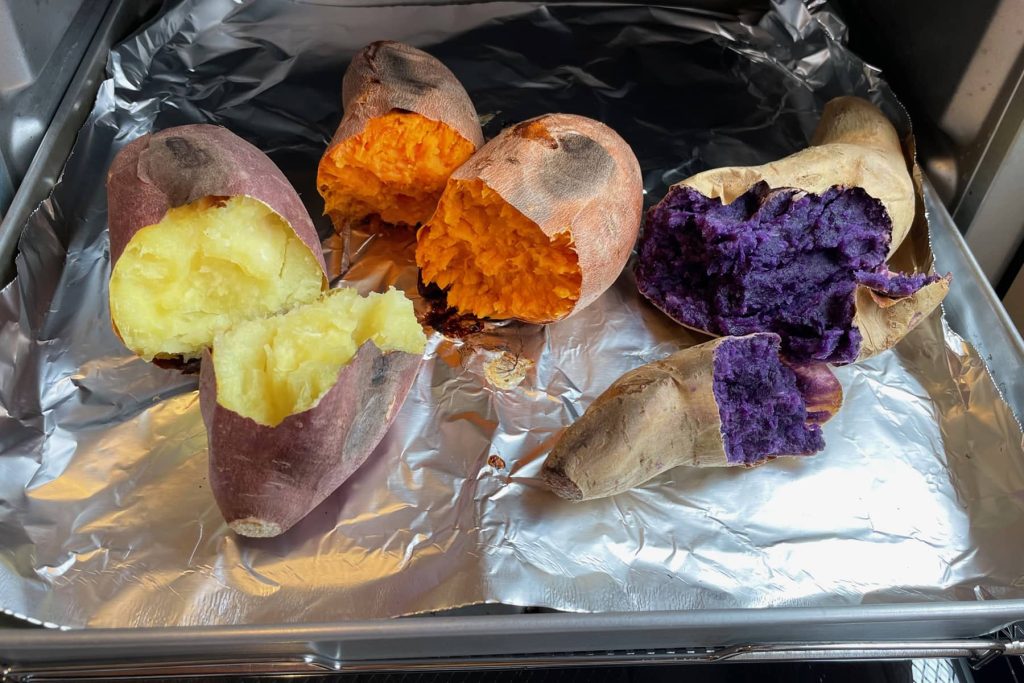 Because it's October, I really can't finish this post without talking about pumpkins. One of my favorite desserts growing up local in Hawaii was butter mochi, the classic cake made with mochiko flour. Well, if you add pumpkin puree to the mix you can get pumpkin mochi cake and not feel left out of pumpkin season.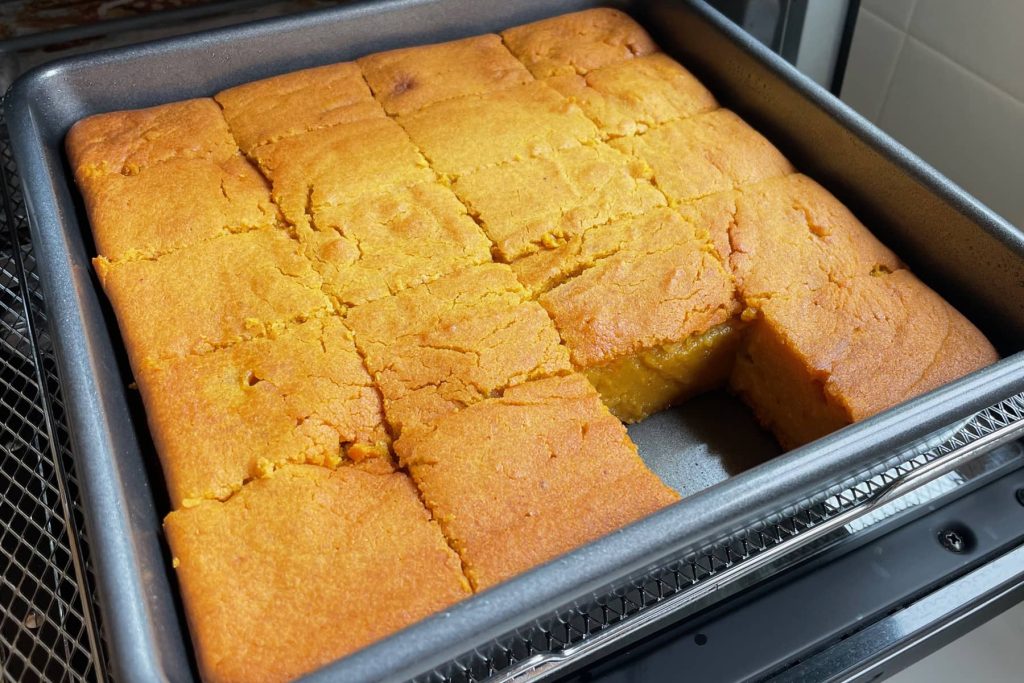 Adding the puree makes this cake a bit more pudding-like, but the flavor is ono; I guarantee it.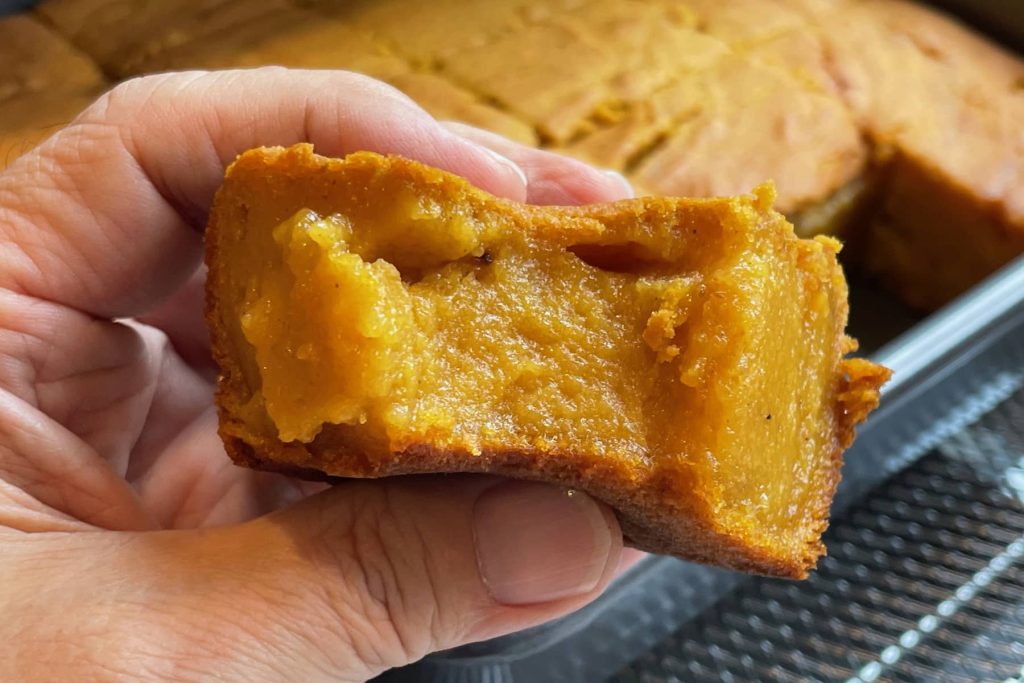 And that's how we do comfort food at our house. Whenever there's any excuse to go a little beyond bacon fried rice for dinner (like using our Zojirushi stuff for example), our menu often gets more interesting. Ha-ha!
Products used in this post: Micom Toaster Oven ET-ZLC30, Indoor Electric Grill EB-DLC10, Gourmet d'Expert® Electric Skillet EP-RAC50
Please note that these recipes were not tested by Zojirushi America.
All images by Bert Tanimoto ©2023