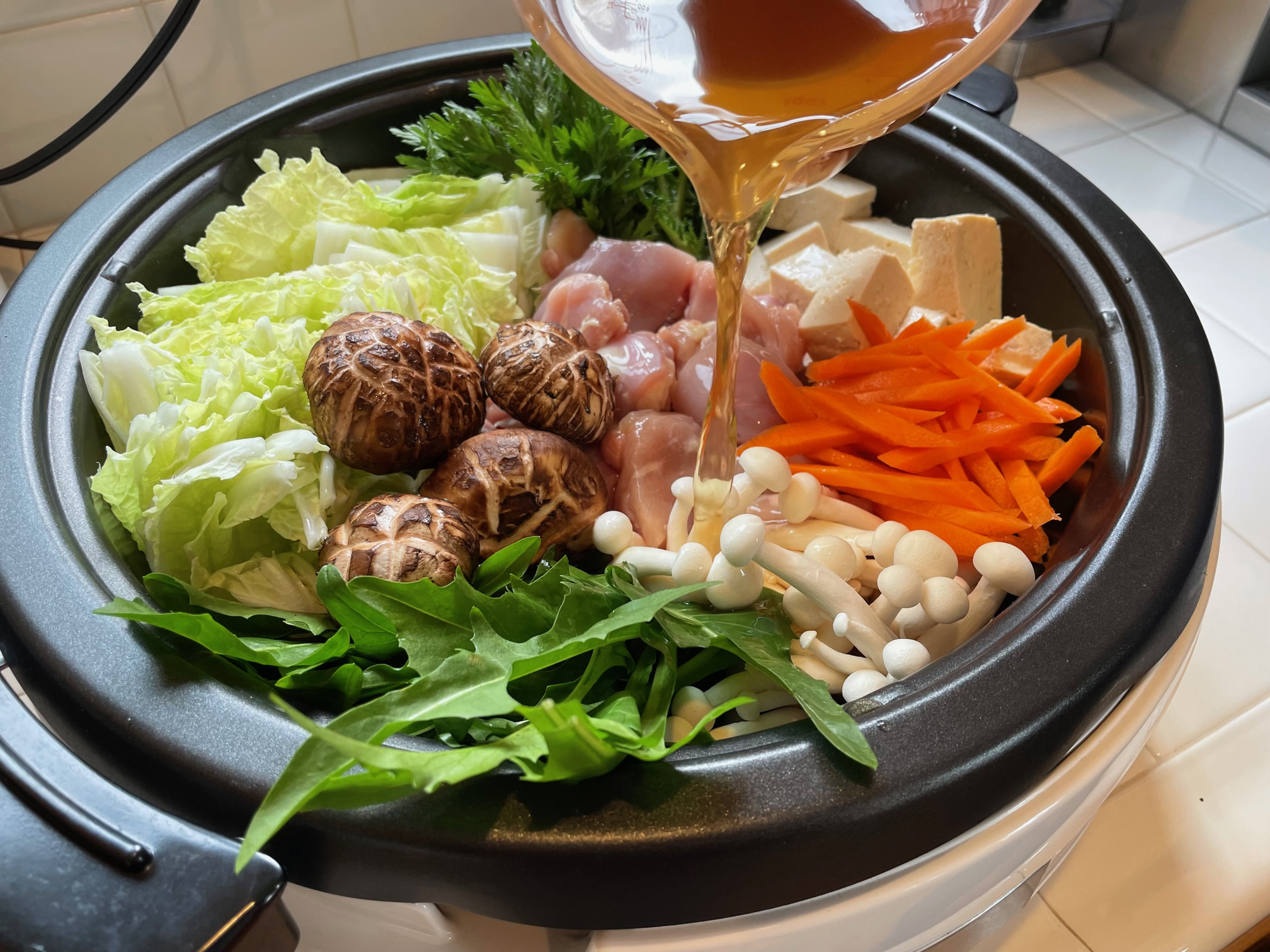 I am so happy to announce my first giveaway for Zojirushi this month! To enter, read the contest rules at the end of this article for your chance to win a new Gourmet d'Expert® Electric Skillet EP-RAC50!
This is a review that I should have done a long time ago; not only because this Zojirushi product is probably their most underrated appliance ever, but also because people should know how really versatile it is. The Electric Skillet has been in their line-up for a long time, which shows how time-tested and trustworthy it has been. For our family, It gets the most use around our house for a variety of meals (only the rice cooker and water boiler gets more time, but they're specialized).
Check out the recipes available on the Zojirushi site under Other Electric Products and you'll see how many were cooked with the skillet. So many awesome one-pot meals you can make! I put the skillet through a workout with a classic Japanese hot pot called Tori Nabe (chicken hot pot), because it's still a bit chilly out there, and it isn't a heavy hot pot dish like you'd want in the middle of winter. Tori Nabe uses mainly chicken chunks, vegetables, tofu and a light chicken broth.
Once you get used to controlling the temperature on the skillet, it's easy to cook with it. It heats up very fast so it didn't take long to bring everything to a boil with the glass lid on.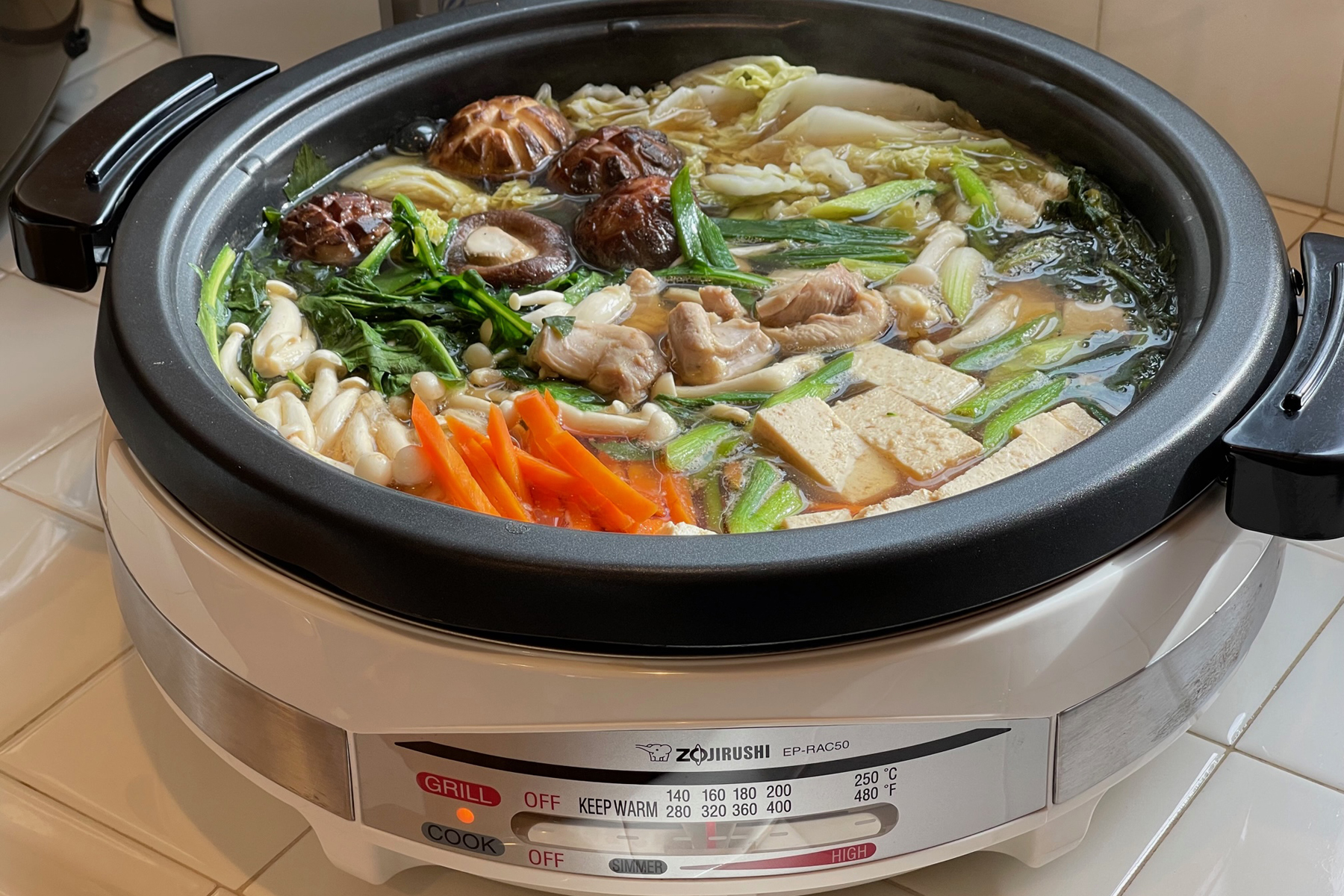 In about 10 minutes you'll be done so you can bring it down to a simmer and just dig in. The beauty of this dish and the skillet is the portability. You're not anchored to the stove because you can simply cook on the dining table. You're not even having to serve because your eaters can serve themselves right out of the pan, so you're enjoying hot pot the way it was really meant to be.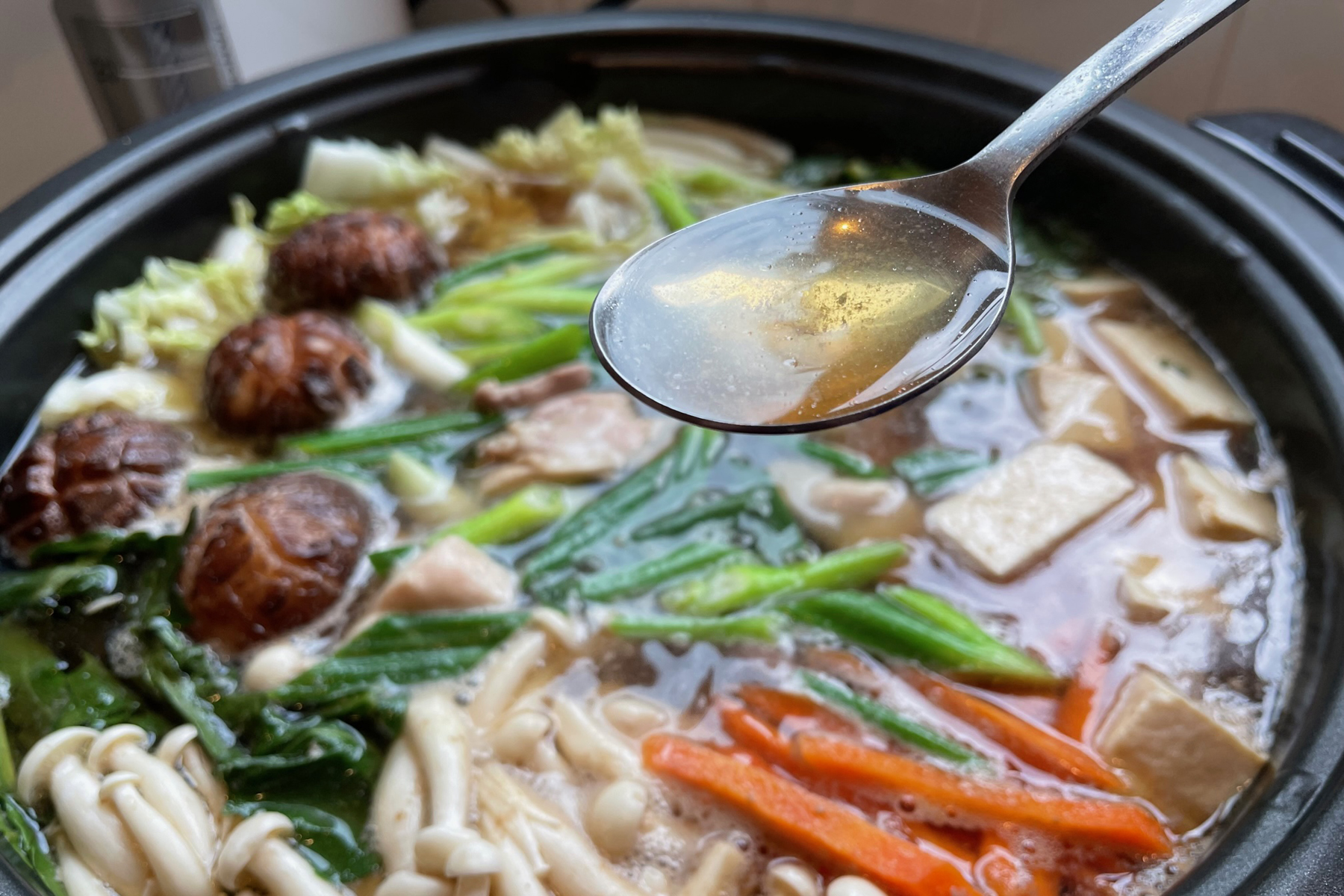 This skillet also comes with a shallow pan, which is big enough to almost be a griddle. In our Korean/Japanese household, we're always going to get both cuisines, so here's a couple of dishes where a flat surface area like this makes stir frying easy. We had just enough leftover rice to make Korean Bibimbap—my favorite.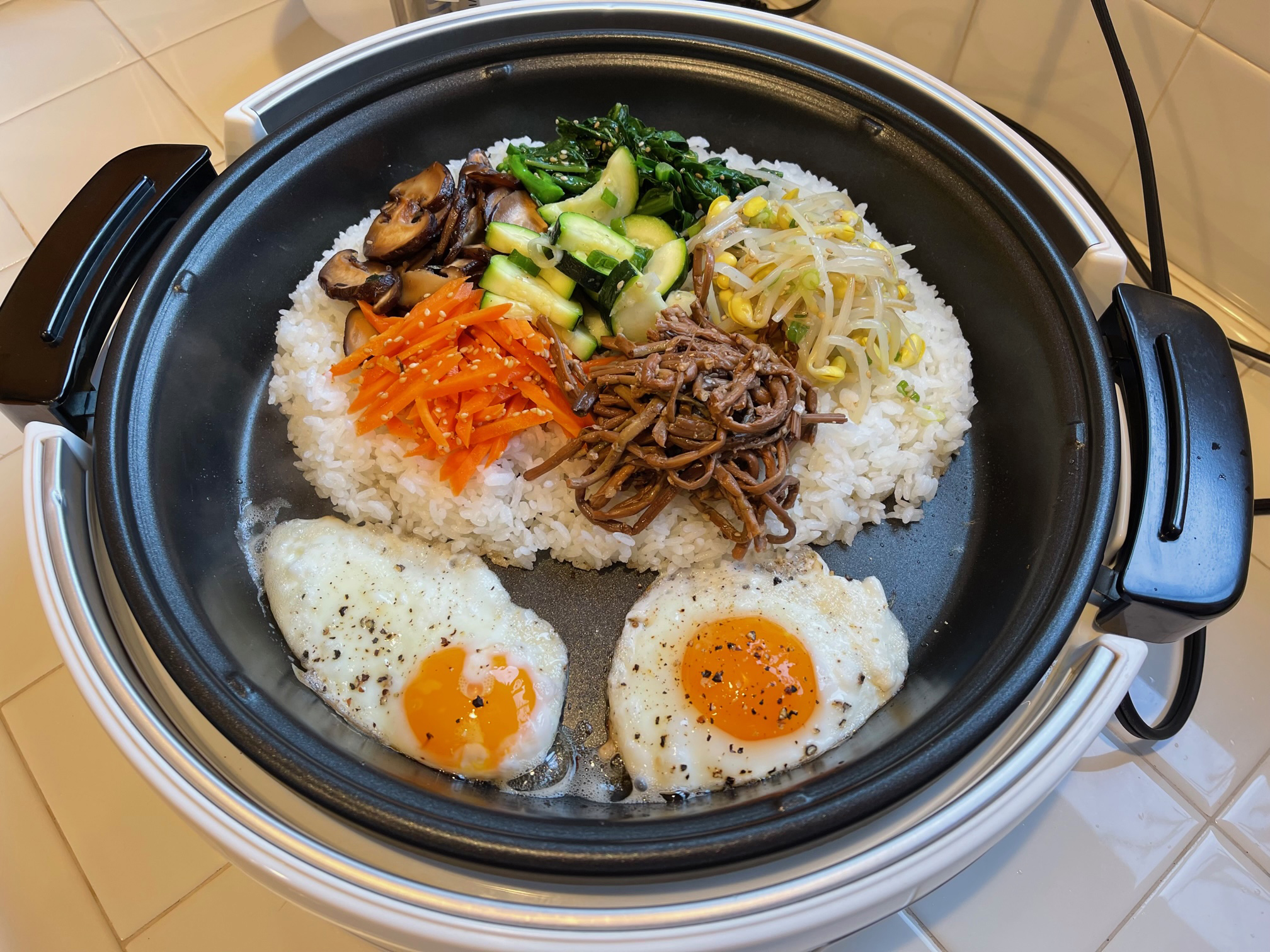 If you've ordered this at a Korean restaurant you might have had it in a dolsot stone pot, the crazy heavy bowl (sometimes solid granite) that gets so hot it browns and toasts the rice by the time you're ready to eat it at the table. The Zojirushi skillet gets major points for heating evenly across the entire surface, able to replicate the rice browning for the bibimbap!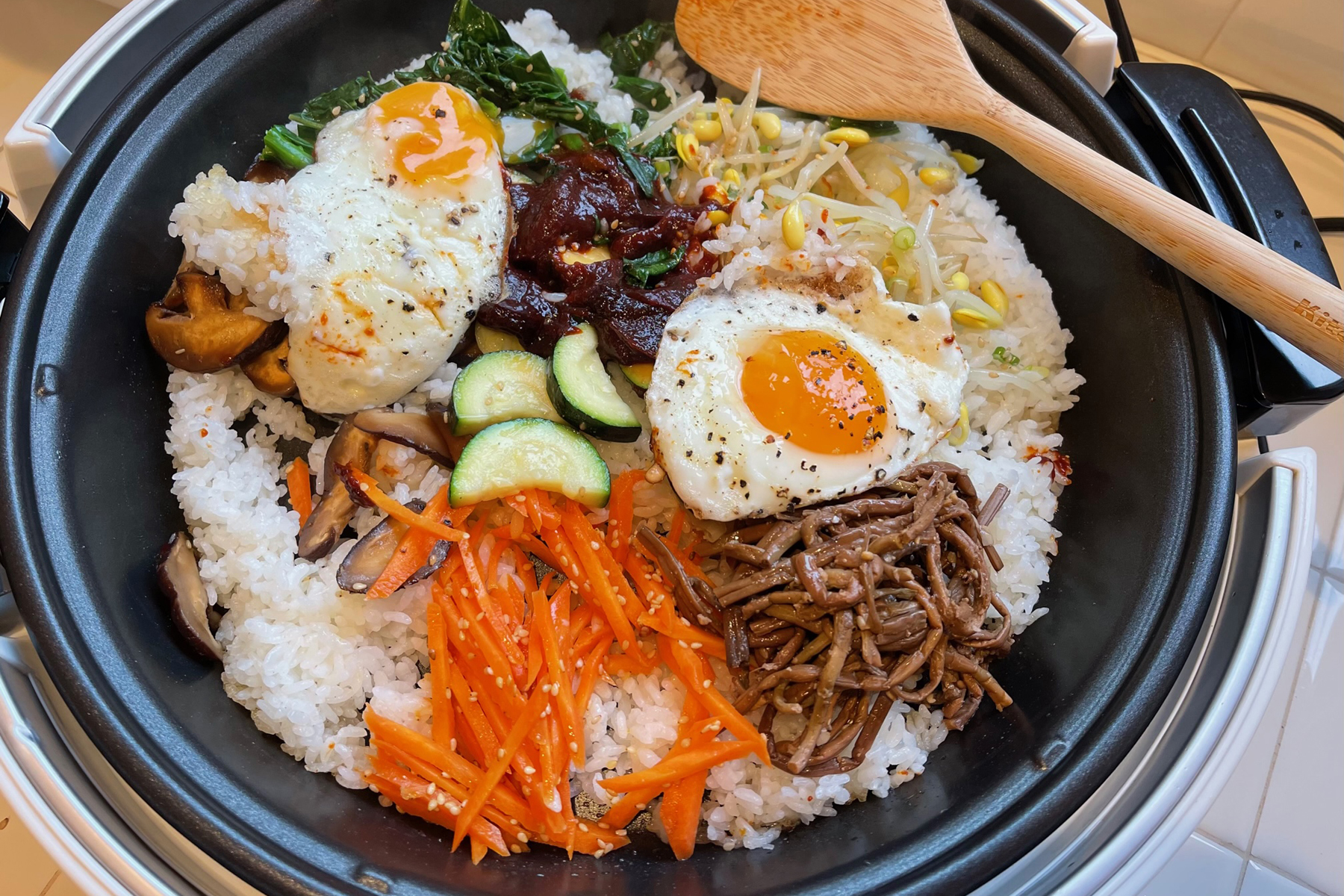 By the way, bibimbap can be made totally vegetarian like this one is, and you won't miss the meat because it's so flavorful. For me, I like how the fried egg mellows out the taste of the gochujang spicy paste. And to make this at home easily, go to your local Korean market (hopefully you have one nearby) and purchase all the ingredients seasoned and pre-made.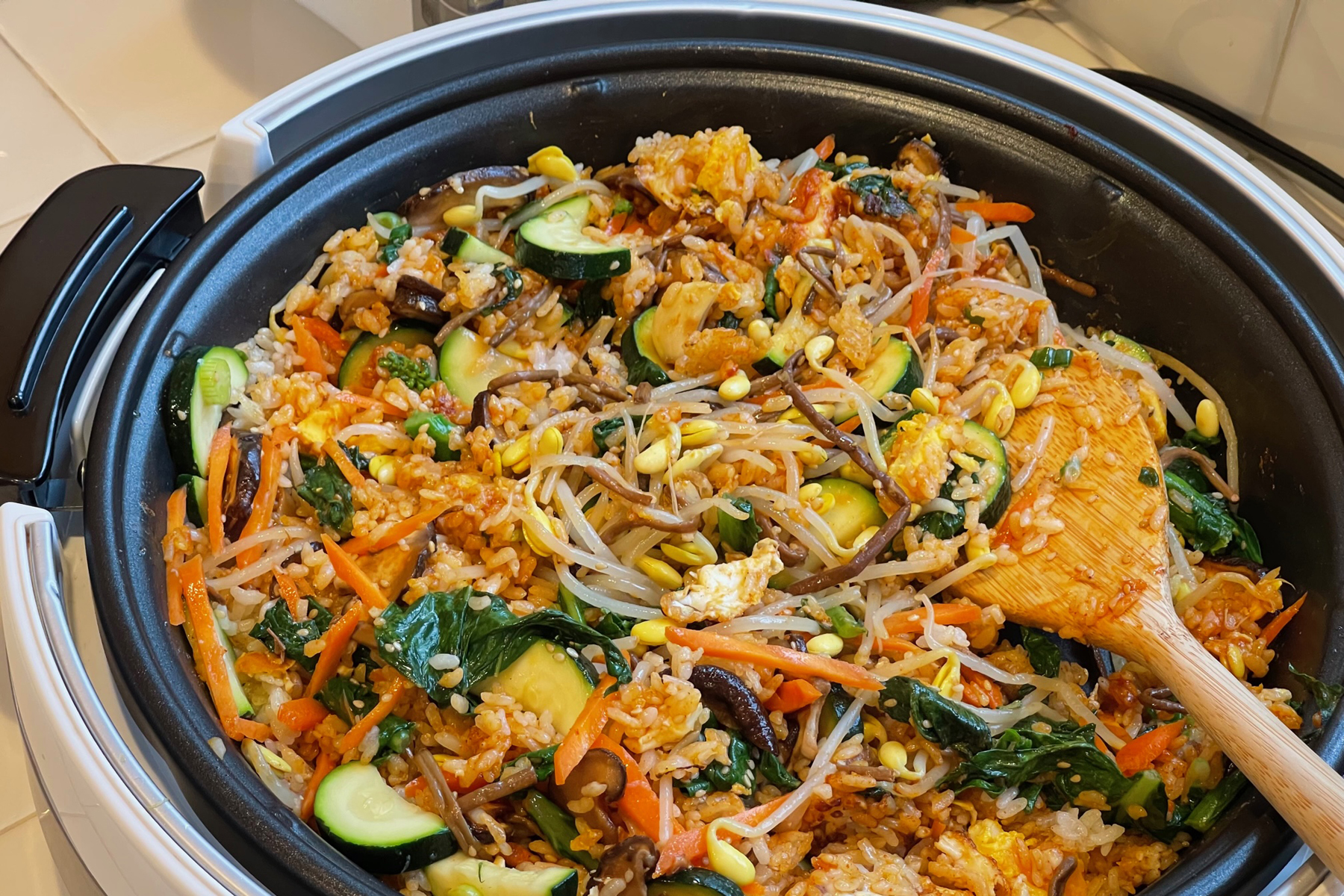 Similarly to bibimbap, Japanese Yakisoba can also be made easily from a kit sold at most Japanese grocery stores. Get some sliced pork and the veggies you have lying around the house and just assemble—they even furnish the sauce packet.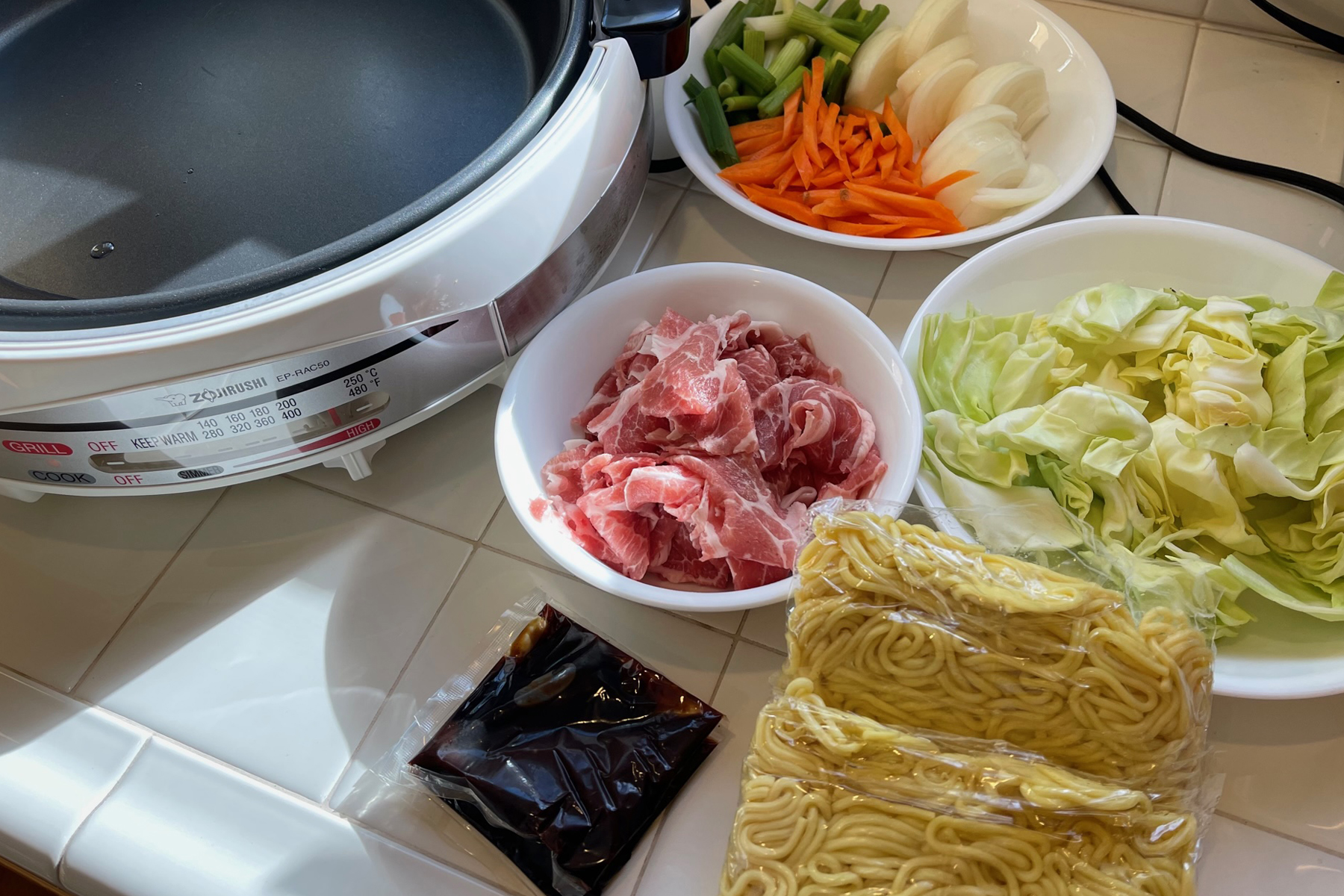 Plenty of space in the pan to stir-fry two portions of yakisoba.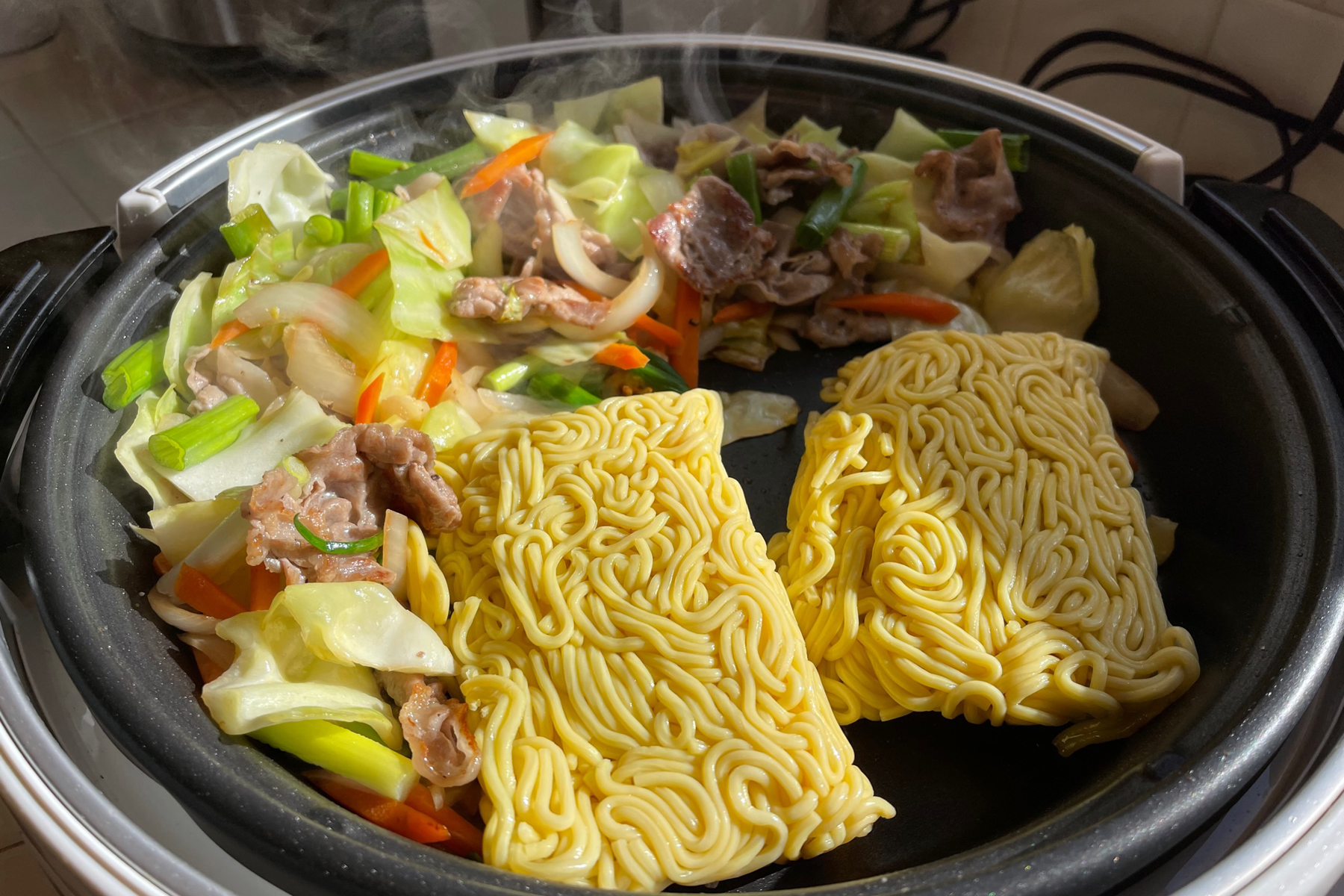 Just cook and you're done—so easy. Yakisoba is probably one of the most popular street foods in Japan and can be found in hundreds of permutations because of the variety of ingredients that are used. Growing up in Japan, my memories include finding them at the temples during summer festivals, with the sound of cicadas ringing from the trees.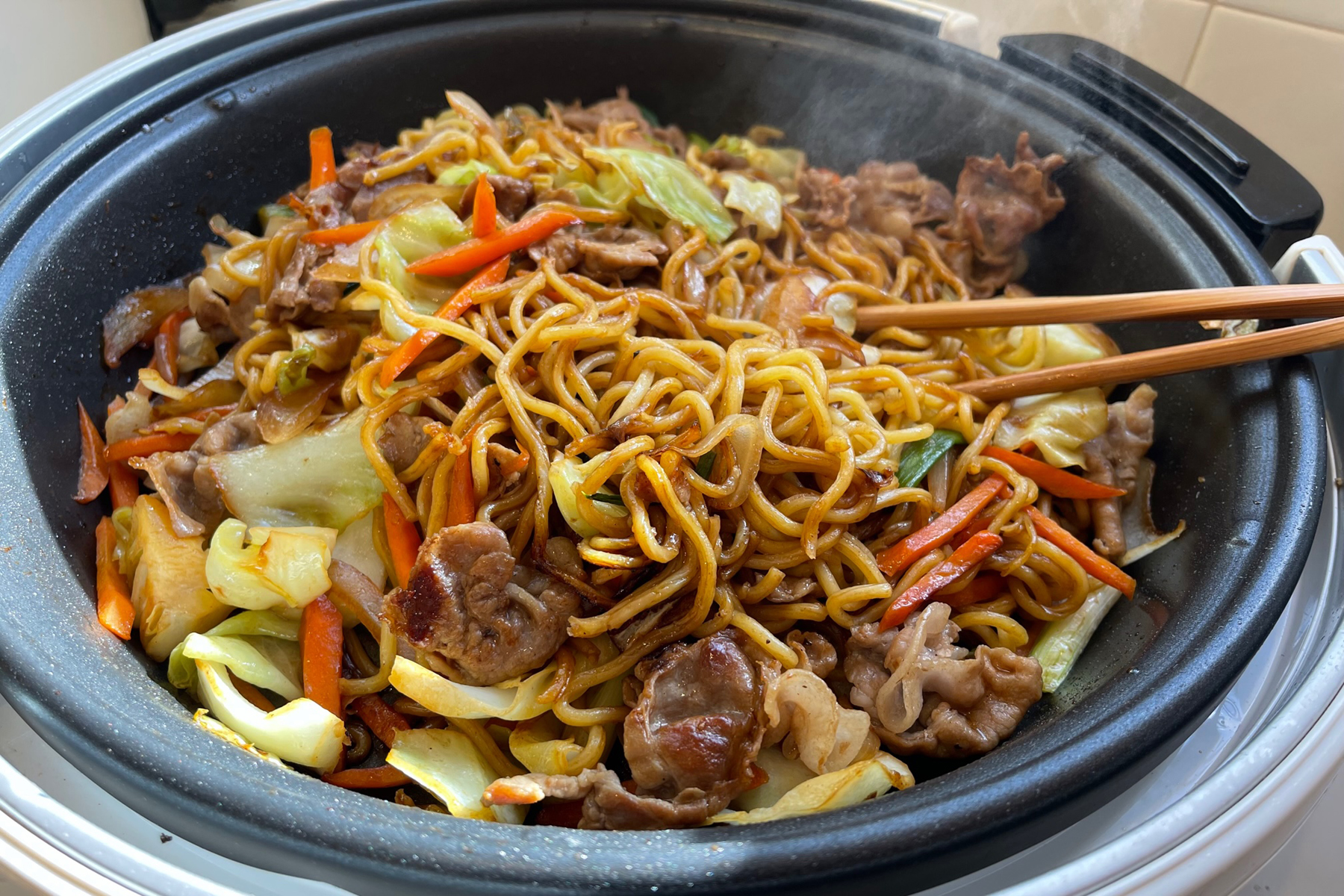 Some nice variations that you might like are Yakisoba Pan (stuffed in a hot dog bun), Omusoba (stuffed in an omelet), or Yaki Udon (made with udon noodles). My version of a completely dressed up yakisoba is topping it with Japanese aonori (seaweed flakes) and red ginger.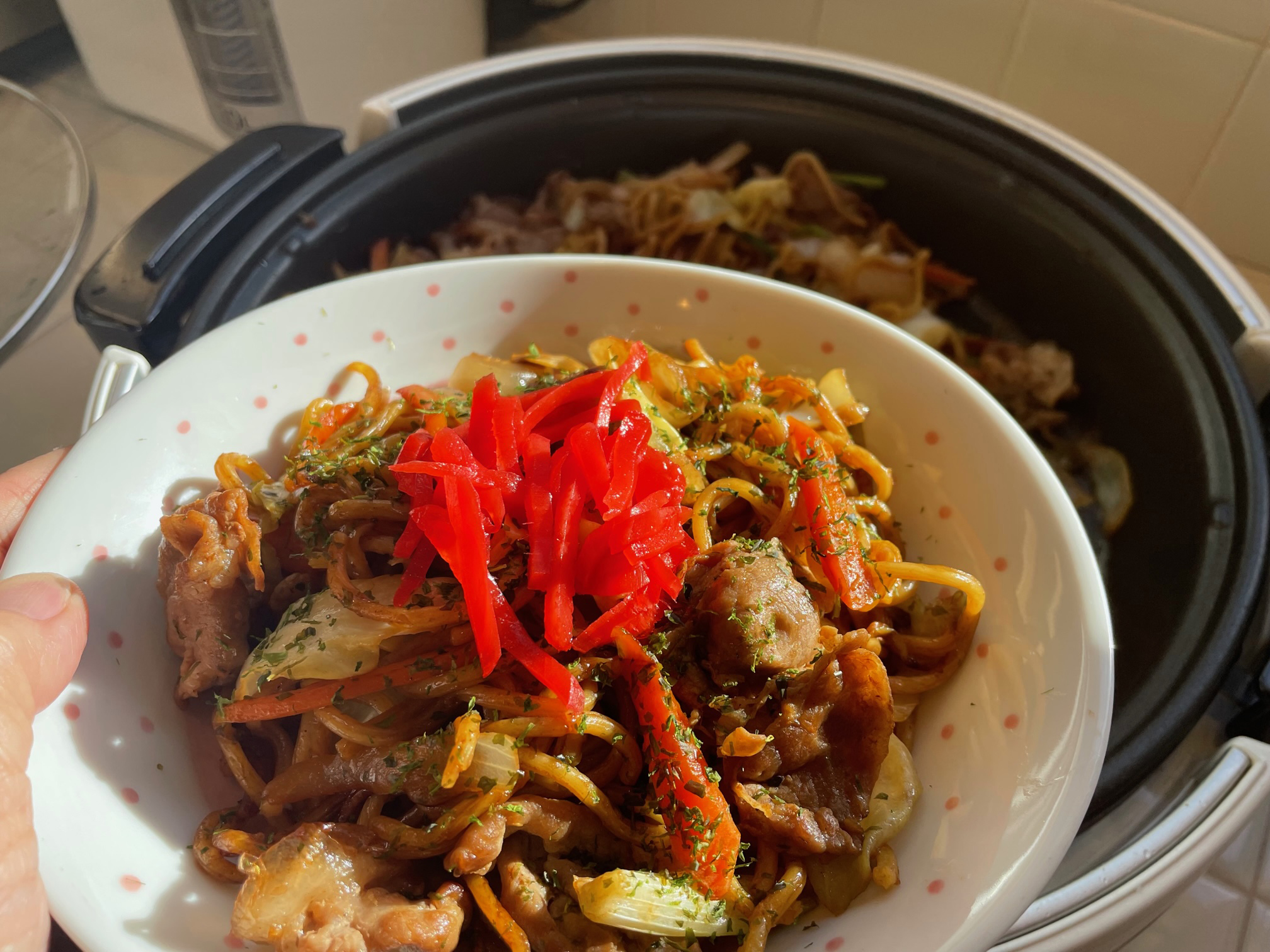 The Gourmet d'Expert® Electric Skillet was provided by Zojirushi and I've been using it to make all kinds of dishes for this blog, but we found it so useful that we also bought the smaller version of this skillet for ourselves. It's the perfect size for when we only need enough food for two. You can check it out here: Gourmet d'Expert® Electric Skillet EP-PBC10. And if you want to see what else we've done with these skillets, you can see some of my older posts below:
Pepper Rice
Mille-Feuille Nabe
Korean Army Stew
Hawaiian Chicken Hekka
Sukiyaki
Beef Stroganoff
THIS GIVEAWAY HAS ENDED.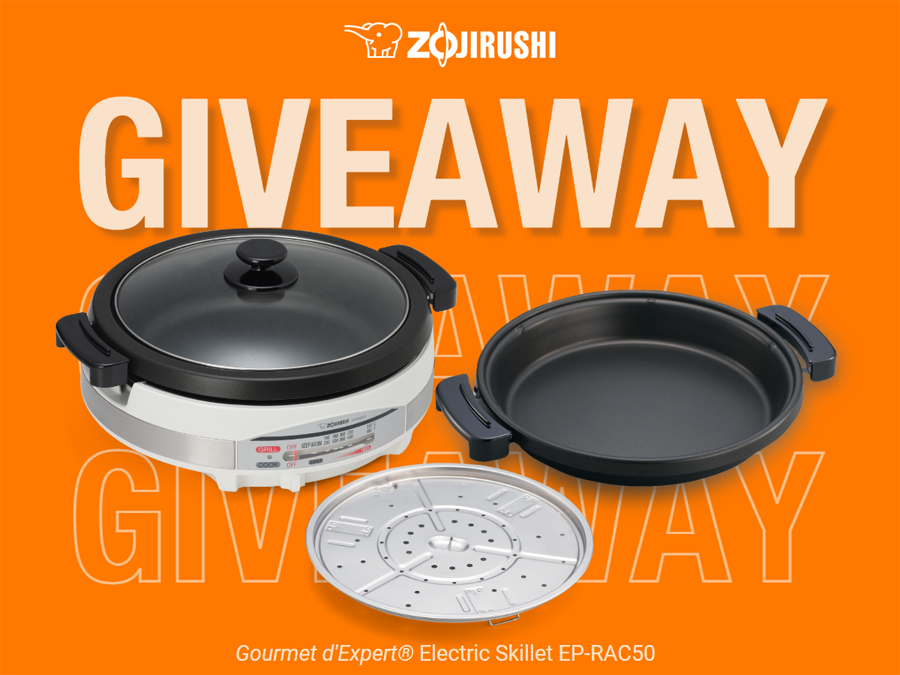 RULES:
1. Answer this question in the Comments section below—how would you use the Gourmet d'Expert® Electric Skillet to cook for your family?
2. Leave a valid email address so we can contact the winner of this contest.
GOOD LUCK!!
This giveaway will run from April 4th, 2023 until April 17th, 2023, and is open to U.S. and Canada residents only.
One winner will be selected at random on the following business day after closing, and be contacted by email. You must respond within 48 hours to claim your prize.
More rules:
•Must be 18+ and resident of US or Canada
•Prizes can only be shipped within US and Canada
•Make sure to enter your email address correctly so we may reach you if your email is chosen
•One entry per email address
•Winner will be contacted by email from info@zojirushi.com
Giveaway rules here: https://www.zojirushi.com/sweepstakesrules/


Products used in this post: Gourmet d'Expert® Electric Skillet (EP-RAC50)
Please note that these recipes were not tested by Zojirushi America.
All images by Bert Tanimoto ©2023