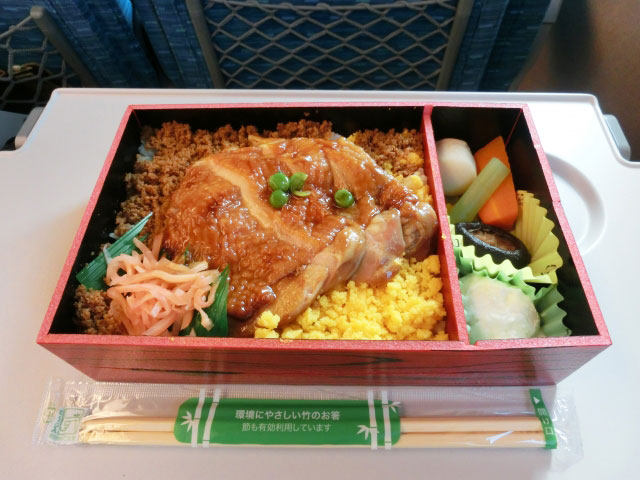 In case you can't tell, we love bento! We're continuing our Japanese Bento series this month by delving into the history of bento, with a few famous combinations that are sure to inspire you!
Bento are wildly popular in Japan and have recently been enjoying a large following in the United States. Bento are packed lunch boxes—filled with a balanced, nutritious and colorful meal—that can be taken to school, work and outdoor leisure activities. Bento are thought to have originated in Kyoto sometime between the 6th and 8th century as simple packed meals that travelers would take with them on their journeys. Early forms of bento were composed of cooked rice that was dried, making it easy to transport and to reconstitute with water when ready to be eaten. Later, onigiri took the place of the dried rice and became a part of the bento and over time, more items and ingredients were added.
Bento soon became a convenient part of daily Japanese life following its inception. Mothers would send simple bento boxes to school with their children for their midday meal. Often these simple meals would include rice with soy sauce-soaked nori seaweed (noriben) or plain white rice with umeboshi, or salted plum, in the center (hinomaru bento). And workers would take bento from home to work for their lunches.
In the early 1600s at the beginning of the Edo Period, bento culture become more sophisticated and ubiquitous. In Kyoto, restaurateurs created shidashi bento which they delivered to diners during lunch, parties and funerals. These bento were created following the principles of washoku. According to these principles, bento were made with fresh, seasonal ingredients, including rice, a main dish of fish, meat or eggs, and numerous side dishes of vegetables, seaweeds and mushrooms, such that the nutritional balance of complex carbohydrates, proteins, vitamins, minerals and fiber provided a complete meal. Often these dishes were seasoned with salt, mirin and sugar to preserve the foods, and herbs, ginger, wasabi, and bamboo leaves were added to the boxes to further help to prevent the food from spoiling. The composition of the boxes included the Five Tastes, namely salty, sweet, sour, bitter and umami, and the Five Colors, including red, white, green, yellow and black. Finally, bento were crafted with an artful eye for arranging the food in an appetizing and decorative three-dimensional presentation.
Simple bento were served in bamboo or cedar boxes. Lavish, highly decorated and specialized bento boxes also became popular during the Edo period and were used for more elaborate honzen ryori, or full course, meals. These bento were originally created for leisure activities, like cherry blossom viewing picnics and going to Noh and Kabuki performances at the theater. A special type of bento, called makunouchi bento, or "between acts bento", was served during intermission at the theater. These bento were hugely popular, as they provided a complete meal of rice with many side dishes including fish, tofu, vegetables and pickles, and enhanced the theater-going experience. Makunouchi bento is still a popular type of bento in Japan, and many consider it the progenitor of modern bento. Modern bento based on the makunouchi style usually contain white rice, formed into barrel-shapes and sprinkled with black sesame seeds, dried seaweed or tsukudani, a type of small fish boiled in sweetened soy sauce. The rice is accompanied by a variety of side dishes, often based on the "Three Sacred Imperial Treasures" combination which includes broiled fish, a Japanese-style omelet and kamaboko, or fish sausage. These items are accompanied by pickled, simmered or seasoned vegetables, fried foods such as tempura, and other seasonal items.
Kaiseki ryori, or haute cuisine based on the formal Japanese tea ceremony, also influenced bento culture. Many high-end Japanese restaurants now serve a bento that includes the courses that would be served in a traditional kaiseki meal, including an appetizer, sushi, soup, simmered vegetables, grilled meats and fish, and rice. These meals are often served in beautiful dishes or bowls. At some kaiseki restaurants, one can enjoy shokado bento, a version of a kaiseki-style bento originally developed by Teiichi Yuki in 1937. Mr. Yuki is said to have visited the Shokado Tea House in Kyoto Prefecture, where he saw the calligraphy box of Shokado Shojo, who was a famous priest, artist and tea master during the early Edo period. Mr. Yuki was so inspired by Shokado Shojo's art and the beauty of his tool box that he developed a similar black lacquered box partitioned into four squares to use for shokado bento. Shokado bento were easy to serve during large events, and became popular variations of tea ceremony meals. Since its origin, shokado bento has become more graceful and refined over the years.
Whether eaten for convenience or to honor the rich Japanese washoku heritage, when all is said and done, bento is fun to eat!
We hope you enjoy your bento and let us know about your favorite recipes below!