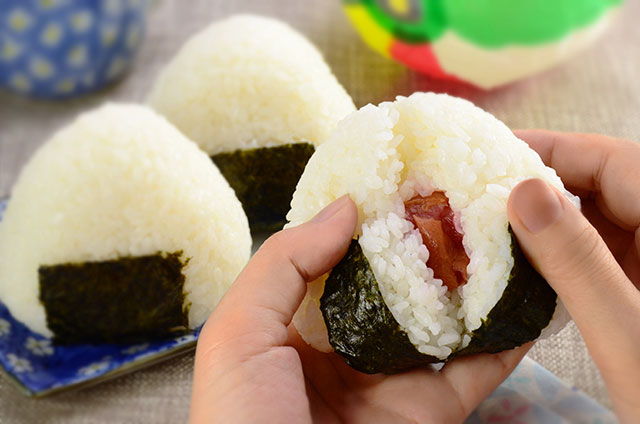 Happy 2017, Zojirushi fans! We kick off the new year with a new series about bento, or the Japanese lunch box. Japanese bentos are not only nutritious but creative and beautiful! We're going to spend some time learning about the special foods and dishes that are found in bento boxes. Stick with us, and you'll be making your own complete bento in no time!
We begin with one of Japanese cuisine's beloved comfort foods, onigiri.
Onigiri, also known as omusubi, is a portable, filling convenience food that is nutritious and fun! The purest form of onigiri is made from high-quality cooked white rice that is shaped into either a ball, triangle or cylinder while it's still hot. During the shaping process, the cook will coat their damp hands with salt to coat the rice with the seasoning.
Onigiri is said to have come into existence after uruchimai, or everyday short-grain white rice, came to be widely used in the 11th to 12th centuries. It became popular as a convenience food before modern refrigeration, as the addition of salt or a sour ingredient helped to preserve the cooked rice and enable people to take food with them when they left home.
Onigiri is a popular bento item because it keeps well, is highly portable and can be formed into lovely shapes. It can be found in elaborately festive bentos as well as in homemade bentos, and unlike sushi or inari, which are made using rice seasoned with vinegar, onigiri can simply be made with white rice and just a touch of salt.
So how many types of onigiri are there?
So many! From the traditional triangular, spherical and cylindrical shapes to adorably cute, molded shapes of popular characters in manga and anime, onigiri takes many forms. Onigiri is often wrapped in thin sheets of dried nori seaweed.  It also can be sprinkled with sesame seeds or furikake such as ground shiso leaf. When grilled over an open flame on a wire rack, yaki-onigiri, or grilled onigiri, can be basted with a glaze like miso butter. Mixing up the type of rice used in onigiri is also a popular way to make it. Short-grain japonica white rice is traditionally used, but brown rice and rice mixed with barley, wild rice, green peas and other grains also make delicious variations. New forms of onigiri, called onigirazu, are like little rice sandwiches wrapped in seaweed.
Making onigiri is like many Japanese activities… deceptively simple. Start with freshly cooked rice that has cooled to the point where it can be handled, not gotten cold. Moisten hands with water and rub a pinch of salt into hands. Scoop about ½ cup of rice into hands, and mold the rice into the desired shape. If using a mold, then press the rice into the mold. And you now have the most basic onigiri!
Try making our Rice Sprinkles Onigiri, which uses a wonderful vegetable furikake, as well as our Yaki-Onigiri, which results in a crispy outside and soft and savory inside. You'll love them both!
Stay tuned for our next Japanese Bentos post in which we will be discussing about the different types of fillings for onigiri!
Also, don't forget to share your favorite onigiri recipe with us in the comments!