It's summer time and we always have one of our vacuum insulated mugs on hand. Water, iced tea, hot beverages…no matter what, our stainless mugs are designed to let you carry your favorite beverage in style.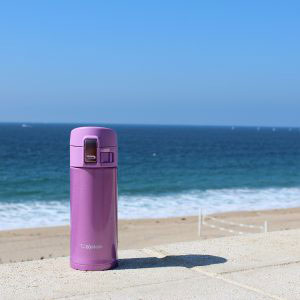 Over the years, we've listened to your feedback, and incorporated four smart design features into the lids we use for our stainless mugs: the two-step release and the safety lock in the flip-open mugs, the covered sipping area and the disassembling parts for all mugs.
Flip-open lids are super convenient. They're great in any situation where one-handed operation is required, such as when traveling. The two-step release in our flip-open lids works by allowing the lid open in 2-steps. The first step happens when you push and hold the open button. The open button hooks onto the lid and prevents it from opening, and at the same time, allowing condensation on the lid to flow back into the mug. When you release the button as the second step, the spring at the hinge of the lid will allow the lid to spring open, and because of the first step, wont' fling any condensation at your friend while doing so. As long as nothing is impeding the back of the lid, the lid will open all the way and stay in place, making it easy to drink without getting bumped in the face by a wobbly lid.
The smart safety lock feature of the flip-open lids ensures that the lid doesn't accidentally open in a bag or purse, causing leaks and spills.
Along with these great features, both the flip-open and twist-open lids are designed to keep the sipping area clean by keeping it covered when you're not taking a sip, so you don't have to worry about getting sand on the sip area if it tips over at the beach. Perfect for summer beach days!
And finally, the disassembling parts of our lids, whether flip-open or twist-open, mean the lids can be thoroughly cleaned. It's the worst to find that you've been cleaning the lids of other bottles and yet there is still dirt, or worse, mold, inside the components. Each piece is washable and gaskets allow the re-assembled lid to fit tightly and securely.
Each of these features make our stainless mugs stylish and functional…all part of our commitment to smart design. Let us know which mug you have and how you like the lids in the comments below!