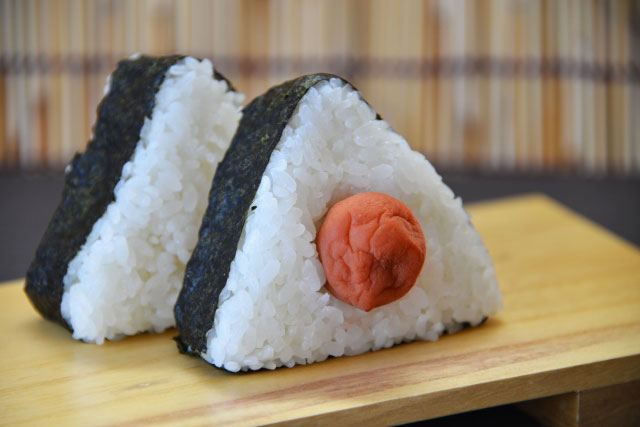 Did you try making your own onigiri last month? Which one was your favorite recipe… the Rice Sprinkles Onigiri or Yaki-Onigiri or the all-time Classic Onigiri?
This month, we're making more delicious onigiri for our bento boxes, ones stuffed with tasty fillings!
As you know, onigiri, or omusubi, are highly portable convenience foods that are popular bento items. The classic types of onigiri are made with plain, high-quality cooked white rice, coated in salt and shaped into balls, cylinders, triangles or molded into cute shapes like kittens and flowers. Sometimes they are wrapped in dried nori seaweed and other times they are sprinkled with sesame seeds, ground shiso leaf or furikake.
Because onigiri can be filled with ingredients that would help preserve the rice, typically sour or salty foods, they became popular convenience foods before modern refrigeration. Nowadays, all kinds of tasty ingredients are used to stuff onigiri!
Common fillings are easy to find in Japan and can be found in Japanese or specialty Asian food markets abroad. Umeboshi, or salty pickled Japanese plum, has a strongly sour taste, travels well at room temperature and said to have antibacterial properties.
Shiozake, or salted salmon, is another quintessentially classic filling for onigiri, added flaked and salted to the rice.
Okaka, or bonito flakes moistened with soy sauce, is both salty and sweet, providing a lovely complement for the rice.
Tarako, or salty cod roe that's cooked and cut into small pieces, makes a deliciously salty addition to the rice
Finally, kombu no tsukudani, or kombu seaweed that has been simmered in a soy sauce based liquid until tender and caramelized, is shredded into small strips then rolled into the center of the onigiri ball.
Other popular flavorings include negitoro, or finely minced raw tuna mixed with minced green onions, shrimp tempura, pickled takana or Japanese mustard leaves, negi miso, or a mixture of miso paste and Japanese leeks, matsutake mushrooms, daikon radish leaves and even karaage fried chicken, Spam® and yakiniku, or grilled beef.
For our bentos this month, we're going to make filled onigiri. Just like unstuffed onigiri, start with japonica or uruchimai variety rice. When cooked properly, this type of rice clings together without getting mushy. Once the rice has cooled to the point where it can be handled, moisten hands with water and rub a pinch of salt into hands. Scoop about ½ cup of rice into hands, pressing it into a disc-like shape that conforms to the curve of your palm. Place the filling on the rice and mold the rice around the filling into the desired shape, and wrap with nori, if desired. If you are a beginner, you can place a plastic wrap in a small bowl and place the rice and filling on top. Then gather the plastic wrap around the rice and make your desired shape.
We love Shiozake Onigiri, made with home-cooked salmon, and Spam® musubi, which is a variation of omusubi created in Hawaii!
We love onigiri for our bentos and hope that you'll share your favorites with us, too. Don't forget to post your photos in the comments!