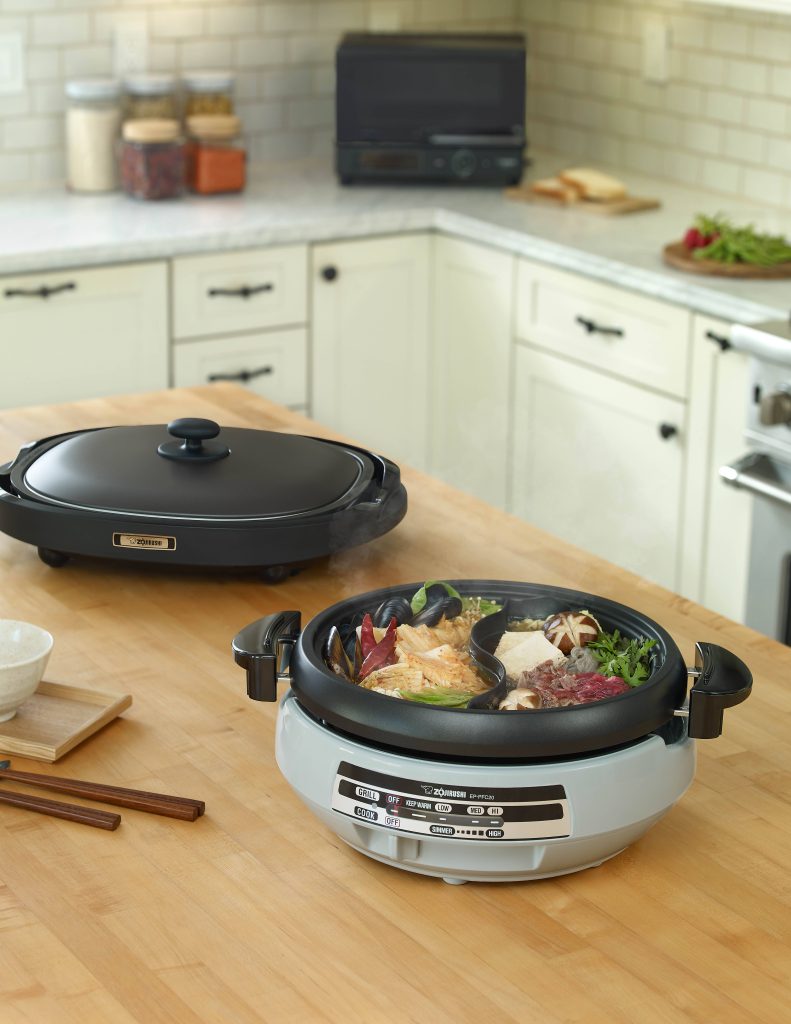 Are you looking for easy winter recipes to warm up to this season? Whether you're cooking for one or cooking for a few, our Gourmet d'Expert® Electric Skillets are perfect for making all kinds of easy meals and snacks – from hearty soups, grilled meats, hot pot, and even desserts. Today, we'll be sharing our ultimate recipe guide to our favorite electric skillet dishes for the winter, from sukiyaki, fondue, pasta dishes, and more. Let's get cooking! 
If you need an introduction to our electric skillet line, make sure to read our product guide here to learn more. 
Gourmet d'Expert® Electric Skillet EP-PBC10 
This single pan, multifunctional electric skillet features a deep dish ideal for soups and stews and a wide 10-½" surface great for grilling and sautéing. If you have a Gourmet d'Expert® Electric Skillet EP-PBC10, bookmark these recipes: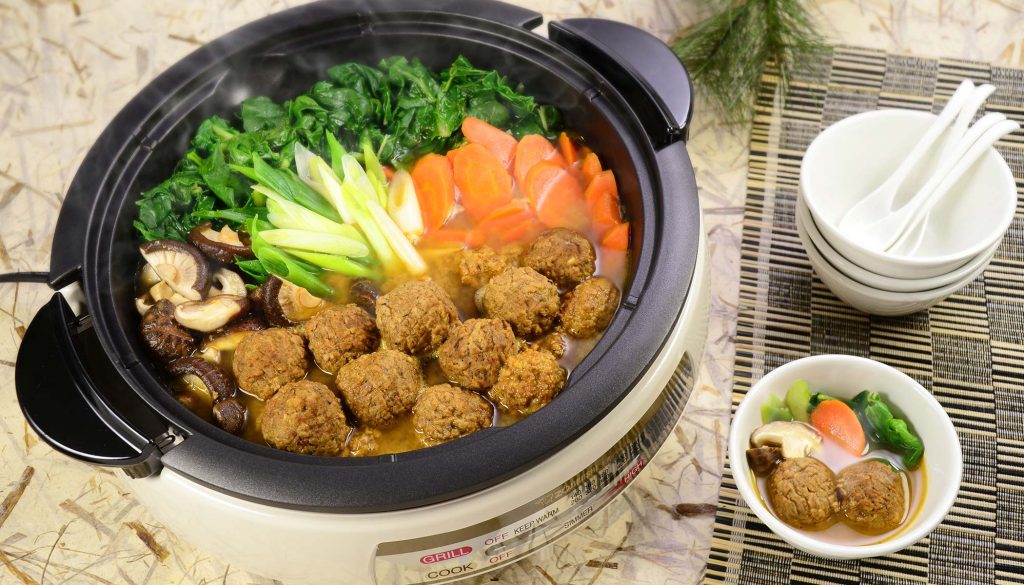 This nabe, or hot pot, combines carrots, shiitake mushrooms, green chard and vegetable based meatballs cooked in a delightful umami-rich miso broth. It is truly filling and easy to prepare!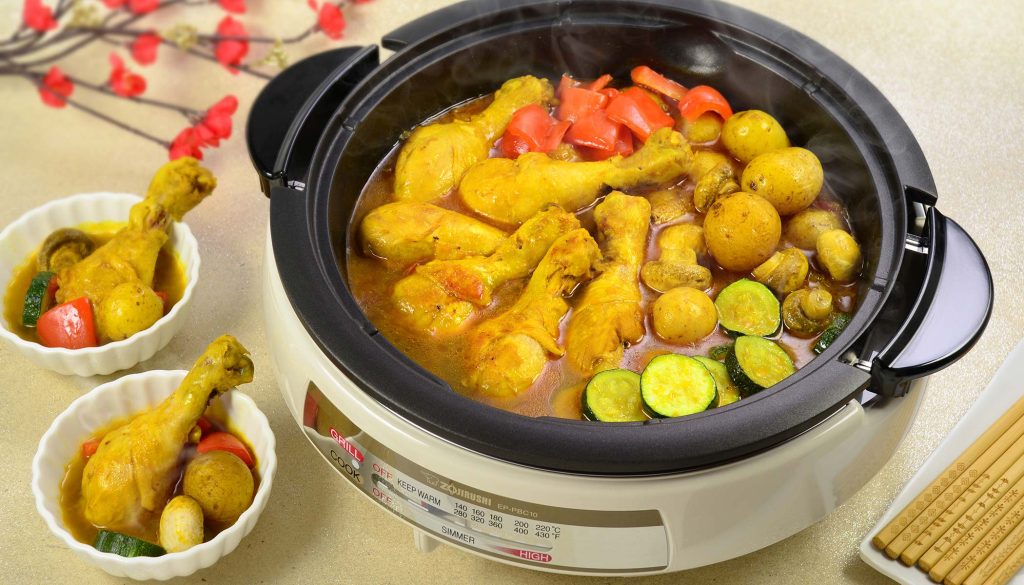 Serve up this delicious soup with chicken drumsticks and vegetables cooked in curry-based soup with garlic, soy sauce and chicken broth. A nutritious meal that's subtle yet perfectly aromatic.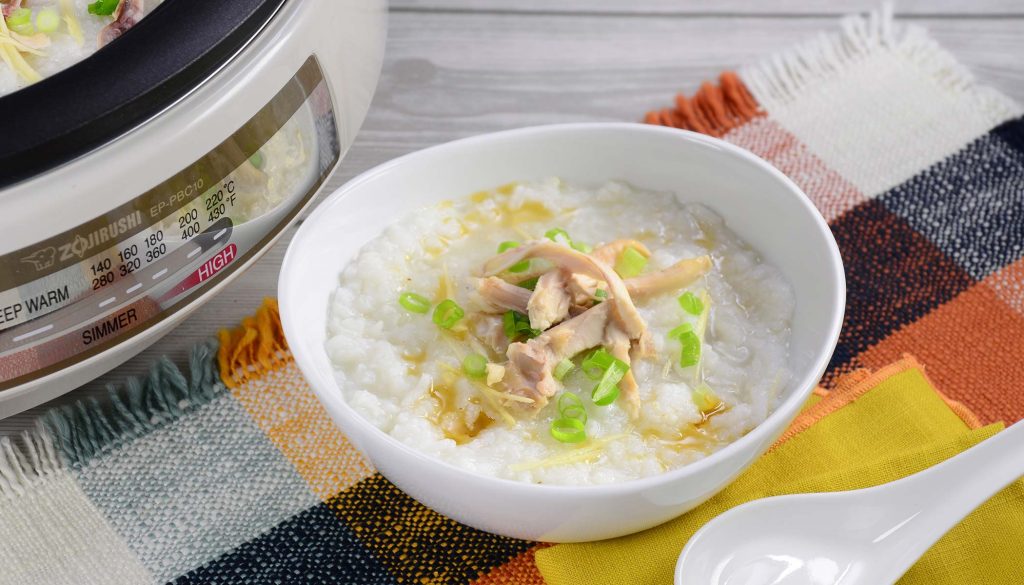 This divine take on a comforting classic is packed with nutrients from antioxidant-rich turmeric and ginger.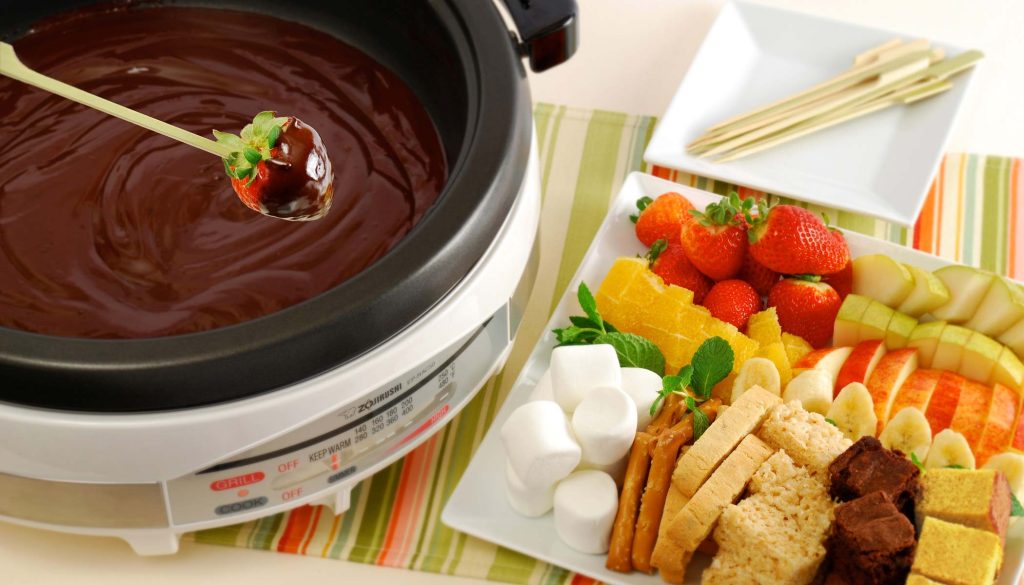 For all who have a sweet tooth, enjoy dipping fruits, baked treats, marshmallows, and pretzels dipped in chocolate with this chocolate fondue recipe.  
Gourmet d'Expert® Electric Skillet for Yin Yang Hot Pot EP-PFC20 
The Gourmet d'Expert® Electric Skillet is a multi-functional electric skillet with two cooking pans; a deep pan with a divider for Yin Yang hot pot, and a dual surface griddle pan for grilling meats and vegetables. If you're in the mood for a comforting hot pot dinner, try these recipes: 
Have the best of both worlds and try these two hot pot soups side by side! For the yosenabe (pictured left), we cook a light soup base with different meats, seafoods, and veggies, and enjoy with a ponzu-based dipping sauce. For the kimchi hot pot (pictured right), we cook pork belly and veggies in a kimchi soup base, or make it vegetarian by swapping out the pork with mushrooms. It's a savory hot pot with a kick! 
Sichuan Hot Pot and Three Delicacies Hot Pot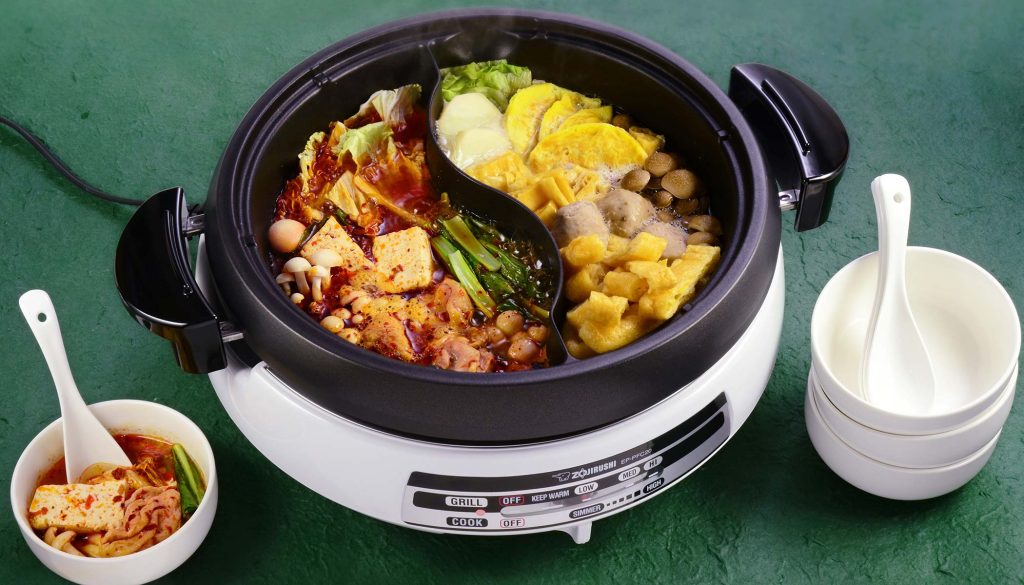 If you love Chinese style hot pot, make your own with a Sichuan soup base and your choice of vegetables (pictured left). This one will be spicy and numbing – great for spicy food lovers! For the Tree Delicacies hot pot (pictured right), another traditional Chinese hot pot, gather the main ingredients: meat, veggies, and seafood. You can't go wrong! 
Gourmet d'Expert® Electric Skillet EP-RAC50 
The EP-RAC50 Electric Skillet is a truly versatile electric skillet that can do it all – with an ultra-deep dish for soups, a flat grilling plate for stir frying and grilling, and a steaming plate that adjusts to two different heights. Here are our top electric griddle recipes: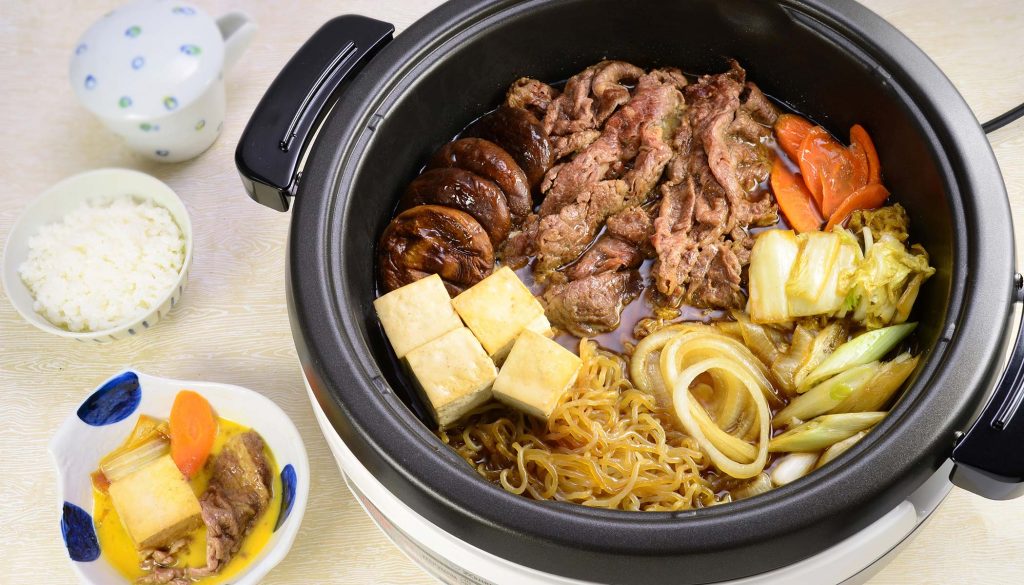 Sukiyaki is a popular Japanese recipe that is often cooked and served at-the-table. Common ingredients include beef, tofu, negi (green onion), leafy vegetables, shiitake mushrooms and shirataki noodles. Have fun cooking and eating at-the-table! 
Oden is a classic Japanese stew with a variety of ingredients cooked in clear soy-flavored dashi broth. Commonly served from fall to winter. Daikon or fishcake are most popular, but there is no strict rule for ingredients.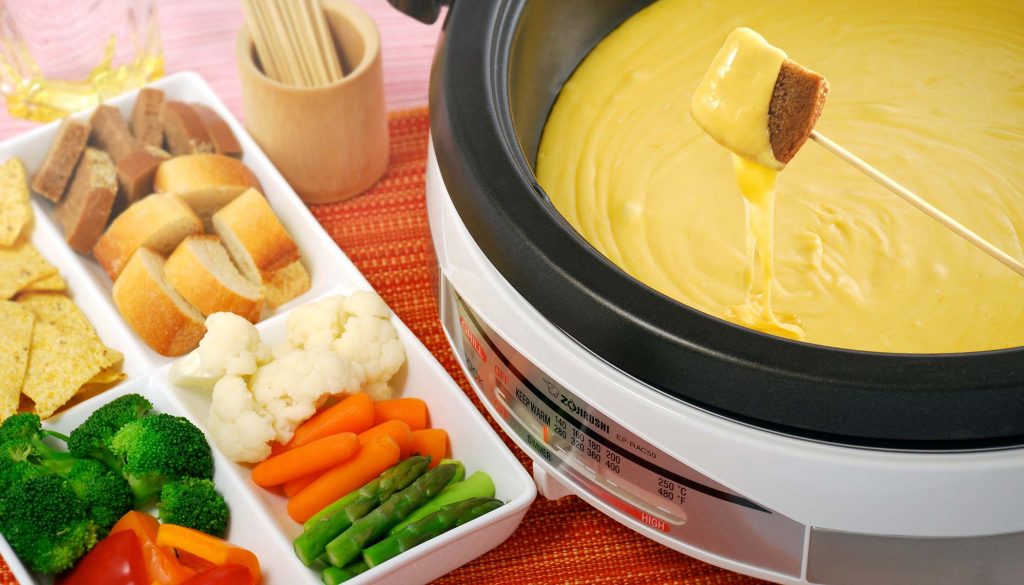 The word Fondue comes from the French verb Fondre, meaning "to melt". You can prepare everything in advance, and let guests serve themselves while you enjoy the fondue yourself!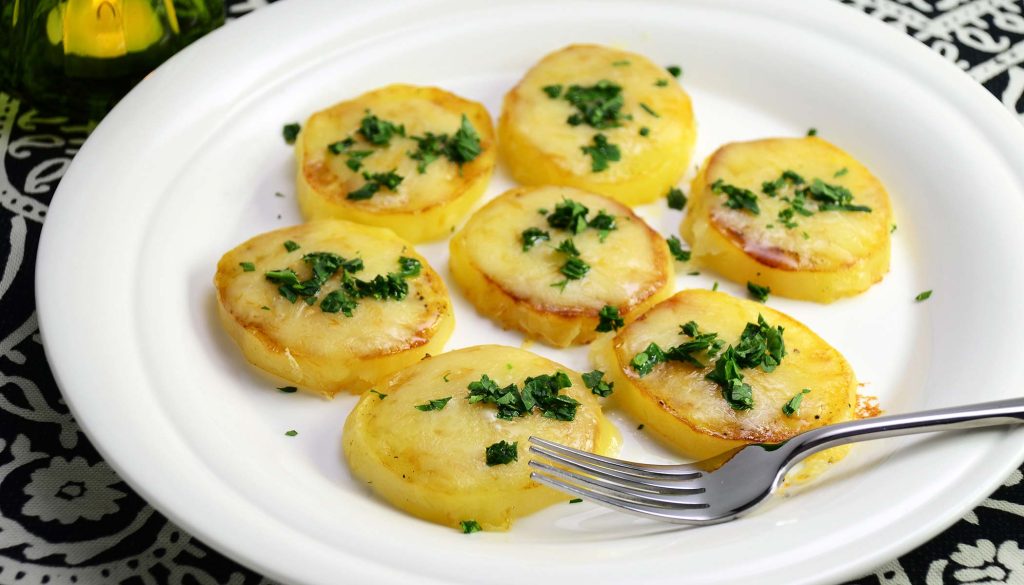 The lightly peppered potato slices are grilled to perfection with an addition of smoked cheese at the end. The more cheese the better!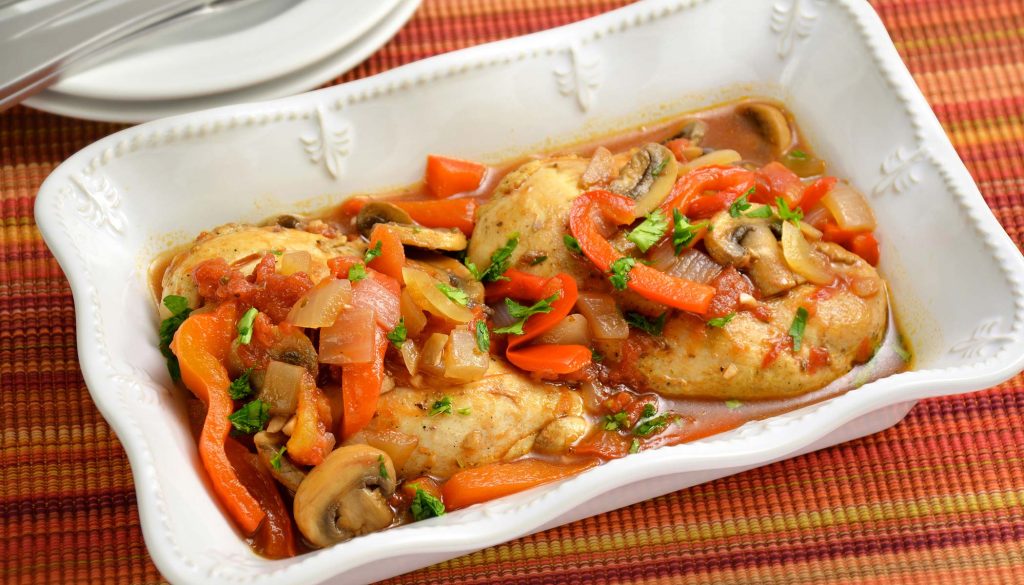 Cacciatore in Italian means "hunter", which refers to a meal prepared "hunter style" with tomatoes, onions, mushrooms, bell pepper and sometimes wine. Buon Appetito! 
Do you have a Zojirushi Electric Skillet at home? What are some of your favorite dishes to make during the colder months? Remember to share your thoughts, comments, and questions with us on Twitter, Facebook, or Instagram! #Zojirushi #ZoFan