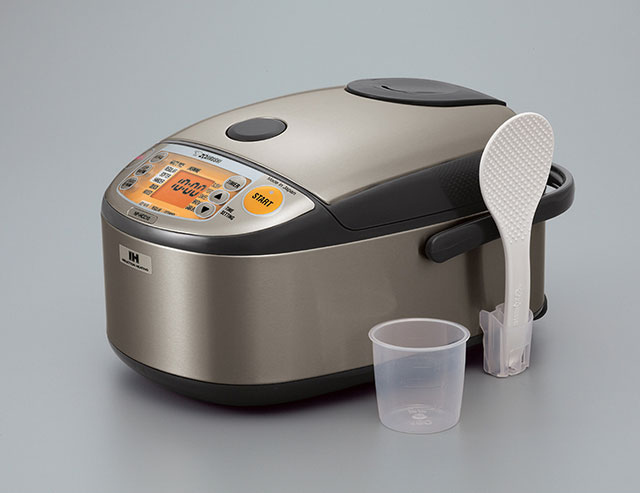 Rice cookers are our flagship product, and over the years, we've created rice cookers with superior technology married with practical features and stylish design. Our Induction Heating System Rice Cooker & Warmer (NP-HCC10/18) beautifully combines these three elements to prepare perfect rice, every time.
The Induction Heating System Rice Cooker & Warmer comes with nine menu settings, including White Rice, Jasmine, Mixed, Sushi, Porridge, Sweet, Brown, GABA Brown and Quick. Additionally, the White Rice menu setting can be customized by selecting from three textures, including regular, softer and harder. For each of these menu settings, the triple heater surrounds the thick inner pan on the bottom, sides and in the lid, evenly cooking the rice.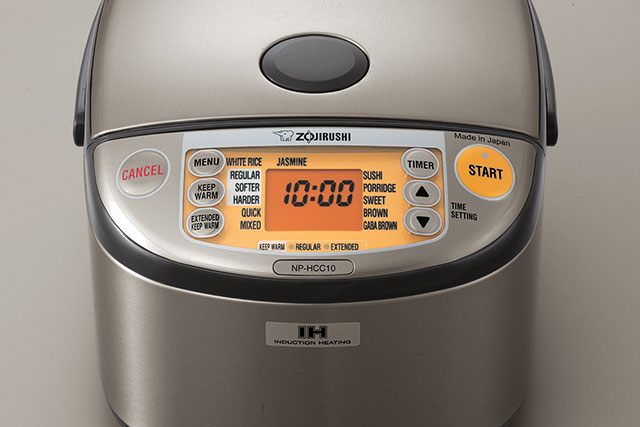 Along with the triple heater, this rice cooker utilizes induction heating ("IH") technology. Unseen beneath the surface of the rice cooker, coils create a magnetic field which helps rapidly heat the thick inner cooking pan. Because of this structure, an IH rice cooker responds quicker and can heat faster than a non-IH, allowing more precise temperature control.
These fine adjustments during the cooking process are also what makes this rice cooker perfect for cooking GABA brown rice. GABA, which stands for gamma aminobutyric acid, is a beneficial nutrient that is activated when brown rice is soaked and warmed prior to cooking. This Induction Heating System Rice Cooker & Warmer's GABA Brown setting takes care of heating and soaking the rice for longer lengths of time and at a low temperature to activate the rice before cooking it. Whether you're cooking GABA brown rice or traditional brown rice, we love this Brown Rice recipe for the delicious and fluffy result.
Cooking white rice is also an art in this rice cooker. Our classic White Rice recipe ensures a perfect result every time. Be sure to correctly measure and wash the rice prior to cooking, following our easy instructions.
Preparing sushi is also easier when starting with this rice cooker, as the Sushi setting results in no-fail rice each time. Once the sushi rice is ready, simply mix it with the ingredients in our recipe and use for rolls or chirashi bowls. Tofu Jasmine Fragrant Rice is also ideally prepared in this rice cooker, as the aroma and length of the grains of the jasmine rice is wonderfully preserved during cooking. And for a really authentic taste of Japan, Sweet Rice Cooked with Adzuki Beans is beautifully started in this rice cooker. Really, there are so many recipes that are easy to cook with this rice cooker!
The rice cooker comes in two sizes, 5.5 cups or 10 cups, and features an easy-to-read LCD control panel and a stylish stainless steel body with an easy-to-clean clearcoat finish. The nonstick inner pan and inner lid are removable and fully washable, making them both easy to clean with mild dish detergent and warm water. The machine comes with a delay timer that lets you have rice ready when needed. For example, you can set the program in the morning and come home to hot rice, just prepared. And the Keep Warm and Extended Keep Warm settings keep the cooked rice warm until it's ready to serve.
The Induction Heating System Rice Cooker & Warmer is made in Japan and comes with a rice measuring cup, spatula and spatula holder.
We know you'll love this rice cooker! Let us know about your favorite recipe in the comments below!