Happy New Year, Zojirushi fans!  We hope that this new decade helps bring you success and happiness!
What are some of your goals for 2020?
We are excited to start this year by introducing you to one of our favorite products and our Product of the Month– the Gourmet d'Expert®  Electric Skillet (EP-PBC10)!
This Electric Skillet is not like any other– this versatile product is packed with so many ingenious features that we're sure you'll love.
Let's start with the basics– how it works.  This skillet is composed of a main body with heating surface, a cooking pan, a lid and a power cord.  Once out of the box, you just simply wash the cooking pan and lid before the first use, place the cooking pan in the main body, attach the removable power cord and you're ready…how simple is that?!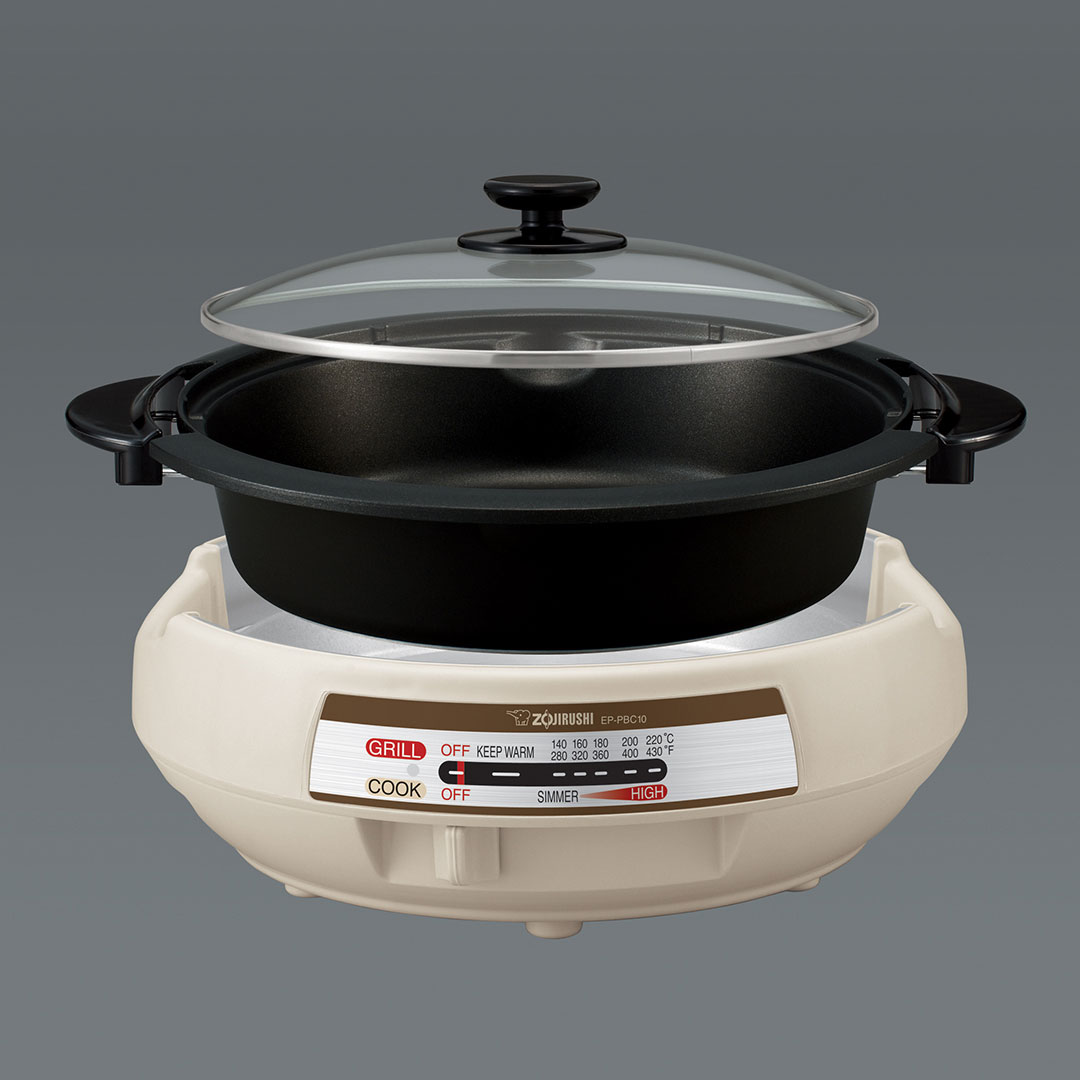 The cooking pan is 2 1/4 inches deep with a diameter of 10 1/2 inches, and it features a titanium and ceramic nonstick coating.  The size of the cooking pan, as well as the nonstick coating makes it ideal for sauteing ingredients, braising vegetables, simmering stews, cooking risottos, grilling meat or gyoza, and even for making fondue and pasta!  It's the perfect addition for family nights and for impressing your guests at any potluck event.
Once the cooking pan is set in the main body, which houses the heating element, dishes can be prepared on various temperatures, ranging from 280°F to 430°F.  The skillet can also be set to Keep Warm.  This Electric Skillet can also be used on a gas stovetop burner to help precook ingredients for stews or other dishes simmered in liquids.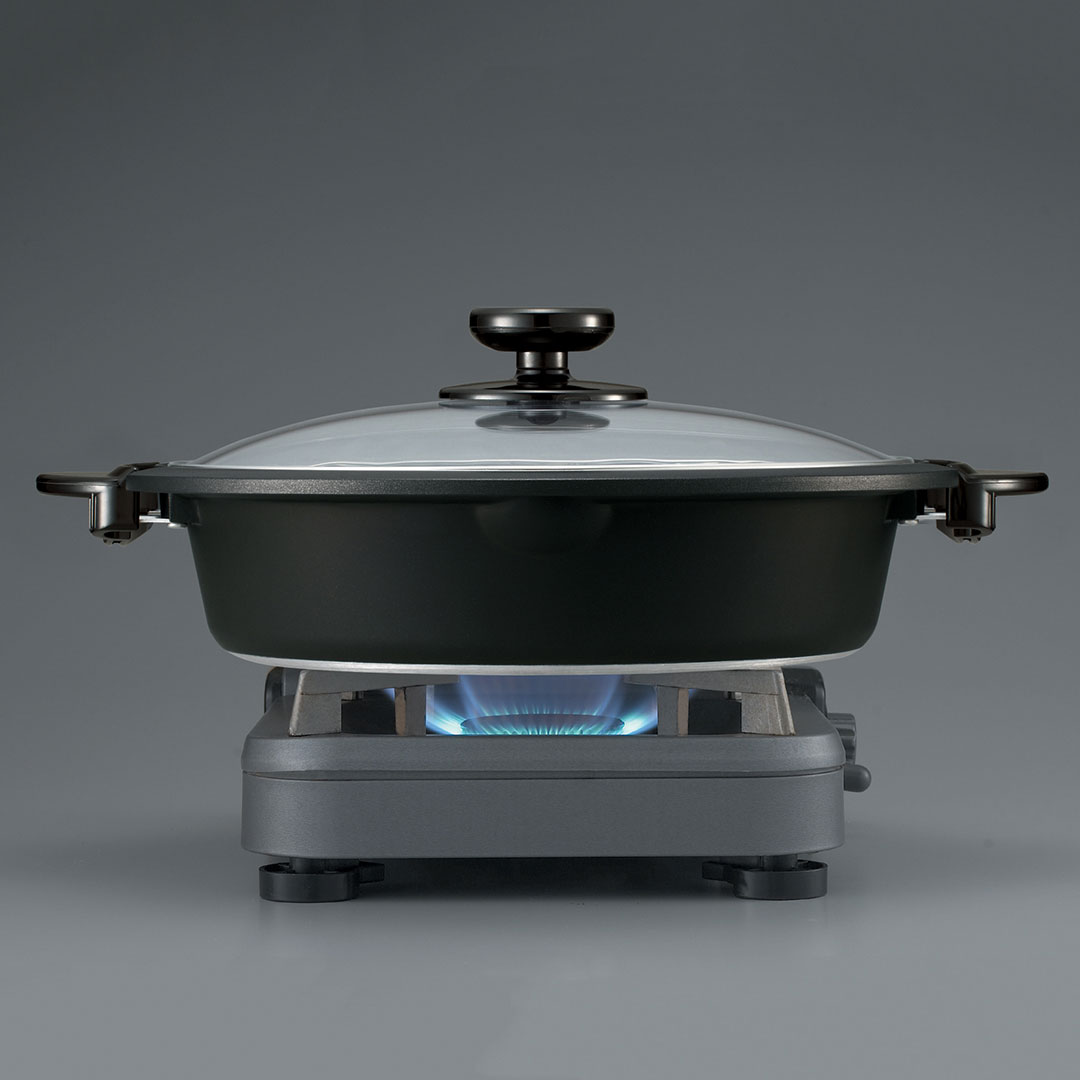 Along with the cooking pan, the tempered glass lid is a cook's best friend.  Not only does this lid let you safely monitor cooking, and of course, prevent splatters, but it helps foods and liquids cook faster.
And that is how this great skillet works!  Even better, this skillet is built with safety in mind, just like our other products.  First, the power cord easily detaches in case it's accidentally tugged.  Second, the handles on the cooking pan stay cool, preventing burns when transferring the pan.
And of course, each component of the skillet is easy to maintain.  Simply wipe the main body and heating element with a damp cloth, wash the pan and lid with warm water and mild dish detergent and let everything dry thoroughly.
Ok, now that we're done talking about the awesome features, we really need to get to the food!
WHAT. DOES. THIS. SKILLET. COOK?
Well, we love the traditional Japanese dishes that we make in this skillet.  Everything from Japanese-Style Teriyaki Chicken and Chanko-Nabe to Sukiyaki and Salmon Kobumaki Kelp Rolls, served during the New Year festivities!  We also love the Western savories that cook up beautifully in this skillet, like like Fava Bean Risotto and Chicken Breast Cacciatore.  But we really go for the unexpected dishes that we make in this skillet like Chocolate Crème Brulee and Thick Style Matcha Hotcakes. 
You've got to try all of the recipes on our website (and don't forget to tag your photos with #zojirushi on Instagram)!
Don't forget to follow us on our blog and Instagram to keep up on all of our delicious Japanese and Western recipes and how to cook them with all of our amazing products!