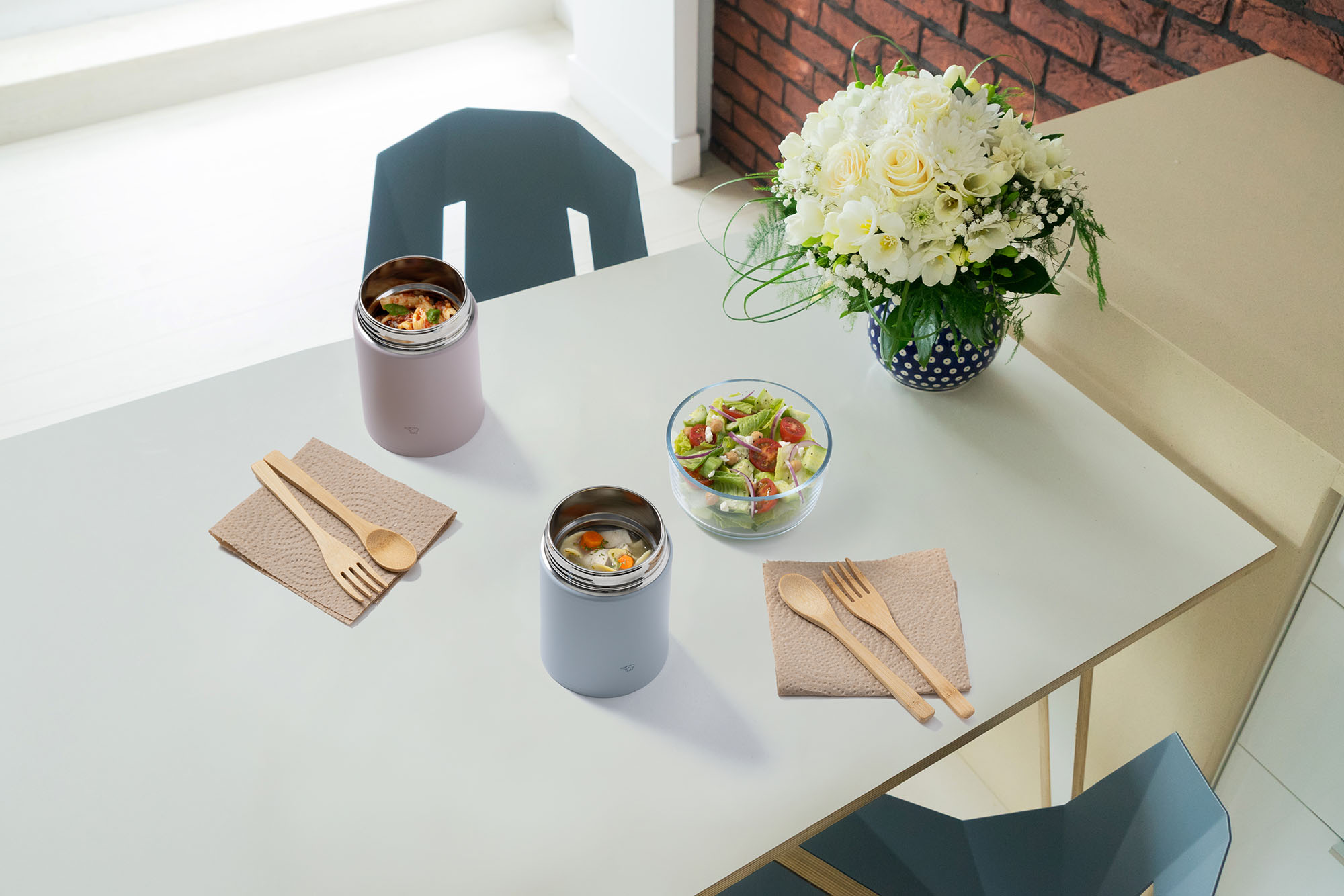 Happy April, Zo Fans!
Spring is in the air, and we're celebrating with some seasonal lunch ideas that you can enjoy at your next outdoor adventure, just in time for Earth Day. Looking for the perfect travel companion? Our Stainless Steel Food Jars SW-KA30/40/52 and SW-KA52H/75H feature vacuum insulation technology with the highest heat retention in Zojirushi history. This means you can enjoy your hot or cold meals longer than ever! So, whether you're planning a picnic or having a work day outside, let's enjoy Earth Day the most delicious way.
We're incredibly excited to introduce the new Stainless Steel Food Jar SW-KA30/40/52 and SW-KA52H/75H because of their unique design, technology features, and their sleek, modern design with a matte finish. Four sizes are available, perfect for taking a quick snack to a sharable meal, and with six fun and unique pastel colors, you will want them all!
The Stainless Steel Food Jar SW-KA30/40/52 comes in 10 oz,14 oz, and 18 oz capacities and in an earthy Matte Green (-GM), cool Ice Gray (-HL), and in a warm Beige (CM).
The Stainless Steel Food Jar SW-KA52H/75H comes in the larger 18 oz and 25 oz sizes; they are ideal for taking a full meal or a shareable dish with you. It comes in 3 lovely colors, Vintage Rose, Ice gray, and Medium Gray.
Now, let's dive into the features:
We put a lot of effort and thought into the lid design, which is jam-packed with features that improve its performance and make it super easy to use. The revolutionary Therma Chamber lid has small internal chambers that reduce heat loss through conduction. Thanks to this new design, the Stainless Steel Food Jars achieve the highest heat retention in Zojirushi history.
Ease of use is vital to us and is reflected in the lid's design. The lid has a new leak-proof* one-piece stopper with integrated gasket (*when used properly according to the instruction manual). It has wider grooves making it super easy to clean every nook and cranny. What's best is that it is made of only two pieces, so you will never misplace small parts anymore!
Lastly, this lid features a unique design that allows it to relieve pressure created by hot foods as it's opened.
The food jar has a 2-7/8-inch wide opening that makes it easy to fill and eat directly out of it and makes cleaning a breeze.
As always, our vacuum-insulated food jars are made with durable and sanitary 18/8 stainless steel and a SlickSteel® interior finish that resists corrosion and repels stains. All surfaces that come into contact with food and beverage are BPA-free.
Watch the full product video here to see the food jars in action:
Earth Day Food Jar Recipes
What do you have planned for this Earth Day? Whatever you do, don't forget to stay energized by packing a portable lunch or snack in your Zojirushi food jar! Here are some of our top lunch ideas for Earth Day (and spring!) that we think you'll love: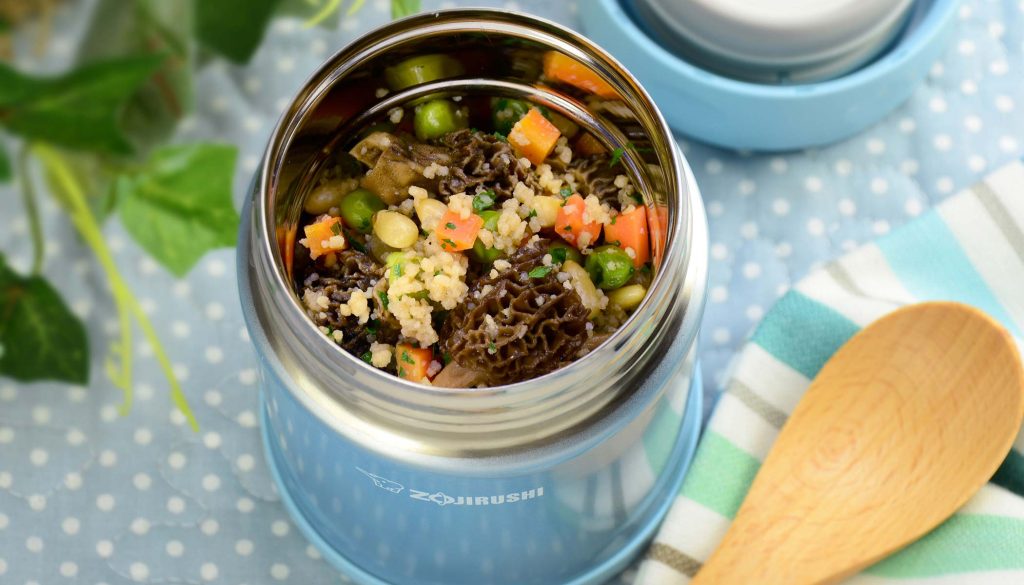 Adventurous Couscous Medley: With quickly heated onions, carrots, mushrooms, green peas, and seasonings with chicken broth, all combined with couscous, this dish boasts the rich flavor of morel mushrooms with white wine vinegar will leave you wanting more.
Shiitake Mushroom and Tofu Noodle Soup: The great thing about tofu noodles is that they don't get soft like pasta when left in liquid for a long time, so they are perfect for soups!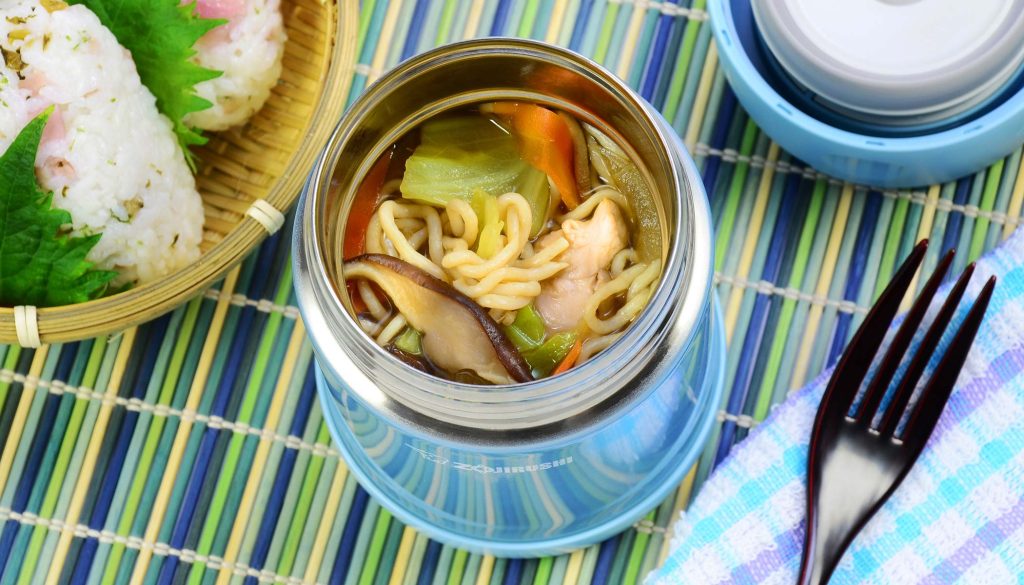 Steel Cut Oatmeal To-Go in Your Food Jar: looking for a sweet pick-me-up? Oatmeal gives you the carbs and nutrients you need, with the satisfying crunch of your favorite fruits

Bean Medley Soup

:

Warm, flavorful, and hits the spot! Make sure to soak your beans overnight before preparing this savory meal.
What are you looking forward to making and taking in your Zojirushi food jar? For more healthy lunch ideas or lunch ideas for work, visit our recipe database at Zojirushi.com. Share your thoughts, comments, and questions with us on Twitter, Facebook, or Instagram! #Zojirushi #ZoFan