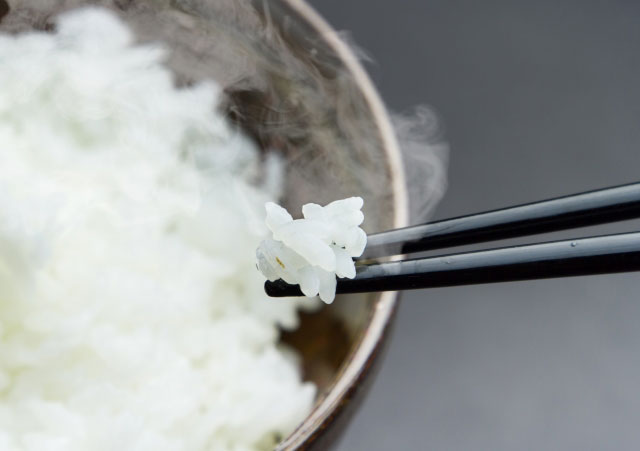 By now you know how to store, measure and wash rice so that it's ready to be cooked. This month, we get to it! We share our secret for cooking perfectly delicious rice in our Zojirushi rice cookers.
Rice requires the correct ratio of grains to water, even heat and controlled pressure to cook well. Along with being easy to use and stylish, Zojirushi rice cookers are designed with these requirements in mind. A variety of features, including water level lines on the inner cooking pan, pre-programmed menu settings and temperature control give you perfectly cooked rice every time.
There are three main categories of rice cookers, with each representing a different level of rice 'deliciousness'.  Micom rice cookers use a microcomputer, or "micom", chip to control the way rice is cooked. The microcomputer programs in soaking time, and adjusts cooking temperature and time according to readings from internal sensors. In addition, most Micom rice cookers have three heaters surrounding the inner pan—one at the bottom, one at the top and one surrounding the inner pan from the sides—for even heat distribution to ensure fluffy rice.
Building on micom technology, Zojirushi's IH + Micom rice cookers utilize sophisticated induction heating technology, which allows the inner pan to become hot very quickly using a magnetic field. The magnetic field also allows the heat to turn off very quickly, as opposed to an electrical heating element, to lower the temperature as quickly as possible when needed. This enables the rice cooker to make finer temperature adjustments for precise heating.
Zojirushi also has a rice cooker that adds pressure cooking to the induction heating and micom technologies, called a Pressure + IH + Micom rice cooker. Cooking with pressure and high heat brings out the rice's best characteristics. A pressurized system alters the structure of starch within each grain of rice, converting the indigestible beta starch into a softer, palatable alpha starch. Pressure cooked rice is fluffier, has superior texture and a pleasing mouthfeel.
Whether you use a Micom rice cooker, an IH + Micom rice cooker or the most sophisticated Pressure + IH + Micom rice cooker, make sure to follow the steps for correctly storing, measuring and washing your rice, and you'll have delicious rice, hot and ready to eat, every time!
We hope you've enjoyed this series. Rice is truly a universal food, spanning cultures, cuisines and geographies, and we bring our passion about this grain to all that we do.