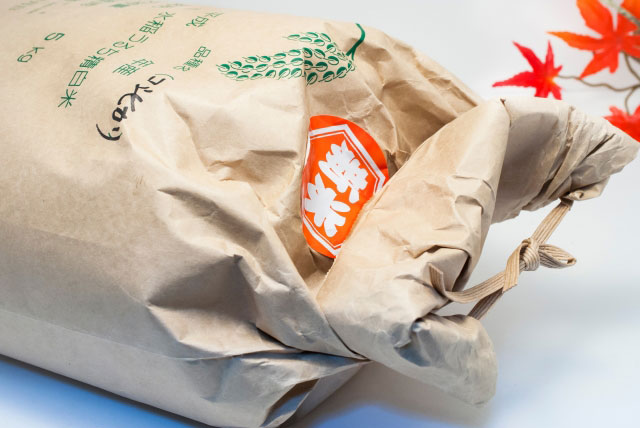 Nutritious, cultivated all over the globe, enjoyed as part of global cuisines–rice is truly a universal food. Delicious rice begins with high-quality seeds and careful cultivation, and ends with fastidious storage, measurement, washing and cooking.
Over the next few months, we're sharing our secrets for preparing delicious short-grain Japanese rice. Our first post focuses on how to correctly store and measure short-grain rice so that it's ready for cooking in our rice cookers.
Purchasing the freshest, highest-quality rice possible is the first step in preparing delicious rice. Buying rice in smaller quantities means it will be used quickly, with less chance of spoiling. Rice is typically packaged in breathable bags, in sizes ranging from as little as two pounds to larger 15-pound bags, and at Zojirushi, we recommend buying the amount of rice you can consume within a month or so.
Once the rice is brought home from the market, it's important to store it in such a way as to preserve its freshness. Rice should be stored in dry, airtight containers with the milling date, if available, noted on the container. Storing rice in airtight containers helps prevent the fatty acids in the rice from oxidizing and keeps it free of other contaminants. Rice should also be protected from humidity and high temperatures. Rice stored in cold pantries or refrigerators will stay fresh longer, as high temperatures speed up the degradation of the rice grains. Keeping rice in low-humidity environments protects it from the growth of molds and mildew.
Knowing how to measure rice correctly is the next key to preparing delicious rice. Each type of rice uses a specific rice-to-water ratio, and using too much or too little water causes the rice to cook too hard or too soft. In Zojirushi's rice cookers, the amount of water needed to cook rice is easy to figure out, but the rice needs to be measured accurately first. The key to accurately measuring rice is to use the "overfill and level off" method. Using the rice measuring cup that comes with each Zojirushi rice cooker, scoop rice out of its container. Overfill the cup to above the brim, and then remove the excess by gently leveling off the top of the cup. Shaking excess rice off the cup or pressing rice into the cup could change the amount of rice that fits in the cup, affecting the way the rice cooks, and ultimately, its taste and texture.
Many other cultures have their own methods of buying, storing and measuring rice. How do you do it? Let us know in the comments below!