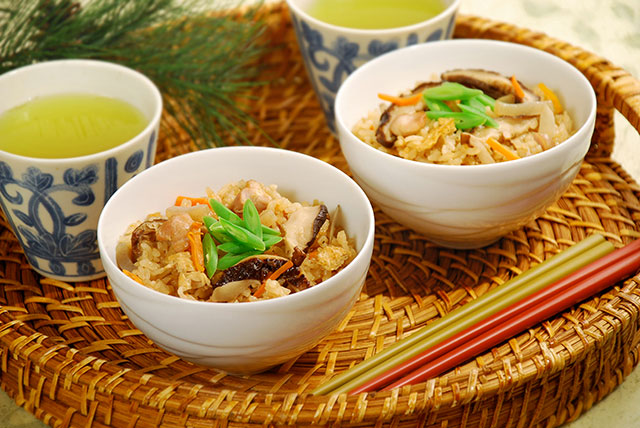 Have you made perfectly delicious rice yet? Now that you know all about rice, we want to share our favorite recipes for this versatile and nutritious grain… not just from Japan, but also from across the globe!
Rice is an ancient food, and many cultures have created sophisticated, comforting dishes using local ingredients to satisfy regional tastes. We start with rice dishes from Asia, including Japan, China, India and Pakistan.
Takikomi-Gohan (seen above) is a popular rice dish that emphasizes the classic Japanese culinary tradition of using seasonal ingredients. At Zojirushi, we've created a recipe full of flavorful vegetables, konnyaku, tofu, chicken and dashi. This preparation can easily be made in one of our rice cookers, and makes great leftovers—make a large batch and refrigerate for no-brainer lunches throughout the week.
China is famous for comforting rice dishes, too, including the classic rice porridge, also known as congee or okayu. Rice porridge is mild and filling, and is often had for breakfast or during an illness, as it is easily digested and soothing to the stomach. Japanese, Indian, Burmese, Korean and Indonesian cultures made a version of it, and we love this classic rice porridge recipe that you can make in our food jars.
India and Pakistan share a classic rice dish called biryani. Biryani is made by layering ingredients such as chicken, lamb and vegetables with long-grain basmati rice, and seasoning it with milk and a complex combination of spices like saffron, chili, cardamom, turmeric, ginger and garlic. The dish is slow, slow, slow cooked, until all of the ingredients are tender and have soaked up the seasonings. It's not to be missed!
Europeans, both from the western and eastern parts of the continent, savor rice as well. The classic risotto is popular in Italy and around the world. The most basic risotto is made with medium-grain Arborio rice, slowly cooked in wine and broth until it becomes creamy. Popular variations add mushrooms and peas, and we love this recipe for Fava Bean Risotto. Italy's neighbor Spain is famous for its paella, and we love this classic version with shrimp, mussels and clams.
Eastern European rice dishes are heavily influenced by the spices of Asia and the Middle East, and Uzbek plov is a prime example of the blending of these cultures. Plov is made using long-grain rice, mutton, carrots, onions, oil and water, mixed and cooked in an open cauldron for hours until the aroma of the dish is utterly mouth-watering. Plov is often served with chickpeas, raisins and eggs, depending on the time of day it is eaten. Plov also has an interesting history, and it is said to have been made for Alexander the Great and his army.
The Americas have their own special rice dishes which are consumed with as much gusto as their friends on other continents. Crawfish etoufee is an elaborate and spicy dish consisting of shellfish and spices "smothering" the rice and braised in a large sauté pan. Arroz de lisa is a distinctive Colombian dish prepared with mullet rice, cooked cassava melon, costeño cheese and a piquant sour cream sauce. The rice is served in a bijao leaf and often eaten as street food.
Rice as a whole grain isn't the only way it's eaten across the world. Rice in the form of noodles is incredibly popular, and some of our favorites are Singapore Noodles, redolent with curry, onions and bell peppers, along with spicy, coconut-infused laksa from Malaysia, pho from Vietnam and the ever-popular wok'd chow fun with Chinese broccoli.
Rice, rice noodles, rice paper, rice dumplings… the variety is endless! We hope you try some of these recipes… and as always, share your creations with us in the comments below.