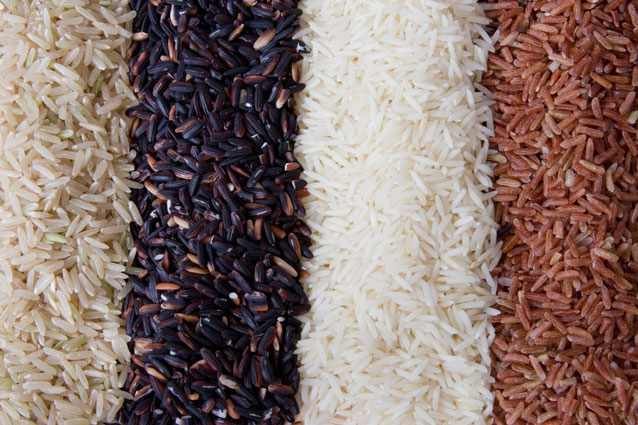 We've been writing all year about rice–how it's cultivated, harvested, consumed. But at the end of the day, it's all about eating it! Rice is one of the most delicious and nutritious foods eaten by people all over the world.
Rice is packed with nutrition. Nutritionally classified as a carbohydrate, rice provides sustaining energy. It depends on the type, but generally rice is a good source of calcium, thiamine, pantothenic acid, folate and vitamin E. Red rice provides additional levels of iron and zinc, and black rice is rich in anthocyanins, which are powerful antioxidants. And rice that hasn't had the bran polished off provides high levels of fiber and small amounts of protein.
Because rice is eaten around the world, it is a key crop used to help reduce or prevent hunger and malnutrition. As a source of readily-absorbed energy, eating rice mitigates starvation. Genetically-modified rice such as Golden Rice, "iron-clad" rice and "high zinc-uptake" rice are new varieties that help to provide vitamin A, iron and zinc to people whose diets severely lack these necessary nutrients.
So, rice is good for you… but people really love rice because of how it tastes.
Rice is considered a delicious food across numerous cultures, whether it is served plain or highly seasoned. While different types of rice are preferred in Southeast Asian, Indian, Latin American and Western cultures, Japanese people typically find short-grain rice to be the most delicious.
Rice is composed of two types of starch molecules: amylose and amylopectin. Amylose is a long-chain starch molecule that keeps rice firm and prevents it from gelatinizing. Long-grain rice has a high amylose content and will cook up defined and fluffy grains that won't stick together. Amylopectin is a short-chain, branched starch molecule and rice that has a high amylopectin content will cook up sticky, soft, and creamy depending on the amount of water added to cook.
When rice cooks, the heat and cooking liquid break down the starch molecules and activate them, so the grains become soft to eat. Short-grain rice is higher in amylopectin than in amylose, so when it is cooked, the rice grains will plump up and stick together. Many Japanese people prefer the texture and the taste of this type of rice because it is the perfect complement to delicately flavored Japanese dishes.
What kind of rice is your favorite? Let us know in the comments below!