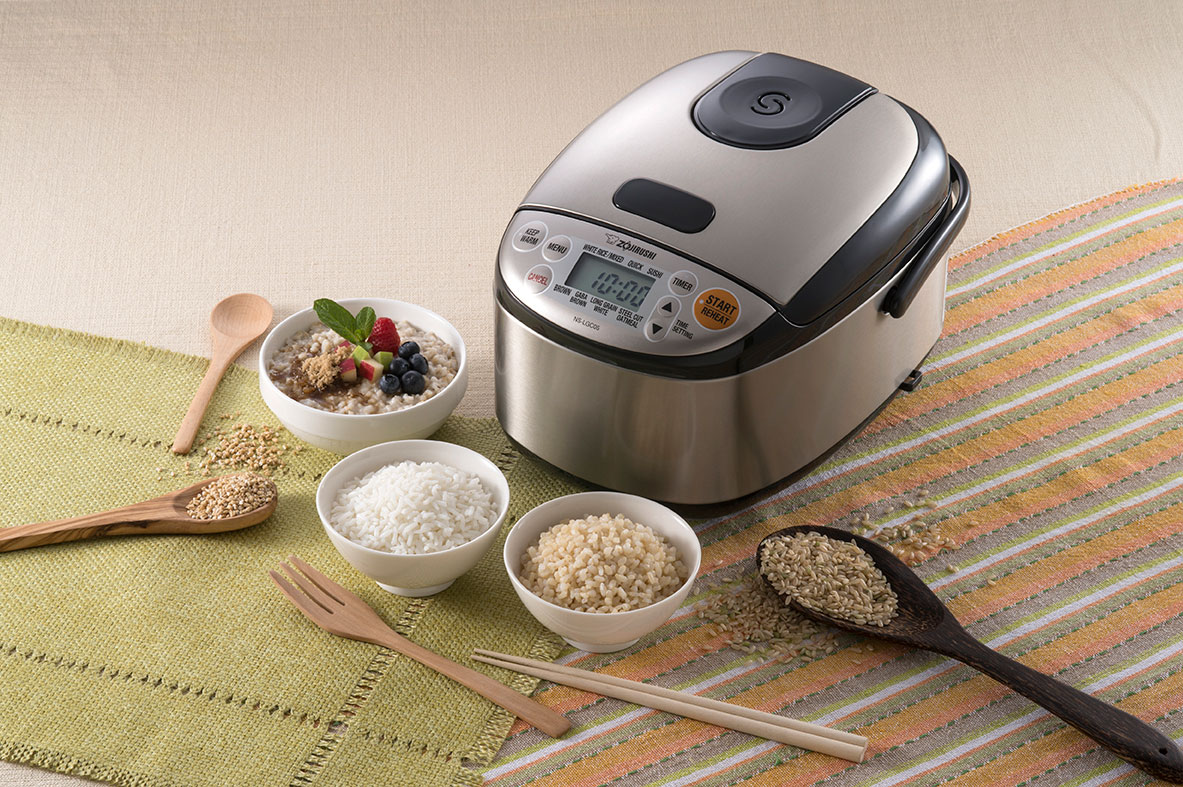 We love one of our newest rice cookers, the Micom Rice Cooker & Warmer (NS-LGC05)!
This rice cooker is ideal for small families or couples, as it can cook as little as a half cup of rice or oats and up to three cups of rice. Whether you're making an individual portion or enough for a small family, this compact rice cooker is versatile as well as stylish, with a clear coated stainless steel exterior that looks sleek and modern on any kitchen countertop.
The Micom Rice Cooker & Warmer comes equipped with a microcomputer that uses advanced fuzzy logic technology to make fine adjustments to cooking time and temperature, ensuring rice is cooked to perfection every time. It also comes with menu settings to make white rice, sushi rice, brown rice, long grain white rice and special menu settings for steel cut oatmeal and GABA brown rice. GABA, or gamma-aminobutyric acid, is said to help lower blood pressure and relieve stress. Using the GABA Brown Rice setting activates the GABA in the brown rice by soaking it for two hours at 104°F before cooking.
Cooking in this rice cooker is stress-free. The nonstick inner pan comes with high-contrast water level lines that make it easy to see how much water to put into the pan for the desired amount of rice. The pan is easy to insert into the machine and rice is cooked evenly using the triple heaters on the bottom, sides and lid. The easy-to-read LCD control panel is used to select the menu setting, and once set, the rice cooker will automatically presoak, cook and steam the rice to perfection. With the clock and delay timer functions, you can set rice to cook for dinner before you leave in the morning or set oatmeal to be ready for breakfast before you go to bed! Once rice is cooked, the machine automatically switches to Keep Warm mode, and rice can be reheated to serving temperature using the Reheat function just before eating.
This model features a convenient detachable inner lid for easy cleaning and a fully-washable inner cooking pan. The retractable power cord and sturdy fold-down handle make this machine simple to store and easy to transport. It also has a removable steam vent cap which allows for high-temperature cooking without messy overflows. Accessories include a nonstick rice spatula, spatula holder and a measuring cup.
With superior technology, design and performance, this Micom Rice Cooker & Warmer is great for your cooking needs. And to get you started, we wanted to share some of our favorite recipes that work beautifully in this rice cooker. Making the basics well is at the core of using this rice cooker, so why not first try making white rice, brown rice and steel cut oatmeal. When making white rice, make sure to rinse and wash the grains well prior to cooking and to use the right amount of water for the desired amount of rice. (We've even created a video that shows you how to properly wash rice!) Stir and loosen rice immediately after cooking, so that excess moisture is released and rice has a fluffy texture.
Once you've mastered these recipes, try making Takikomi Gohan, or Mixed Rice. This delicious recipe combines chicken, fried tofu, vegetables, mushrooms and seasonings with rice, all directly in the rice cooker. And if you're in the mood for something richer, try Buttered Lobster Rice, where delicately seasoned rice is topped with rich, buttery lobster and a spritz of lemon.
No matter what you make with this rice cooker, it's sure to turn out beautifully. Check out our product video below for more details, and as always, let us know how you do in the comments below.