We are so excited to announce our collaboration with Sanrio to launch our two new Hello Kitty housewares, the Hello Kitty Rice Cooker and the Hello Kitty Stainless Mug.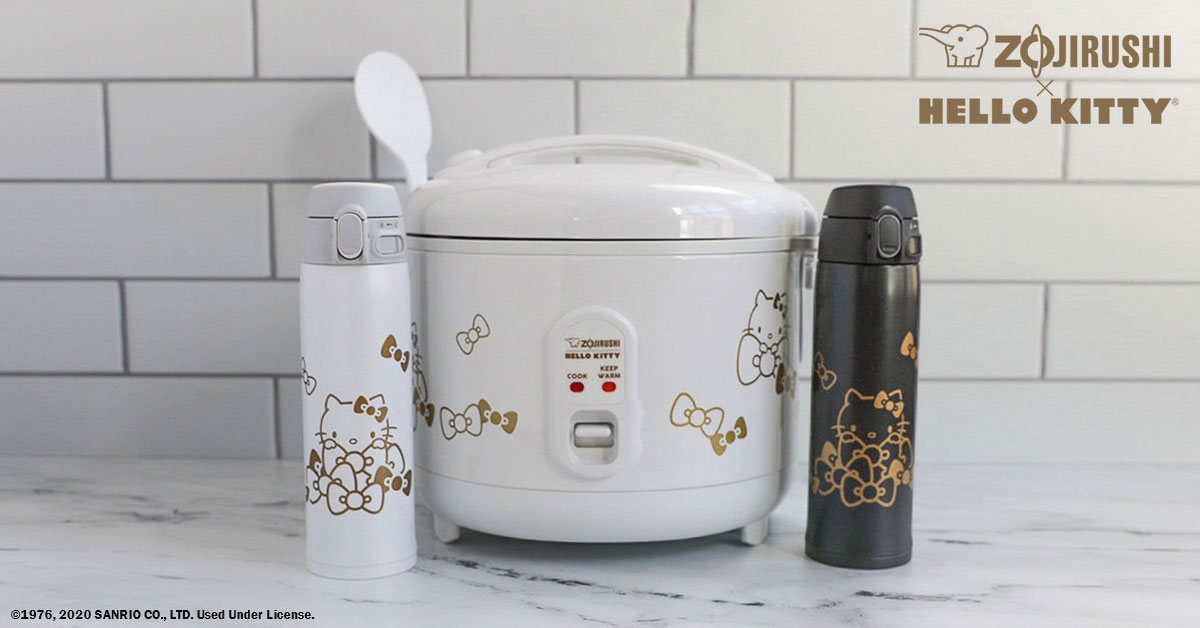 This partnership marks Zojirushi's first-ever licensed collection and coincides with Sanrio's 60th anniversary, celebrating the heritage of two iconic Japanese brands and their milestones through these fun limited-edition products.
Let's take a closer look at the two products and their features:
The Hello Kitty Rice Cooker (NS-RPC10KT)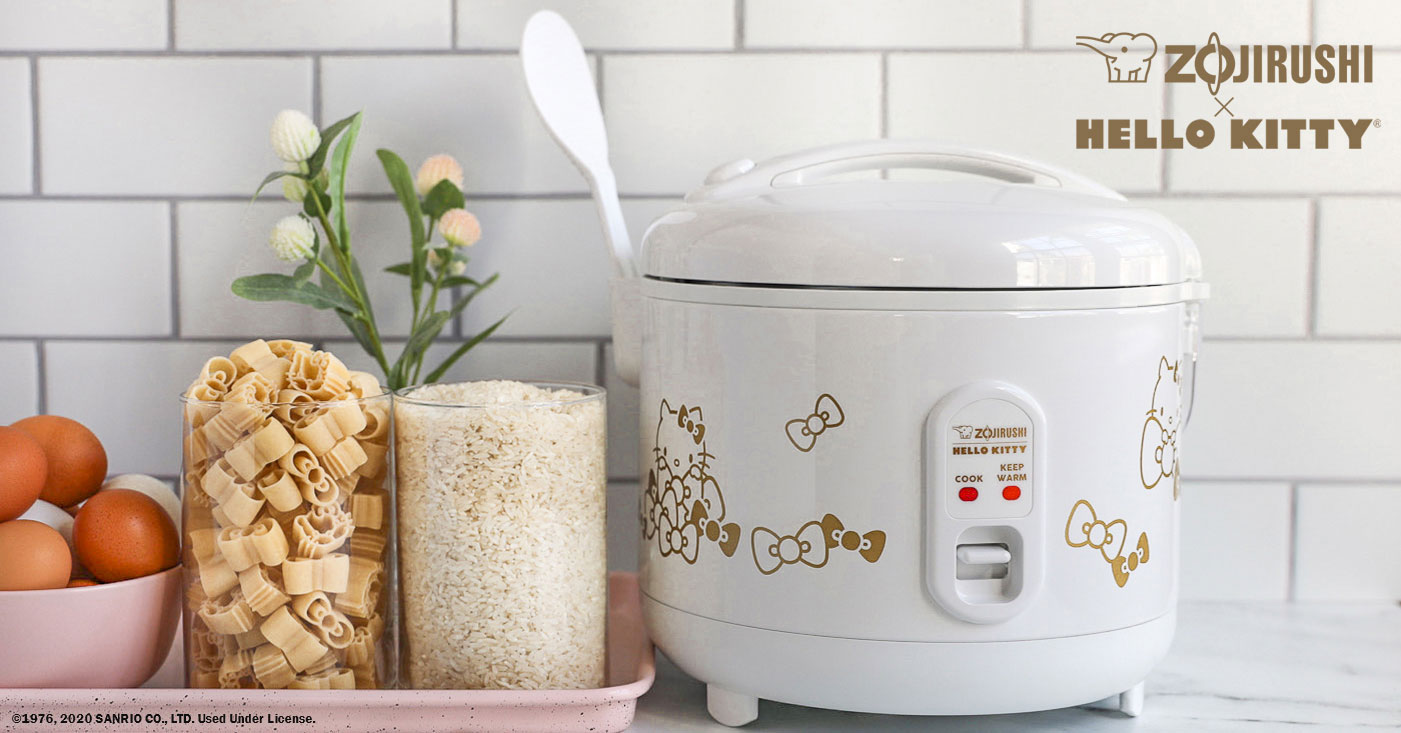 The Hello Kitty Rice Cooker is a gorgeous white exterior with one-of-a-kind Hello Kitty illustrations in 360 gold print. It's a necessity for all Hello Kitty fans – so kawaii!
Along with the ability to cook up to 5.5 cups of rice, this rice cooker will feature many Zojirushi standards, such as: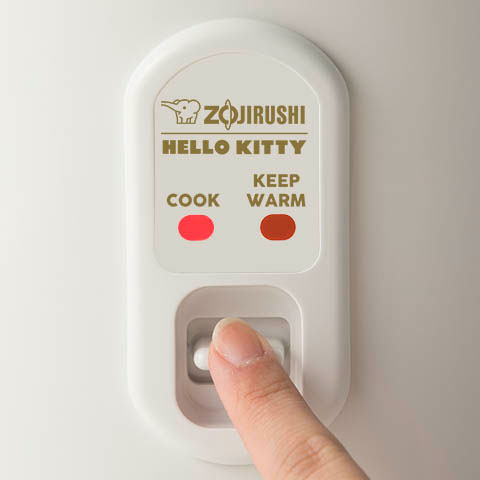 Easy one-touch operation with an automatic system that keeps the rice warm once it's done cooking,
A patented triple heater system that works intuitively to always generate the ideal temperature for the best tasting rice,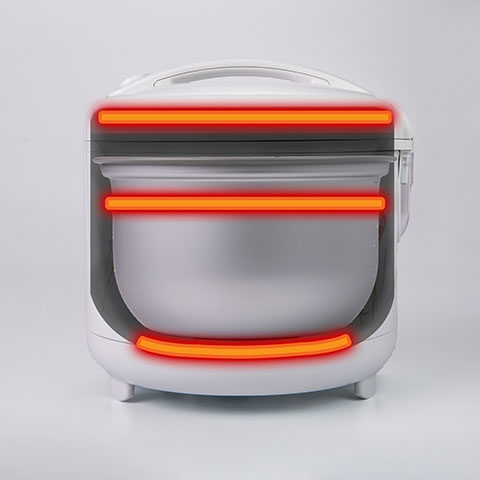 A detachable and washable inner lid,
Easy-to-clean nonstick coated inner pan,
A hinged lid with easy-to-open handle, as well as a lock tight lid with push button releas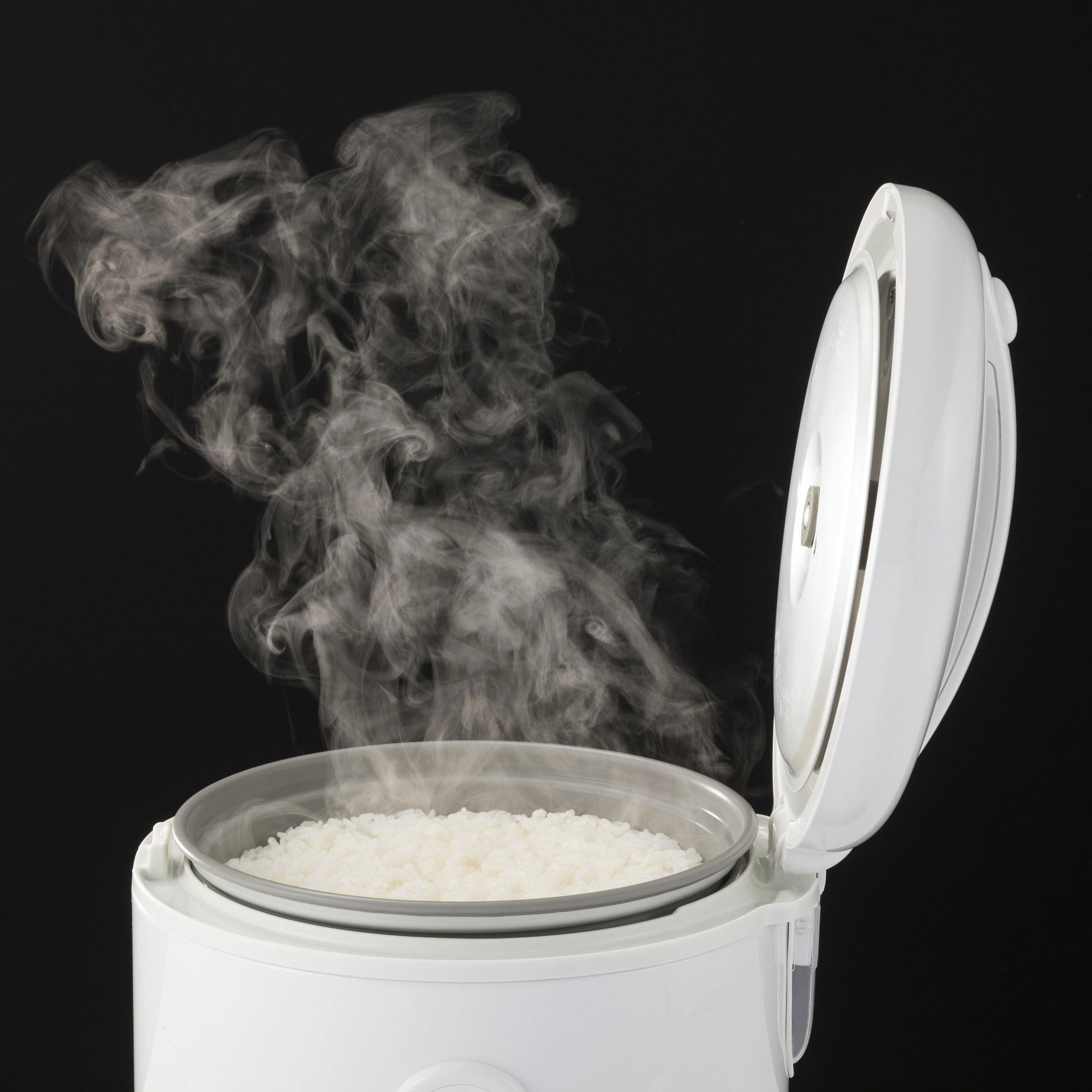 e and a removable dew collector.  The rice cooker also comes with a measuring cup, spatula, and a spatula holder as accessories, which are BPA-free
The rice cooker is adorable and also thoughtfully constructed to not only make the cooking part easy, but also the clean-up. For example, during the boiling process, starchy foam may adhere to the inner lid and become dirty. The inner lid is designed so it can be removed and washed thoroughly. Especially if you add any ingredients other than rice (such as condiments) when cooking, wash thoroughly to prevent odors. The inner pan is nonstick coated for easy cleaning, because we all know how time consuming it is to clean off sticky rice!  When cleaning or washing, we advise not putting forks, knives or other cooking utensils in the inner pan to avoid scratches. Please only use the rice spatula that came with your rice cooker to keep the pan from scratching and deteriorating.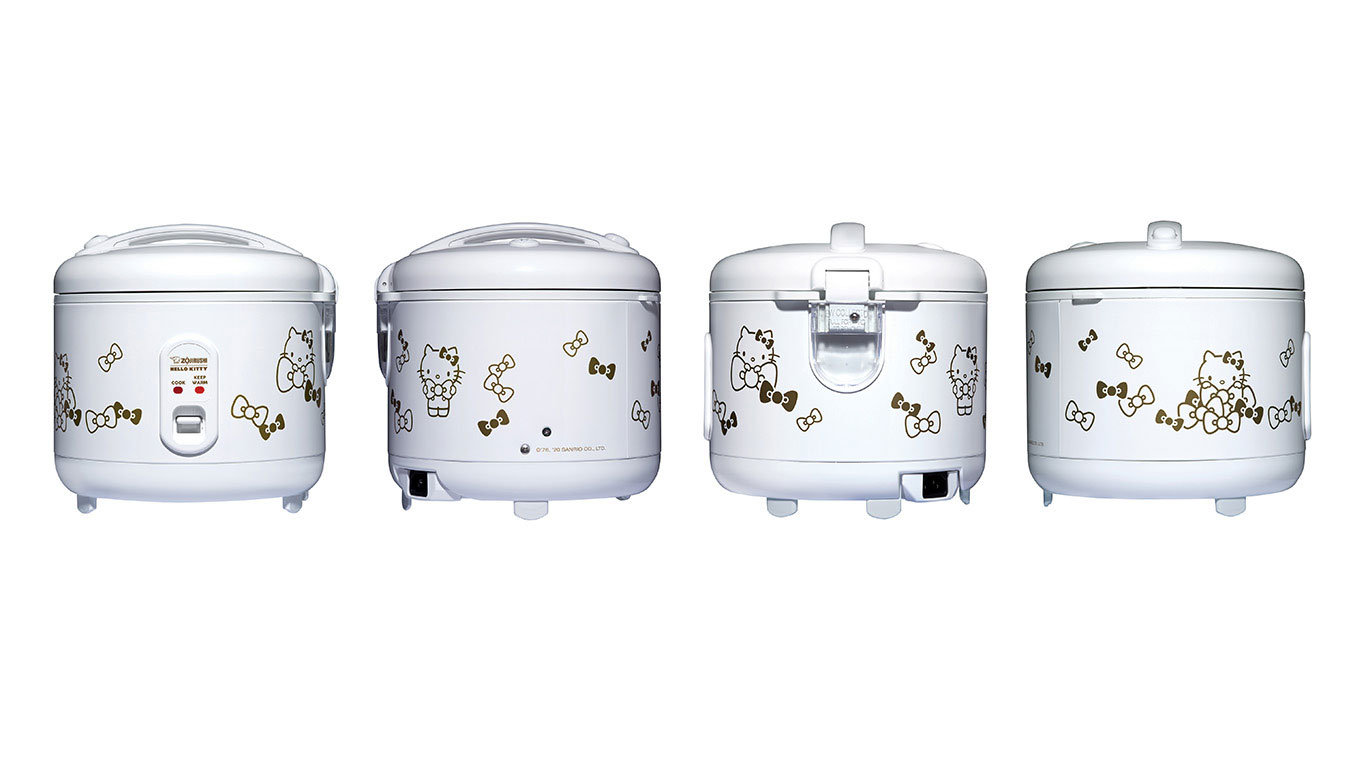 The Hello Kitty Stainless Mug (SM-TA48KT)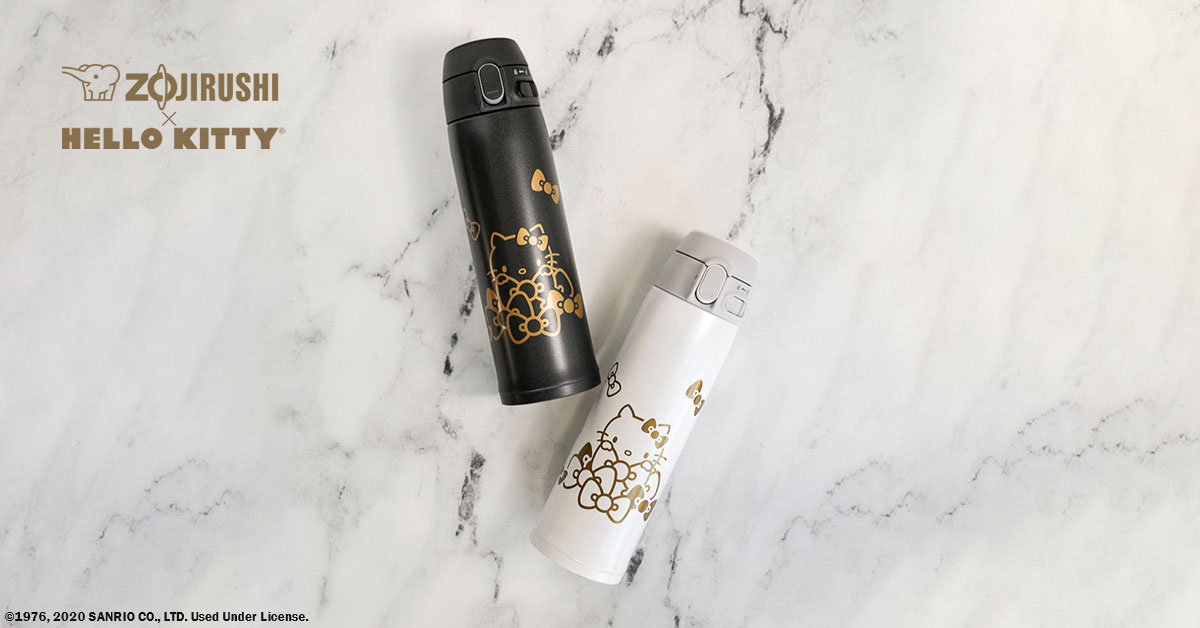 While the Hello Kitty rice cooker will only be sold in white, the Hello Kitty Stainless Mug will be offered in two colors – black and white – both featuring the same unique-to-Zojirushi gold print.
If you own, used, or have encountered any of our vacuum insulated stainless products, you know how they EXCEL at keeping beverages hot or cold…we're not exaggerating. Enjoy the temperature retention for up to 6 hours for all of your liquids!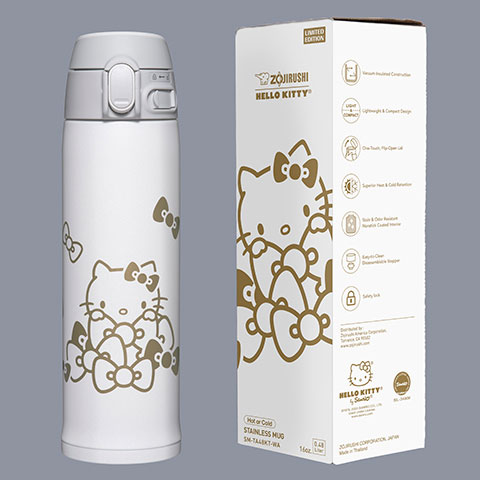 In addition to powerful temperature retention and a lovely design, they also offer everything you love about Zojirushi's vacuum insulated stainless products, such as 6 oz capacity made of high-quality 18/8 stainless steel , a 2-step lid release process , which prevents excess condensation, a stopper that completely disassembles for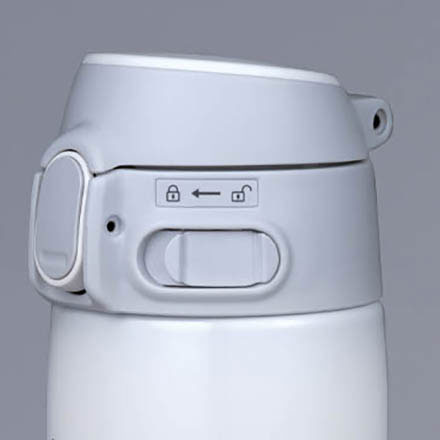 thorough cleaning , Easy-to-clean double layer nonstick coated interior , nonstick coated
interior for enhanced durability, An air vent so drinks flow smoothly ,
and a safety lock to prevent the lid from opening accidentally.
Look at that beautiful 360 gold Hello Kitty design!
Zojirushi has other products that also have floral or other designs on our products. We take care in using materials and application methods that prevent the designs from coming off, but don't rub or scrub hard when washing. Please be gentle. This tip works to keep both the rice cooker and stainless mug's exterior design in pristine condition.
Are you as excited as we are?
The Hello Kitty Limited Edition Collection is exclusive to the U.S. and Canada, and features a never-before-seen Hello Kitty pattern. This pattern was designed specifically for Zojirushi, and the items will only be available through select retailers in North America, beginning in early July 2020 with plans on restocking the collection in early September.
Missed out on the release?  Make sure to sign up for our Zojirushi 101 newsletter for the month of July, and take our survey for a chance to win a product from the collection!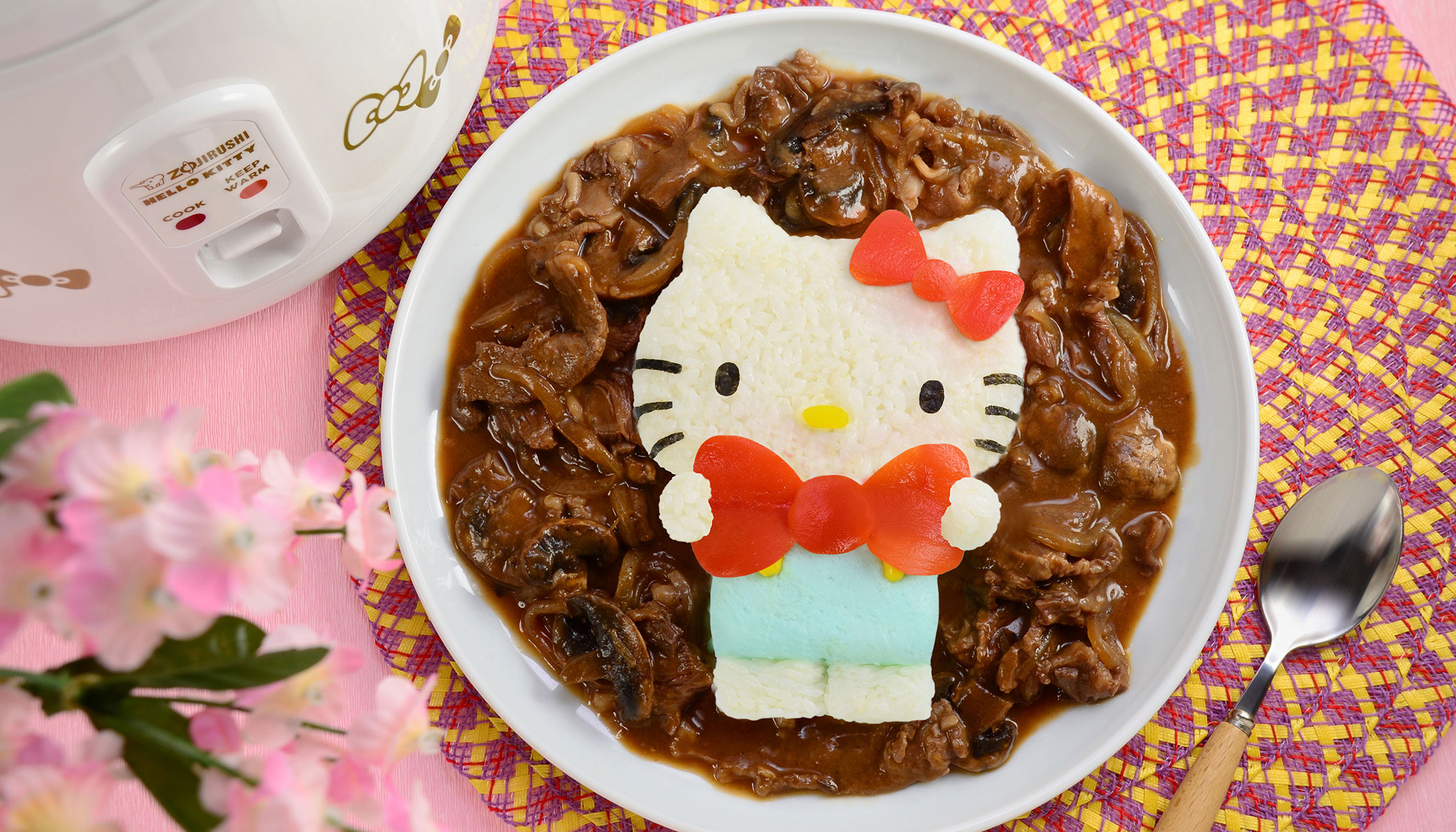 Don't forget to also try out these delicious Hello Kitty recipes from this month's Zojirushi 101.  The perfect meals to make with your new Hello Kitty rice cooker!  We feature 2 delicious Japanese dish-inspired meals with the iconic mascot, such as Hayashi Rice.
Be sure to show off your Zojirushi x Hello Kitty housewares with us on social by tagging your photos on Twitter, Facebook or Instagram! #Zojirushi #ZojirushixHelloKitty #ZoFan