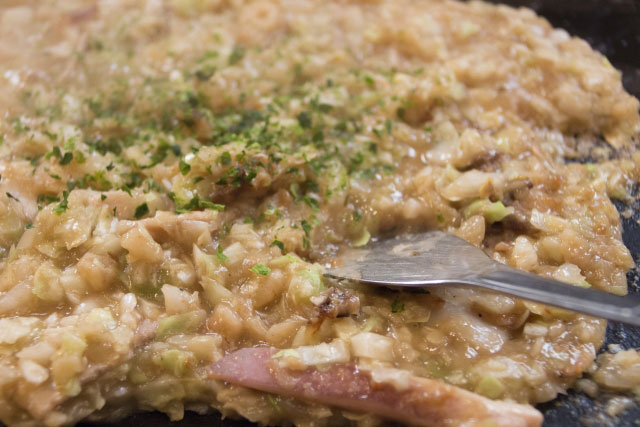 Cold weather. Short days. The perfect time for delicious warm foods and drinks, especially when they include monjayaki, our Acquired Taste selection for November.
Monjayaki, or monja for short, is a regional dish, primarily found in Tokyo. At its heart, monjayaki is a slightly ugly pancake made with a few simple ingredients. But when it comes to good food, it really hits the spot, especially when you eat it with an ice-cold beer!
Monjayaki has a long history in Japan. It is thought to have originated in the area now known as Tokyo during the Meiji Period (1868-1912) as a snack called mojiyaki. Mojiyaki, made with a simple water and flour batter, was sold at snack shops called dagashiya, which specialized in candy and snacks for children. When children would come to buy their treat, they would practice their letters in the gooey mojiyaki batter that was cooked on a griddle in front of the shop, leading to the name mojiyaki which means "grilled letters". Around the time of World War II, the dish evolved into its modern form, monjayaki, which is similar to okonomiyaki in many ways. The base batter for monjayaki is made with dashi and wheat flour, to which is added any combination of cabbage, meat, seafood, cheese, mochi and green onions. But the way monjayaki is prepared and eaten is unique and wonderful, all on its own!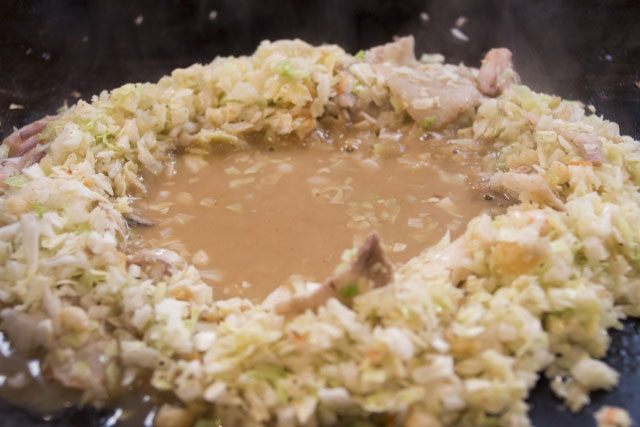 The flour and dashi are combined into a smooth, liquidy batter, and served in a large bowl. Drier toppings are layered into the bowl, starting with shredded green cabbage. Various ingredients are then added on top of the cabbage, depending on the diner's preference. Mochimentai, a combination of mochi and spicy cod roe, is popular, as are combinations of curry powder and cheese, seafood and green onions and fatty pork and kimchi. All of the layers from the cabbage up are cooked first, usually on an oiled pan, and when eaten at a monjayaki restaurant, at a tableside teppan grill. The dry ingredients are chopped and sautéed, chopped and sautéed, chopped and sautéed, using large, sharp-edged metal spatulas, until they are cut up into very fine pieces. The cooked dry ingredients are then formed into a large donut shape on the grill, with the cooked ingredients forming a "wall" for the goodness to come. The flour and dashi batter is then poured into the empty center and allowed to boil and thicken. Once the bubbling starts, all of the ingredients are mixed together on the grill and cooked until the bottom of the monja starts to brown.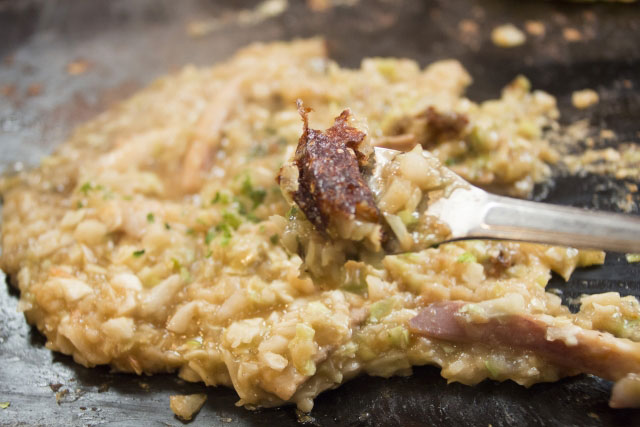 Turn down the heat, and the monja is ready to eat! RIGHT. OFF. THE. GRILL. While it's hot and delicious. Monjayaki is eaten with tiny spatulas called hagashi, which are used to scoop up bites right off the griddle. As the monja is being eaten, the bottom level crisps up while the top remains so gooey it melts in your mouth. The okoge, or the crisped-up bottom part, is even great to crunch on while drinking beer.
So beloved is monjayaki that there is an entire street in Tokyo dedicated to monjayaki restaurants! Tsukishima Monjadori is packed with monjayaki specialty restaurants, and each restaurant carries unique menus and different variations of monjayaki so you can discover your favorite.
Have you tried it? Is it one of your favorite winter dishes? Let us know what you think in the comments below!