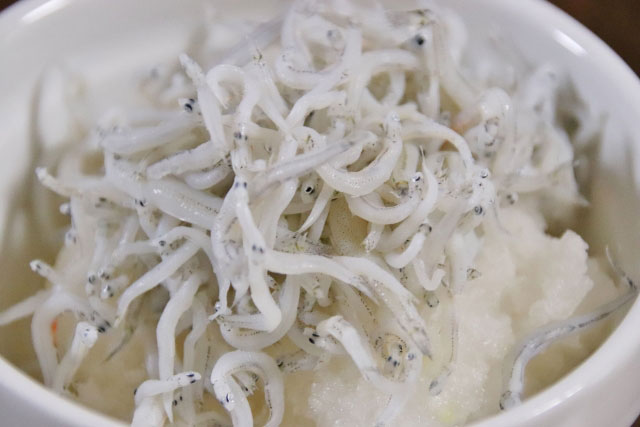 In Japanese cuisine, sometimes the simplest dishes, like perfectly cooked white rice, are the most elegant and beloved.
Our unique food this month is one such dish.
Shirasu is a simple seafood dish, consisting of either raw or boiled, salted and dried juvenile white fish, usually anchovies (katakuchi-iwashi), sardines (ma-iwashi) or round herring (urume-iwashi). These tiny fish are abundant in the waters of the Pacific Ocean off the coast of Japan and are predominantly harvested in spring and fall. They are a rich food source, full of calcium and Vitamin D and beneficial oils like DHA.
Kanagawa Prefecture is famous for shirasu-don, a simple dish of white rice, shirasu and grated daikon radish. In Kanagawa Prefecture, coastal towns like Kamakura, Shonan and Enoshima are culinary destinations, where those who love this dish swear by the sublime experience of eating it just after it's been caught. Shirasu-don is available at roadside stalls and fancy restaurants, eaten as a single, solitary dish or with loads of fresh appetizers and side dishes. No matter how it's enjoyed, it's delectable!
When the fish are raw, they are called shirasu, and when they are boiled they are called kamaage shirasu. Boiled, salted and dried fish yield a dish called chirimen jako or shirasuboshi. Each incarnation has its own flavor and texture. Raw shirasu is delicately chewy and is scented with the ocean especially when it's just caught before coming to your plate. Kamaage shirasu is fluffier and saltier, and chirimen jako or shirasuboshi is savory and has jerky-like texture.
While you can enjoy shirasu very simply with grated ginger, chopped scallions and a dash of soy sauce, Japanese cooks have come up with lovely variations. When combined with drained and crumbled tofu, it makes a lovely tofu hamburg steak. And when sautéed with tomatoes and garlic, it creates a light and savory pasta sauce. Shirasu can also be combined with garlic used to infuse olive oil, which makes an umami-filled dressing for vegetables and bread. Stir-fry chirimen jako with takuan (Japanese pickled radish) for a wonderful accompaniment to rice.
No matter how you enjoy it, we hope you try out this wonderful traditional Japanese food! Let us know what you think in the comments below!