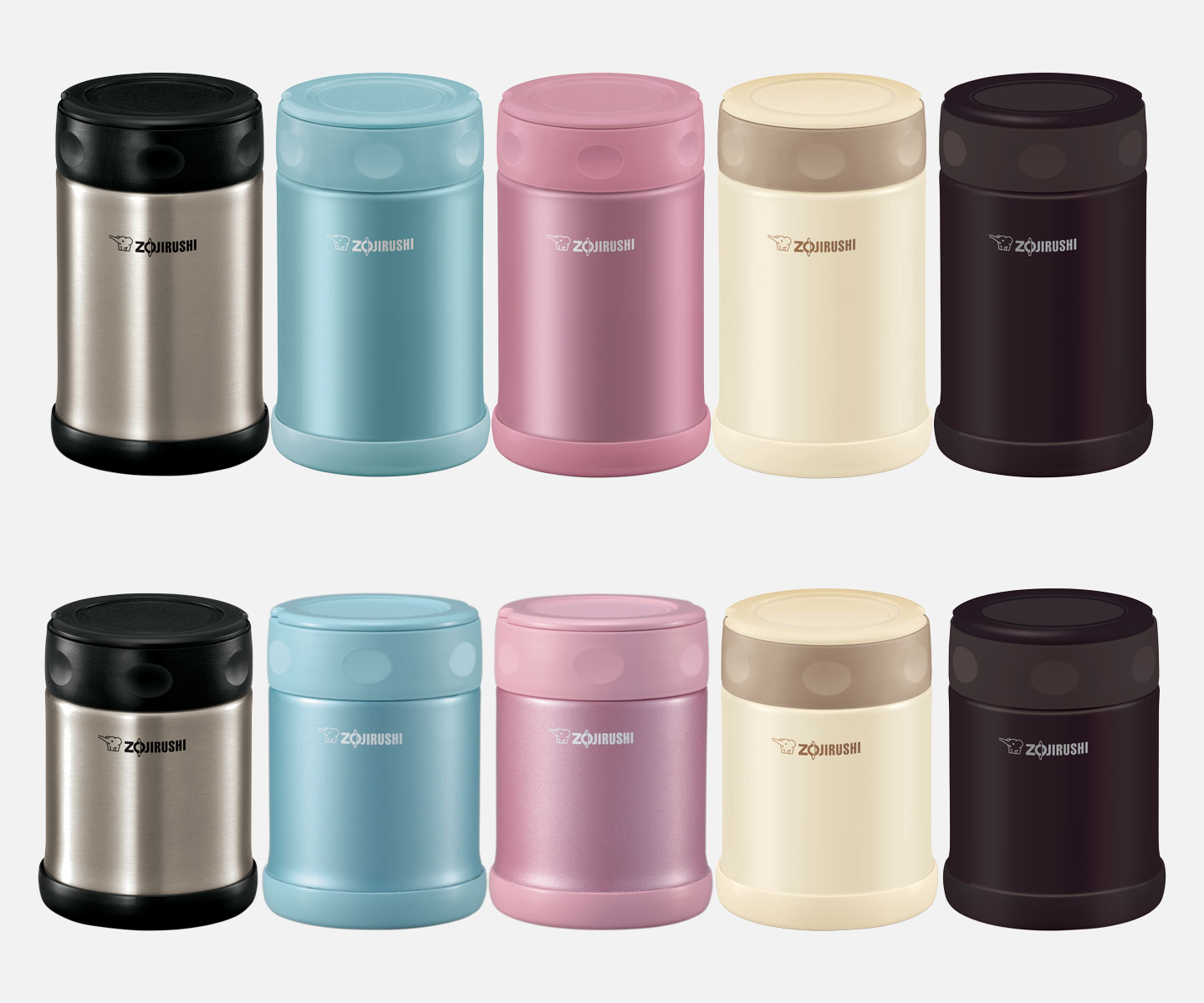 Whether it's a lunch break, family outing, or a picnic in the park with friends, August is the perfect time of year to enjoy the great outdoors. In fact, August is National Picnic Month! If you're looking to kick off your next outdoor adventure, don't forget to take a delicious lunch or bento to reenergize yourself throughout your day. Not sure what to pack? We've got you covered. Today, we'll be sharing some healthy, fresh, and fun recipes that you can pack in Stainless Steel Food Jars. Let's get to it!
Get to Know the Stainless Steel Food Jar SW-EAE35/50
Have you met our Stainless Steel Food Jar SW-EAE35/50? Our compact vacuum insulated food vessels keep foods or beverages hot or cold for hours, and with a tight-fitted lid with gasket which minimizes leaks and maximizes temperature retention. Available in five unique colors and in 12 oz. and 17 oz. sizes, they're the perfect companions for drinks, snacks, and meals on the go!
With our Zojirushi food jars, you can place food or drink right in the jar, pack it, and forget it until you're ready to enjoy! The 2-1/2-inch wide opening allows you to eat directly out of the jar, saving the need for extra plate ware, and also makes it easy to clean when you're finished. As always, all surfaces that come in contact with food are made of BPA-free plastic and stainless steel. Learn more by watching our short product video.
Healthy, Portable Picnic Dishes
Now that you've gotten to know our Stainless Steel Food Jar SW-EAE35/50, let's dive into some seasonal beverages and foods that you can prep for your next outdoor adventure.
Drinks
Did you know that our vacuum-insulated food jars can double as drink holders, too? Yes! We use the same vacuum insulated technology to keep drinks cold for hours, and our non-spill design will make sure that your drinks won't leak. Win-win.

Iced Black Tea: Classic, simple, and packed with caffeine to wake you up when you need a boost. If you want to add some sweetness to this drink, add rock sugar while the tea is hot (before you ice).
Iced Green Tea Mocktail: This refreshing medley of green tea, grapefruit, and mint is the perfect drink for summertime. Remember to let the tea steep for 3-4 minutes before adding ice to the drink.

Green Tea White Virgin Sangria

: Want a fruity drink and snack all in one? Gather your favorite fruits and steep them with tea, grape juice, and cinnamon. We recommend apples, kiwi, cucumber, and lemons.
Noodles
Because our food jars are ideal for both liquids and foods, one of our favorite ways to use our Zojirushi food jars is to pack different noodle dishes. Here are two recipes that will cool you down after a hot summer hike:

Chilled Harusame Noodle

:

Refreshing, cold cellophane noodles with crunchy cucumbers and kimchi. Add in other sliced ingredients like ham to your liking.

Chilled Out Ramen Salad

: The great thing about our food jars is that they will prevent chilled noodles from going soggy! Dress this ramen salad with Japanese mustard, sugar, rice vinegar, and soy sauce.
Dessert

Yes, you can pack dessert in your food jar too! And what's better than indulging in a sweet treat after a hearty meal? Here are some ideas for refreshing desserts on the go:
Black Tea Panna Cotta

: Creamy, indulgent, and chilled to perfection.

Mango Gelatin

: You can use gelatin and hot water to make a quick chilled dessert, like this tropical medley of milk and mango. Garnish with a sprig of mint.
Now that you know what you'll be packing for your next adventure, where will you plan to go next? Let us know your thoughts by tagging Zojirushi on your photos with #zojirushi on Twitter, Facebook or Instagram!