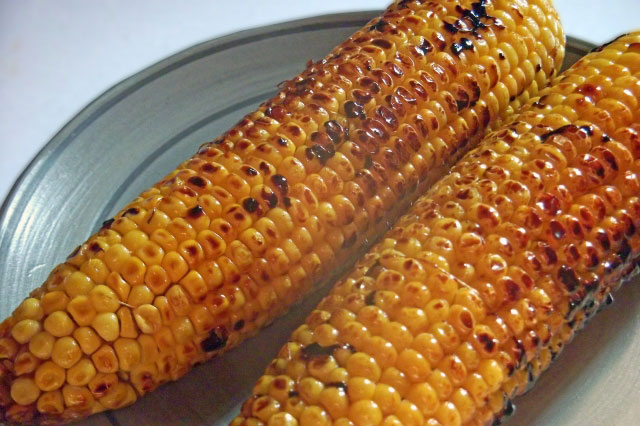 The first week of August was a week of many festivals in Japan, and with summer festivals come summer street food!
Yaki-tomorokoshi, or roasted corn, is a savory preparation of fresh, sweet summer corn. Along with okonomiyaki, takoyaki and yakisoba, freshly grilled corn is a must when attending a natsumatsuri, or summer festival.
Imagine this… colorful festivals, often full of people dressed in yukata, a type of kimono worn in summer, with beautifully decorated floats, or festival lanterns… all crowded together in the hot days and nights of August. Surrounding festival goers are specialty food stalls, and the delicious smell brings additional excitement to the festive atmosphere.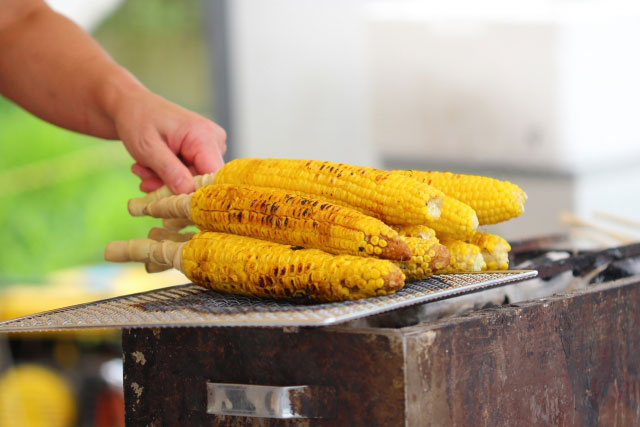 Making grilled corn is a quintessentially Japanese process—simple ingredients prepared in careful, thoughtful ways. The husk and silk of each ear of corn is stripped away and tied at the end of the ear to make a handle. The cleaned corn is placed on a well-oiled grill and usually basted with soy sauce for a wonderful savory flavor. We've even had yaki-tomorokoshi with a sweet honey miso butter made of soy sauce, miso paste, butter, honey and salt.
Festivals are great places to celebrate and to eat! Other popular street foods include grilled squid and steamed potatoes with butter as well as candied apples, sponge cakes, crepes and of course, cotton candy!
Some of the most popular summer festivals that happened this month are the Akita Kanto Matsuri, the Sendai Tanabata Matsuri, the Yamagata Hanagasa Matsuri, and the Aomori Nebuta Matsuri. Each festival is unique, but they all share a theme of praying for a successful farming season, prosperity and progress and the fulfillment of wishes. And they all have many, many street food stalls… where you can easily find a serving of yaki-tomorokoshi!
If you're in Japan in time for festival season, don't forget to try grilled corn… and don't forget to look out for next month's post about Japanese street food!