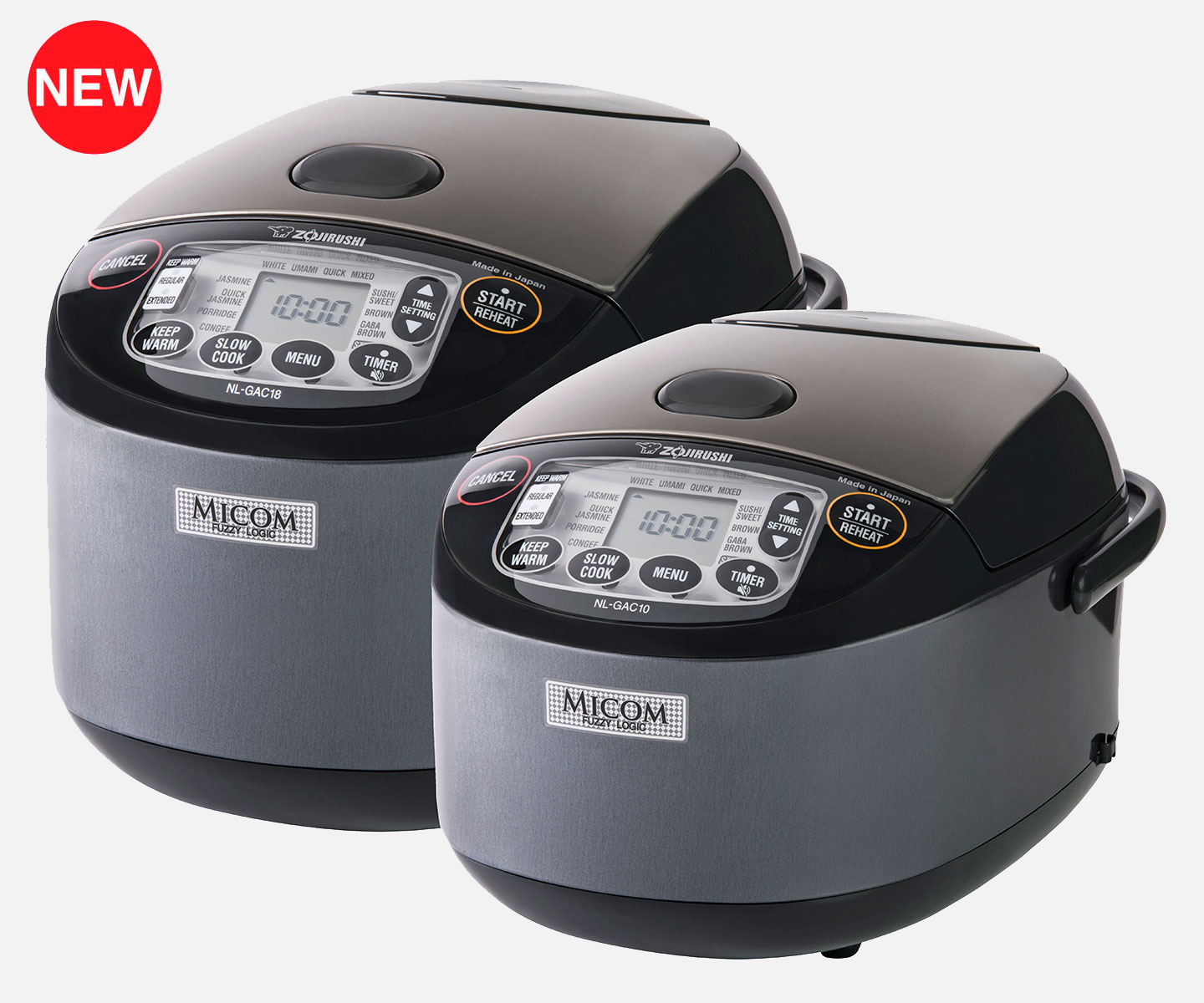 Happy May, Zo' Fans!
We are so excited to introduce the latest addition to our rice cooker lineup, the Umami Rice Cooker NL-GAC10/18.
This versatile, multitasking machine makes the perfect rice or one-pot meal with its advanced Fuzzy Logic technology and has the most cooking settings in the Micom category, it's truly one of the most industrious rice cookers we've ever made. Are you ready to learn all about this rice cooker's impressive features and why it may be the perfect rice cooker for you? Let's get to it.
The Umami Rice Cooker At-a-Glance
The Umami Rice Cooker NL-GAC10/18 comes in two sizes, 5.5 cups or 10 cups capacities. Both sizes come in a sleek metallic black exterior that adds a unique touch to any kitchen, and its modern profile and upgraded settings make it truly best-in-class. This rice cooker also features an easy-to-read LCD screen with pre-programmed settings like a delay timer, auto keep warm, extended keep warm, and reheat.

Perfectly Paired: More on Parts and Accessories
The Umami Rice Cooker NL-GAC10/18 is easy to store and clean with its detachable power cord. The appliance features a removable and washable inner lid, 1.5 mm thick nonstick coated inner cooking pan, and a clear-coated stainless-steel lid, making cooking and cleaning a breeze. Like the rest of our products, customers can rest assured knowing that all of the food-facing parts are BPA-free. Additional accessories that come with this rice cooker include a steaming basket, rice spatula, spatula holder, and measuring cup, so you'll be fully prepared to make the perfect rice (or meal) every time.
Settings
This machine's versatility is unmatched. Our Umami Rice Cooker's intelligent micro computerized technology enables multiple menu settings and cooking functions, allowing users to make several varieties of rice – and access functions, like slow cook and steam.
Even though there are so many settings and menu options, this machine is designed to be easy and user-friendly. All you have to do is click the setting you want, and the rice cooker will do the hard work for you.
A Guide to the Umami's 12 Settings:
The quick white and quick Jasmine features reduced cooking time for dinner in a snap
The GABA brown rice setting activates the rice for increased nutritional value
The steam setting cooks meats and vegetables without the need for added fats or oils for a nutritious and delicious meal
The slow cook setting to whip up soups, stews, and one-pot meals you can savor later
Perhaps one of the most exciting settings of this machine is the namesake Umami feature, which makes sweet, soft, fluffy, and flavorful rice through extended soaking and steaming
Other settings include white, brown, mixed, sushi/sweet, porridge, and congee

Tips and Tricks for Your Umami Rice Cooker NL-GAC 10/18
Can you guess how long you should keep your rice warm in your rice cooker? Some customers will keep their rice for 4-5 days, but we recommend keeping your rice for only 12 hours to maximize taste. Not to worry, with this machine's Extended Keep Warm feature, you can keep your rice up to 24 hours, as well as reheat the rice at the touch of a button with the Reheat feature.
Instead of keeping your rice in the rice cooker for days, refrigerate or freeze your leftover rice to enjoy later. Store leftover rice in a container or wrap tightly in plastic wrap to retain moisture. When you're ready to eat it, microwave it and use it for fried rice or rice salad!
With the new steam feature, you'll be able to cook your favorite flavorful meals without the guilt. Pack the steaming basket like the image below after adding water to the pan and select the steam menu setting for perfectly cooked vegetables. Did you know, meats and fish can also be steamed?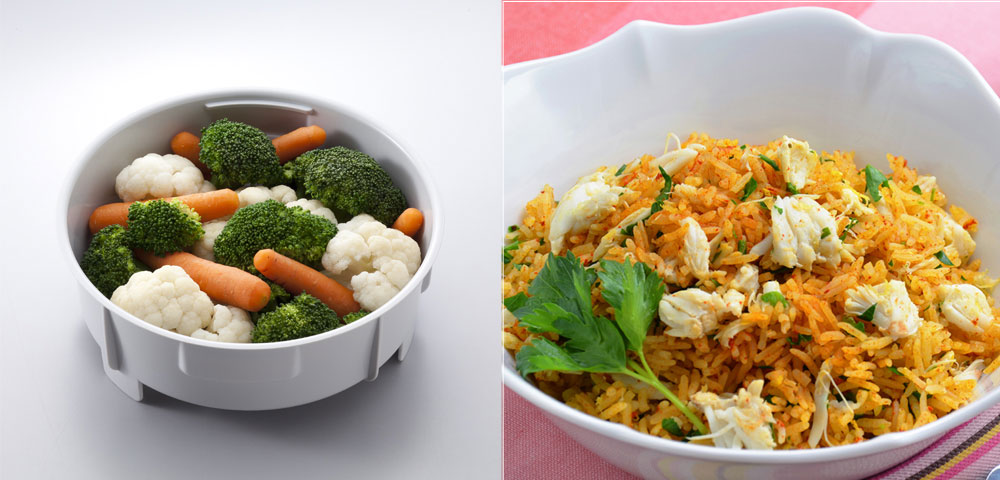 Looking for more recipe ideas? Zojirushi.com has plenty of exciting recipes you can cook in your Umami rice cooker. Try our Chesapeake Crab Carrot Rice on the Jasmine setting for a fun dish that is effortless to make. Remember, when using our recipes, to note the product the recipe was designed for and adjust accordingly.
Which exciting feature are you looking forward to using on your new Umami Rice Cooker? Be sure to share your dishes with us on social by tagging your photos on Twitter, Facebook, or Instagram! #Zojirushi #ZoFan