Have you met our Zojirushi VE Hybrid Water Boiler & Warmer CV-JAC40/50? Whether you're a tea drinker, coffee lover, or simply need hot water on standby for cooking, this stylish and modern water boiler and warmer is the perfect addition to any home or office. In today's product guide, we'll be diving into this water heater's capabilities and functions, from its unique energy-saving capabilities to its extensive safety features and temperature settings. See for yourself why this water heater is one of our fan favorites!
Standout Technology that Saves Energy and Time
The Zojirushi VE Hybrid Water Boiler & Warmer uses superior VE (Vacuum-Electric) hybrid technology to keep water hot for hours with minimal electricity. Once the water heater reaches the boiling point of water, which is 212°F, it can maintain one of 4 different keep-warm temperature settings of your choice – 160°F, 175°F, 195°F, and 208°F – all at the press of a button. In a rush? There is an additional Quick Temp mode that brings your water temperature up 160°F, 175°F, or 195°F, without ever having to bring it to a boil!
Additional energy-saving functions include:
Vacuum mode: save electricity by relying on Zojirushi's exceptional vacuum insulation technology. Just like our mugs and bottles, this water boiler comes with vacuum insulation that will keep your water warm and when used with the Vacuum mode, it will lower electricity use!
Energy-Saving Timer: don't need hot water at the ready at night? Conserve energy by setting up a delay timer, from 6-16 hours, ensuring your hot water is ready exactly when you need it.
Committed to Safe Design
You'll never have to worry about burning yourself when using this appliance correctly. The water boiler's namesake VE technology keeps the exterior of the unit cool to the touch, making it safe and easy to handle, while the auto shut-off function also prevents the machine from running when the unit is empty or low in water.
The water boiler comes with an automatic dispense-lock which prevents accidental water dispensing and in-lid and in spout guards provide an extra layer of protection preventing leaks in the event it's tilted or tipped over. As always, all surfaces that come into contact with food or beverage are 100% BPA-free.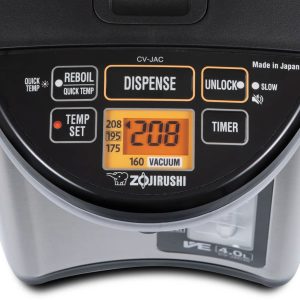 Sleek and Intuitive Design
Made in Japan, this appliance is available in two sizes that hold up to 4L or 5L at a time and comes in a stainless steel finish. Not only does this finish offer a sleek and modern look, but is also easy to clean, so you can keep your unit looking like new for years to come.
A key feature of the Zojirushi VE Hybrid Water Boiler & Warmer is its easy-to-read orange LCD control panel, which shows actual water temperatures at all times. The unit also features an easy-to-fill water tank with distinct water level lines, so you can always see the internal water level without having to open the lid and know exactly when it needs to be refilled. This water heater also features a detachable power cord, so you can easily store the appliance away when not in use.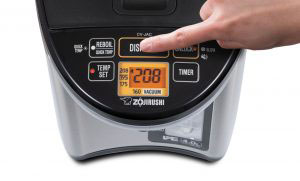 For the coffee lovers out there, this appliance features a Café Drip mode, which pours hot water at a decreased speed, making a perfect pour for brewing pour over drip coffee.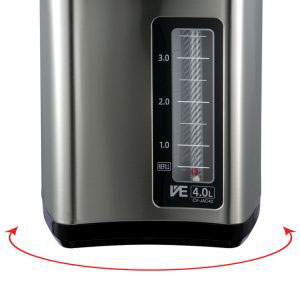 This water heater also sits on a swivel base, so you can move the appliance to make serving your boiling water more convenient. See the unit in action in our dedicated product video:
Feeling inspired? For tea and recipe ideas, visit Zojirushi.com.
Do you have a Zojirushi Water Boiler and Heater at home? What's your favorite beverage or food to make with this appliance? Share your thoughts, comments, and questions with us on Twitter, Facebook, or Instagram! #Zojirushi #ZoFan