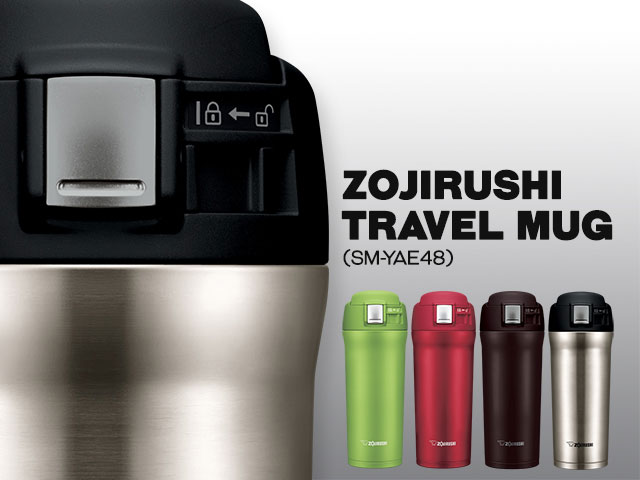 It's National Hot Tea Month, and we love our vacuum-insulated Travel Mug (SM-YAE48) for keeping our freshly brewed green tea hot and delicious!
The Travel Mug (SM-YAE48) is stylish, versatile and convenient. It rests securely in most car cup holders, taking up minimal space while maximizing the capacity of the mug, which can hold up to 16 ounces. The leak-proof design makes it ideal for carrying in a bag, backpack or purse. And the unique lid is designed to flip open completely using a two-step process that minimizes spatters. The drinking area is designed to comfortably fit the contours of your face and the air vent in the spout is designed to let beverages flow out smoothly.
The Travel Mug also features Zojirushi's superior vacuum-insulation technology for outstanding heat and cold retention along with the hygienic electro-polished SlickSteel® interior, which repels odors and stains. The wide mouth opening makes it easy to fill and clean, and the entire mug can be washed in warm water and mild dish detergent.
These features make the Travel Mug perfect for taking beverages with you where you might be going. Morning coffee and tea stays hot during your commute. Cold drinks such as flavored waters retain their temperature and taste throughout the day in the Travel Mug.
We particularly love this mug for drinking hot Japanese Sencha green tea. To make Sencha green tea, start with water heated to 175°F. Our water boilers are great for heating water to the exact temperature, but heating in a kettle on the stovetop works as well. When the water is at the right temperature, place the tea leaves in a pot or large cup. Be careful not to brew the tea with water at too high of a temperature, as the tea will become bitter. Pour the hot water over the tea leaves and let them steep for one to two minutes. While the tea is brewing, swish hot water in the Travel Mug to preheat the inside. This little trick will help the mug to keep your drink hot longer. When the tea leaves have finished steeping, pour the strained tea into the Travel Mug, and you're ready to go!
Our favorite recipe for brewing Sencha is on our website so feel free to check out.
The Travel Mug comes in four beautiful colors: Lime Green, Cherry Red, Dark Cocoa and Stainless and can be purchased on Amazon.com or at your favorite specialty retailer.
We hope you enjoy using it as much as we do. And don't forget to pin a photo of your travel mug with #ZoGo!