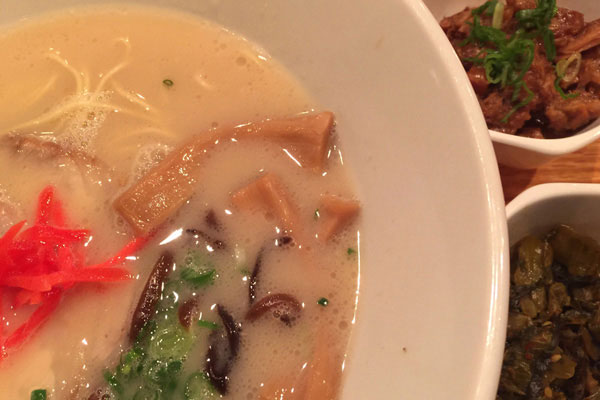 The more I think about the ramen culture, the more I think there's more to it than meets the eye. On the one hand, ramen has become so trendy in America that it's gone mainstream. Ramen restaurants seem to be springing up everywhere–from your neighborhood strip mall to urban boroughs. Yes, your styrofoam cup of noodles from your college days has grown up to become a deep, complex broth of sophisticated flavors. And the noodles? Al dente and hand made, of course.
The amazing dish in the photo above is from my recent trip to New York–IPPUDO restaurant in Manhattan, which specializes in the Hakata style tonkotsu, the broth made from boiling pork bones for as much as 15 hours. As you might expect, the salty soup is rich, deep and hearty enough to be a complete meal. Here you see it with toppings of sweetish BBQ pulled pork and takana, a Japanese mustard green.
$22 for a bowl of this ramen, thank you–and I waited outside for 45 minutes to get in.
But there's a dark side to ramen, especially in our country where we're quick to criticize and raise the alarm on the dangers of unhealthy and yucky instant ramen. Too much sodium, too much processing, too much MSG. Wait a minute–instant anything is fast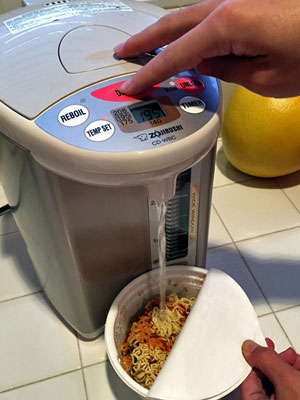 food, and not meant to be eaten 3 times a day anyway! A recent 2-year long study conducted by the Journal of Nutrition found that South Korean women had a greater increase of heart disease, diabetes and even stroke, as a result of eating two or more servings of instant ramen a week.
The study caused an outrage in South Korea, where national pride was at stake for a food as popular as kimchee. Easily the highest per capita consumers of instant ramen, or ramyeon as it is known there, in the world, the study triggered some deep emotions of stubborn resistance, some mild guilt and a lot of indignation. It didn't seem like the South Koreans were about to give up their beloved instant noodles anytime soon. And to be fair, the study couldn't prove that other factors in the test subjects' diets didn't also influence the outcome. The Koreans pooh-poohed the study, saying it came from the land of cheeseburgers.
Other critics point to how instant noodles have become a dangerous go-to solution for feeding the hungry in the impoverished parts of the world. The dried food stores well, ships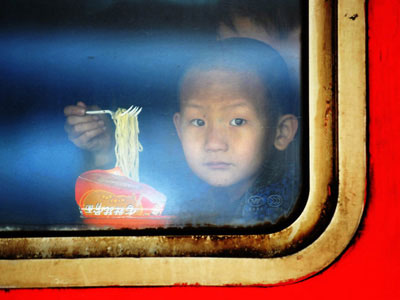 easily, and it is above all cheap. Advocates of healthier, "real food" warn us of the dangers of super-processed food, and how the answer to world hunger lies in agriculture. But this is easier said than done; many people have no choice when faced with eating to survive.
Instant ramen can be eaten healthier with the addition of vegetables and other ingredients, and maybe less of the soup base which contains all the sodium. So if you can't beat the trend, why not try to make it just a little better for you? Especially the packaged kind, which is so tweakable to suit anyone's taste and food culture, no wonder it's conquered the planet.
It's funny to me how a food that is helping to feed the world can be the bad guy too. Bet Momofuku Ando never thought his invention would cause such a stir (Google him if you're interested).
I'll never give up my ramen, instant or otherwise.
Chinese boy on train, photo courtesy of The Noodle Narratives, University of California Press
Where Am I?
Can you guess where I took my Zojirushi bottle? Let me know! I was there for 5 hours…