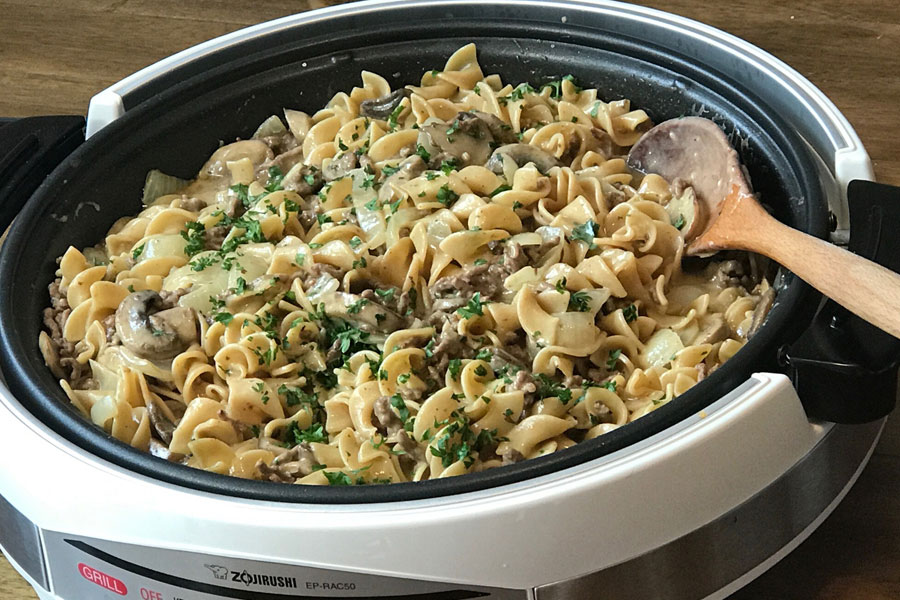 This is getting dangerous. My Zojirushi stuff is making it so easy to cook, pretty soon I'm going to be expected to do more cooking around here. My wife already said, "You're gonna have to cook more if you want to get better. What if you start cooking every Sunday?" Waaait a minute…how come I feel like I'm going to get more "to-dos" around the house? Actually we usually buy take out food on Sundays anyway, so cooking might save us money—and I'm never opposed to that.
I recently tried these One Pot/One Pan recipes that really seemed perfect for my Electric Skillet and my Toaster Oven. The hardest part is prepping the ingredients, which isn't that time consuming. The cooking part all happens in the same pot, so even if there are steps to follow, it's not like you're washing anything in between. I found that being able to electronically control the temperature when the recipe calls for it, helped a lot for a novice like me.
I'm happy to say this One-Pot Beef Stroganoff came out tasting as good as it looks,  Here are the ingredients I used (link to this recipe below if you're interested). I used the shallow pan from my skillet for this one, which was the right choice because pasta stroganoff isn't a soupy stew like sukiyaki or a hot pot.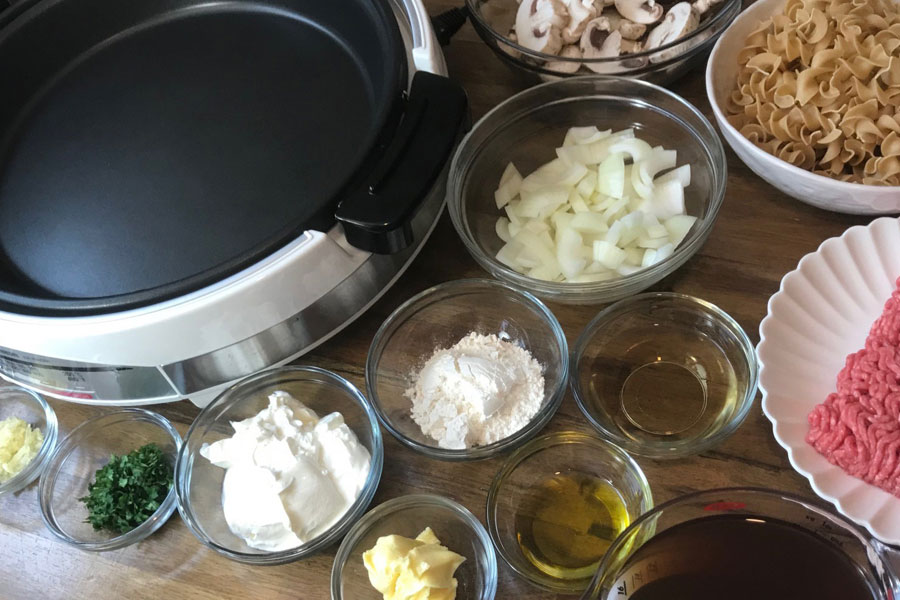 Then it was a matter of cooking each stage of this dish in the same pan. First I sautéed the mushrooms.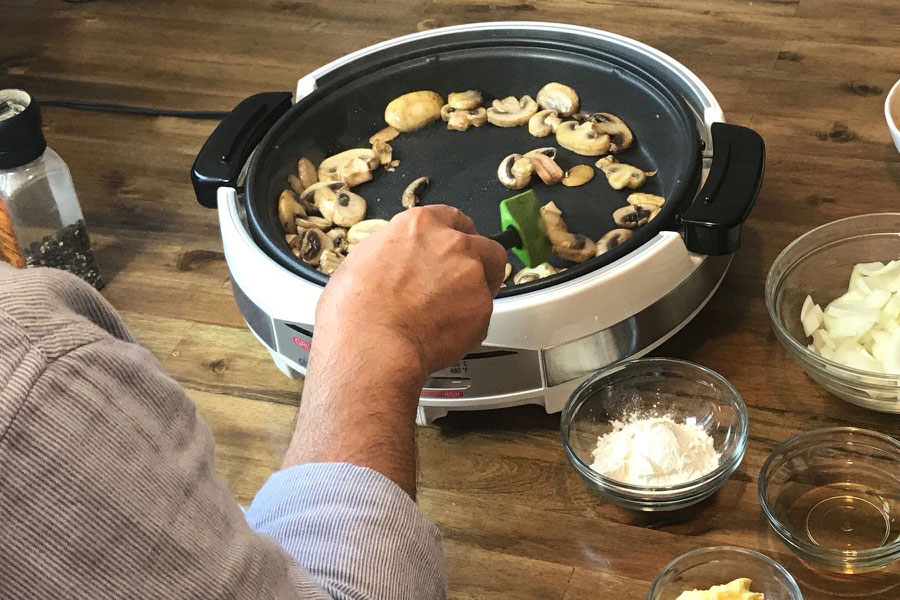 I set that aside to make room for the ground beef and onions.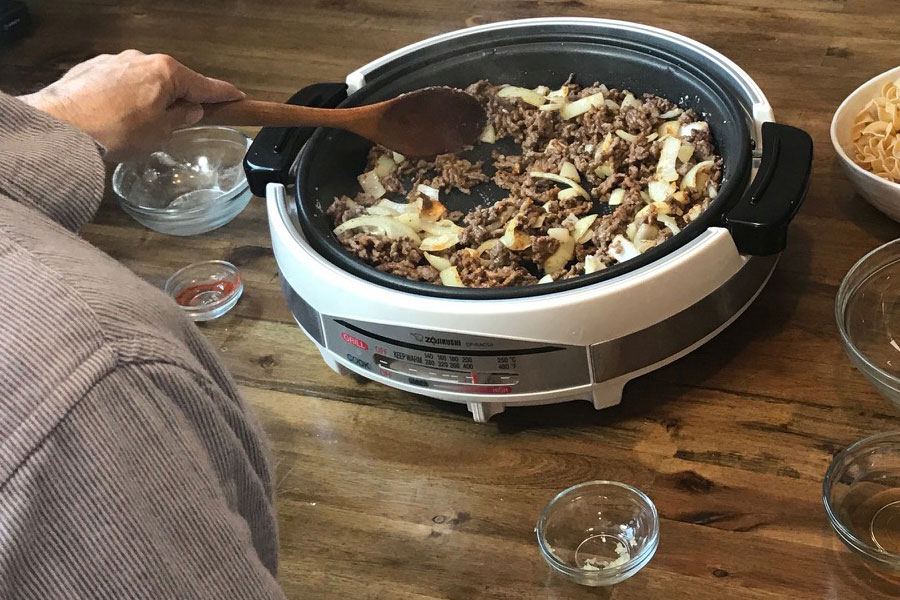 Here I'm stirring in the flour and paprika real good so it dissolves. Look at me—two fisted cooking technique! LOL.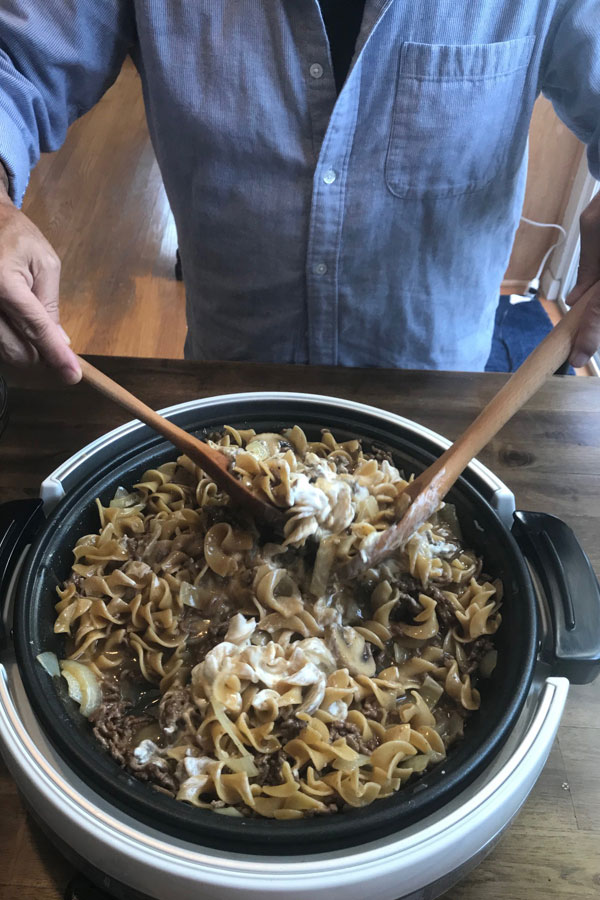 Here's where I added the broth and finally the pasta. That was basically it—all I had to do then was cover it and let it simmer for 10 or 12 minutes until the pasta cooked al dente.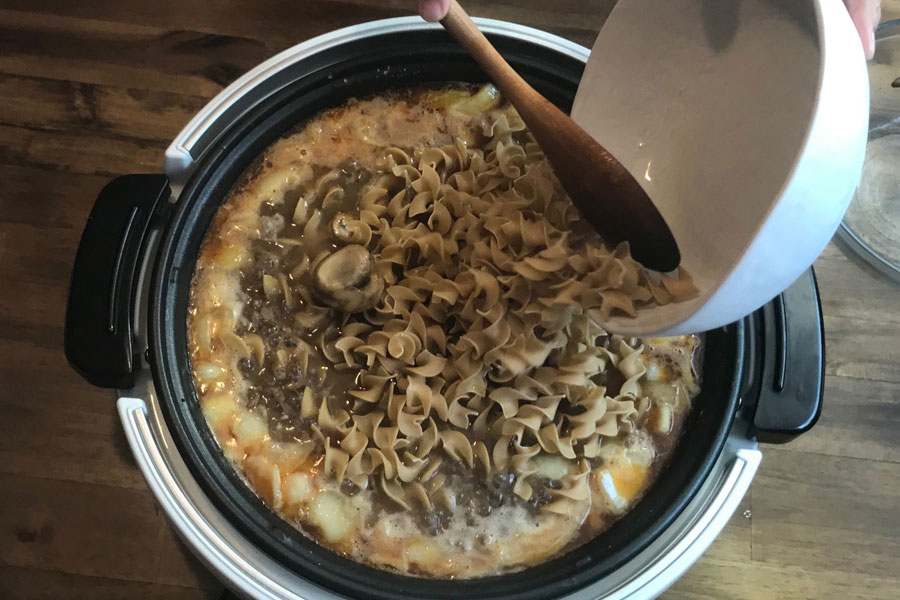 The sour cream is added after the heat is turned off, and then garnished with the parsely. Look at how creamy it looks!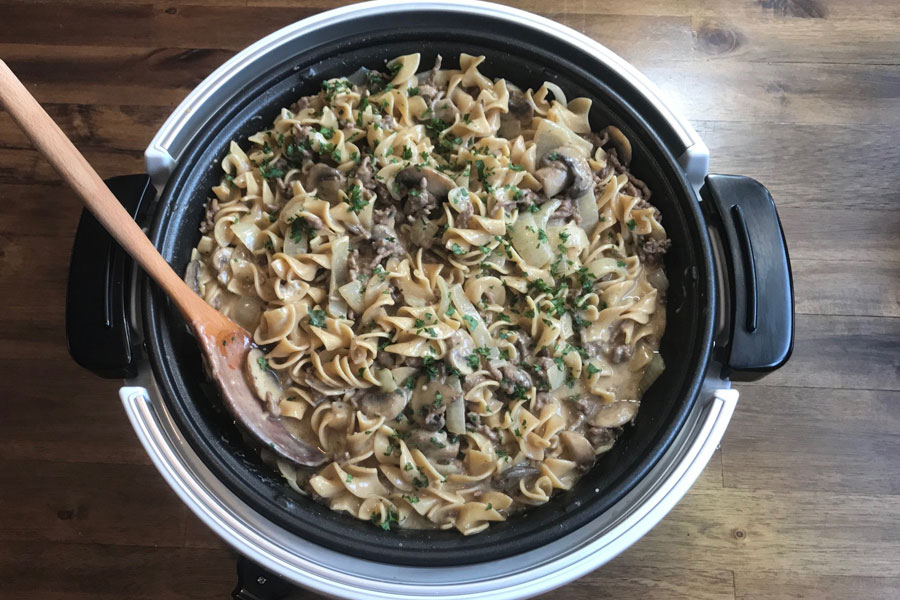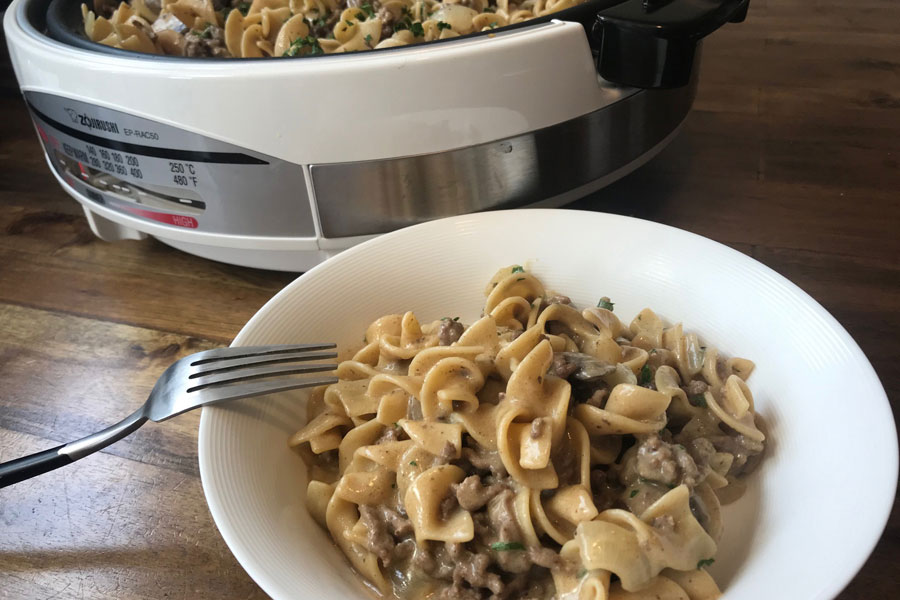 I'm realizing that one-pot literally means one pot, so that's easy on the cleanup, but I sort of thought you load up everything in the pot in the beginning and just let it cook by itself. There are recipes like that, but most recipes require "steps", because different ingredients cook at different times. Not complainin', just sayin'.
On the other hand, one-pan recipes are exactly like that—and are fast becoming my favorite kind. This is a sheet pan Garlic Butter Salmon and Asparagus that I found online that can be baked all at once in the oven (or toaster oven). Now this was easy—make the garlic butter, coat the fish and veggies with it on the baking sheet, and pop into the oven to cook.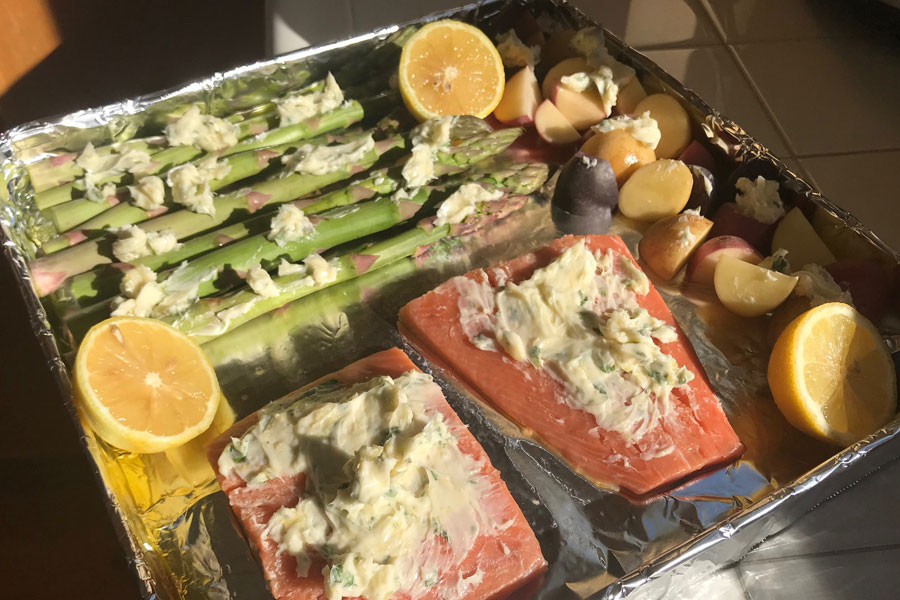 14 minutes later, we got dinner, with sides! I am definitely trying more sheet pan recipes in the future. And having a toaster oven large enough means you can do everything on the countertop—from prep to bake to serve.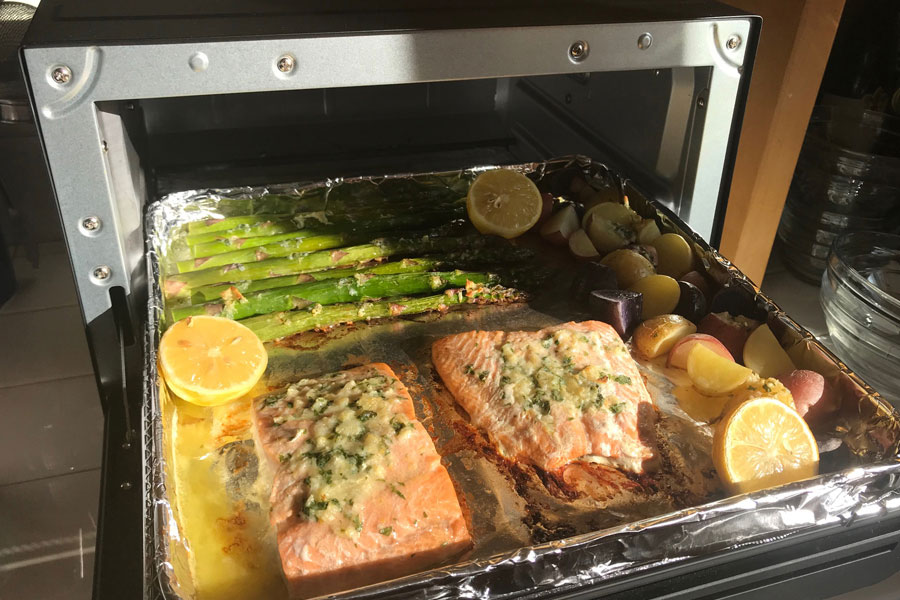 Check out the sizzlin' salmon! Woohoo!!

Just For Fun
What in the world is this guy doing??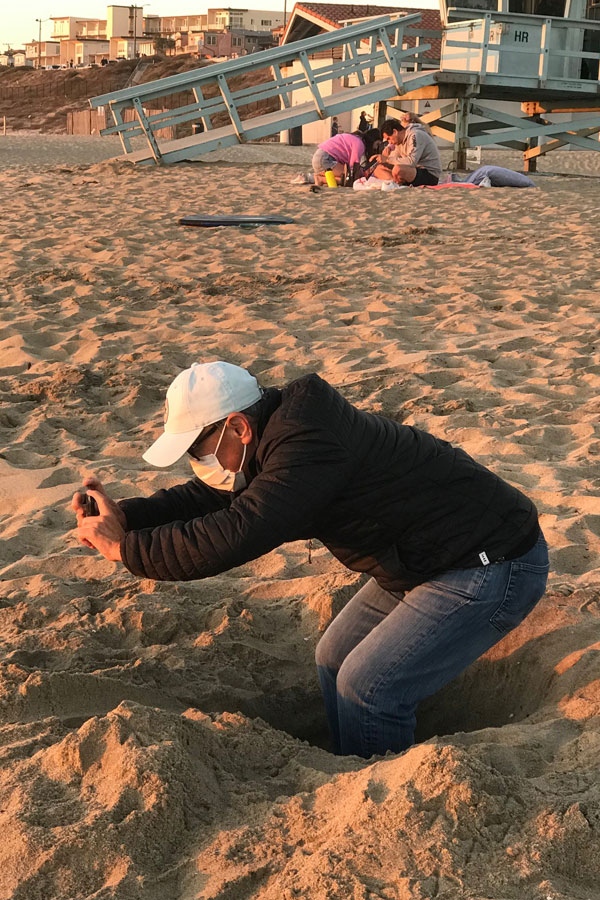 Products used for these recipes: 
Gourmet d'Expert® Electric Skillet EA-BDC10
Micom Toaster Oven ET-ZLC30
Beef Stroganoff recipe by JoCooks
Garlic Butter Salmon recipe by Chrissy Teigen
All photos by Bert Tanimoto