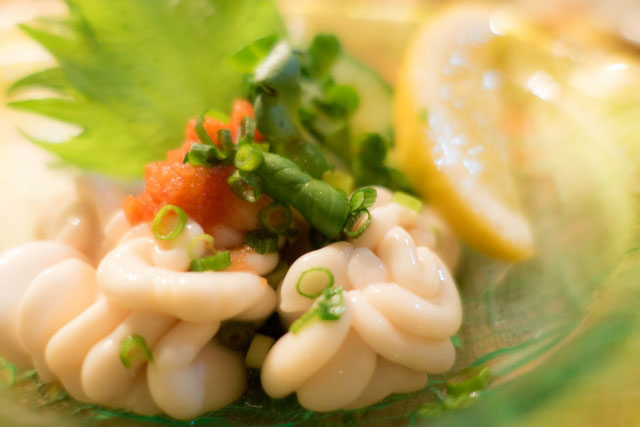 Shirako, called milt in English, are the seminal vessels typically harvested from cod, and sometimes from anglerfish, salmon, squid and pufferfish. The harvested sperm sacs are tube-like in shape, usually white or light pink in color, with the layout and consistency of brains. Shirako translates into "white children" in Japanese.
It's served in multiple ways, raw, fried, steamed, and as a topping in other dishes. When served raw, the shirako is doused in ponzu and garnished with grated daikon, shiso or finely chopped scallions. In this form, the shirako has a mild, creamy texture with a taste like the freshest seafood from the ocean. Shirako is also served steamed, sometimes incorporated into chawanmushi, an egg and seafood custard, and other times served on its own. More popular ways to eat shirako include tempura-fried, pan-fried or grilled yakimono style. When cooked in these ways, the shirako becomes firm and defined on the outside and custard-like on the inside. Shirako can also be added to nabe, or hotpots, and as part of gunkanmaki, or battleship sushi, where it fills a depression created on rice with a nori wrap.
Shirako is harvested in winter along the cold waters of the Sea of Japan. It's typically enjoyed as pub food at izakaya and sushi bars, with an alcoholic beverage. It can also be found at street food stalls in major markets around Japan, like the Tsukiji Market in Tokyo. A popular version of shirako is when it's served as part of a seafood mix, raw or barely charred, on the half-shell!
As an acquired taste, shirako is probably more easily tried than some of the other foods we've explored! But for those who love caviar or Russian moloka, shirako is a great variation on these kinds of foods.
Have you had shirako before? If so, tell us about your experience!