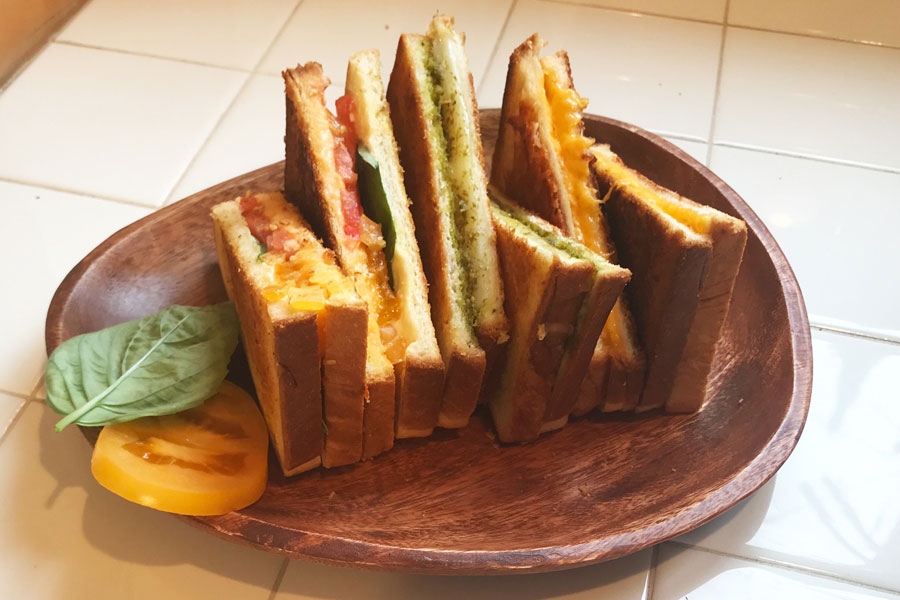 Do you like grilled cheese sandwiches? I love 'em because they're easy to make, ha-ha. I'm kinda late on these though—I found out Grilled Cheese Month was in April. But that's OK. It's never too late for a cheesy grilled cheese sandwich! And it also gave me an excuse to use my Zojirushi electric griddle. The last time I used it was to make my soufflé pancakes, and that came out pretty good, so I figured why not take it out again. I found out a couple things about the griddle when making grilled cheese—want to know what they are? (keep reading)
Here's what I started with; note the thin sliced Japanese bread—the best for sandwiches IMHO! The bottle in back is supermarket bottled pesto (not gonna say whose brand, but it was underwhelming). I used 2 kinds of cheddar, mozzarella and Parmesan for my cheese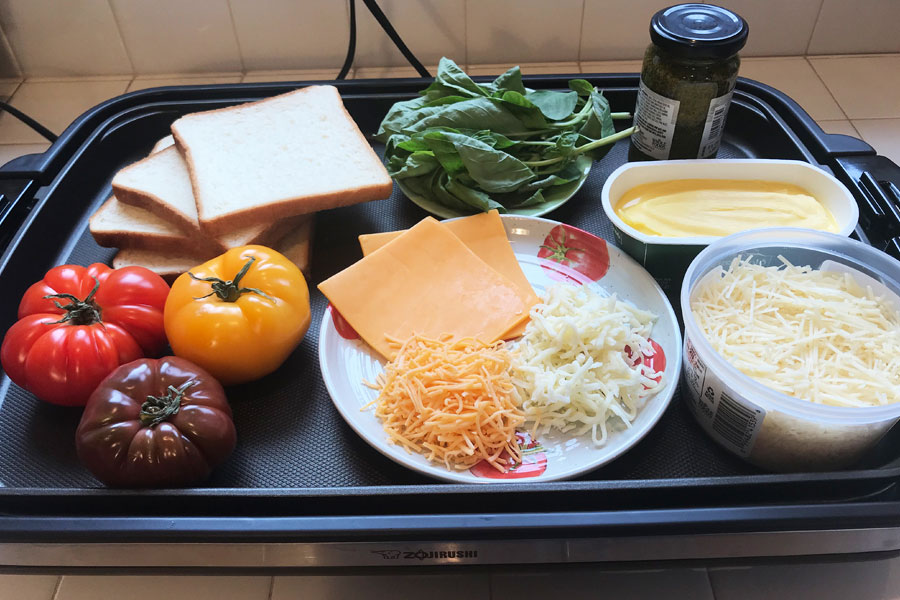 So here's the first thing I found. You can get 6 slices of bread comfortably on this griddle! That's pro!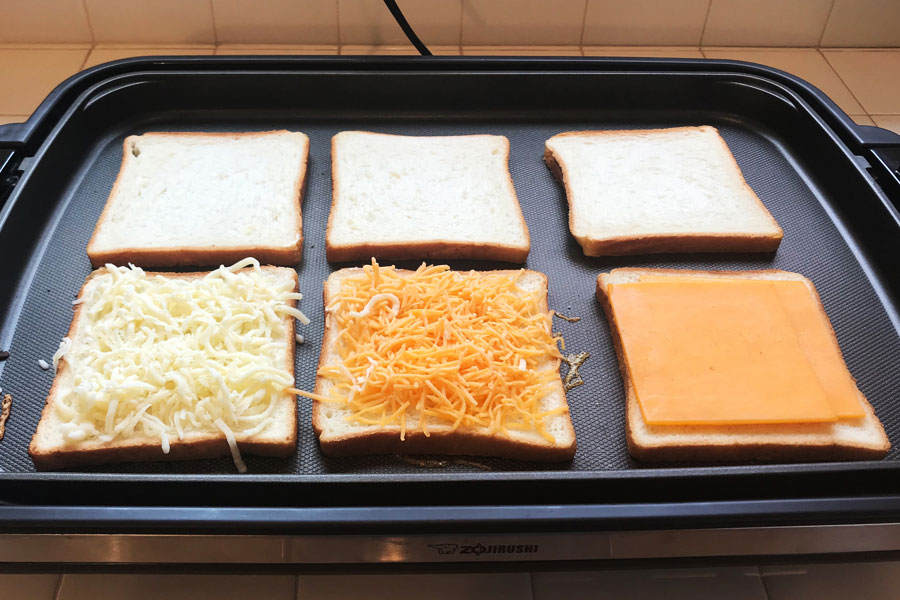 Yessss…melting nicely.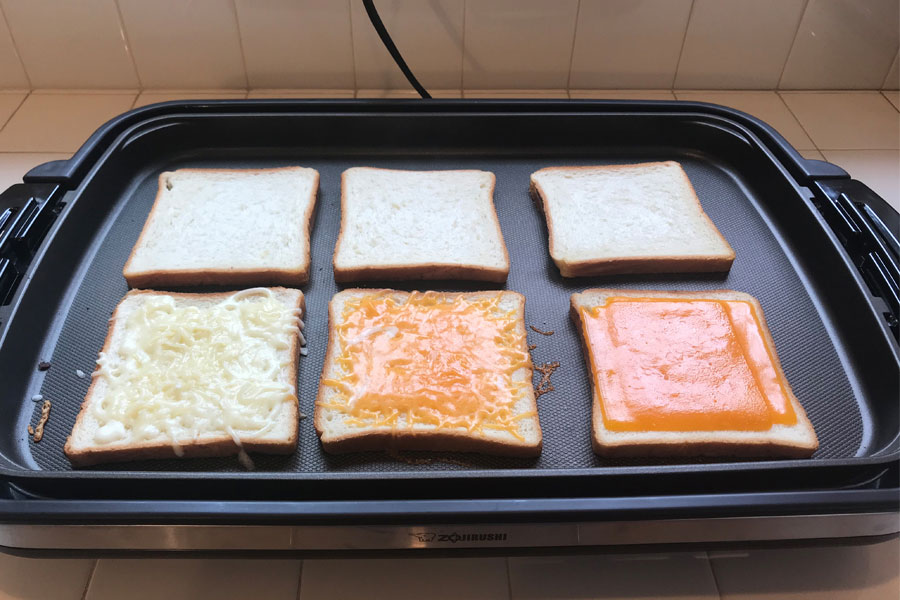 And here's the second thing I found—set the temperature at the lowest setting on this griddle. It's plenty hot enough and the sandwiches won't grill too fast. I burned the first batch setting it too high, and it wasn't pretty. To get the cheese to melt like you want it before the bread grills too fast, use the griddle cover—that worked perfectly.
First up is the mozzarella pesto grilled cheese. Let's face it, this is pretty easy to make if you're using bottled pesto. But I would have done better to make my own—I mean, I had the basil already. That'll teach me to get lazy. Still looks good, but could've been a whole lot better.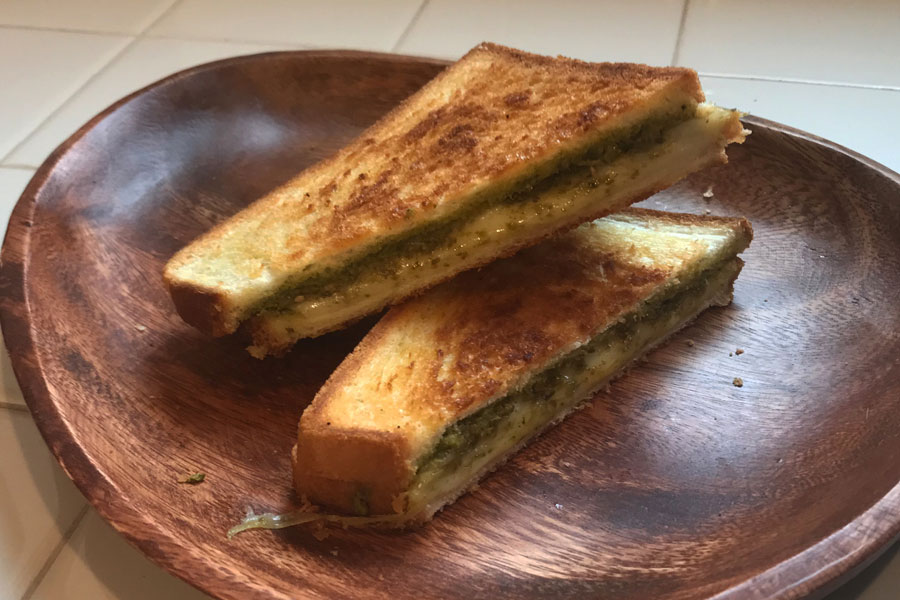 Garden tomato and basil grilled cheese. This is the one I was looking forward to making, and it didn't disappoint. Look at those fresh heirloom tomatoes for color!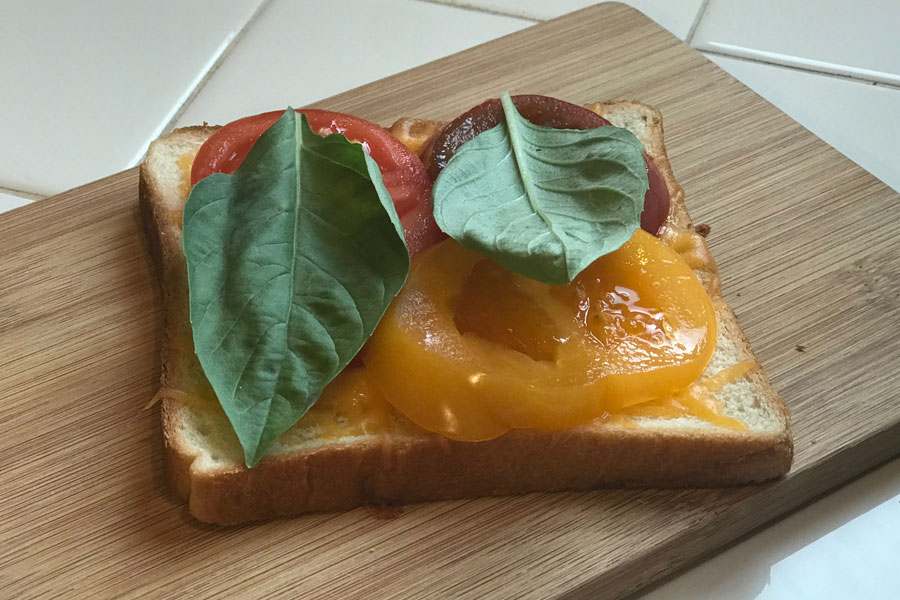 I used the grated cheddar for this one and spread some Japanese mayo on the inside. This was definitely the tastiest grilled cheese of the lot.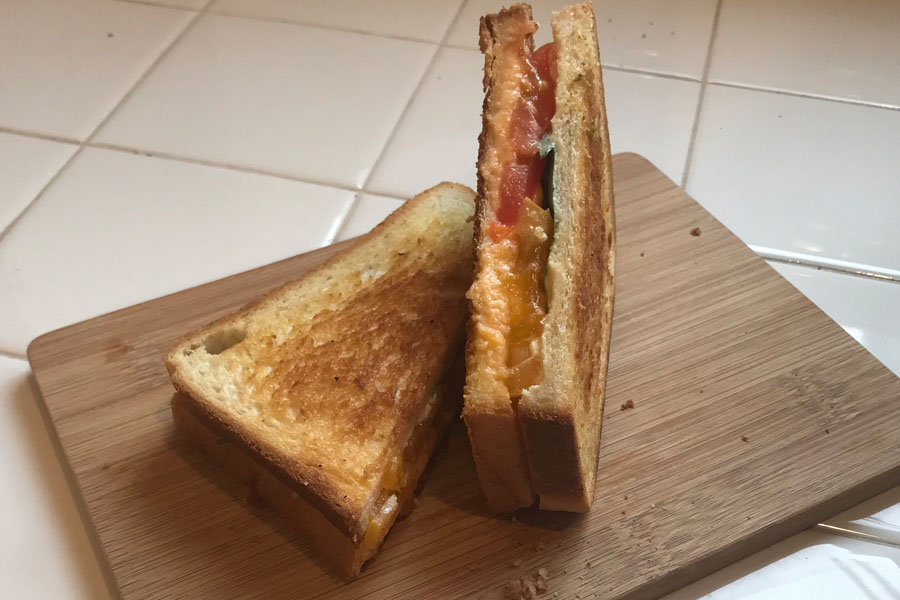 And finally, the very classic, very American grilled cheese sandwich. My one regret on this one—don't get too cute and use cheddar cheese like I did. Just use American cheese; this sandwich deserves it! The melted Parmesan on the outside is a nice touch though, and it did add another dimension to the flavor.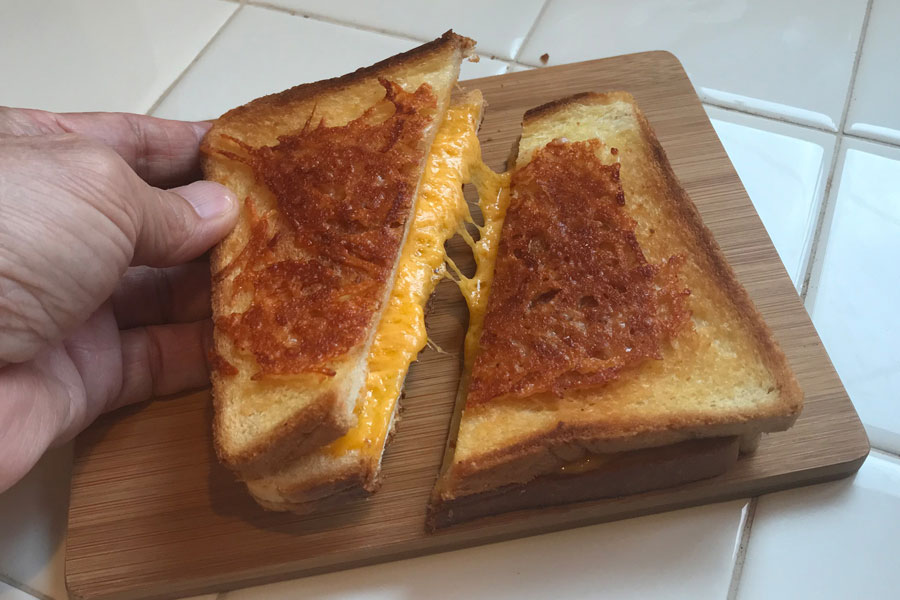 Lunch time! Nothing like tomato basil soup to go with a grilled cheese sandwich. The best way to eat this? You dip the sandwich into the soup, of course!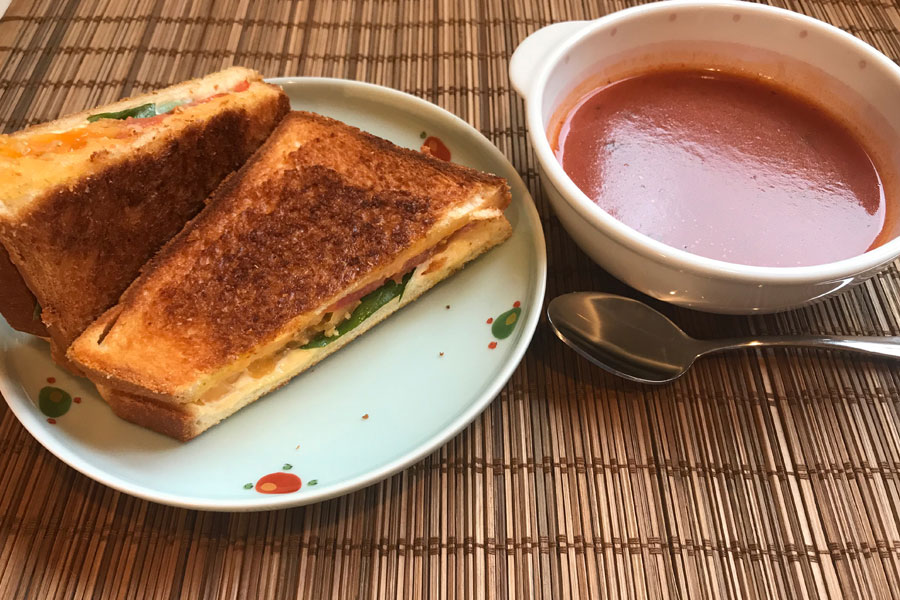 Just For Fun
I hope you feel like toasting some grilled cheese sandwiches now—it's so easy and quick! But have some tomato soup ready too; even if you're not a fan, having it with a grilled cheese sandwich might change your mind—trust me!
So who else has been going for a lot of walks lately? I never used to, but these days I walk our dog everyday just to get some sun, you know what I mean? Remember the guy who used to yell, "Get off of my lawn!" when we were kids? Well, turns out they moved to our neighborhood. Sheesh!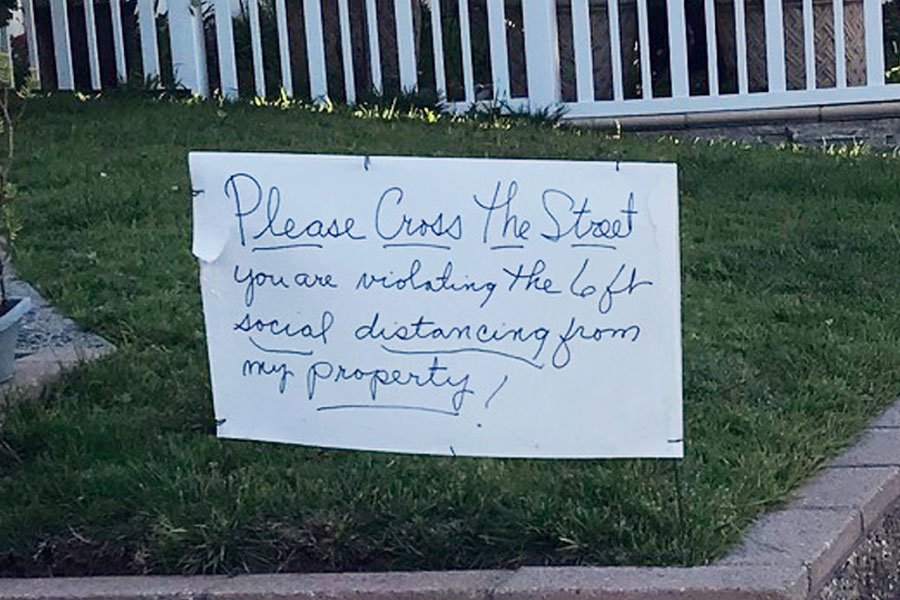 Recipe credits: Garden Tomato Grilled Cheese
All photos by Bert Tanimoto