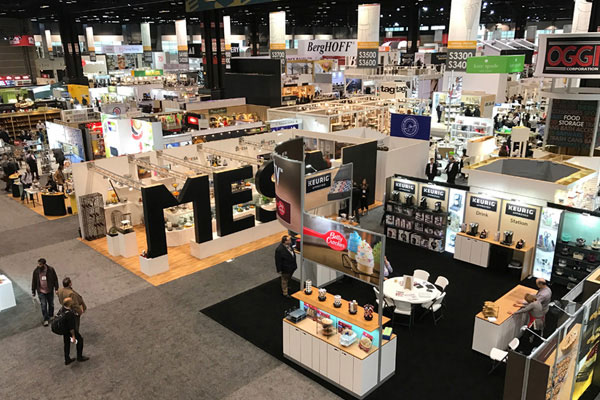 Every year, the housewares industry flocks to Chicago to attend a huge conference called the International Home + Housewares Show. If you are in the kitchenware, home furnishings or cleaning products business, you're probably either exhibiting your products or looking for what's new at this show, walking the halls of the enormous, multi-level McCormick Place convention center. Since my day job is marketing and PR for a major kitchen gadget manufacturer, I've been going to Chicago for the past 7 years. Want a tour of what the Show looks like? Read on!
Oh, and at the end, find out how to win a Zojirushi FreshBrew Coffee Maker! THIS GIVEAWAY HAS ENDED.
"My kind of town, Chicago is."
As Frank Sinatra used to sing, Chicago is a cool town, and I love it. It's a big city in every sense, and people move with a purpose and seem to work hard. Maybe it's the weather; you can't be soft and live here.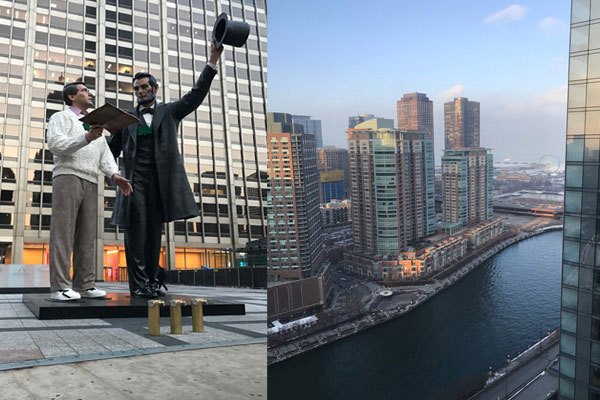 Scenes from Chicago: (left) Mr. Lincoln discusses the Gettysburg Address with a modern day man. (right) The Chicago River with a peek of Lake Michigan beyond.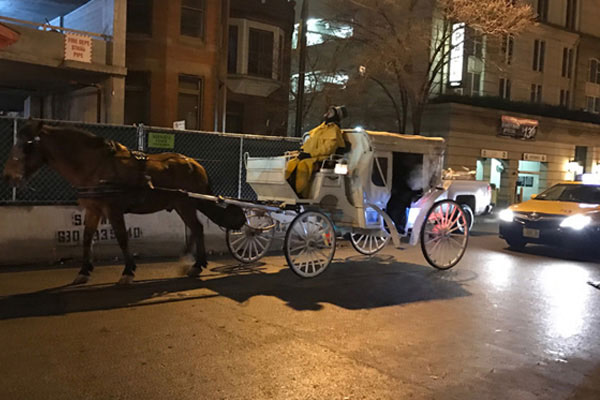 Getting around Chicago at night—either catch a carriage or catch a cab.
It's starting to get hectic.
Day One, and people are just starting to stream in.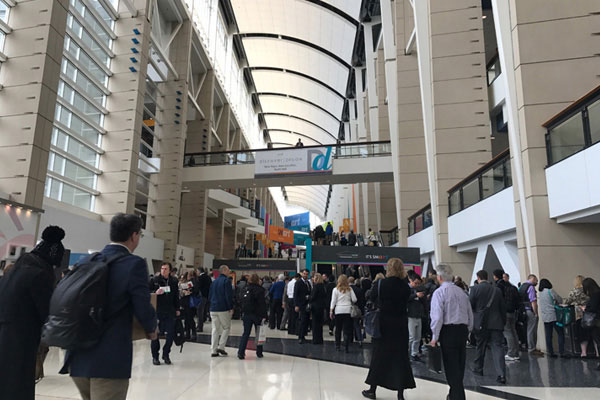 McCormick Place is awesome.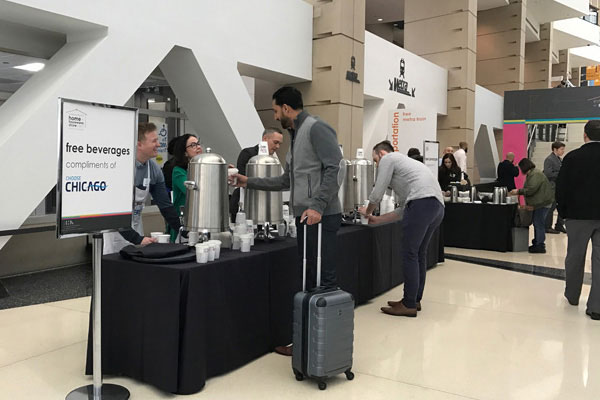 A bank of coffee servers greets the guests.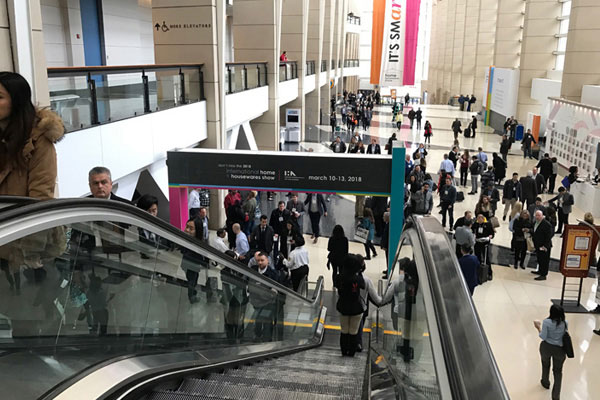 The escalators get a lot of work.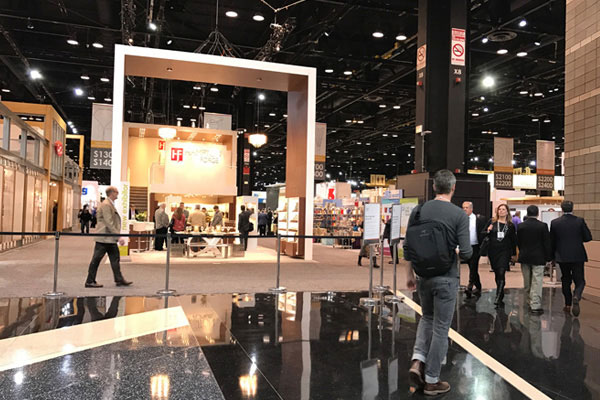 Entrance to the great South Hall, where all the kitchenware manufacturers are exhibiting.
So many exhibitors!
With over 2000 exhibitors in 3 different halls, it's nearly impossible to see what everyone has to offer in just 4 days. There are also panel discussions, seminars, cooking demonstrations and live events happening everywhere!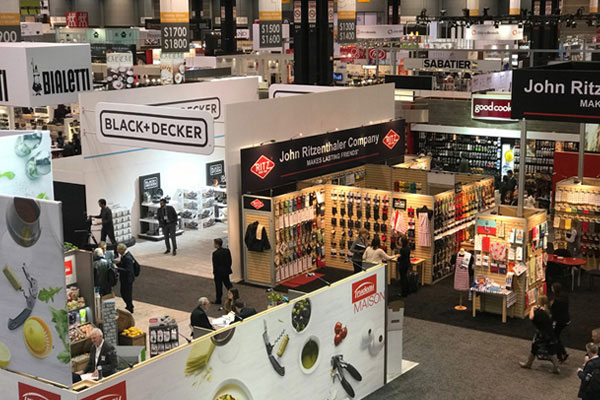 A bird's eye view of the floor.
Our favorite brand…
This is a smaller booth that Zojirushi has in this section of the Show, to show their line-up of travel mugs and lunch jars. So many manufacturers had some kind of hydration product this year, it was as if everyone finally got on the same train Zojirushi has been engineering for decades!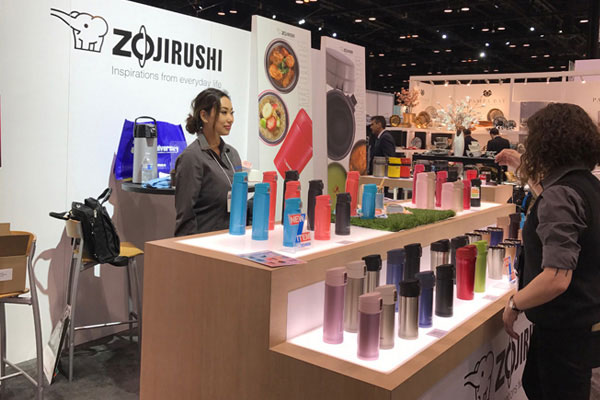 The girls are making sure everything is perfect for when the doors open.
Rick Bayless and Ming Tsai
Rick Bayless is about to do a cooking demonstration at the KitchenAid Station. Ming Tsai, who also is scheduled to do one here, jokes around and is giving Rick a hard time. Chef Bayless is famous for his modern takes on traditional Mexican cuisine. Almost every renowned chef comes to this Show, either to promote their own restaurant or to show off their brand of kitchenware. All the chefs greet each other at the Show by their titles, which is always, "Chef".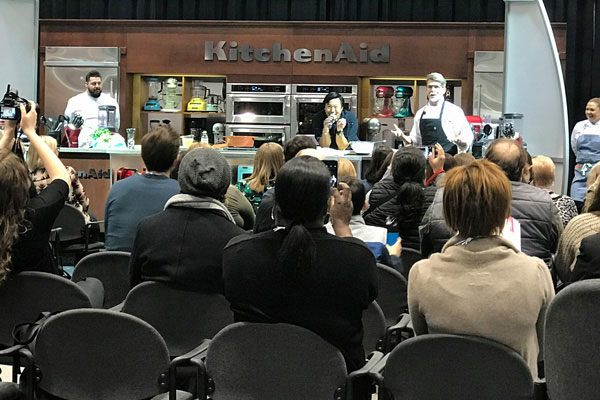 Cooking demos are held everywhere at the Show, including at individual booths sponsored by the manufacturer, onstage and in banquet rooms for invited guests.
The North Hall
This hall is mainly for home furnishings and cleaning products. If you want to see the latest in vacuum cleaner technology or self-opening trash cans, this is where you want to do your research. One of my favorite companies, SimpleHuman, who design really nice high-tech furnishings for the kitchen and bath, had a booth this year completely enclosed in a shiny black cargo container. Awesome!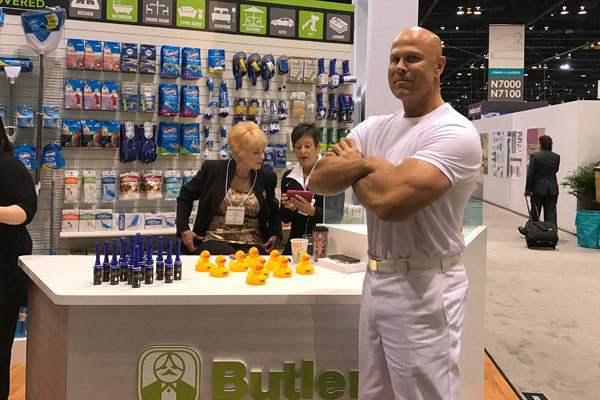 A familiar icon: Mr. Clean!
Lunchtime!
Food at any convention center always leaves a lot to be desired. My vote for best bet at McCormick is Connie's Pizza. They're pretty good and it's better than the McDonalds right across it.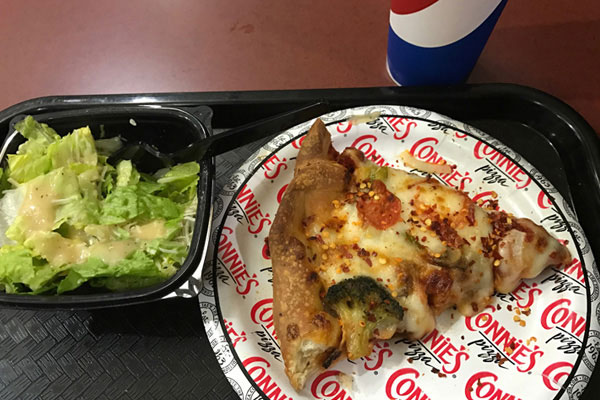 A quick slice of veggie pizza and a salad.
The Pantone Exhibit
Color trends are important in our industry. And who better than Pantone to set the trend, right?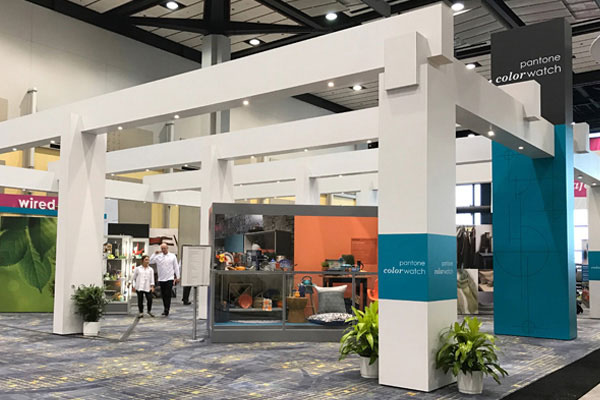 The Pantone Color Watch exhibit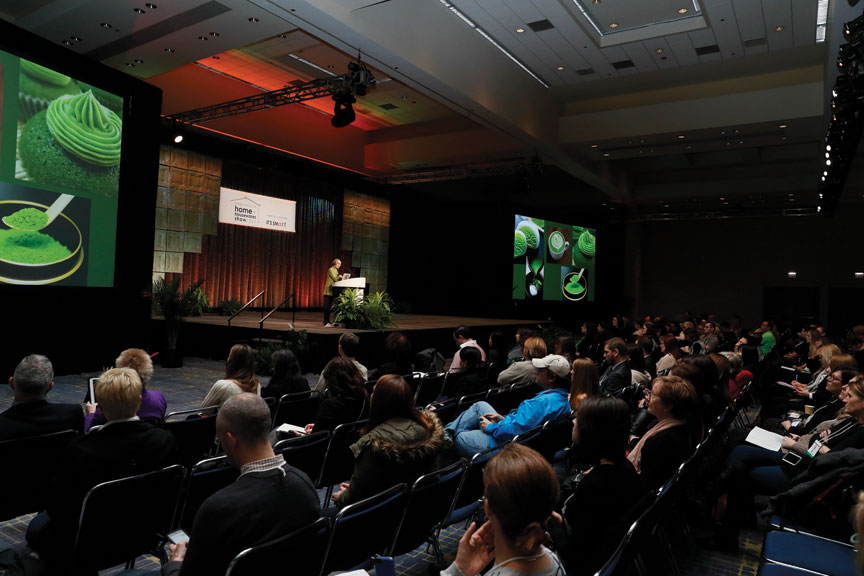 Announcing the Color of the Year at the Pantone presentation. Gasp! It's going to be GREEN!
Zojirushi at IHA 2017
Zojirushi has their main booth in a section called the Lakeside Center, along with other small electrical appliance manufacturers like Kreurig, Cuisinart, KitchenAid, etc. I like the open airiness and stylish design of their booth, don't you? The girls out front are busy the whole day cooking and passing out samples.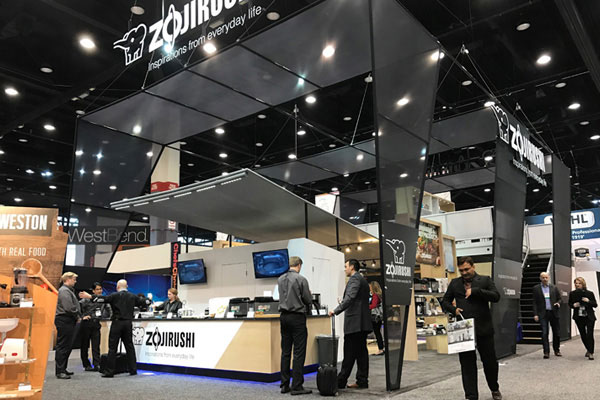 Inspirations from everyday life.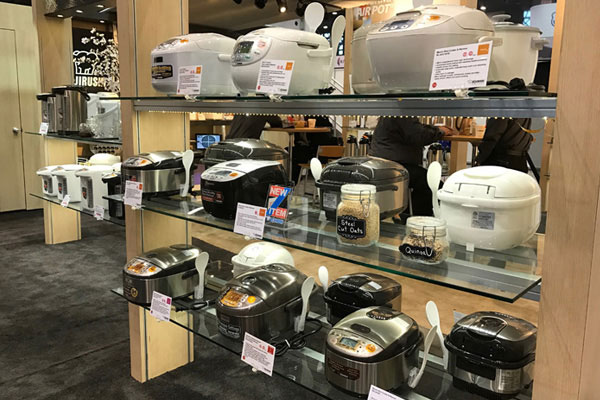 A line-up of rice cookers on display.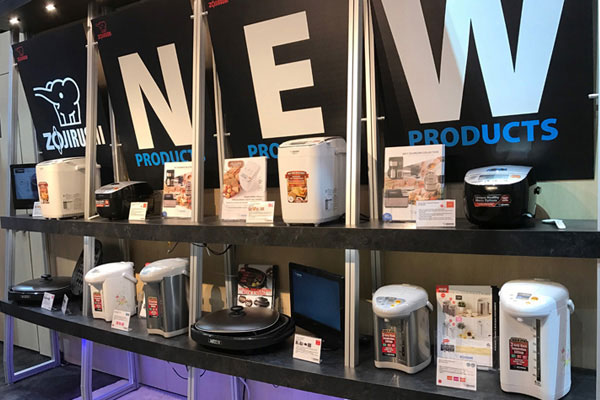 A shelf of NEW products being introduced to the world. Be sure to follow Zojirushi to learn more!
On My Way Home
On my last day in Chicago, I decided to try Chef Rick Bayless's Frontera Grill. This is his tortas stand inside O'hare airport. The food was excellent, by the way.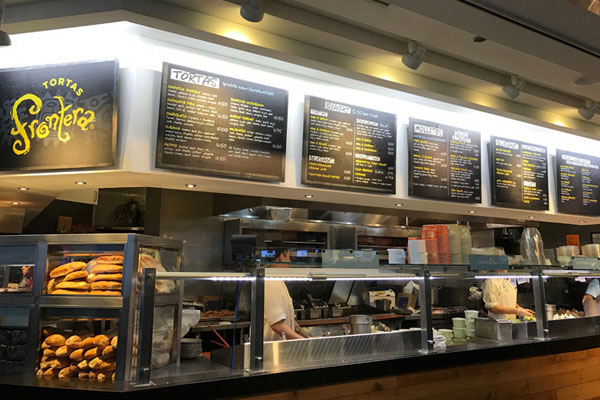 For airport food, this is an impressive and extensive menu.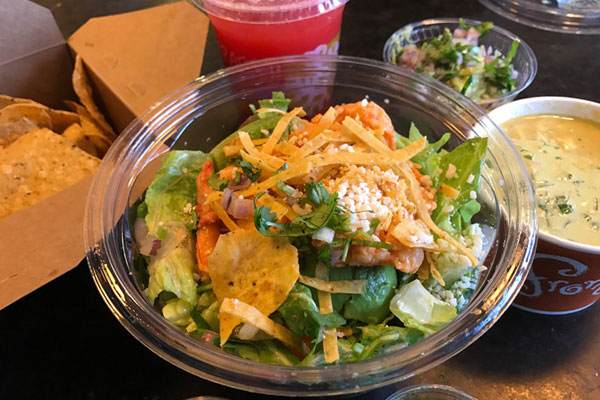 Taqueria salad, Corn & Poblano Chowder, Guacamole and Chips. Everything was really tasty; his guacamole is outstanding!
Reporting from the 2017 Housewares Show…
Hopefully you enjoyed the peek inside the workings of the housewares industry; it's a huge conference and cannot be covered in a single article. This year's show featured 2204 exhibitors from 47 countries, attended by over 62,000 housewares professionals in 4 days.
THIS GIVEAWAY HAS ENDED.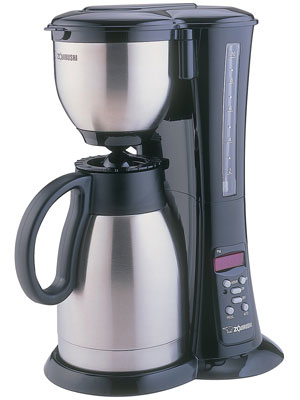 30 Days For 30 Years Giveaway!
Write a comment on my post for a chance to win this Fresh Brew Coffee Maker from Zojirushi! That's all you have to do—so easy! Good Luck!
For official rules, go to this page: RULES
Photos: Pantone Color of the Year courtesy IHA, FreshBrew by Zojirushi. All others by Bert Tanimoto