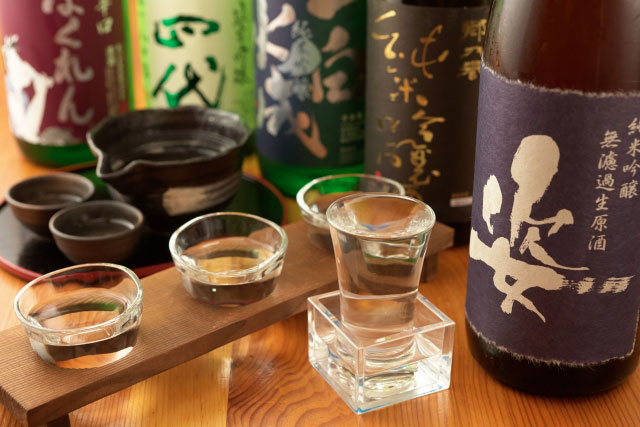 Pronounced "sah-keh", this alcoholic beverage is famous around the world. Sake is brewed from the fermentation of four base ingredients—rice, koji, water and yeast–and the unique qualities of each of these ingredients is what gives sake its subtle taste, pleasing aroma and alcoholic kick.
Finding pure, clean, fresh water is the first task in making sake. Japan's air, rain and volcanic soil is ideally suited to creating water that is full of the minerals that lend themselves to brewing sake. Saka-mai is a short-grain, large-kernel rice that is specially cultivated and harvested for sake. This rice is heavily polished, sometimes to less than half of its original kernel size, in order to produce a sake that is not contaminated with the proteins from the rice bran. The saka-mai is steamed and sprinkled with koji. These three ingredients are mixed with water, more steamed rice and yeast, and the resulting mash is stored in tanks, where it undergoes a process called "multiple parallel fermentation", which is unique to sake. During fermentation, the carbohydrates in the rice are converted into sugar and alcohol at the same time as the yeast produces carbon dioxide, and low heat is added to pasteurize the mixture. Once the mixture is ready, it is poured into bags, the liquid pressed out, filtered and bottled. Nowhere else in the world has a traditional fermented beverage been developed that attains such a high level of alcohol content. This entire process is expertly managed by a sake master, the toji.
And with that, we have sake.
Sake is said to have first been brewed approximately 2,500 years ago. Originally, sake was brewed to propitiate the deities, thanking them for a bountiful harvest and asking them for prosperity and bumper crops in the future. Sake's popularity grew and it began to be served in the Imperial Court. But sake brewing truly exploded and became available to the masses from the 12th-15th centuries. Today, sake is brewed all over Japan in modern breweries, and it is estimated at up to 15,000 varieties are created by large and micro-breweries.
Drinking sake can be as casual as a quick tipple before a meal and as formal as a religious ritual. Every year in January, the sake season starts when breweries hang a ball made of cedar needles outside their front door. This signals that the sake is ready! Casks of sake are ceremonially breached, with the round lids symbolizing good fortune and harmony. Sake is famously drunk at traditional wedding ceremonies, at New Years and during festivals each season.
Outside of these special times for drinking sake, people throughout Japan and the world enjoy it on a daily basis. Sake can be drunk either warmed or cold, as the temperature brings out different characteristics in the beverage. The flavor and aroma vary from light and fruity, with a sweet, delicate taste to a more mature, umami-based, acidic one. Sake can be light-bodied or full-bodied, dry or soft, flavored or unadulterated, aged and mellowed over time. In general, sake contains 20% alcohol, but water can be extracted from the beverage to increase the alcohol content, if preferred.
Pairing sake with food is one of the best ways to enjoy it. Light, fruity sake pairs well with vegetables and flaky, white fish. Light and smooth sake pairs well with sashimi, matured sake with cheese and dishes basted with savory soy sauce, and full-bodied sake with red meats and yakitori.
Trying the different varieties of sake is an adventure! Sake is categorized as either junmaishu, where the only ingredients are water, rice, koji, and yeast, or honjozoshu, where distilled alcohol is added to the other four ingredients. Along with these two categorizations, sake is further be graded based on the polish ratio of the rice used. Ginjoshu is made with rice that has approximately 40% of its outer layer polished off, resulting in a light and fruity flavor, and a smooth mouthfeel. Daiginjoshu uses rice polished to 50%, which results in more refined and pure tasting sake. Junmai-daiginjoshu is considered to be the highest grade sake, as it uses the purest most refined ingredients: water, koji, yeast, and well polished rice.
Each of these types of sake are poured from small ceramic flasks called tokkuri. The tokkuri is placed in hot water when sake is to be warmed, or in an ice bath when served chilled. Sake can be served in an ichigo-masu, a square box traditionally made of cypress wood that holds 180ml of liquid, or small porcelain glasses. When serving sake, the polite way to pour is with both hands, just as the courteous way to receive the cup is with both hands, taking a sip before placing it back on the table. But the most fun part is probably toasting with a cup of sake…"KAMPAI!"
Don't forget to share your photos with us!