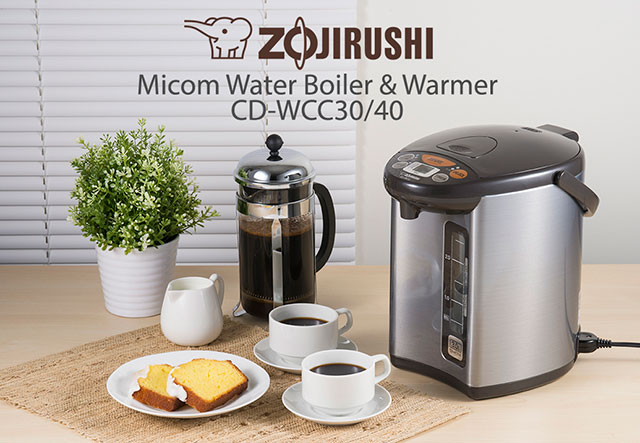 The Zojirushi Micom Water Boiler & Warmer (CD-WCC30/40) is one of our newest water boilers, and it's a great addition to your home or office!
Designed to heat water quickly and maintain it at the selected temperature, this water boiler helps you have hot water available for brewing tea or coffee, or preparing foods like oatmeal, instant noodles or blanched vegetables throughout the day.
The CD-WCC Micom Water Boiler & Warmer is available in 3- and 4-liter sizes and comes with non-stick coated stainless steel interior, and water contact zones that are BPA free. It has an easy-to-read water level gauge, a swivel base and a sturdy handle for safe portability.
Brewing tea becomes an art when using this water boiler. Delicate teas such as gyokuro green tea are best brewed at 160°F, while 175°F is the ideal brewing temperature for Sencha green teas. Oolong tea is best brewed at 195°F, and at 208°F, the hot water is great for brewing black teas and herbal teas. The Zojirushi Micom Water Boiler & Warmer maintains water temperature perfect for brewing teas by letting you select one of four keep warm temperature settings from the LCD display on the main panel.
This Micom Water Boiler & Warmer also comes with an optional QUICK TEMP MODE, a great feature for those who use filtered water or who need to quickly heat water to 160°, 175° or 195° without first bringing it to a boil.
This water boiler also makes dispensing hot water clean and safe by using an electric dispensing system. Once your cup has been placed under the spout, press the UNLOCK button, then press the dispense button. The additional Café Drip Dispensing feature even allows you to brew Café Drip coffee by decreasing the amount of water to 60% of the normal dispensing mode.
The LCD panel shows the actual water temperature at all times, and the convenient delay timer function saves energy by shutting off electricity to the heater until it's time to heat water again.
This water boiler also comes with multiple safety features including auto shut-off, which turns off the machine when there is no water in the inner container, an automatic dispense lock and a removable magnetic power cord which easily detaches from the machine to prevent scalding and other accidents.
We hope you love this water boiler as much as we do! Share your favorite recipes with us in the comments!