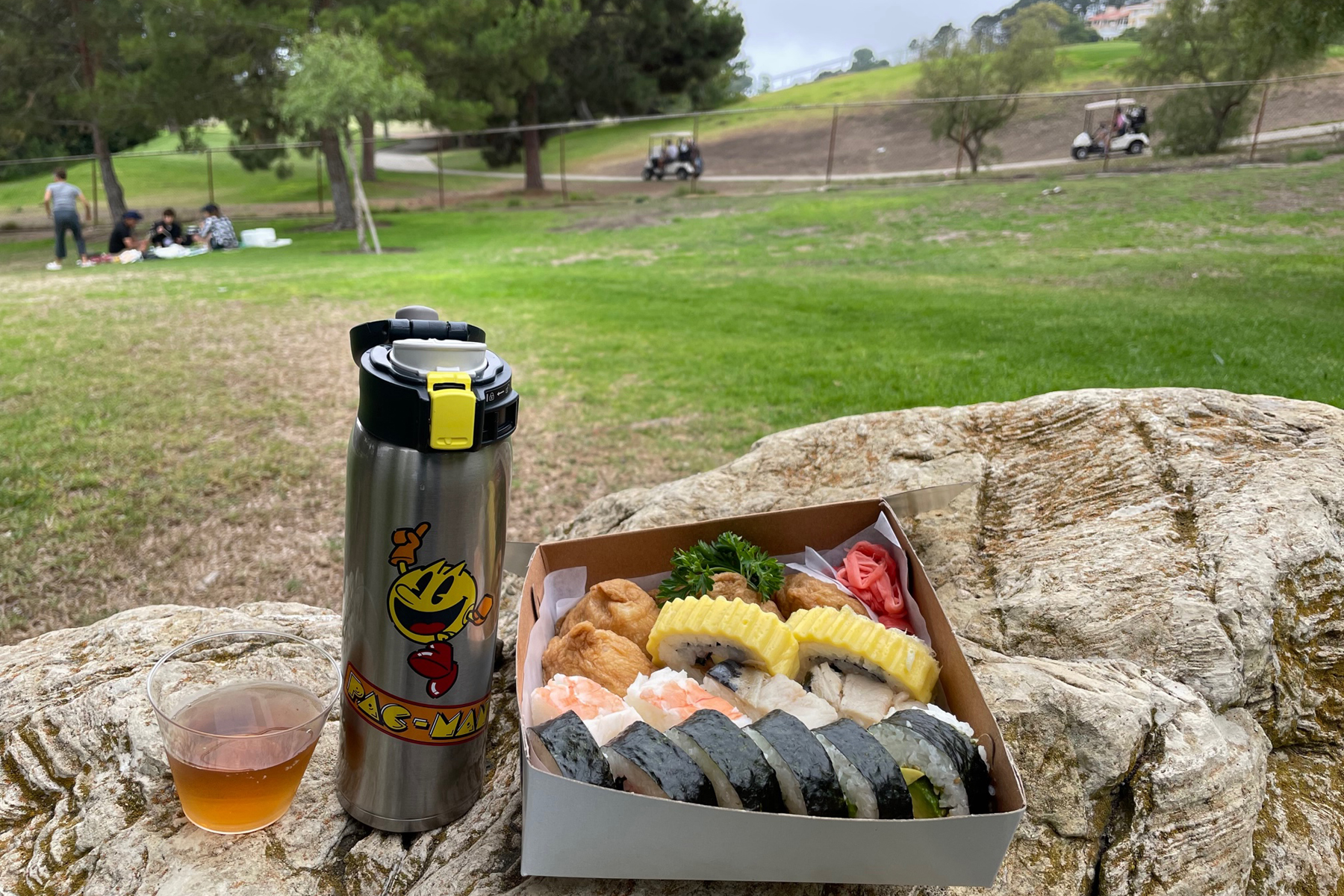 August is National Picnic Month! What's the best thing about a picnic? It's cheap to do and everything tastes better outdoors, ha-ha! I brought some friends along from Zojirushi this month—wanna see where we went?
This park near my house is called Robert E. Ryan Community Park, unique for being right next to the 14th Hole at Los Verdes Golf Course. Back when I used to golf a lot, this was one of my favorite courses to play. There were always families picnicking at this park as we drove around in our golf carts, getting ready to tee off on this hole. This view is from the other side, with our sushi bento and drinks of ice cold mugi-cha, or barley tea. The sushi box is from a mom and pop store that's been around since 1962; more on that later.
One night (for my birthday) we decided to pack supper and go see a show at the Hollywood Bowl®, which is what you do when you want to drink wine, eat cheese and party with friends. Since we're not the wine and cheese type, our family brought chicken wings and salads.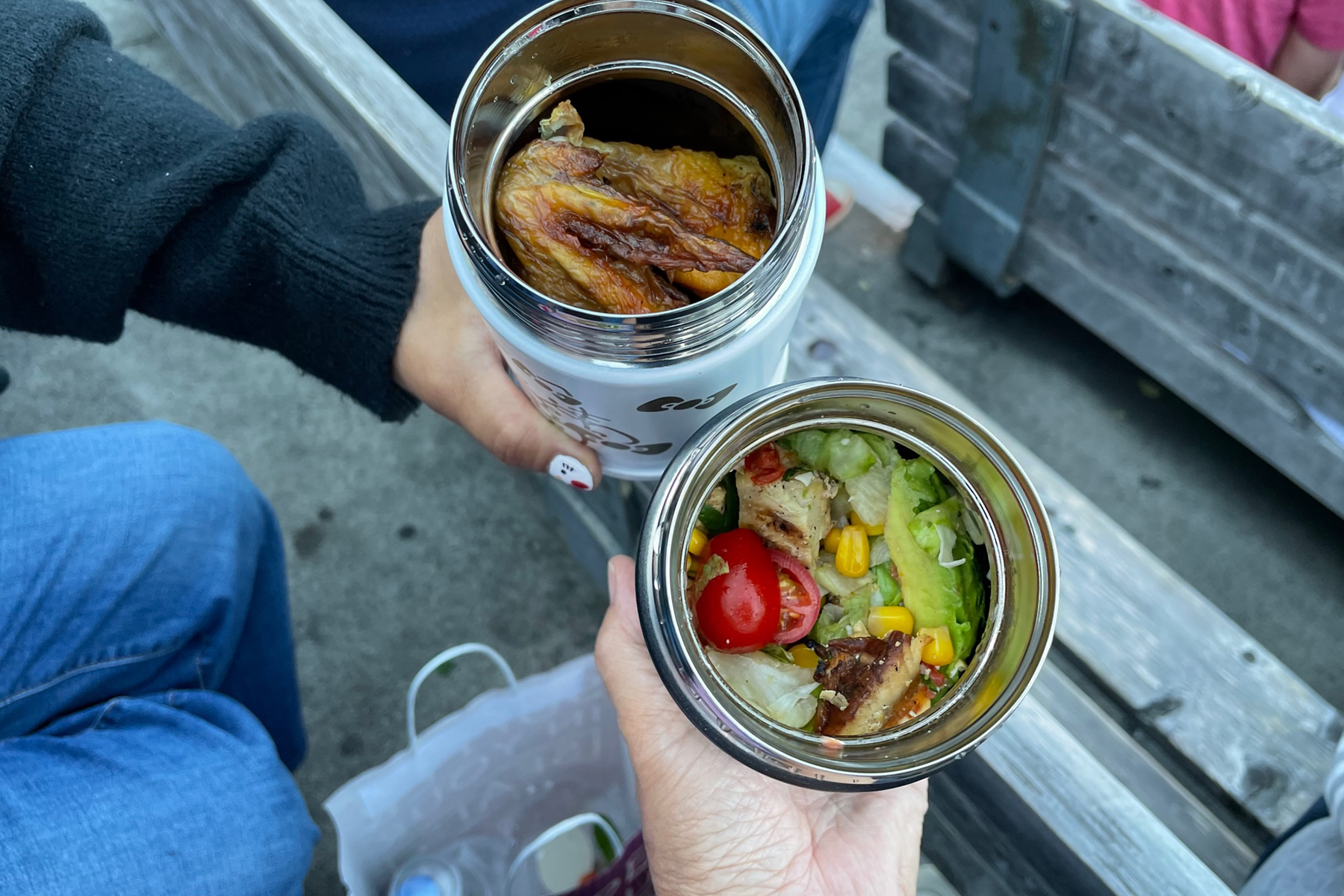 This was a good idea, especially with the food jars. You don't worry about spillage, and since it takes a while to get there from our house, you don't worry about spoilage.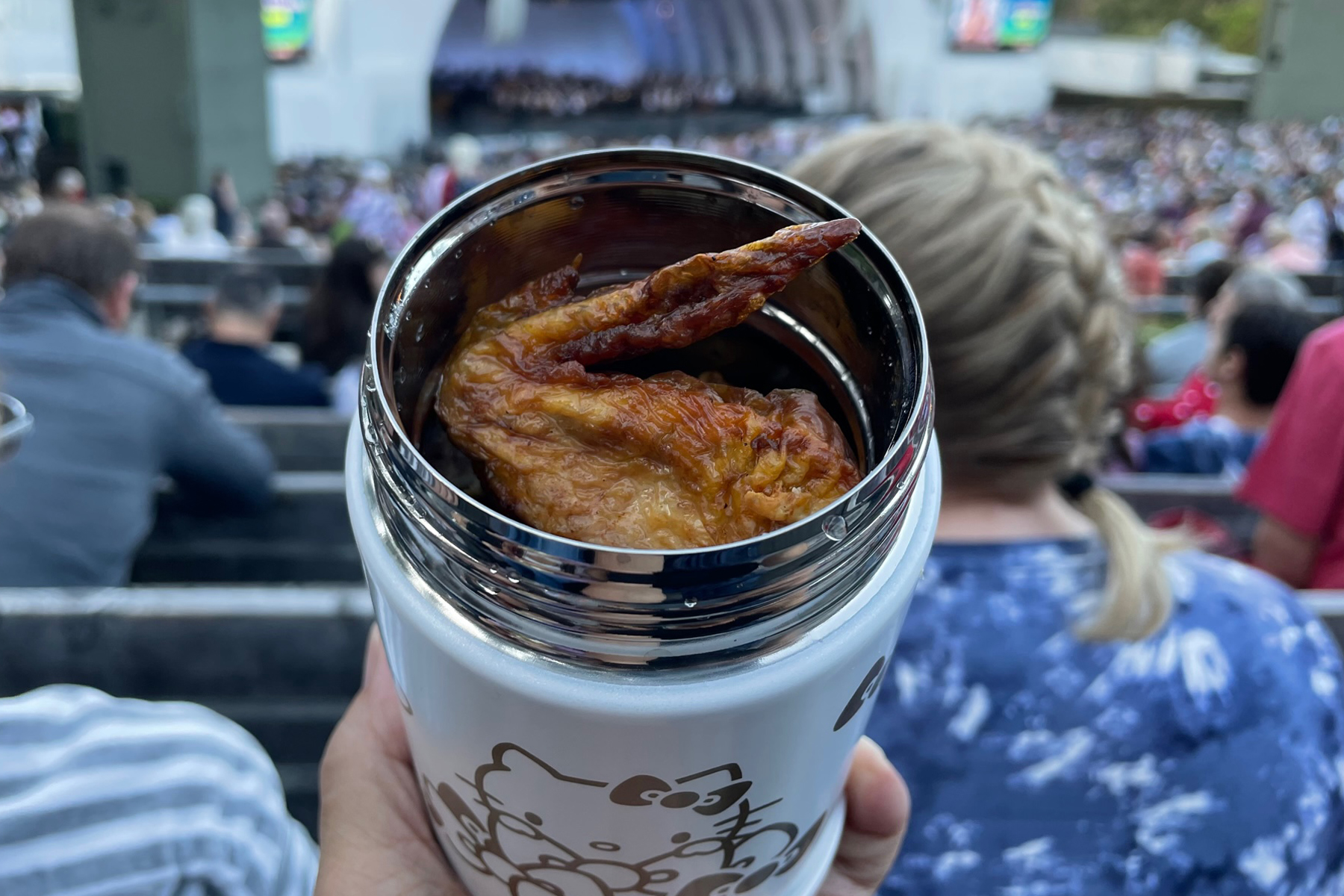 If anyone else wants to go sometime, my advice is to take advantage of the shuttles that leave from several locations nearby. They leave every 15 minutes and costs $20, plus your car is secure and the shuttle goes right up to the front gate. You can park in the lots, but be prepared that it's "stacked parking", which means cars block you in so there's no early exit. We parked in the mall on Hollywood Blvd. and it was pretty painless.
If you don't believe me about the crowds, here's a shot of our pilgrimage, as we slowly made our way in toward the sunset.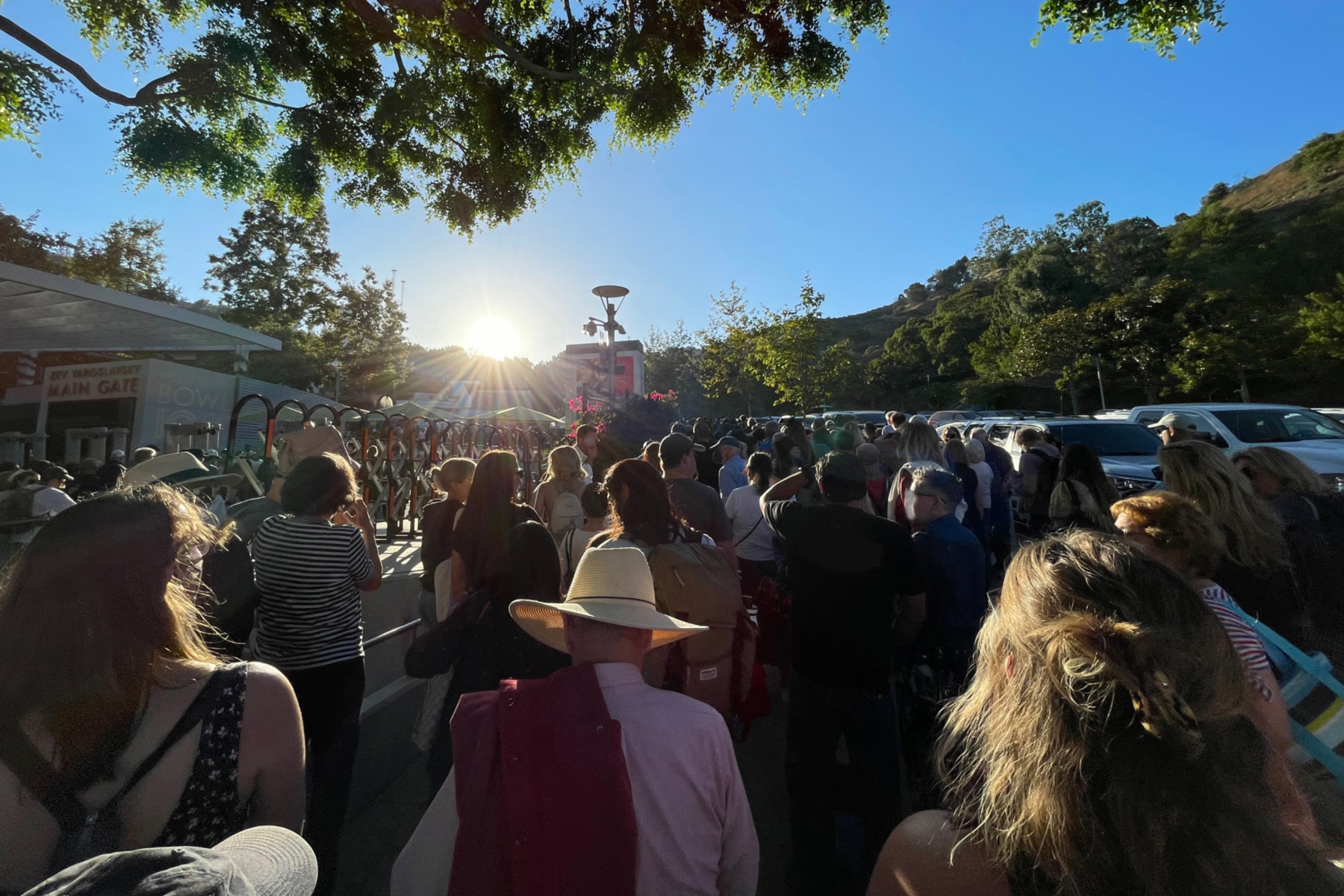 This isn't exactly a picnic, but since this is one our favorite burger joints we brought the mugs along so we wouldn't have to buy sodas there. Did you know that a typical fountain soda costs the restaurant about 13 to 16 cents to make? That's including the cup, straw and lid. How much did yours cost today? Yeah, I'd rather be spending my money on the food, thanks. Bonus points to you if you know which burger this is. Hint: as far as the ongoing debate on which one is better, this chain from the East Coast or the rival one from the West Coast, I don't think it's even close. I'll take the local one every time.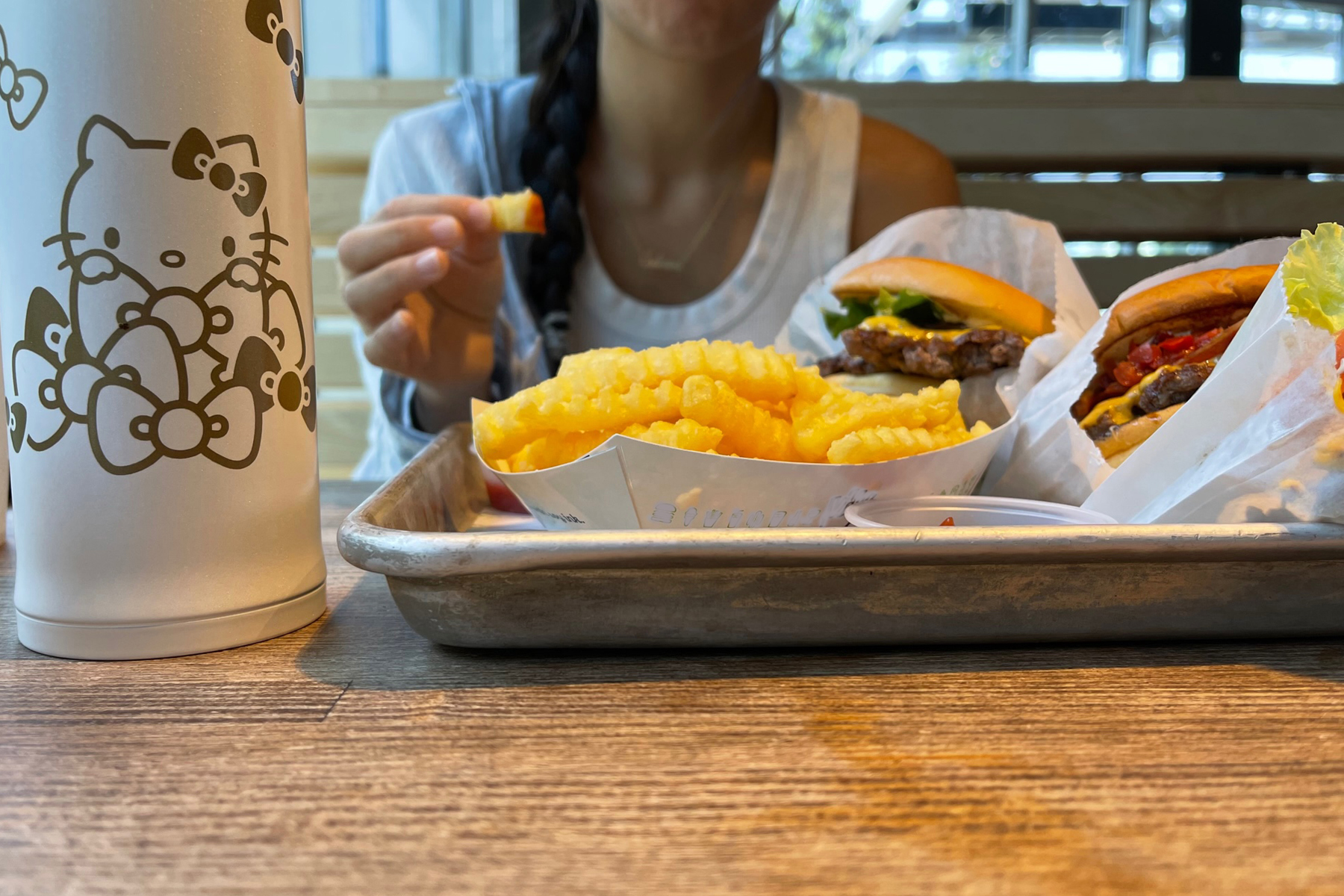 My weakness for donuts is well documented. You caught me red-handed with my haul from our local shop. Let's see—what do we have here? Chocolate Rounds (they use good chocolate that doesn't taste cheap), the classic Glazed (great texture on the inside) and the exotic Butter Crumb Raised (they don't always have this one). I filled my bottle with unsweetened iced black tea for this car dining experience.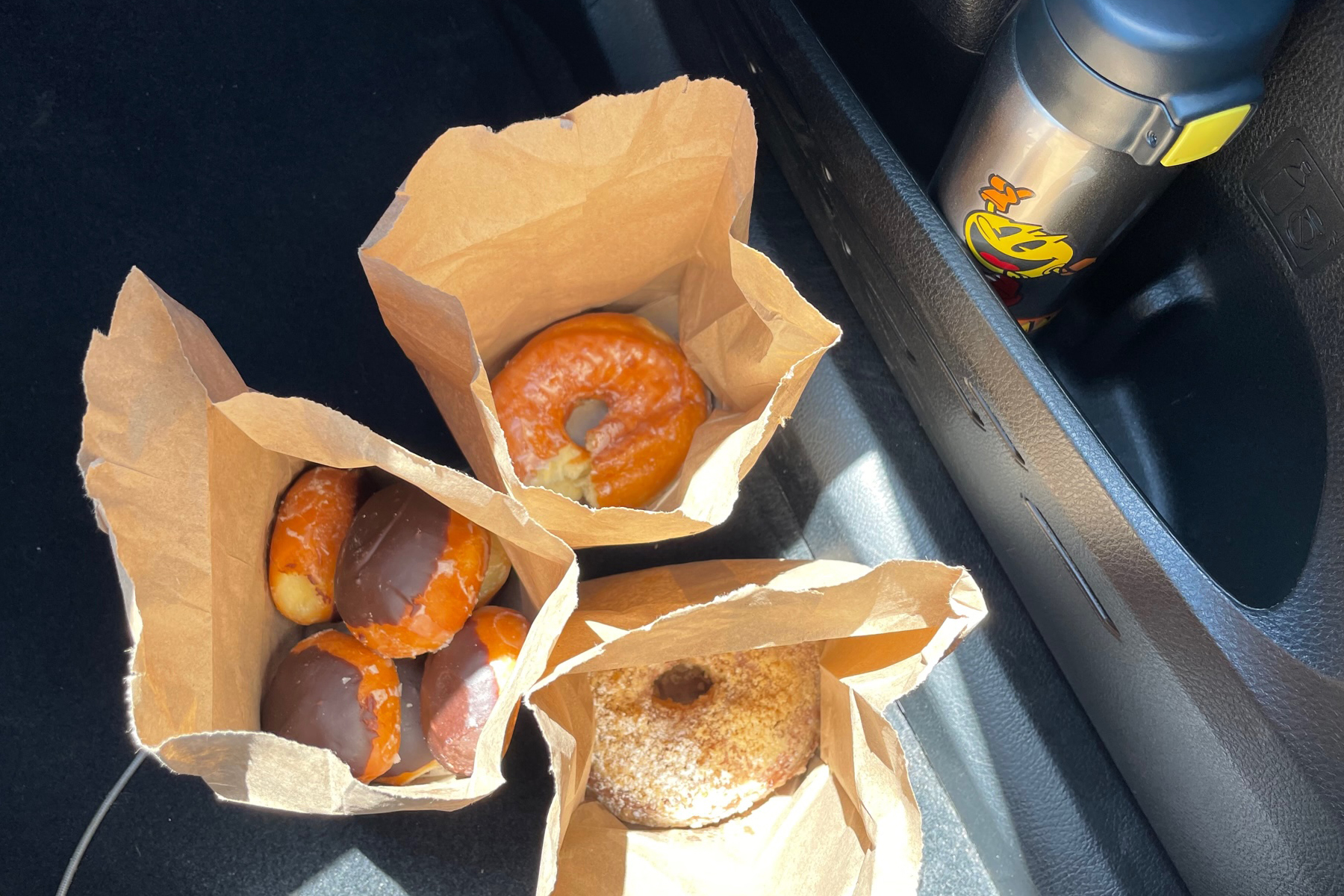 You've probably seen this park before if you read my blog. It's called Los Arboles, more affectionately known by us locals as Rocketship Park. It sits atop a hill above my house and I can go there for a quick sandwich during the day, or catch a great view of the city at night. I have memories of bringing my kids when they were little—I taught both of them how to ride their bikes here. It connects with an elementary school, where both of my kids went.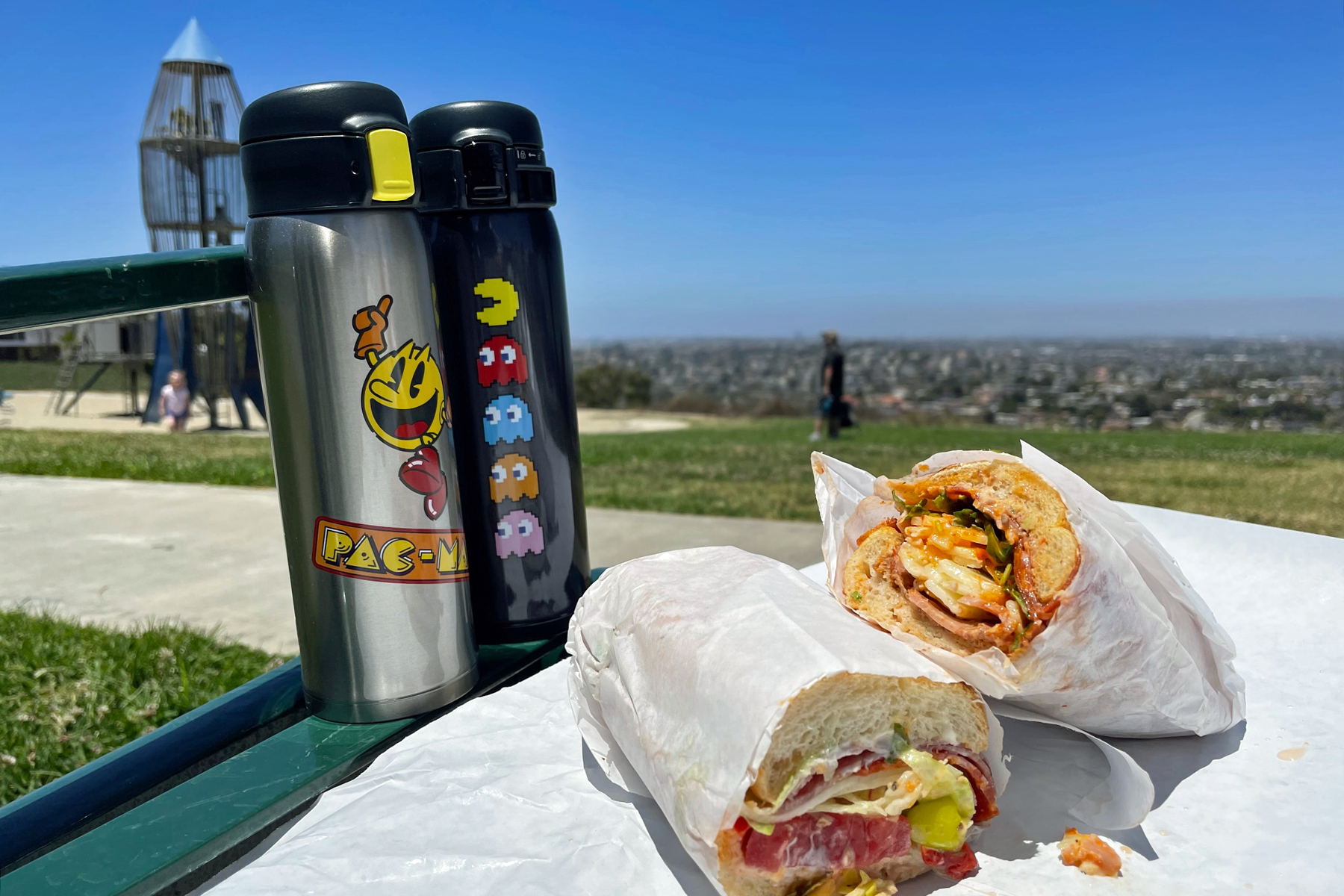 Let's get back to that sushi box bento from Sakae Sushi, a family run business now in its third generation, located in Gardena, California. To any Japanese-American who grew up in this area, Sakae Sushi is an institution, a home style alternative to the high brow sushi places ubiquitous to SoCal. I think their sushi has a distinct sweetness that some people might find over-vinegared, but to me, that's what makes me keep coming back. The sushi reflects their origins from the Kansai, or Western region of Japan.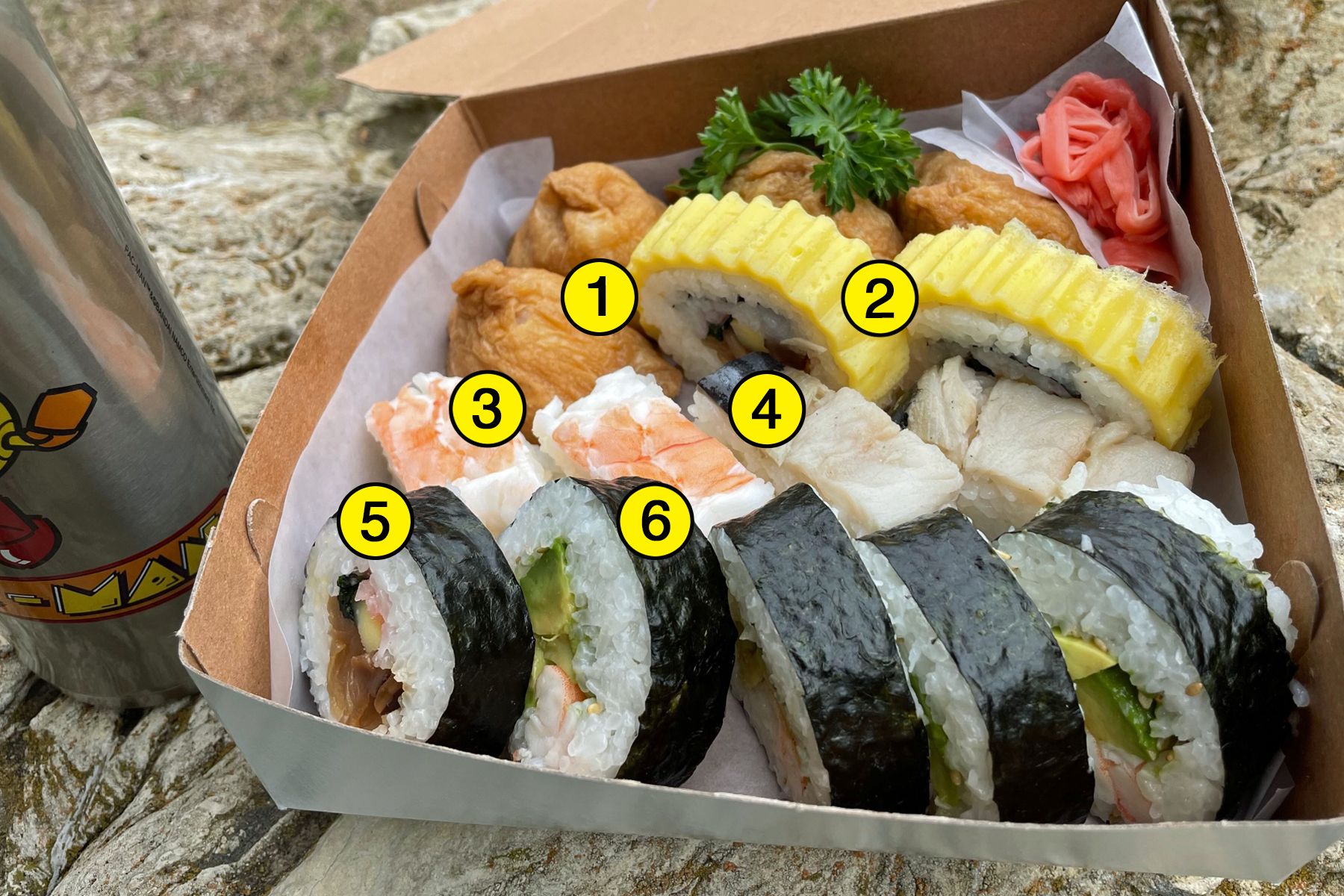 1. Inari: Rice stuffed in seasoned deep-fried tofu pouches that we call "footballs".
2. Date-maki: A flavorful egg omelet rolled around equally flavorful ingredients inside.
3. Ebi Hako-sushi: Pressed in a box shaped mold and topped with seasoned shrimp.
4. Saba Hako-sushi: Topped with a cured mackerel called shime saba.
5. Futo-maki: Meaning "fat roll", the ingredients differ with the style of the region.
6. California roll: We all know this one.
Happy National Picnic Month everyone! Get out and enjoy the warm weather!
Products used in this post: PAC-MAN™ x ZOJIRUSHI Stainless Mug SM-SHE48PA, ZOJIRUSHI x HELLO KITTY® Stainless Mug SM-TA48KT, ZOJIRUSHI x HELLO KITTY® Stainless Steel Food Jar SW-EAE50KT
Sushi bento from Sakae Sushi
Please note that these recipes were not tested by Zojirushi America.
All images by Bert Tanimoto ©2022