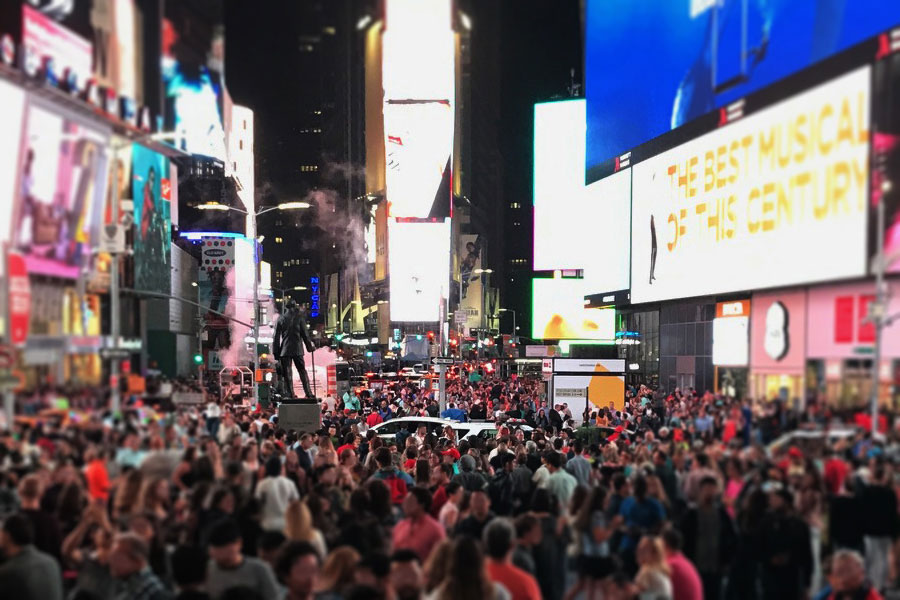 A few weeks ago I had the opportunity to go to New York on business. Actually I've been going there for the past several years on a regular basis, but this time I decided to pay attention to the details–to this amazing city that never sleeps. Anybody who has lived here probably says there's no other city like it in the world, but I lived in Tokyo as a younger man, and I think there are as many similarities as there are differences–if that makes any sense. It's the similarities that I see that allows me to imagine what it would be like to live in New York; maybe not quite as fast as Tokyo, but equally as intense and alive with millions of stories being told at the same time.
I'm not gonna lie–I go to New York to eat. I always go to visit my favorite restaurant, the Yakitori Totto on 55th near Broadway. Their kushiyaki (skewers) is better than anything I've ever had in L.A., and to me it gets close to Tokyo. Of course, in Tokyo even the street food stands are impressive. But this gets close, like I said, so Yakitori Totto gets my props.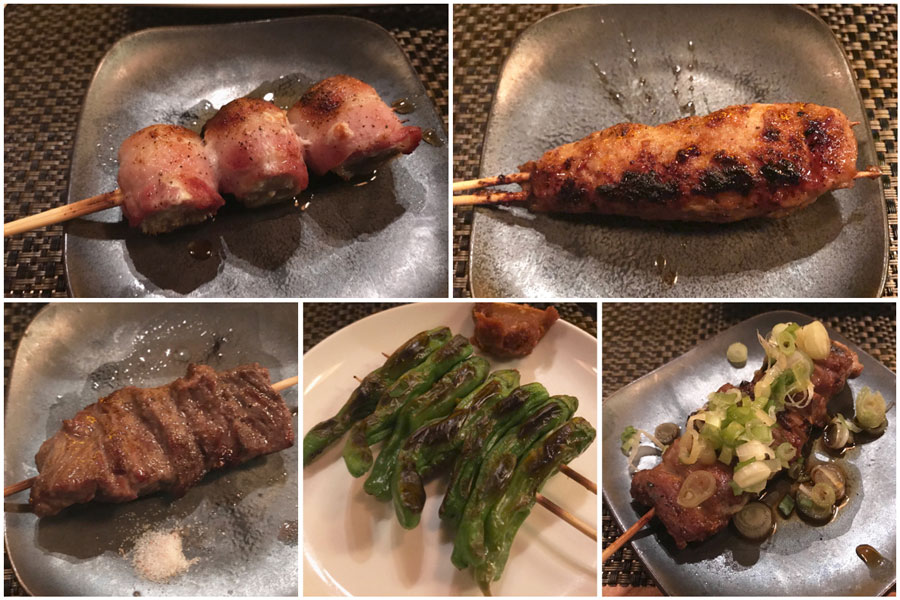 Some highlights:
Asparagus Bacon (top left) is exactly what it says, tender asparagus wrapped in bacon–the combination is wonderful.
Tsukune (top right) is ground chicken basted with a teriyaki sauce, usually served in meatball shapes, but at Totto they do it in one piece.
Kalbi (bottom left) is Korean style short ribs, which I had with salt instead of the traditional marinade. Excellent choice with the way it brought out the real taste of the beef.
Shishito (center) is a Japanese green pepper, mildly sharp when delicately grilled. This one is served with a dab of miso paste, which gives it quite the flavor blast.
Negi-Pon (bottom right) is a creative concoction of pork pieces topped with scallions and flavored with ponzu sauce, a tangy soy sauce thinned with citrus juice.
By the way, if this gets you craving…I'll bet you didn't know Zojirushi has their own recipes for kushiyaki. You should check them out:
Tsukune
Miso Chicken
Stuffed Potato Mushroom
Takin' it to the streets…
One thing you do in New York is walk a lot–it's not really a lot, but coming from Los Angeles where you almost never walk, it seems like a lot. And on ground level, you notice a lot.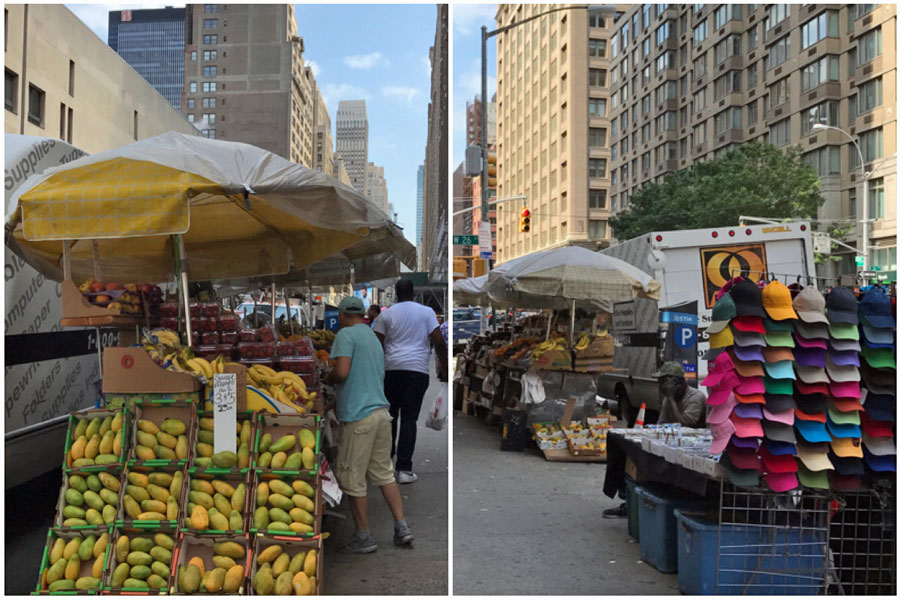 There are street vendors everywhere, sharing the sidewalk with pedestrians–selling produce, cellphone cases and baseball caps. Why not? It's easier to pick up a bunch of bananas on the streets when you're walking home, than it is to find a supermarket.
Here's a typical traffic scene with a bunch of school buses getting ready to leave, right?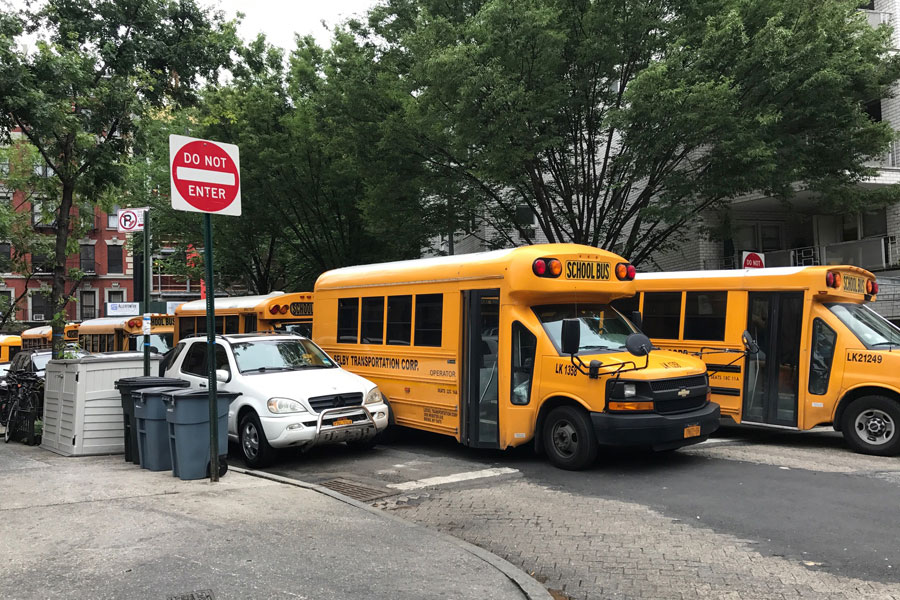 Wrong! These buses are not moving–they're parked! This street is (I'm guessing) a temporary parking lot for these buses. I stood at this corner waiting to cross for a full minute, before I realized there weren't any drivers inside the buses. Then it took me another 15 seconds to figure out why they were just stopped there. I guess you find parking where you can in mid-town Manhattan.
I love finding street signs that show the personality of the city. They're usually worth a double-take.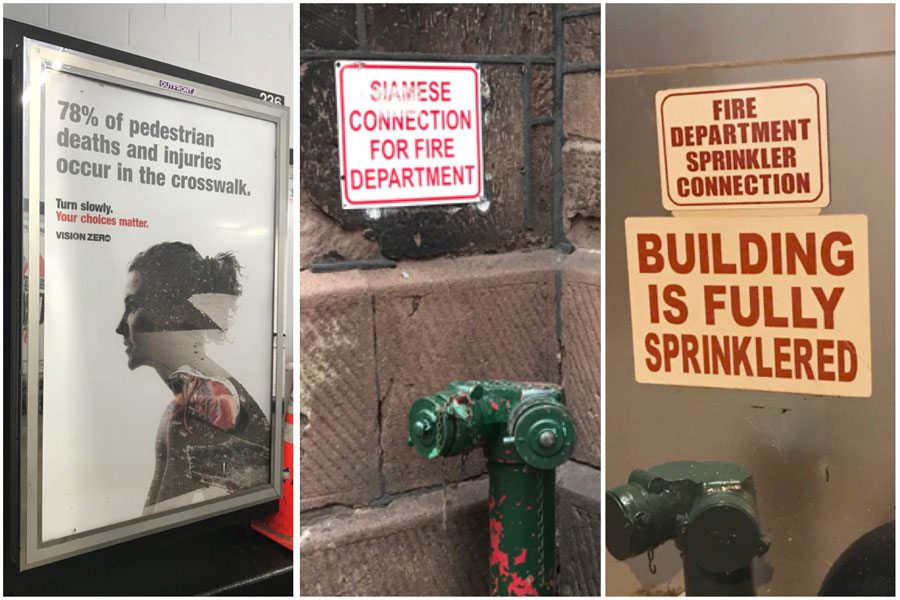 That statistic about pedestrian deaths has got to be true. New Yorkers do not bother to wait for the "WALK" signal at the crosswalk. As soon as there's a gap in the car traffic, even in the middle of a green light, New Yorkers start across the street. I'm sure the only ones that wait patiently for the light to change are tourists. I mean, we're not as fearless as the natives.
Ever since 9/11, the FDNY are the most heroic fire fighters in America. You've gotta love their way with words though–they truly have their own language that only they understand. I'd never heard of a "Siamese Connection", but now I know it's a twin-fitting water source for the fire department. And being a professional writer, I'm pretty sure there's no such word as "sprinklered". But hey, it's the FDNY–I'll give them a break.
OK, back to food! Here's another thing about walking the city–you don't need Yelp to find good places to eat. You can stumble across them by serendipity and be pleasantly surprised. This place caught my attention from across the street because of the name, Meatball Obsession. How am I supposed to pass that up?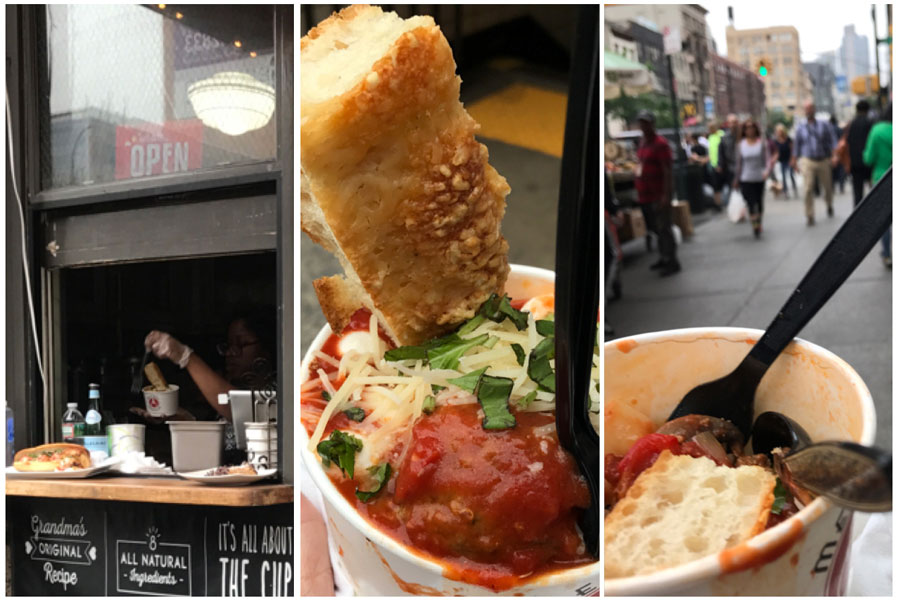 This is my kind of place–quite literally a "hole-in-the-wall", where the kitchen was behind the order window, inside the building. It's a meatball in a cup; 2 of them for $9 with pasta at the bottom, your choice of toppings and cheese, then filled to the brim with tangy tomatoey marinara sauce. Mine has  mozzarella pearls, grated parmesan, sauteed mushrooms and fresh basil. With a stick of focaccia dipping bread, this was a fantastic deal! After I ordered, I was asked, "take out or walking?" So I naturally chose to eat and walk, like any normal New Yorker would. It was delicious!
On my last night, I did what I always do when I'm in New York. I took a walk through the city a bit—It's always more fun at nighttime, especially Times Square, which is kinda like a circus like Venice Beach is for Angelenos.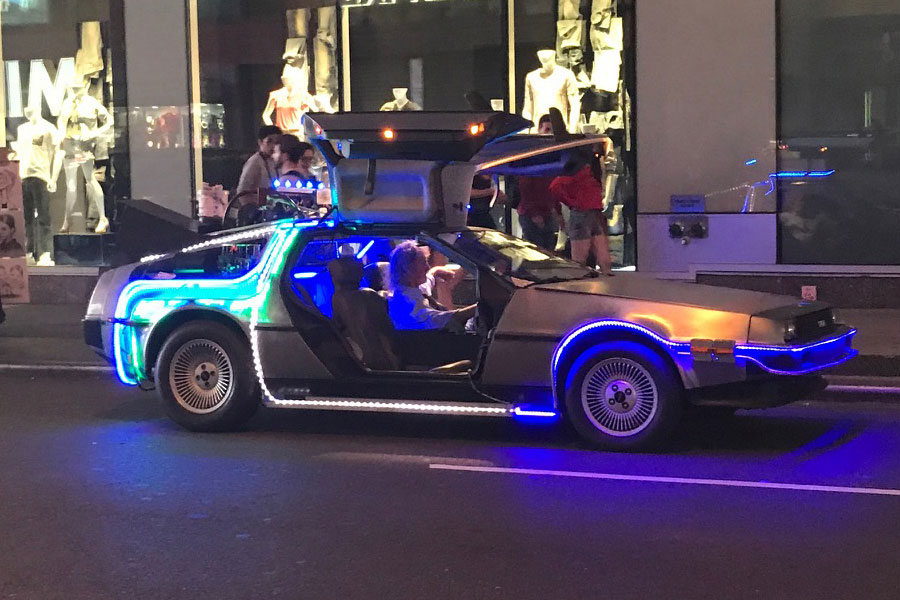 Saw Doc Brown and his DeLorean…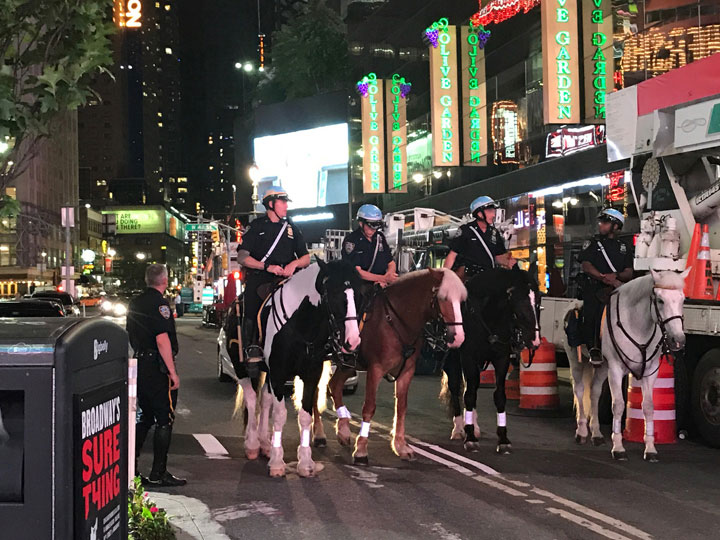 NYPD on horseback. So cool!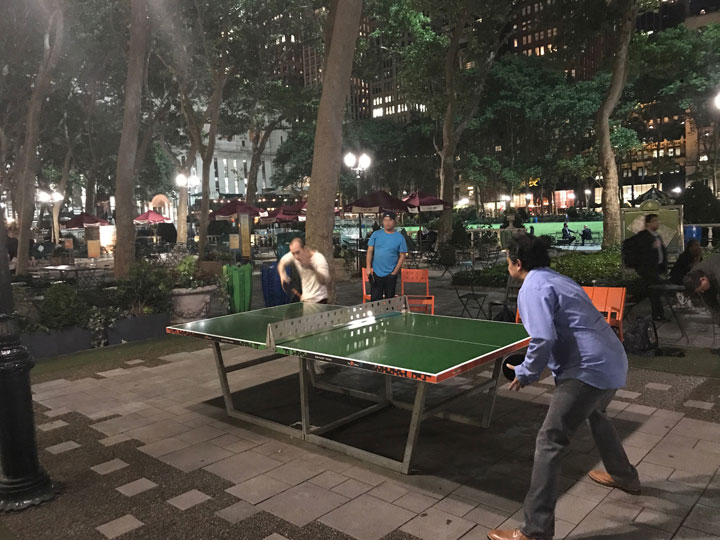 Evening pick-up ping pong match at Bryant Park. Nice!
But at the end of the day, it was still a relief to be back in L.A.
photo credits: All photos by Bert Tanimoto