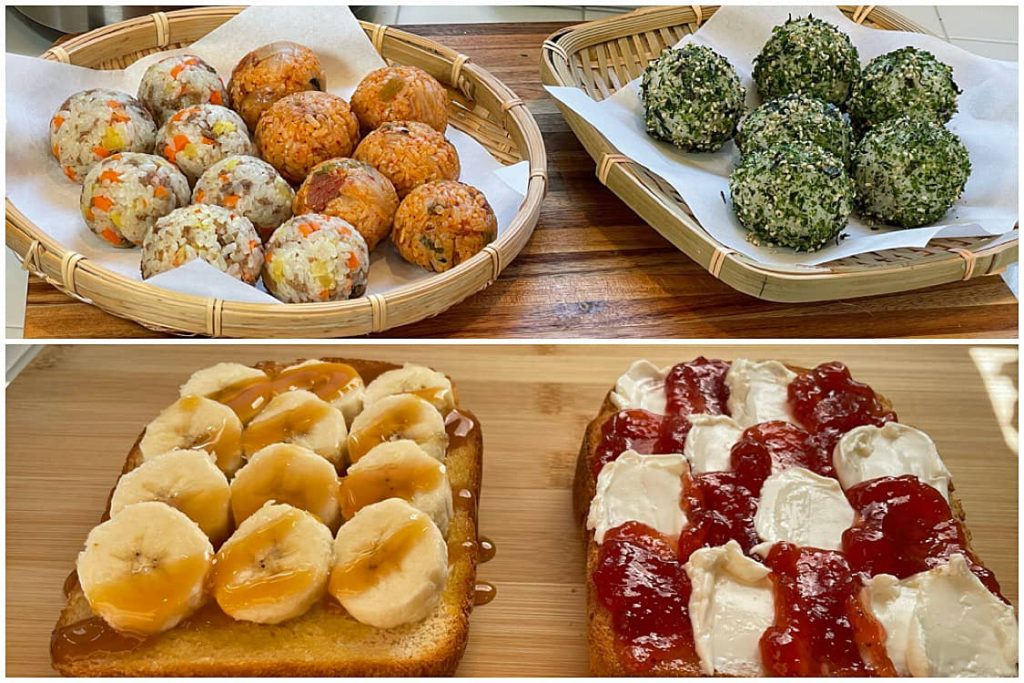 When my kids were going to school I was the one making their lunches. This was simply because I used to bring my own lunch to work so it wasn't much of an extra effort to make another. My daughter came back one day and told me her friends thought it was awesome that I would cut the crusts off her sandwiches. Ha! Just another influence from those Japanese "sando" that you see at the market, or in Japan I guess at every convenience store.
Seeing as how some of you might still be making your kids' lunches, or having to make snacks for them after school, here's a few ideas that might pass the kid test. I made some cute little Korean style riceballs called Jumeokbap, because we had leftover rice and some leftover bulgogi ground beef that my wife made from a couple nights ago. This mixture is the seasoned bulgogi, chopped carrots and chopped danmuji (yellow pickled radish).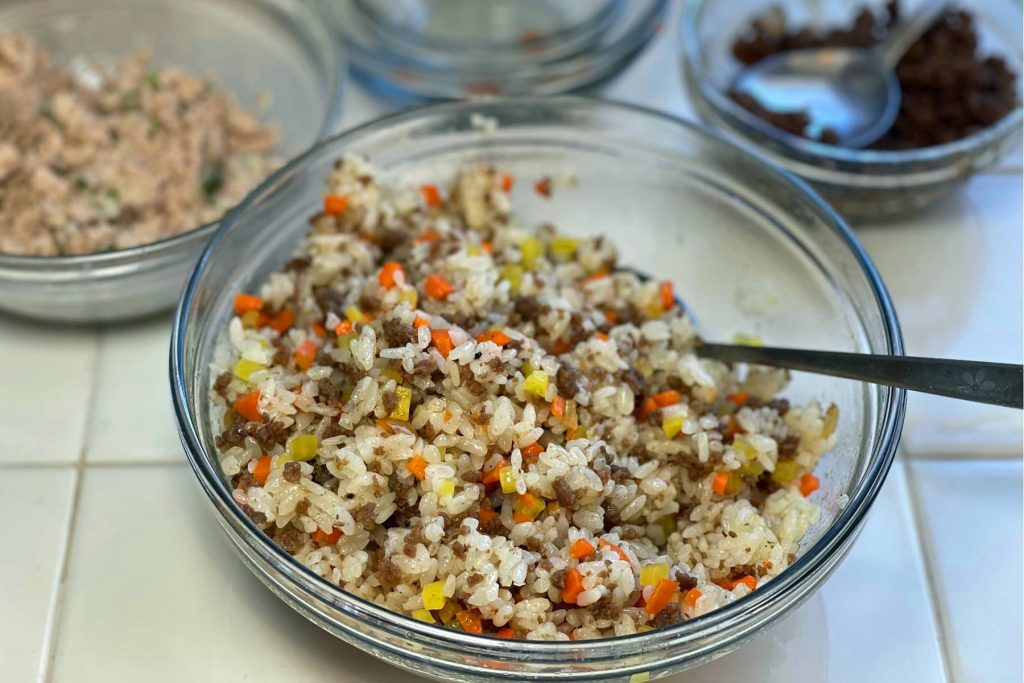 Korean danmuji is different from Japanese takuan in that they're both pickled daikon radish, but the Korean version is a little less pungent and milder than the Japanese one. For people who don't like the strong smell of takuan, try the danmuji—it's a little sweeter too.
We had leftover Kimchi Fried Rice too, so that was easy. Just roll a few of those for a spicy rice ball variation. I love any kind of fried rice, so we make the kimchi version all the time. My other favorites are Japanese Chahan and of course, Hawaiian style Bacon or Spam Fried Rice. Maybe the reason we have it so often is because I hate to waste leftover rice, so we freeze it and use it for a quick and easy dinner. Leftover rice makes the perfect fried rice—much better than freshly made, which tends to get clumpy. If you have to make fresh rice just to make fried rice, there's a hack to doing this with an adjustment on your rice cooker, which I explain in my Kimchi Fried Rice post.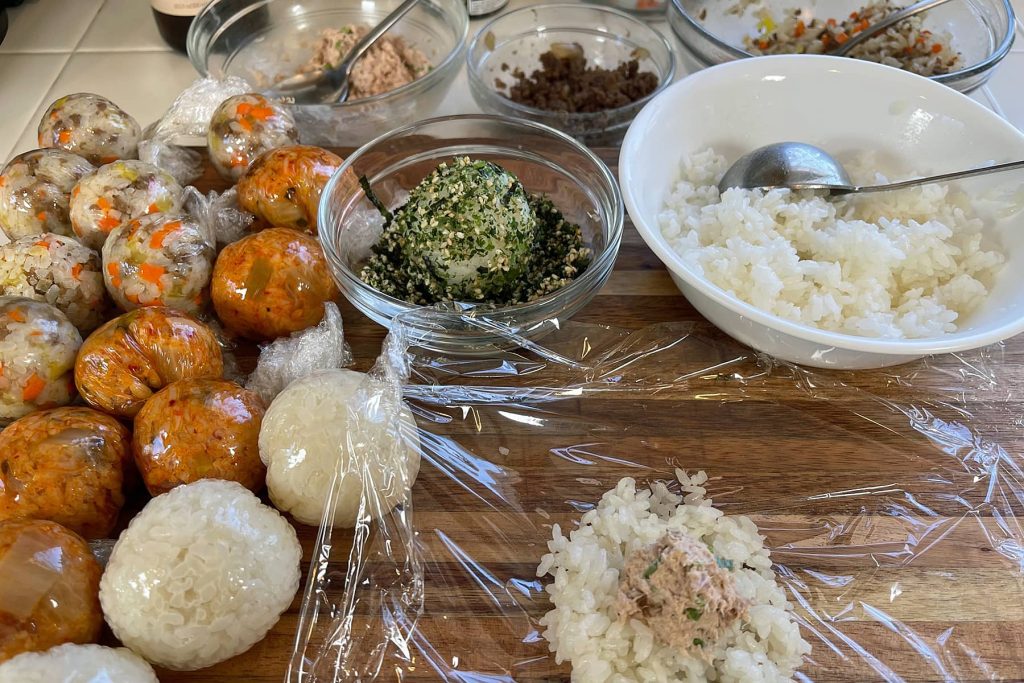 The last one is filled with tuna/mayo and coated with furikake (rice sprinkles). Your kids will probably love this one—they're easy to eat and fun too. Who doesn't like furikake, right?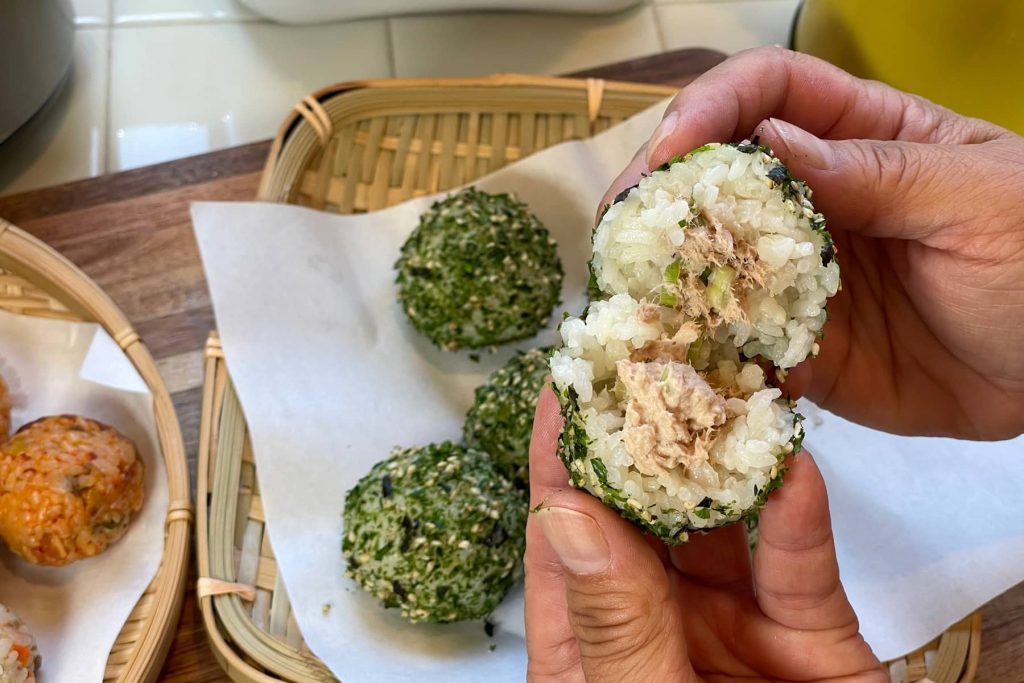 Rice balls make the ideal bento lunch. For one thing, you can eat them at room temperature and they won't smell up a lunch room. If you're wondering what that cannister is in the background, it's my very cool Zojirushi Lunch Jar. I did a whole review on these a while back; you can read about them here.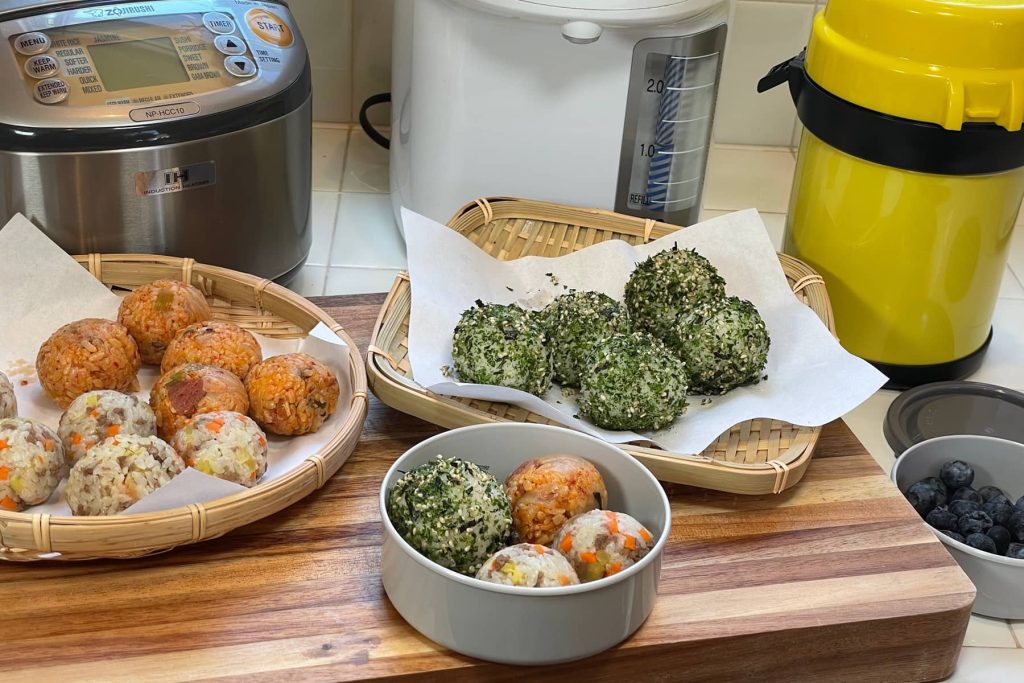 After school snack? Of course, open face toast! Bake some bread with your Zojirushi Breadmaker and have it ready by the time they get back. It takes about 3-1/2 hours so you can time it to finish around 3:30 in the afternoon. Here are a couple of classics—Avocado Toast and Garlic Cheese Toast. C'mon, you can see these on some menu at a craft coffee house selling for $15, right? Right? Well, enjoy it on freshly baked, Japanese shokupan style bread anytime.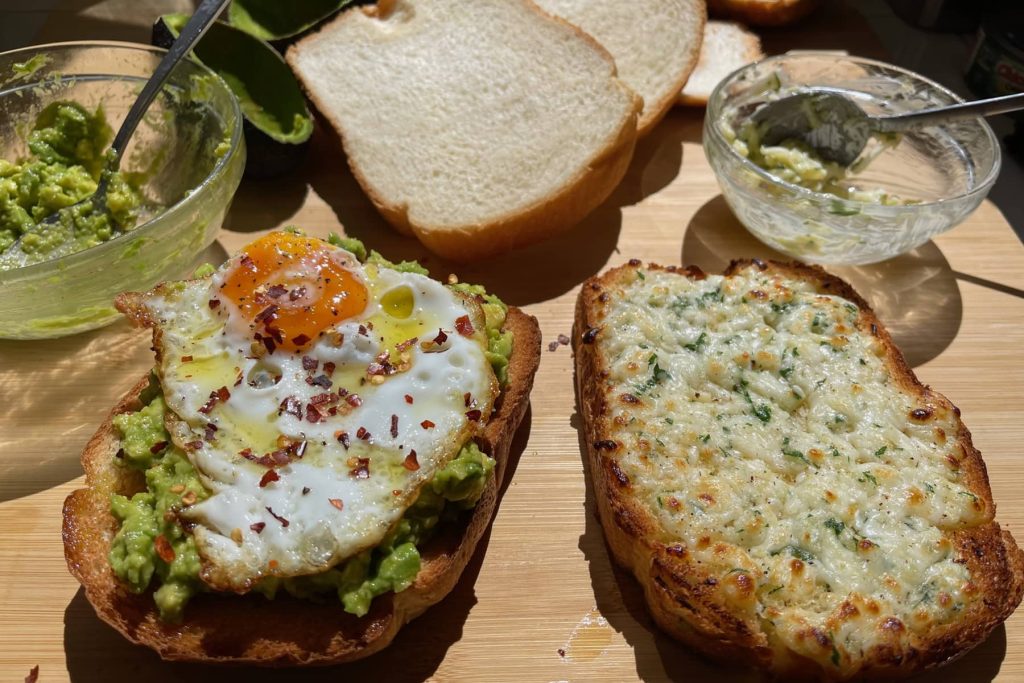 Not to be outdone by all those good looking riceballs you can make, here are some dessert toast treats for the kids (or for yourself once you've got them quietly scarfing). Get some caramel syrup at the market and use your bananas before they get too overripe. It doesn't take much to get decorative with it. The other one is strawberry jam and cream cheese. I swear, it's good! Even my limited food styling skills can handle these, and the thicker shokupan slices make them more special too.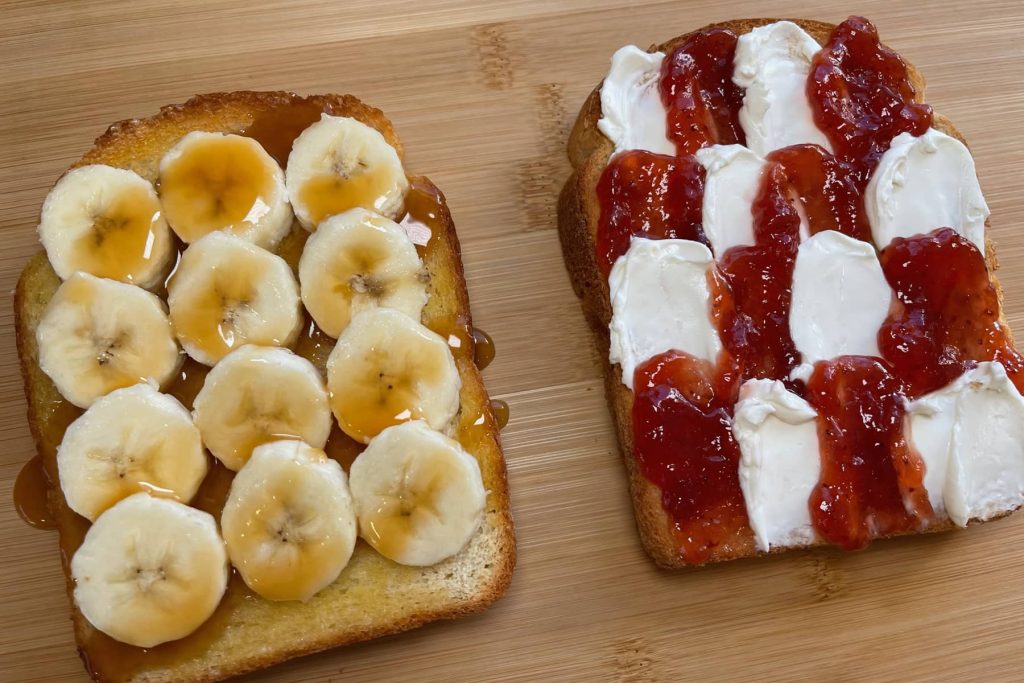 There's no way I'm going to make toast without a PB&J one; because I really love PB&J. Did you know that the proper way of making a peanut butter and jelly sandwhich is to spread the peanut butter on both slices of bread, then spreading the jelly in the middle? That way the jelly won't soak through the bread and make it soggy. Of course, then you've got to figure out the proper peanut butter to jelly ratio, haven't you? The other way to get around this issue is to make toast instead—problem solved!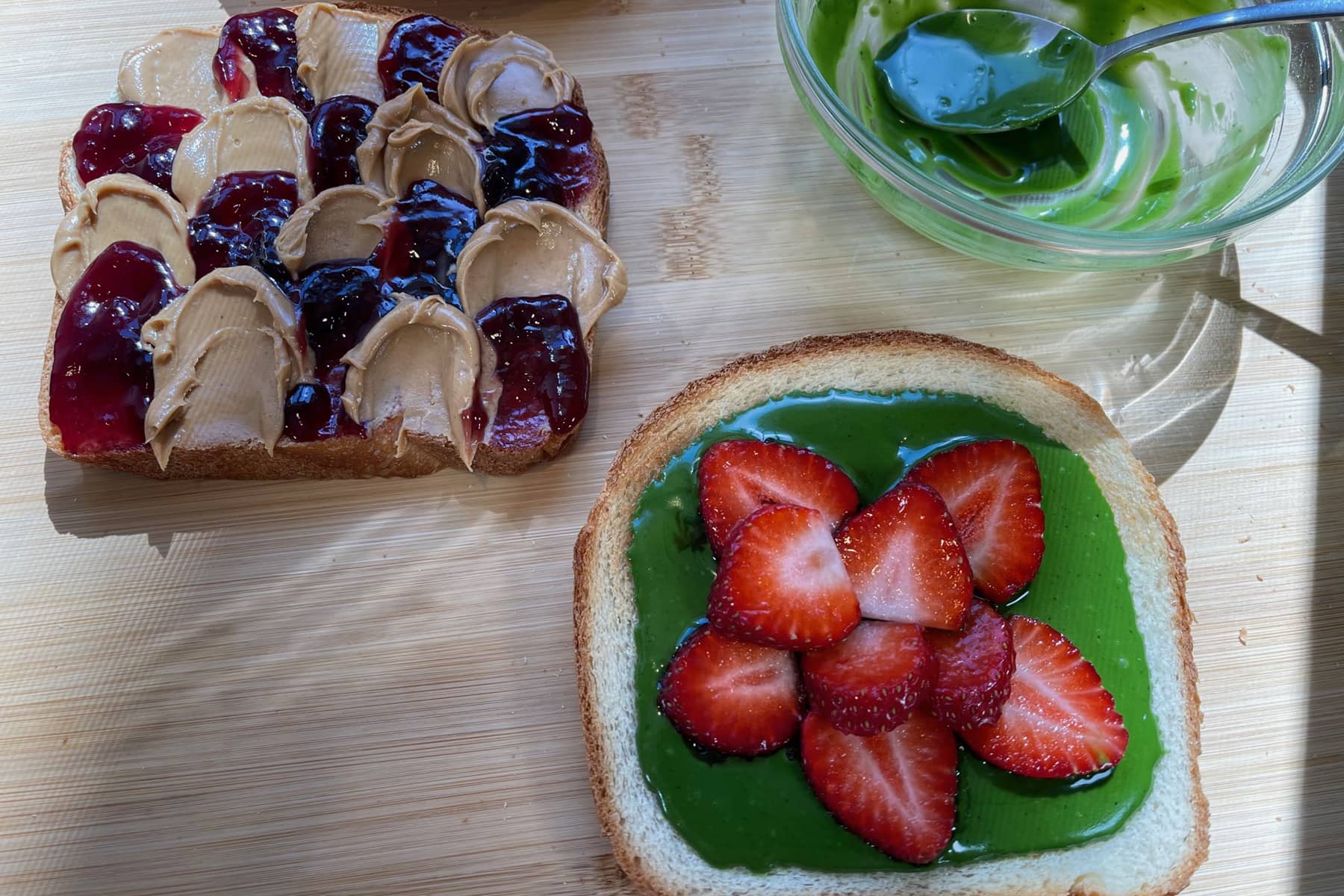 If you crave a more adult dessert, try the matcha strawberry one. Just create the glaze with some matcha powder and powdered sugar, get fresh strawberries and away you go. If you missed it a few months ago, I did a Honey Brick Toast with a full loaf of shokupan, which you can easily do at home. Try this one and overload your kids after school, ha-ha!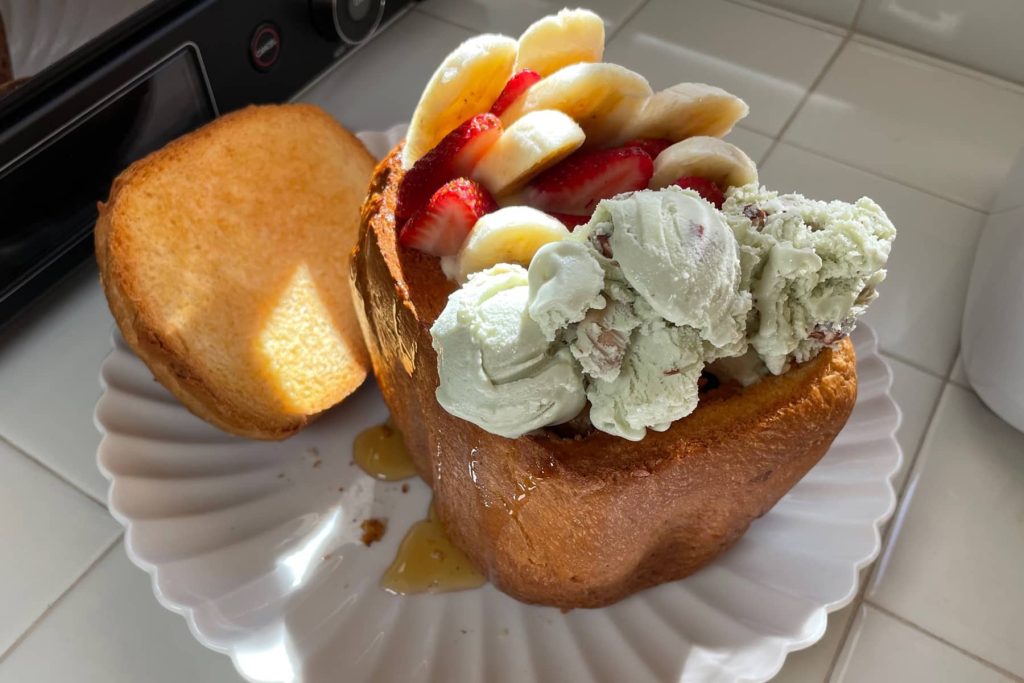 So what's it going to be this afternoon? Riceballs or Toast?
Products used in this post: IH Rice Cooker & Warmer NP-HCC10/18, Home Bakery Maestro® Breadmaker BB-SSC10, Micom Toaster Oven ET-ZLC30, Mr. Bento® Stainless Lunch Jar SL-JBE14
Please note that these recipes were not tested by Zojirushi America.
All images by Bert Tanimoto ©2023