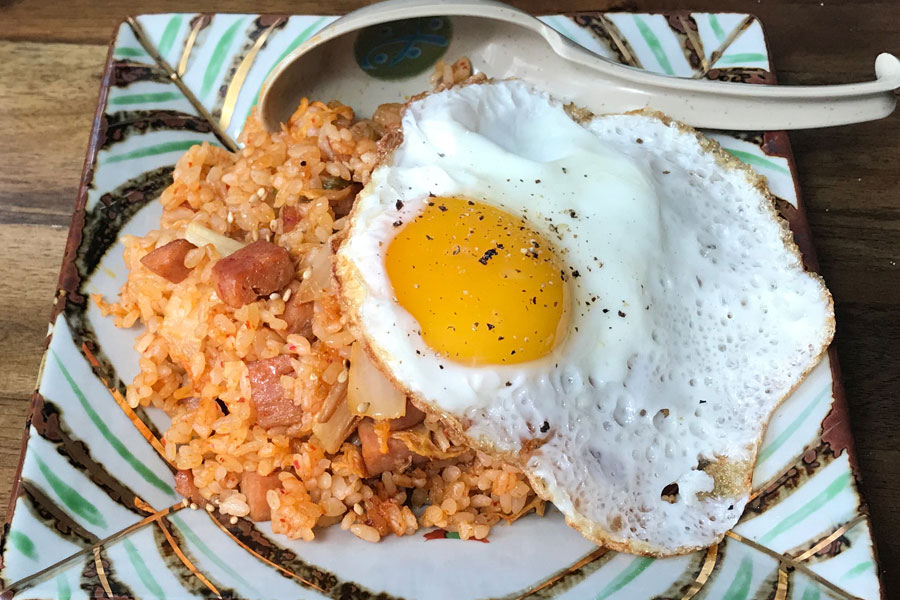 Comfort food is different for everyone, depending on where you grew up. I grew up bi-culturally, so if Fried Rice is one of the great comfort foods of all time for most Asians, my #1 is Cha-han, Japanese style—but my #2 is Spam Fried Rice, Hawaiian style. Here's where non-cooks like me can never fail. Fried rice is so easy, the only way to fail, besides burning the rice, is to use rice that's too freshly cooked because you'll get mushy fried rice.
This is my Kimchi Fried Fice and this is how I made it foolproof. You're supposed to use day old rice so that it's slightly harder already, thus preventing mushy fried rice. I didn't have any—so I made fresh rice in the morning, using the "HARDER" menu setting on my rice cooker. I didn't make any adjustments to the water; I only cooled it off to room temp. Worked like a charm.
Kimchi and spam—who's gonna argue with that? I'll wait.

The Zojirushi Gourmet d'Expert Electric Skillet at work.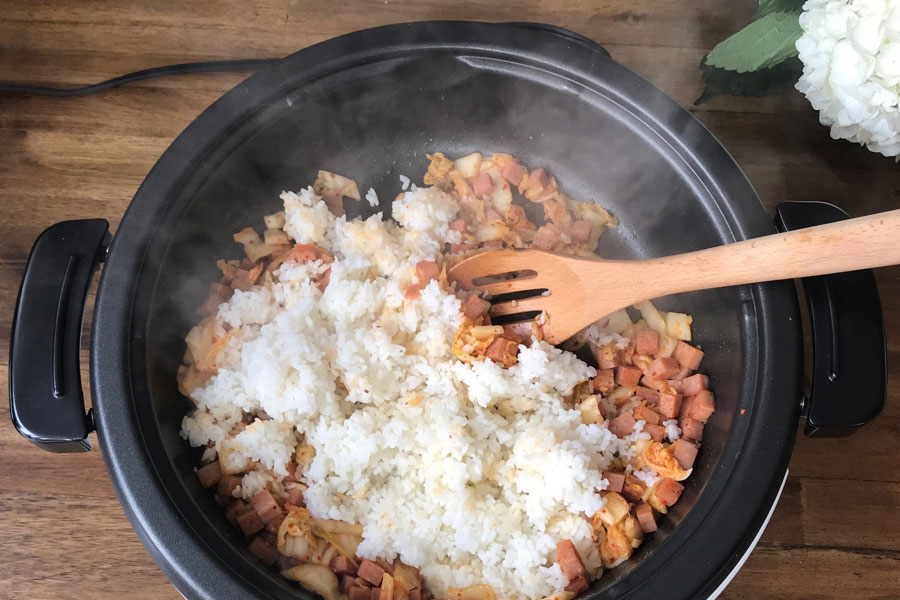 The secret sauce (kimchi juice from the bottom of the jar). Feel free to add Korean gochujang if you want, but bear in mind it doesn't really increase flavor, only spiciness.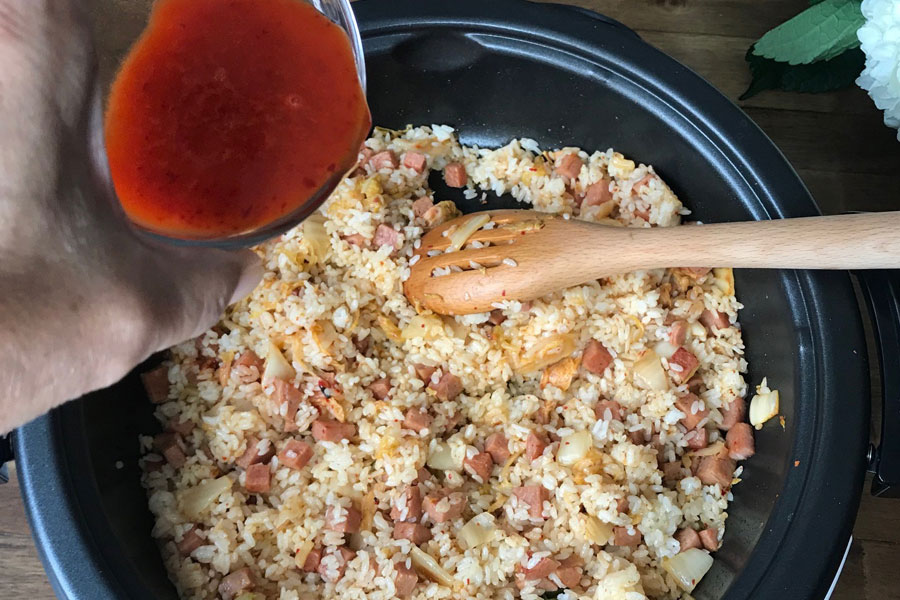 Really fast Kimchi Spam Fried Rice.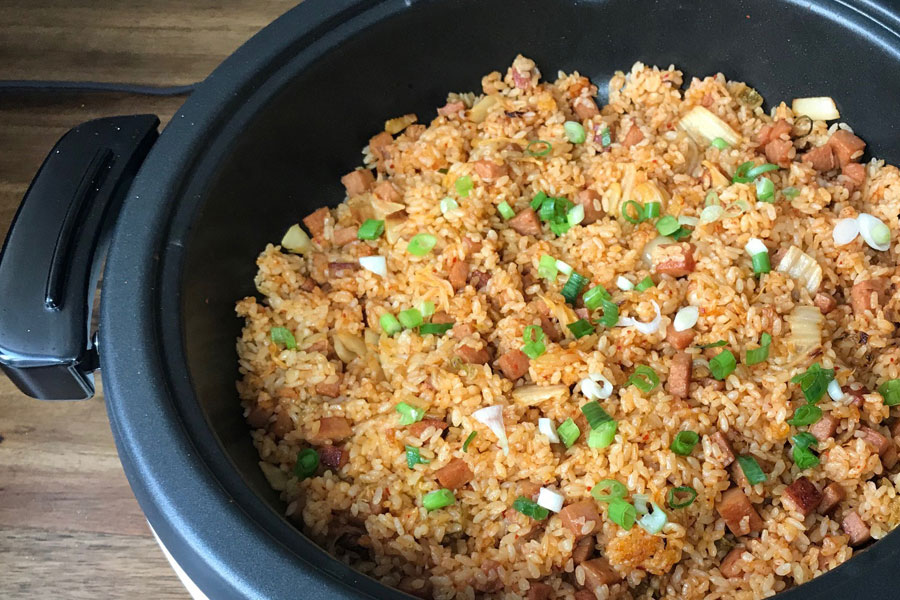 The family liked it, so I guess that means I passed.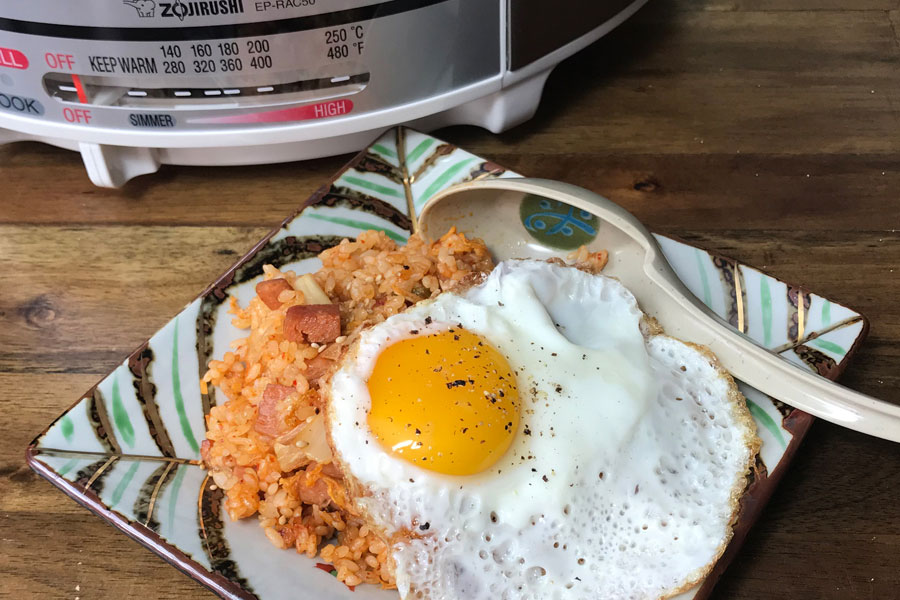 So now I'm getting cocky, right? I thought, OK—let's try the steamer function on the electric skillet; I've already got it out anyway. I chose this Sesame Broccoli, a popular side dish that you get sometimes at Korean BBQ restaurants. The ingredients are simple enough—fresh broccoli florets, sesame oil, ground sesame seeds and lots of garlic.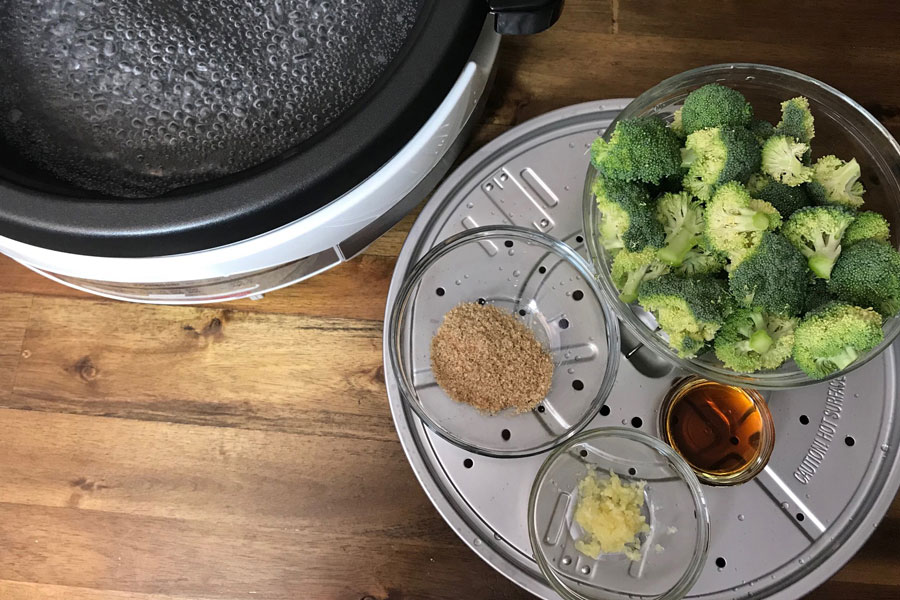 The steamer plate is more than large enough to hold a bunch of veggies as you can see, and the skillet is deep. I filled it with about a half-inch of water, got it boiling, and lowered the broccoli inside. The steamer plate has a small handle and legs to hold it above the water. Steaming time was about 7 minutes, but I think I should have quit at 5. Still, it was OK.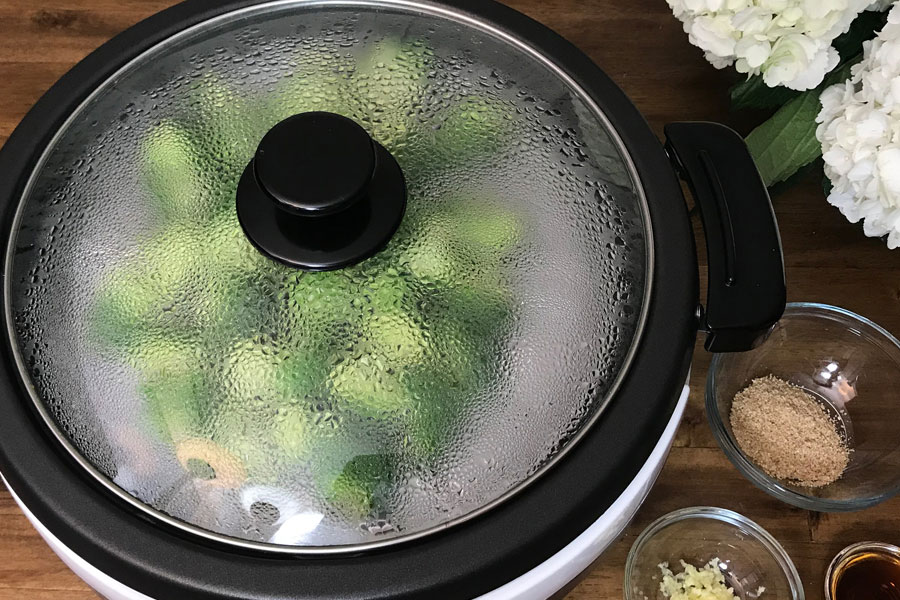 Then all I had to do was dress it with the sesame oil, garlic, crushed sesame seeds and some salt and it was done! Looks good? I think my daughter really liked it—she even brought some to work for her lunch the next day.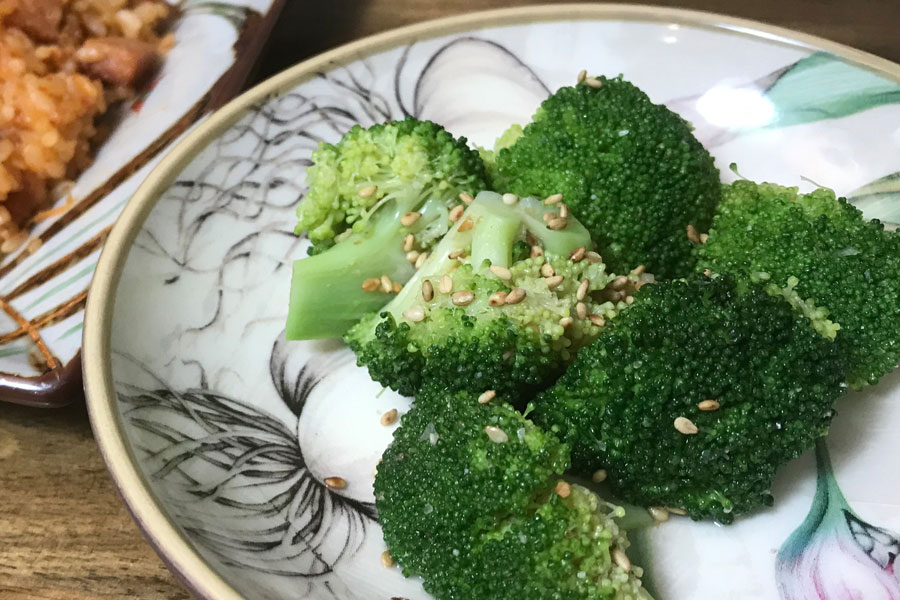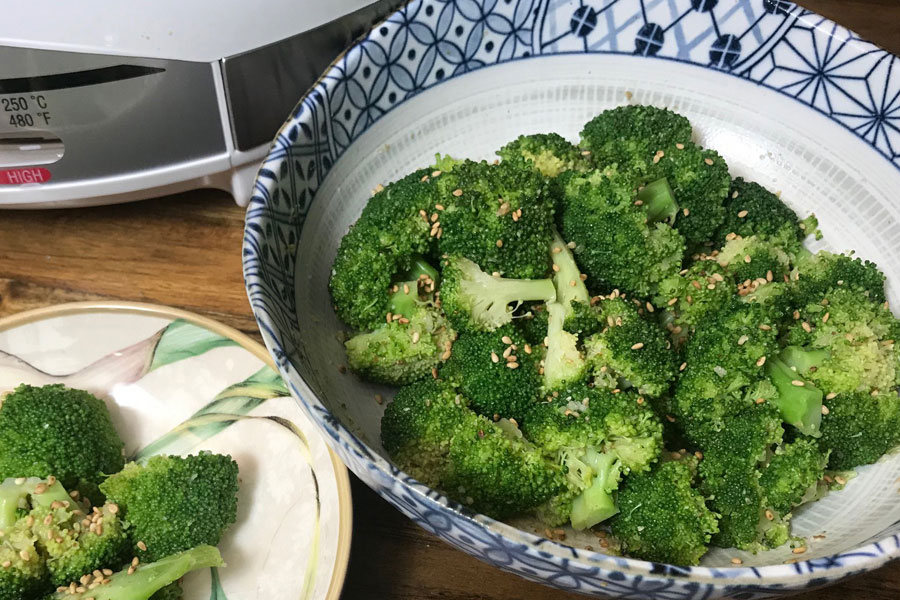 Just For Fun
Remembering the late great Ruth Bader Ginsburg…my daughter must have been channeling her spirit with this hairstyle! LOL!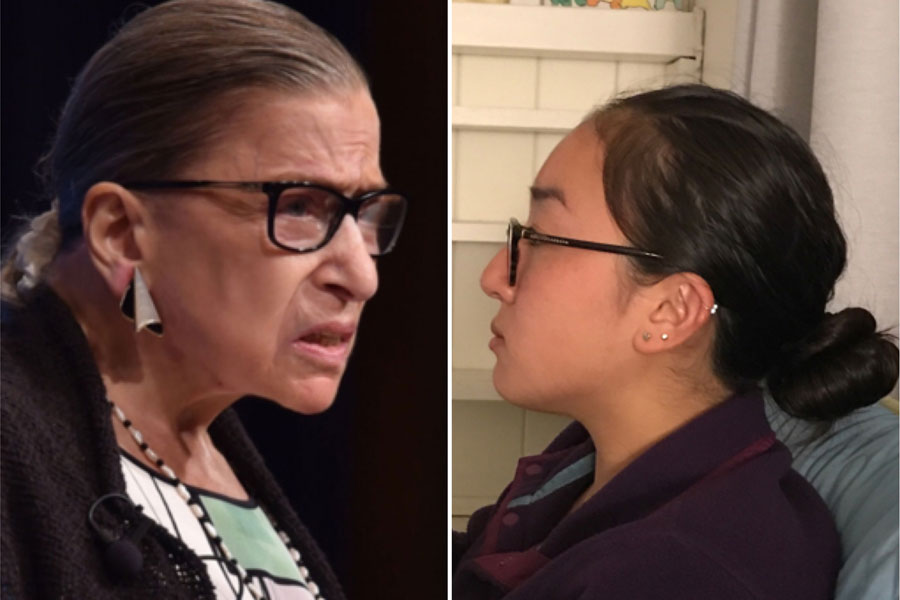 Have you ever been to the secret swing at the top of Elysian Park in Los Angeles? Not so secret if you're on Instagram actually, but still worth finding if you want this great view! Check before you go though—it's been known to disappear and reappear for various reasons, like COVID, too many influencers, etc.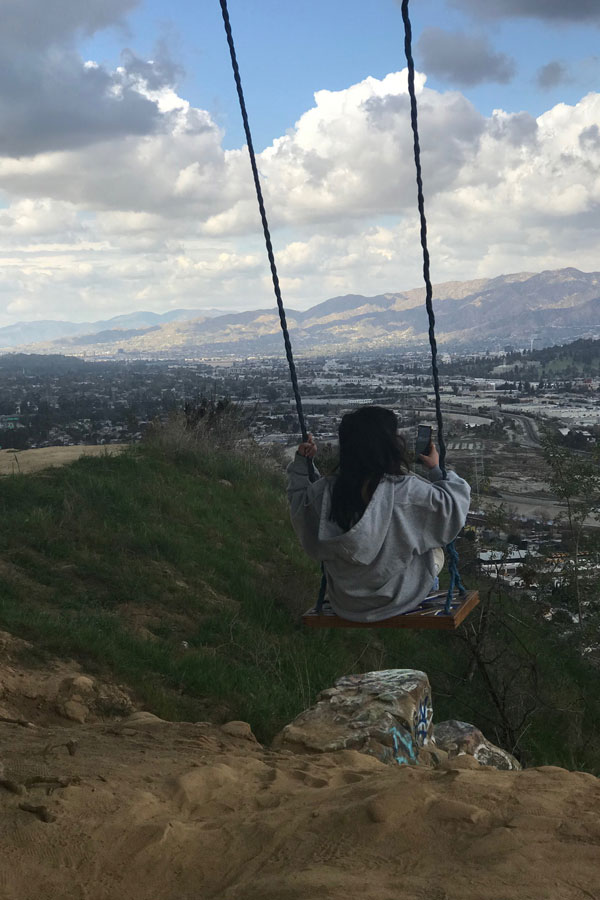 credits: all photos by Bert Tanimoto, Sesame Broccoli recipe by Korean Babsang