Back to school, back to college, back to autumn routines with work and family and friends!
September is here and we're excited to make creative meals that we can take to school and work in our Mr. Bento® Stainless Lunch Jar (SL-JBE14). Our Mr. Bento® as a lunch jar, is full of convenient features that allow you to customize your to-go meal experience.
This lunch jar has five main components: an Outer Container and four Inner Bowls. The Outer Container provides insulation for 2 of the Inner Bowls and is made using our superior vacuum insulation technology. As with our other stainless products, the vacuum insulation keeps the food inside the Inner Bowls hot or cold for hours.
The four Inner Bowls consist of a Soup Bowl that holds up to 9 oz., a Main Bowl that holds up to 15 oz., a Small Side Bowl that holds up to 7 oz. and a Large Side Bowl that holds up to 10 oz. In total, the bowls can hold up to 41 oz. of food!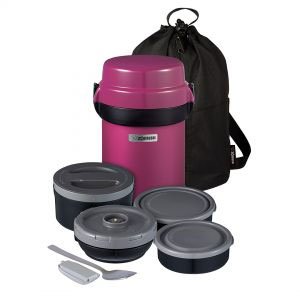 The bowls are meant to be stacked in a particular order inside the Outer Container. The Soup Bowl rests at the bottom of the Outer Container. The Main Bowl sits on top of the Soup Bowl and comes with an insulated lid that prevents heat from transferring through, keeping the content of the two bottom bowls at ideal temperature. The two Side bowls sit on top of the Main Bowl, keeping food at room temperature.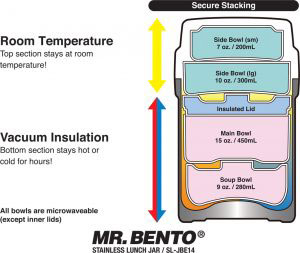 Each bowl is microwaveable making it convenient to fill them ahead of time and reheat the food before putting them in the Outer Container. All areas that come into contact with foods are BPA-free.
Once all of the bowls have been placed correctly, the outer lid clips easily into place and keeps all bowls intact.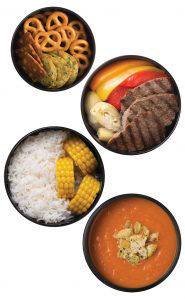 This lunch jar's large capacity and multiple Inner Bowls allow you to pack inspired meals! A traditional Japanese ichiju sansai meal, which means "one soup, three dishes" fits perfectly into the Inner Bowls. Western dishes, such as soup, Pasta A'la Zo, salad and dessert also work great, and since September is National Bento Month, kyraben or character bento are ideal!
The Mr. Bento® comes in 4 stunning colors – Plum, Blueberry, Carbon Black and Stainless Steel –and comes with a Forked Spoon and a Carry Bag.
Add the Mr. Bento® Stainless Lunch Jar (SL-JBE14) to your lunch box collection and enjoy hot, fresh meals all season long. And be sure to share how you fill your lunch jar…we love the creative ideas you all have!