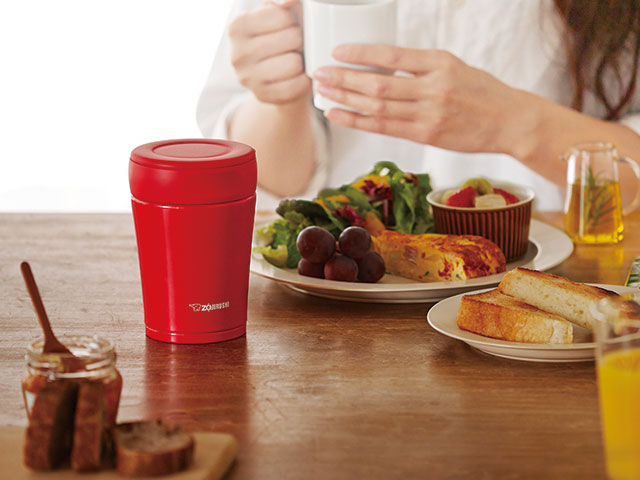 Last month, we featured our Ms. Bento® Stainless Lunch Jar and the great ways that you can take a fresh and complete meal with you, whether you're at school, the office, traveling, picnicking or just out and about. This month, we're excited to share our Stainless Steel Food Jar (SW-GCE36) with you!
This stylish food jar holds 12 ounces of hot or cold food, and because it uses Zojirushi's double-walled vacuum insulation technology, foods are kept at their optimal hot or cold temperatures for hours. The vacuum insulation is created by removing the air between the outer and inner layers of the stainless steel, blocking heat from transferring through it. This minimizes the temperature change of the food inside the jar, providing a useful way to safely pack and store a meal when a refrigerator or microwave may not be readily available.
This food jar comes in a Cherry Red or Nut Brown finish and has a modern, angled design, and the thin vacuum insulation takes up minimal space while maximizing capacity. The large 3 ¼-inch wide opening makes it easy to fill and clean and its electro-polished 18/8 SlickSteel® interior prevents corrosion and repels stains. The flat interior design makes it easy to eat directly from the food jar, and it even has a removable plastic ring around the rim of the jar for drinking comfort, in case it is filled with a beverage or soup.
The lid is just as innovatively designed as the jar itself. It's completely disassemblable for thorough cleaning and utilizes gaskets to tightly seal the jar, minimizing leaks and maximizing temperature retention. When released, the valve in the center of the lid set helps to relieve pressure caused by hot contents inside the jar and makes it easier to open the lid.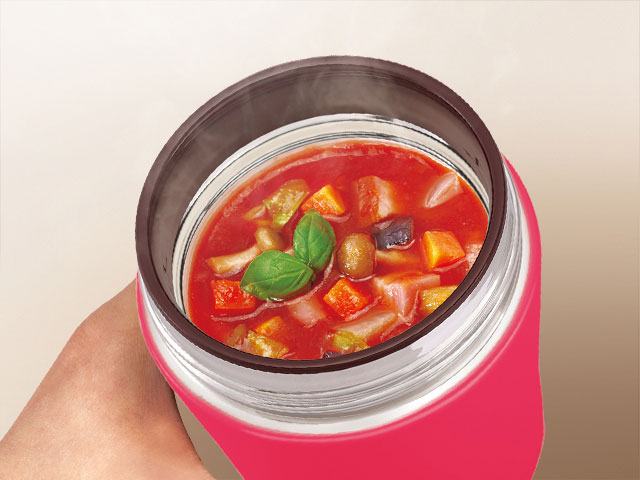 Best of all, all areas that come into contact with your food are BPA-free, making it safe to use for your entire family.
The Stainless Steel Food Jar is great for both adults and children. Back-to-school meals such as macaroni and cheese, Chicken Noodle Soup and easy rice dishes like Shiitake Gohan are ideal school meals, easily transported in the food jar. Morning meals like Steel Cut Oatmeal To-Go are easy to make in the food jar and the food jars transition well from the hot months of summer to the colder months of autumn and winter, with lighter fare such as our Stacked Pasta Salad staying cool, and dishes like Total Tonjiru Soup staying hot.
We know you'll love using this Stainless Steel Food Jar just as much as you do the Ms. Bento® Stainless Steel Lunch Jar. Try it out and share what you love about this Stainless Steel Food Jar in the comments below!