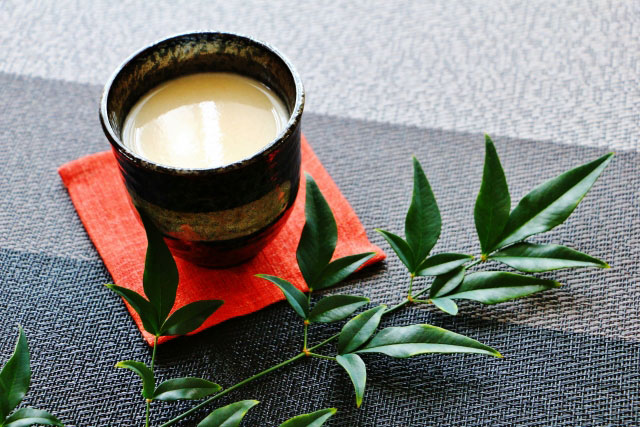 Ahh, December. The end of the year is full of festive indulgences. Parties, decadent foods and drink, as well as hectic schedules take their toll. In Japan, a wonderfully warming, sweet drink called amazake is the perfect antidote to keep one energetic and vibrant.
Similar to kombucha, which is widely known in the West, amazake is a fermented drink made of short-grain rice fermented with water and kome koji, or rice malted with the mold aspergillums oryzae. Amazake is produced at home as well as in commercial facilities, and the drink is purported to provide essential amino acids, B vitamins, enzymes and carbohydrates. Amazake is generally non-alcoholic, although one variation of the drink is made using sake kasu, or the lees from fermented sake, which results in a drink with less than 1% alcohol.
Amazake has a rich and varied history. It was originally mentioned during the Kofun Period of Japanese history (250-538 AD) in the Nihon Shoki, the second oldest book of Japanese history. In the Edo period it was consumed during the hot summer months to prevent Natsubate (summer fatigue). Containing vitamins B1, B2, B6, B12, pantothenic acid, biotin, inositol, oligosaccharides and fiber, it is so nutritious that it was even given to weaning babies. Today, Japanese people typically enjoy amazake during cold winter months, when the mixture is pureed and heated, providing much needed energy and benefits to skin, hair and nails during harsh climate.
While enjoyed 'neat', amazake can also be used as the liquid in smoothies and as a substitute for milk in ice creams and desserts, as it is naturally sweet and low calorie. It may also be served as a substitute for yogurt. And one of the most fun uses of amazake is as a hangover cure, replenishing the body and brightening the skin after excess drinking.
Amazake can be made at home, similar to the way yogurt is made. Rice and kome koji, available online and at Japanese supermarkets, are mixed with water, and heated to between 131°F-140°F. It's kept at that temperature for eight hours and then the resulting mixture is pureed into a smooth liquid. In Japan, amazake can be found in almost any supermarket or convenience store, and in the US, at specialty health food stores and Asian supermarkets.
We hope you try amazake this winter, bringing you warmth and health for the end of the year!