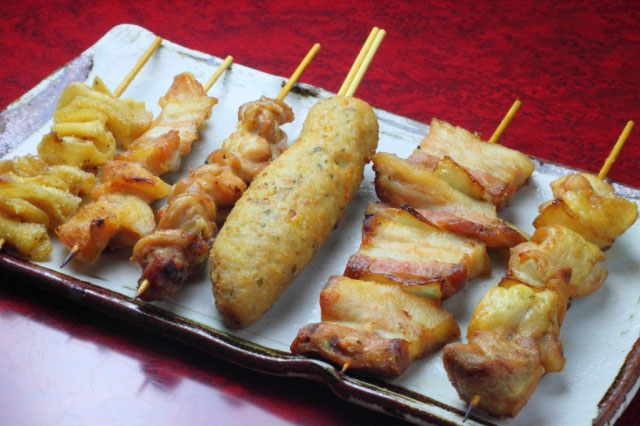 Who doesn't love grilled chicken on skewers?
Yakitori is one of the most popular and ubiquitous types of kushiyaki found in Japan and in areas where Japanese food is popular. Yakitori are bite-sized pieces of chicken, skewered and grilled. In Japan, yakitori can be found at yakitori-ya restaurants, street food festival stands and more commonly, at izakaya, or bar and grill style restaurants.
Having them at a street fair or izakaya is quite an experience!
Generally paired with beer or sake, yakitori are perfect for after-work happy hour or after-party noshing. There are quite a few varieties of yakitori. One of the most popular ones is tsukune, which are ground chicken meatballs, glazed with a thin teriyaki-style sauce and often accompanied by shichimi pepper. Negima yakitori are small pieces of chicken thigh skewered on bamboo sticks with stalks of green onion, and occasionally salted or glazed. Without the green onion, these yakitori are called momo, literally meaning "thigh". Kawa is a traditional yakitori preparation where chicken skin is folded and grilled extra crispy. Tebasaki are grilled chicken wings. Sunagimo are chicken gizzards, rebaa are chicken livers and nankotsu are breast cartilage… marinated, glazed and grilled to perfection. You can even get chicken heart, neck and hind end!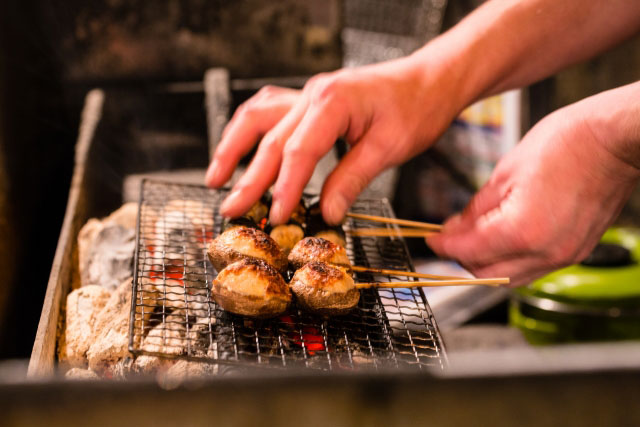 Grilling yakitori is an art form. Binchotan charcoal is used to heat the grill, which is smokeless and odorless, and made from hard Japanese oak. The wood is fired at extremely high temperatures in an oxygen-poor environment and quickly cooled to make it smooth and long-burning. This charcoal is the best to grill with, as it doesn't adulterate the flavor of the food.
Eating yakitori is half the fun. Skewers are usually ordered in sets of two or as part of a combination plate called moriawase. You pick your sauce or tare, or just have your skewer sprinkled with salt. Sometimes, ordering sides of boiled eggs, potatoes or vegetables rounds out the meal, but mostly yakitori are delicious with beer and sake and good friends!
Share your izakaya or yakitori-ya story with us… from here in the US or from your trip or stay in Japan. Then stay tuned for next month's street food showcase!