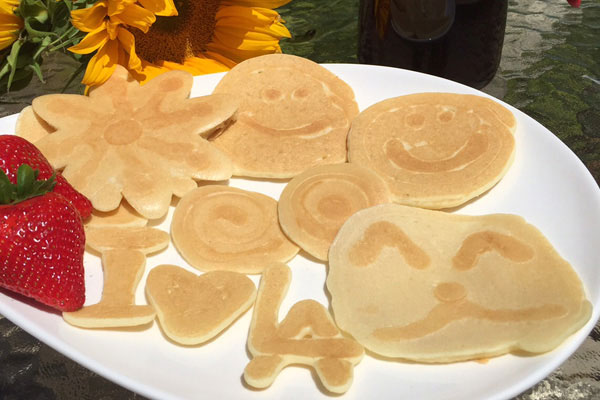 We Americans love pancakes. Me, I don't necessarily love them but I have to admit they're one of my guilty pleasures and I like them enough where I crave them once in a while. If you think about it, they're the perfect breakfast–they're cake-like enough to be a breakfast pastry, so they go really well with breakfast meats like bacon or sausage. Lots of people like them on the sweet side, with whipped cream, maple syrup, fresh fruits, chocolate chips, whatever. I prefer a balance, so I take a bite of pancake, then a bite of sausage, then a bite of pancake, take a sip of coffee, more pancake, then another bite of sausage, then a bite of…well, you get the idea.
Pancakes go by different names depending on how they're prepared:
Short stack: a small order of pancakes, usually only 3 high
Pigs in a blanket: sausages wrapped in pancakes (totally solves how I eat my pancakes)
Silver dollars: small, mini-pancakes usually served 5 to 10 at a time; named for when there were such things as silver dollar coins
There are regional and cultural off-shoots of pancake-like pastries too:
Johnnycakes: a cornmeal flatbread popular in New England, associated with the state of Rhode Island
Dutch Baby pancakes: an oven baked style that rises high above the edges of the pan–the result is a light puffy crust and an eggy middle; sprinkled with cinnamon and lemon juice
Sourdough pancakes: from the prospecting days when sourdough could be used in place of yeast to make pancakes and bread–a favorite in Alaska
And there are international versions of pancakes:
Crepes: probably the most famous–wafer thin and folded, filled with anything from strawberries and cream to ham and cheese
Blintzes: from Eastern Europe, blintzes are thicker than crepes and filled with similar ingredients, then folded into rectangles to be refried again
Flapjacks: even though Americans use the name interchangeably with pancakes, in the UK flapjacks are more like pastry bars made with oats, golden syrup and butter–sometimes filled with raisins
Asian countries have their own savory version of pancakes:
Cong Yu Bing: Chinese scallion pancakes made from dough instead of batter, served with a dipping soy sauce/vinegar combination or chili sauce
Okonomiyaki: Often called Japanese pancakes or Japanese pizza, it might be both because of all the different ingredients that go into them; a couple of great recipes can be found here and here on the Zojirushi website
Jeon: Korean style pancakes that are filled with anything from seafood to kimchi, this dish is also served with a dipping sauce; try the seafood recipe here from Zojirushi
I like to play with my pancakes. The ones at the top of this post were made with a squeeze bottle and a couple of pancake molds that you can get anywhere. Just let the design part cook a little bit longer than the rest by drawing it first. Then fill the background in and finish the rest of the pancake. The design part browns darker than the rest so you get a pancake outline. Woot! Pancake art!

This was pretty easy to do–if you have an electric griddle like the Zojirushi Gourmet Sizzler it would be better because the temperature would stay constant and you could do it at the table with the kids. My daughter helped me with these. Here are some more by people far more talented than me:
And here's a few links to some pancake recipes on the Zojirushi site: Blueberry Whole Wheat & Gluten Free. And a Spring Crepe one too. ENJOY!
Photos courtesy of The Original Pancake House, Cafe Fujiyama, Chocolat & Caetera, Bryce Butcher of GoodCook